Qhairo is staring straight into the camera with an eerie intensity. He is on his back, moving a pair of lips, conjuring words that are wistful and nostalgic of adolescent angst. His hands are tied together with a piece of cloth. It's a ritual scene, an invocation of the past self in the skin of the present. For this, Qhairo wears an oversized mask — what seems to me, a floral-patterned pillowcase with three holes cut out. His eyebrows are dyed a greyish blue. The whole setup looks playful and sacred at the same time. It's an avant-garde headshot, but in motion picture. "My hands were tied up in the night / you gave me the time of my life," he sings.
The scene above is from Qhairo's video for "Goodnights & Goodbyes", taken from his debut EP. Funky, introspective, and richly arranged, the EP is in equal parts luxurious and chaotic. The 27-year old creative has fittingly titled this body of work 60FOOTNOIR. "Names sound silly," he pronounces. "Until you sit over the name, everything sounds silly — everything. So you're kind of like: What does that mean? Why am I saying this? Why am I saying that?" Motive. Purpose. And with Qhairo, the motive is affirmation. "I'm bigger than I am. I'm bigger than my height. I'm even bigger than what I think I am — I'm sixty-foot noir. I'm sixty-foot Black. And I'm sixty-foot proud to be Black," he says.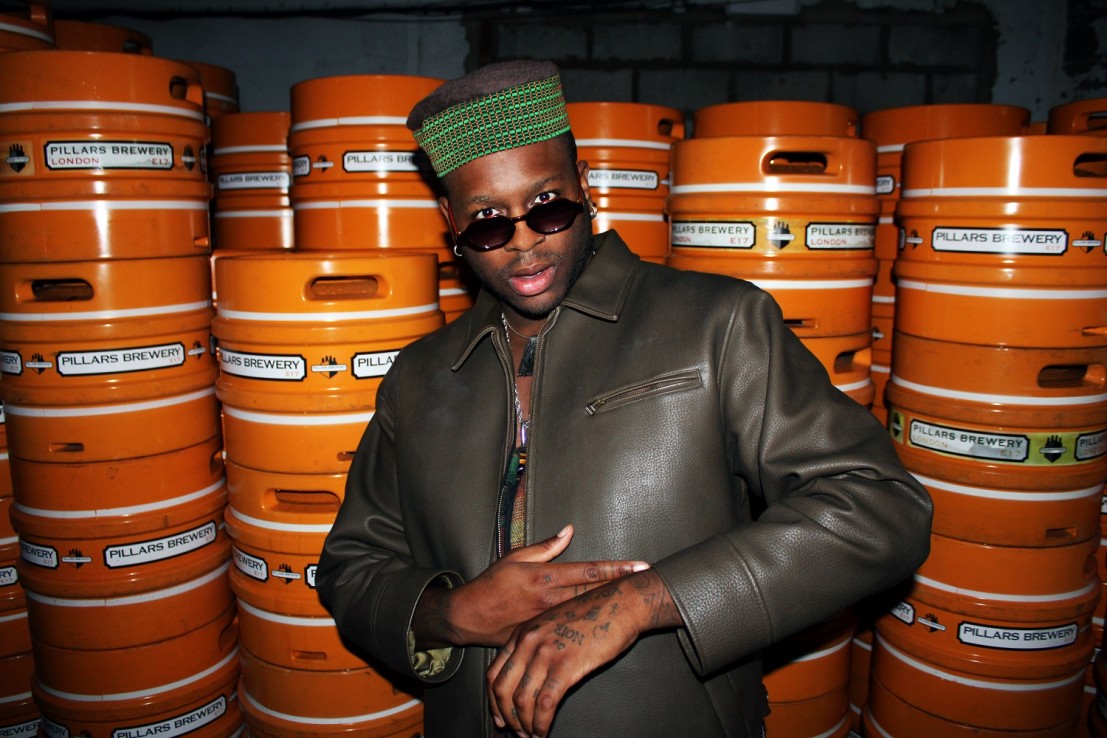 For Qhairo, the creation of this collection stems from a journey in understanding and accepting parts of himself that he had considered other. When I ask what the tipping point was in this process of self-discovery, he mentions honesty. "I would say I began to see a connectivity in my happiness the more honest and open I was being." This honesty started from accepting his queerness. "I realised [that] in order to be a wholly strong Black man, I have to accept my queerness. And in order to accept my queerness, in essence, I'm accepting more aspects of my Blackness. Because I can't not be Black — I am Black. And I can't be ashamed of any part of myself. And if I am, then that is to say to be ashamed of my Blackness as well. And so I think, in finding my queerness, it strengthened my Blackness and my happiness."
There's something emblematic of happiness in Qhairo's hand — a palm tree tattoo in the crease of his palm. On his arm, he has another ink that reads ...or maybe I was dreaming. "That is a line and a lyric of one of the first songs I wrote with Zilo," he says, also confirming to me that they — Zilo and himself — are best friends, and have been friends since their time at Valentine's High School, in East London.
While he sits in his apartment at Ilford, we walk through an archive of his formative years in East London. "It was amazing," is what he first says. "I had an amazing upbringing because I had a massive family — a really big, Black family known in the East End of London. That came with its challenges of expectation." Born Te Qhairo Eugene on 10 May 1993, the youngest child of a large Caribbean family, he grew up with a lot of older brothers who were all "very" stereotypically masculine, a mould that ultimately affected his early notions of masculinity. "It wasn't always easy finding who I was through the name of my family. That was a difficult challenge." For Qhairo, one of the most important things about growing up in East London has been acquiring an understanding that he could do whatever he wanted — particularly in relation to music. "I was able to, you know, really see people who were from the same area as me thrive in music. And so I knew I could do that. And so I developed big dreams."
When it comes to early musical influences, Qhairo cites his dad as a vital entity. His father grew up through the sound-system culture, and was big on music of various genres, including reggae artists like Buju Banton and Bunny Wailer, and golden era hip-hop like the Fugees and Mary J. Blige. "More than that, my dad made sure I understood the power of my own words." In Qhairo's teens, this would translate into spending spare time at a youth club in Stratford, learning to write and record songs inspired by the reggae of his youth, the R&B from his brothers' bootleg CDs, and the vocals of Usher and Lauryn Hill. It was around this time he started penning vocals for local MCs and rappers.
The video for "Goodnights & Goodbyes" sees Qhairo chants seductively, "we can drink ayahuasca," and then the visual glitches, as if the whole clip had merely been a simulacrum of the Matrix kind. In a broad sense, a simulacrum can be regarded as a representation of the intangible but in reality, Qhairo sees the intangible aspects of himself represented in a variety of forms - in people and in art.
To narrow it down, the first representation of anything Black and queer, for Qhairo, was Frank Ocean. He describes Ocean's "Bad Religion", as having sonically articulated all the feelings of his life. "It felt like I was exercising parts of myself [while listening to that song]. And I hadn't, I still hadn't come out then…. I felt he represented me, like really represented me. Even in the way he came out, you know, it was really difficult for him — he wrote in metaphor." But as much as he stans Mr Ocean, there is another equally important person in this array of representational figures — Tyler the Creator — who he describes as "one of the first representations I saw of someone being extra, and someone doing the most, and someone being too much, and it being him creating his own world out of that. And so I love that. I love people who do that."
Initially, Qhairo found a tension between his broad creativity and his success in the music industry. The resolution of this dilemma began to take shape on canvas, just four years ago. "I started painting because music was my career and I felt mentally blocked. I couldn't separate making decisions without thinking about success in music." Through painting, a new colour was birthed into the spectrum of his life — grotesque fine art, rooted in his Yoruba ancestry, with bold depictions of Blackness and queerness. "A lot of my art stems from masquerades," he says. And by masquerades, Qhairo means the Yoruba egúngún — sacred but playful beings — immanent in his all-round artistic development, as well as his spirituality.
Whether it be on canvas, in collage, music, or elsewhere, Qhairo is creating all the versions of his world, reinforcing each creative endeavour with personal history and colour. But that's not all. "I've always enjoyed creation through sound," he tells me, "but for me, it's a lot more about being a physical representation of something I didn't see when I was younger. To be a Black man, a queer man, a Caribbean man, an African man, in the middle of the music industry in London, singing — it wasn't something I always saw."
60FOOTNOIR is out now