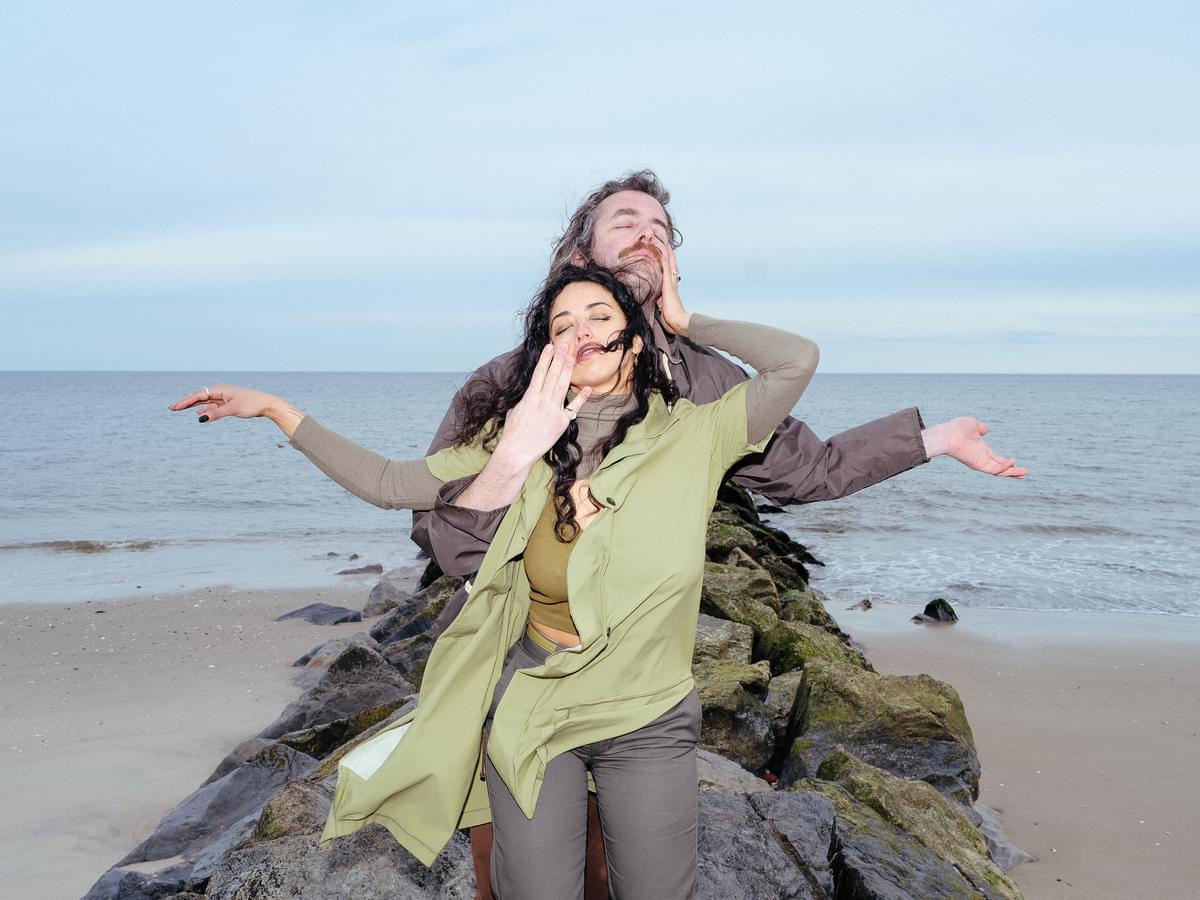 Playing the system with Pure Adult
03 February 2023, 11:30
Original Photography by Kevin Condon
With the arrival of their debut album, experimental duo Pure Adult are self-aware in an industry fuelled by capitalism, but set on channelling a firm DIY attitude.
Pure Adult craft a punk sound that feels immediate, urgent, and biting.

Brooklyn-based outfit Pure Adult, consisting of Jeremy Snyder and Bianca Abarca, make their return with a debut album neatly titled Pure Adult II. As a duo, the pair have unleashed a record that is raw in both lyrical material and sonic prowess, harnessing caustic guitars interlaced with mantra-like verse delivery in the vein of post-punk contemporaries IDLES, Priests, and Gilla Band.
When playing live, Pure Adult shows are hedonistic endeavors; the intensity of both the performer and captivated audience matched in chaotic synergy the way that punk shows should be. They thrive playing in local underground Brooklyn venues, and thankfully, the album – which they recorded in various basements, homes, and makeshift studios instead of a traditional set-up – captures their live essence perfectly. Across 11 songs, the sweat and spirit of the band is so palpable, exuding the kind of feral nature of a bootleg. Their leftist political ethos and DIY mindset is indeed prevalent, but the duo never try to preach their radical thought in a didactic way at all. Rather, Pure Adult gravitate towards vaguely tongue-in-cheek cynicism and absurdist, almost ironic, imagery to more effectively share their philosophies with the rest of the world.

Take the blazing album opener "Hot Crusade" for example. "Sometimes I wish I could thank God / but that dick never gave me a fast car," Snyder spits with a carefree and yet sneering tone. "I had this idea that when you're afraid to put something out, it's a good sign that you should," says Snyder. "And, as a sort of opposite, if you're comfortable with what you're about to put out, you're probably about to release a really boring record." He continues: "In my opinion, it's the most outlandish track on the record, but the thing is, you still actually have that fear. And it's good to have it."
If anything, Pure Adult is a culmination of Snyder's own journey. Snyder spent his youth raised in a church-turned-cult, and brought up evangelical in a very sheltered environment as decided by his parents and the church. As it happens for so many others, Snyder was drawn to non-Christian rock bands by his late teens, drawing up an interest in recording his own music and writing material, paving the way for him to explore leftist politics and eventually leave his religious beliefs behind.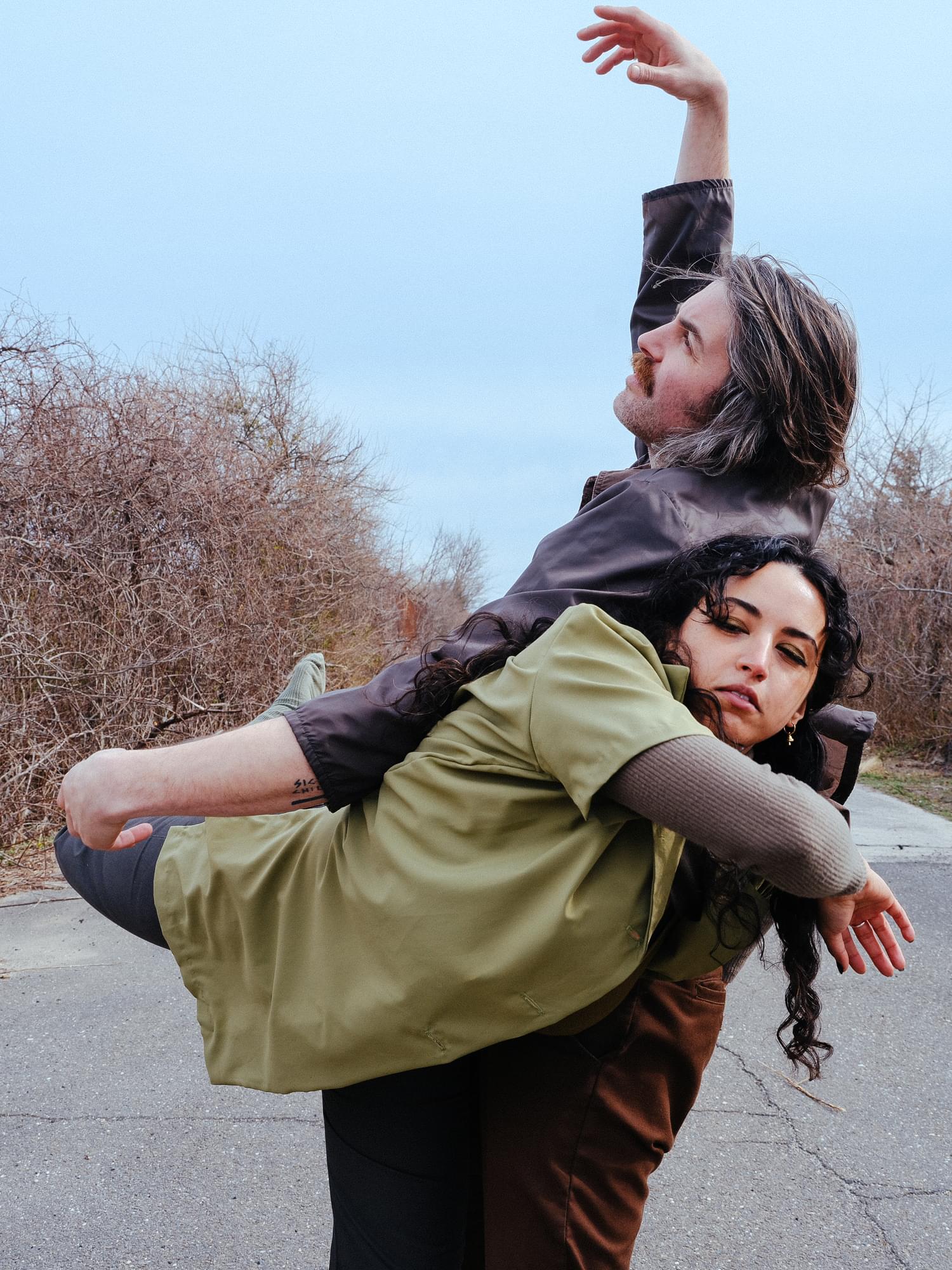 The debut, Pure Adult II, is home to an experimental world of textured sounds. It is a multi-dimensional project, and pushes beyond the realms of dissonant rock and traditional punk into its own standalone creature. Nothing about recording the album was ever unintentional; for Snyder, having to separate his recording engineer self from his musician self is an impossible thing – they bleed into each other.
"It's always been the same thing to me," he offers about his process. "I've always thought about the drum part, how I'm gonna play it, and how I'm gonna record it, and how I'm gonna mix it all at the same time. I'm always trying to push my own limits, both as a listener, as a fan, as an engineer… I need to just trust the fear, I guess."
If you're wondering how a leftist band like Pure Adult can navigate being working musicians in an industry that is upheld by capitalism, they're already way ahead of you. Their track "We Have Merchandise" addresses working as a cog in the capitalist machine. It evokes the sonic dissonance of bands such as Swans, as the duo question their role in a system that is already doomed to fail almost everyone. They do not necessarily provide an answer – but it was never in their hands to begin with.

In "The Rope", Snyder remarks "I dream of labor / I dream of doing one thousand favors / living for the weekend, got a minute, a window, for my friends," a side-eye glance at the unhealthy demands of so-called 'work-life' balances. "The thing about living in an entirely globalised, capitalist world, is that removing yourself from a problem is not really fixing it," he elaborates. "There's this idea that while my politics are anti-capitalist, I don't have a choice [in this system]. I don't have a choice but to participate in things that are exploitative.
That's not to say that the band never feels jaded when working in the industry. Both Snyder and Abarca understand the necessity of "dropping" singles and releasing music videos, even if they acknowledge that their purpose is primarily for press, for potentially superficial attention, as a way to deliver their music in bite-sized, consumable portions to the masses. After initially taking a cynical approach to producing music videos, the band have since embraced them as an visual art form for their music, working with friends and artists on how to best convey their songs through film.
"We don't live in a world where there's a lot of listeners. Music videos are stupid as hell. But the whole point of them is because they're stupid. The point of making them now for me, is that I then get to pretend I'm a film director and make something weird as fuck, or interesting because they're for press. Loads of reviewers won't even listen to a record… only the single when [they] watch the video. But to me that's an advantage, to just create something that's fun."

For Pure Adult and Snyder, there's this deep-rooted understanding that only so much fight remains against late-stage capitalism. Our individual actions of rebelling against these structures are bigger than us, and would probably be futile. It's also not about being a nihilist; it's about using the tools given to us to share the art as widely as we can, with no shortage of empathy and awareness.
"To me, there's this beautiful mess about trying to fight for a better future, where you have to exist in waist-deep shit, and fight your way through using the tools of your enemy to win," says Snyder. "I don't have this ethos of anti-authoritarianism, it's like yeah Spotify sucks, it's actually really bad for the environment… but it's the only way I can exist in the world. The only way Pure Adult has a chance of existing in a world is by someone hearing what I have to say, through maximising the amount of exposure."

Get the Best Fit take on the week in music direct to your inbox every Friday