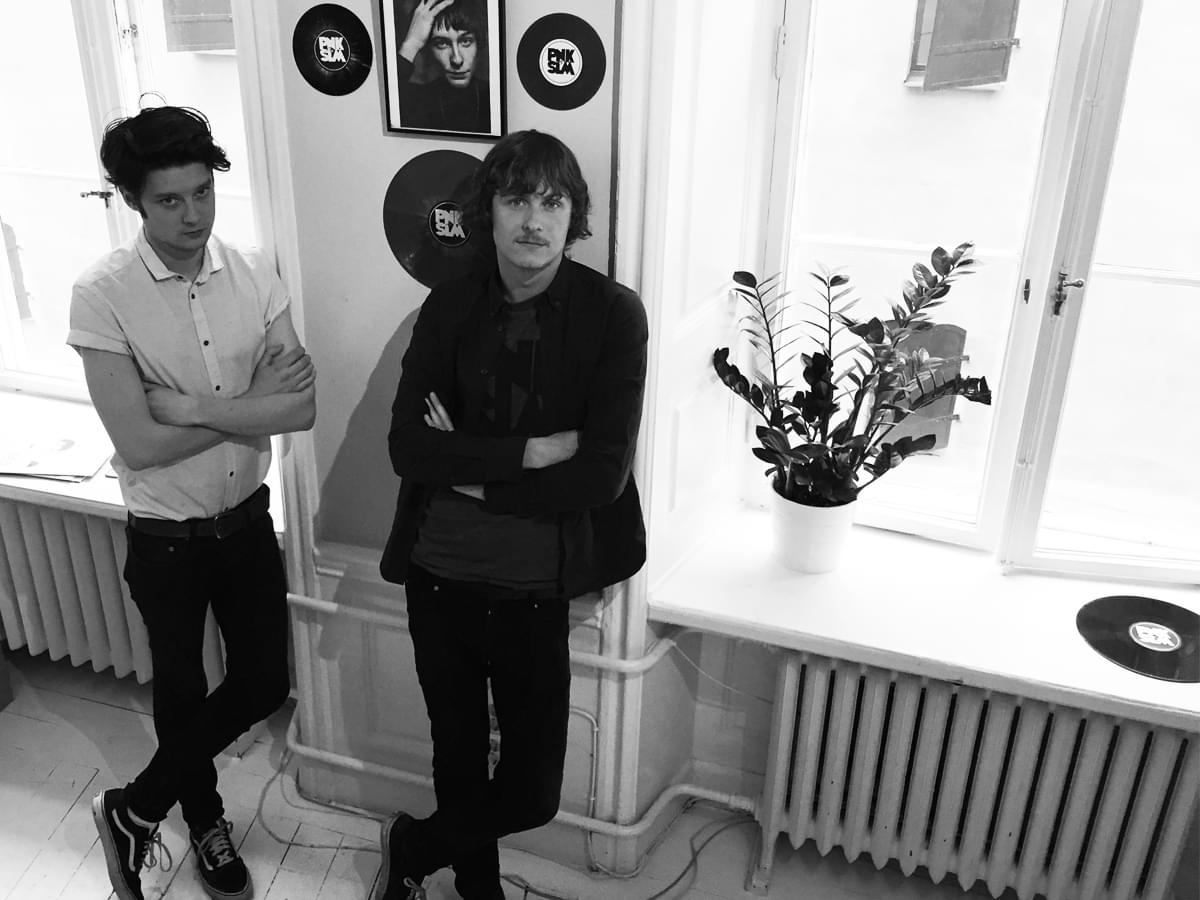 PNKSLM Recordings: "If we fall in love with something it doesn't really matter where it's from"
15 June 2015, 09:20
Based in the heart of Stockholm, PNKSLM Recordings have fast been making a name for themselves as purveyors of the most addictive underground music around. Garnering a reputation for the most exciting new acts and the most livid live nights, the label has steadily been attaining stratospheric acclaim.
"It's got the point now that I don't want to be 'underground' as such - I want all our bands to be fucking huge," label founder Luke Reilly exclaims. "Every single band we've worked with I believe in 110%. And when we're getting support from big press all over the world for what we're doing, it's kinda reassured me that we're onto something. I just want every single music-lover on earth to hear what we are putting out."
Since the label started up two years ago, PNKSLM have worked with acts everywhere from Stockholm and London to St Petersburg. With such a consistently faultless roster of releases under their belt, it's impossible to dispute their conviction. From Les Big Byrd to HOLY, Thee MVPs to Angelic Milk, and everything beyond, PNKSLM's output might be eclectic, but it's sparked attentions worldwide. "If we fall in love with something it doesn't really matter where it's from. There's no real formula to it. I think it's actually been a huge benefit starting the label out here rather than back in London. The first year I lived here, there weren't so many 'underground' guitar bands about, seemed like everyone was doing pretty bad electro-pop... Now we're getting submissions sent in to us by kids recording DIY demos in their bedrooms and parents garages. Maybe I just wasn't seeing it before, but it's pretty fucking cool."
Entering their third year as a record label, PNKSLM have certainly got a lot to be proud of. "At SXSW this year I saw strangers walking around wearing PNKSLM badges," Reilly recalls. "Every time someone stops me on the subway or in a bar to tell me they love the label... Seeing our records in stores in Tokyo... those little things are highlights. In the last year it's become way more work. It is literally my day job now. I'm working all day everyday, and I'm broke as hell, but I wouldn't change it for the world."
An unmistakable labour of love, PNKSLM's passions have driven them to the top of their game – so it comes as no surprise that the label has built up a following of its own. "A lot of our customers are people who buy every single release, people I've never met, everywhere from tiny towns in Northern Sweden to Australia. I've also read comments from people saying they've ordered records from us without even hearing a single track from the artist, so it seems like people are starting to trust in us, which is pretty mind-blowing when you think about it."
Making their name bringing the most exciting underground acts to light, the PNKSLM name has become synonymous with raw quality. "We never set out as such to be a niche label, but that's our personal passion - we get turned on by some pretty noisy stuff," Reilly explains. "The big majority of music we've released so far though has been from bands we've come across personally at shows or on tour, or friends of friends. The whole family idea is a big thing for me. I get a real kick when we take a Swedish band over to play in the UK and show them off to our English bands, and vice versa, and everyone becomes friends and gets messed up together. It's a nice feeling. We were lucky enough to be asked to host a PNKSLM showcase on the main stage at Liverpool Psych Fest last year, which was incredible, and at the end we got this 'family photo' of all of us in the car park in front of a PNKSLM banner. I love that photo, PNKSLM artists from the UK, Sweden and America all drunk as hell partying together."
Recovering from the aftermath of their second birthday celebrations, label founder Luke Reilly took the time to answer our questions on all things PNKSLM, Stockholm, and seeking out the next sensation.
What does PNKSLM mean?
It sounds stupid but I never actually chose the name. We started Punk Slime in it's rawest form as a music blog. We didn't have any money though to buy a domain name, but our friend gave us his old one that he used to store all his university course work on, which just so happened to be PNKSLM.net, named after "Punk Slime", the song by Black Lips. And the name stuck.
What made you start the PNKSLM Recordings label?
Well, we started as the blog, which wasn't very good at all, but some good things came out of it. The highlight was getting a complaint email from the mother of one of The Drums after I wrote some slightly negative stuff about them. And then the blog naturally evolved into the PNKSLM parties in London which we did for a couple of years. Then, when I ended up somehow moving to Stockholm, I came across the band Sudakistan, who blew me away, so I decided to finally stop talking about starting a small label and actually do a 7" with them. And it all just snowballed from there really.
You founded the record label after moving to Stockholm from London - what impact did the culture change have on what PNKSLM set out to do and be?
Sweden's music scene is insanely productive, but mostly for pop and commercial music. When I moved out here I started working for a company called Telegram Studios, that ran imprint labels for major labels, so I was working with all the biggest Swedish artists for majors like Universal and Warner. I most likely never would have got that opportunity back home, and to be honest I think being English did help me out getting that first job here, set me apart from everyone else I guess. Suddenly I was in a position where within a year I had gone from being an unemployed wannabe-punk in East London to working all these cool big projects in Stockholm, which was kinda crazy.
I learnt a lot from working with the bigger labels, all the "business" side of things, made a lot of great friends in the industry, and when I finally started PNKSLM as a label, I got a lot of support from Telegram and the guys I was working with, which made things a lot easier. Compared to the UK, there's not so many small Swedish labels doing the whole underground Rock & Roll thing out here, which I think made it more exciting and attractive to everyone over here. And on the flipside, being a cool Swedish label also makes us stand out more back in the UK and other places. There's so many labels, both great and not-so-great in the UK doing a similar thing to what we are doing, I think we could have got lost in the blur in the early days.
Who makes up the PNKSLM team?
It's always been me and other people. When we started with the first singles, it was me and William Knight, who I used to play in Sex Beet with. I still count him as one the founding fathers, but he works full time in London, so as things got bigger and more work, it kinda naturally became more and more my thing. He still helps out now though. Plus in the UK we get help from Charlie Wyatt (from Thee MVPs) and Joel Webster (from Lucern Raze). I don't get to go back to the UK now as much as I'd like to, so Charlie and Joel help out with everything we need over there, helping book parties and tours and stuff.
The biggest and freshest change was a few months ago, when Johan Alm and Samuel Hahn joined me here in Stockholm. I met Johan here when I started the label, we DJ'd together a few times before we really knew each other. But we're into a lot of the same music and stuff. He's the best music PR guy in Sweden, and he offered to help out doing some press stuff over here, and he gradually became more and more involved, and is now part of the team officially. He's a lot more deadline orientated and generally more sensible than me, which is really needed. Samuel started as an intern for the label, he was supposed to stay for three months but just never left. Thankfully. So now it's us three sat in our office in Stockholm, still at Telegram Studios, taking care of the majority of all the business. Since the three of us started working together everythings got way more professional, and the whole business side of things is actually almost making sense now.
You've made your name releasing a number of debut releases - how do you find and approach new acts?
We get an increasingly large number of submissions, which we do listen to eventually. It can take a while though. If we stumble across something that all three of us think is worth releasing, we'll try our best to sign it. So far we've only ever wanted to sign one band that we didn't eventually, so it's going pretty well so far. People seem kinda psyched to work with us.
You've worked with bands everywhere from the UK to Russia and back - has that variety impacted on the label in any way?
There's no real formula or motive behind it, I guess we've naturally picked up more and more Stockholm bands in the past year, but I see that as a good thing, maybe a sign that the "scene" here is getting better. There are a lot of other people in Stockholm starting labels and clubnights here now, but if we played a small part in it through the label or our parties or whatever, I'm happy.
You've also put out releases in conjunction with some widespread labels - does this influence PNKSLM at all?
It's been great to work with other labels. I obviously feel a certain personal pride about all the acts we sign, but I always want what's best for each individual band - so if another label wants to help us push them, that's great, we'll never say no. The more people pushing a band the better. We've got more co-releases with Burger and Lollipop Records coming up, which are especially beneficial as we get extra exposure in the US from all their followers. Onwards and upwards.
You've celebrated two years as a label now: what has been your proudest PNKSLM experience to date?
I think the proudest moment though was at the Liverpool Pysch Fest showcase, when Sudakistan played. When I first saw the band, they were playing a tiny bar in Stockholm to about 20 people, and then two years later they are playing the main stage of a relatively big festival, with over a thousand people losing their shit, dancing like crazy, crowdsurfing and everything. I was a very proud pappa then.
What can people expect to hear from PNKSLM now you've entered your third year?
More and more full length albums. We have five coming up- angelic milk, Sudakistan, The Castillians, Magic Potion and The Foetals. All five I think are unbelievable artists with huge potential. And more, bigger parties. We've got a summer residency in Stockholm at the Slussen Terrace, and then a weekender in London in early October which is going to be a our biggest UK event so far. Should be releasing details on those real soon.
How would you like to see PNKSLM progress from here?
It's always been the same - all we want is world domination. Sudakistan, they should be as big as Tame Impala. Angelic Milk should be as big as Grimes. The Castillians should be way fucking bigger than The Black Keys. Hopefully we're moving in the right direction though. We've got the talent, we just need more exposure.
Familiarise yourself with the talent at the labels fingertips via the PNKSLM sampler, compilled for Best Fit.
Get the Best Fit take on the week in music direct to your inbox every Friday