The pair make up one half of Penelope Isles hailing from the rugged, rural landscape of the Isle of Man, and settling in the seaside city of Brighton, where they met Becky Redford and Jack Sowton. The group had travelled to London for the day to sign records ahead of the release of their upcoming debut Until the Tide Creeps In on Bella Union. A handful of their dream pop tracks have already been released but this month sees will see the unveiling of a record that's taken several years to produce.
Their album, which features first single "Chlorine", is an ode to coming of age with a softly woven narrative that navigates the blissfully heart-rending moments that coerce us into adulthood.
"It's a big mashup of songs that are mainly about the classics like first loves, saying goodbye- not only to lovers," explains Lily, "but to our old home when we moved."
A heavy emphasis has always been placed on their upbringing in the Isle of Man whose smaller and arguably less progressive music scene left the pair itching to move away. Jack, who is six years Lily's senior, moved to Falmouth were he earned his badges on the grassroots music scene which, at the time, was home to a talented collective of musicians gigging around the town. His sister moved to a busier southern city of England which was, as she described, "full of people and shit bands".
Although their individual university years were starkly contrasting, one similar thread that ties their experiences together was living near the coast; something which their music is palpably nostalgic too. Images of the tide flavour each track on the album, from the reverberating strum in the opening riffs of "Cut Your Hair" to the synth that washes over the opening of "Gnarbone". The band seems to have effortlessly captured the essence of the coast layering whimsical synths and harmonies over the rhythmic certainty of the bass and guitar.
"I think our music is quite maritime," adds Lily. "We don't really set out to write that type of music but it does have that coastal feeling."
Subconsciously paying homage to this landscape is what's given their music an ethereal taint which is often juxtaposed by the jolting riffs; something which critics are acknowledging and raving about.
And it is to the backdrop of the coast that the experiences of growing up are melodically and lyrically depicted on their new album. Experiences, as Jack describes, which are the beautiful times and the difficult times. First love is, of course, a central theme; or more precisely, the fumbling attainment and inevitable loss of it. "I feel as though it's an album full of love songs, really, whether it's a person or a time in our lives," Jack explains.
"Round" their latest single release is a lesson in what love is. Listening to it conjures up the sort of heavy lightness that comes with first love from the sickly vibrato of the word round throughout the track to the more breezy singing that meanders around it. The lyrical minimalism is truly illustrative of the essence of first love; being swept away by our feelings, unable to articulate them. The stripped back lyrics make way for the melodies to tell the tale instead because, for the band, it's the lyrics that are secondary, the music ought to take the lead.
However, it's the melodies in "Not Talking" that perfectly capture the dizzying experiences of first love and transitioning into adulthood. The twinkling synth dances over the sharper chords as Jack's lullabic voice drapes over the track. It's these textures which the band is garnering attention for. A single listen to the record can transport you back to a wistful moment of growing up; it's the kind of memory that's deeply comforting, but achingly painful to relive.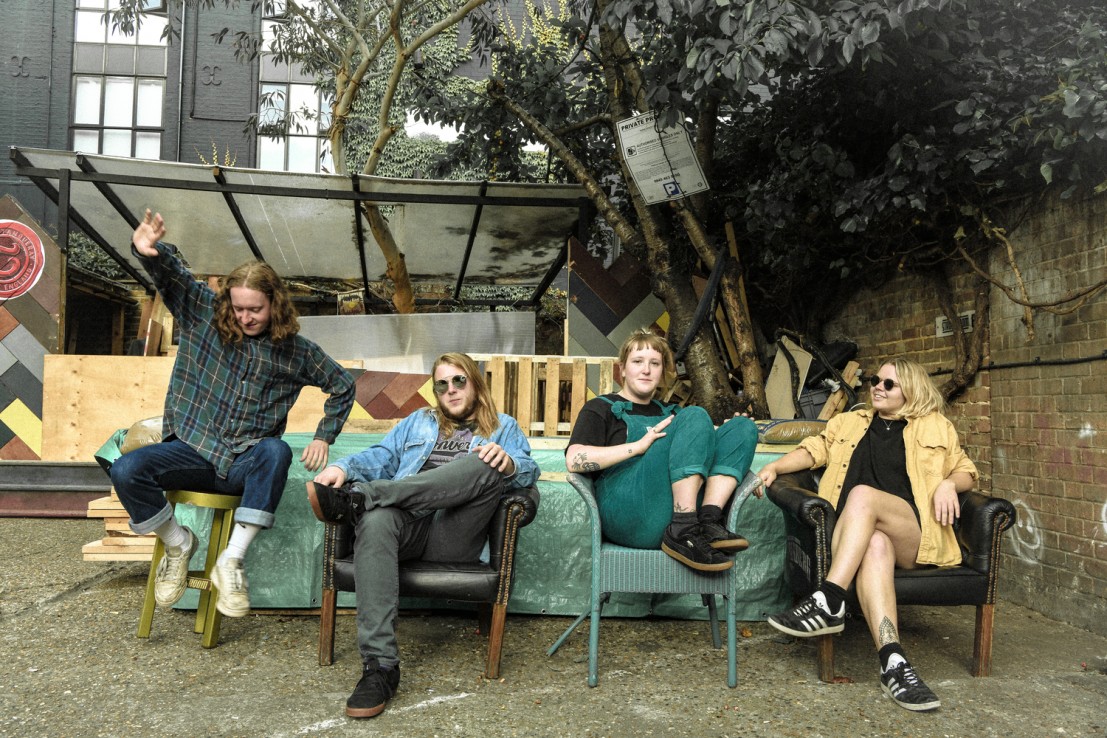 This vulnerability in their music hasn't always been easy to draw out, especially for Jack who, for a couple of years, was unable to play some of his tracks because it felt too painful for him to perform them. "I think it's important to be honest though, even if you write a song when you don't necessarily record it and release it," Jack opens up, "it's important to talk about things. I think that's why I write more abstractly now".
Lily, on the other hand, seems the more open of the duo, testing the limitations of honesty in her music whilst trying not to wear her heart on her sleeve. "I'm still trying to work that one out. I often think how far can I go without it sounding too cheesy or too literal. Sometimes it's nice to just put things in a metaphor isn't it?"
She grabs her phone and begins scrolling through reams of note pages, littered with fragments of memories spanning several years. "I've got these extensive notes on my phone that I would be so embarrassed and scared if people read. There's drunken poems, really sad stuff and really happy things that probably no one will ever see but it's nice to have and I've referenced back to it a lot to write and finish songs."
"I often think how far can I go without it sounding too cheesy or too literal. Sometimes it's nice to just put things in a metaphor isn't it?" - Lily Wolter
Their experiences of transitioning into adulthood, the growing pains, slowly unpeeling layers of themselves to reveal to the outside world are evident in the progressive development of their music over time. "I think the songs that are on the album feel like the past," Jack explains, "it feels momentary, whereas the songs me and Lily are writing now... I think the music is changing a little bit. We are changing as songwriters".
Growth as musicians can, in part, be attributed to the many fondly recalled hours trawling through record collections during their late teens and early twenties, the period of life which their album is reminiscent of. "We just loved so many EPs, like the first Mac De Marco record. There are just some albums that really represent that time. We just loved playing music in our living room and getting stoned," Lily recounts.
Inspiration the band draw from records that influenced their earlier years as musicians are prevalent in Until the Tide Creeps In. From Beach House's tone and very simple keyboard melodies that, for Lily, dug deep into her heart, to the unparalleled bass playing from Pixies', Kim Deal. And most recently, from the sound of The Magic Numbers, who the band toured with and have now formed a close friendship with.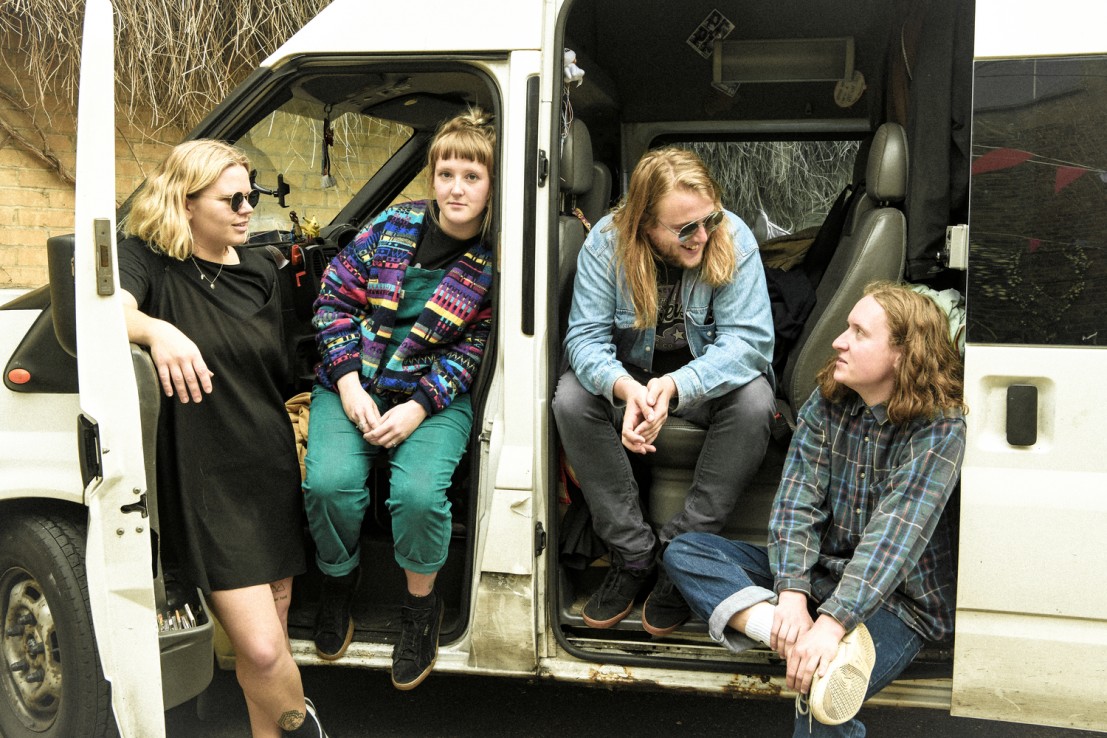 There is something vaguely familiar about the band's portrayal of coming of age, an experience which most young music lovers seem to encounter. "We'd be sitting round with a guitar, singing harmonies," laughs Jack Sowton, "it's quite cringe to look back on, but then everyone was doing that."
The living room of their home in Brighton, which the band described as being the hub of their friendship group was also one of the places that the band began producing their music. For Jack, the DIY production of their tracks is an important part of the creative process and although he admits that he doesn't quite have the tech setup that other musicians may boast of, it doesn't appear to have hindered them in any way.
In fact, their new record has been likened to Radiohead's In Rainbows, arguably one of the most influential soundtracks of their young adulthood. "It's a massive compliment," Jack gushed, "I'd personally say it's nowhere near as good. The textures you hear in Radiohead, to get that grain is really difficult. To try and recreate something- it's hard."
But Penelope Isles' have made real movement in trying to master it. And to their credit, the latest album has managed to delicately layer lustrous sounds over the more gritty textures producing music which, as if mirroring each of our tales of growing up, is comfortingly similar but undeniably unique.
And as the band has grown, they've made the natural transformation from living room band sessions to touring around the world. They knew they'd transitioned as musicians when they started to stay in hotels as they jokingly recalled; "We were in a 4 star one and that's when we realised! Helping ourselves to the minibar snacks, seeing the morning breakfast spread, that's when we knew we'd made it."
"Helping ourselves to the minibar snacks, seeing the morning breakfast spread, that's when we knew we'd made it." - Lily Wolter
"Don't get me wrong though," Jack interjects, "there are still a lot of friend's floors to come."
As humble as Penelope Isles are when discussing their increasing popularity and ever-evolving abilities to produce music, the band are undeniably progressing quickly. From touring around the East and West Coast of America in October to a handful of headline gigs in November, they're happily juggling being on the move with starting to record new songs for their next album.
The band recalled, most recently, when they were thrown in the deep end during a festival in the Netherlands; Becky had forgotten her passport and down to just three members, they'd considered cutting themselves a mullet and stripping back their set in the old factory venue. "They [festival organisers] asked us to headline because one of the acts pulled out. We were like… ugh, should we do it… but luckily we managed to get Becky on a flight and we did it."
Hearing stories of touring, it's difficult to imagine those more low-key days when Penelope Isles played on the DIY circuits back in Brighton, as their sound and their chemistry feels so strong. Their track Leipzig perfectly captures not only their coming of age as people but their growth as musicians;
"What was it even like before?' The track nostalgically echoes.
Until The Tide Creeps In is out on 12 July via Bella Union