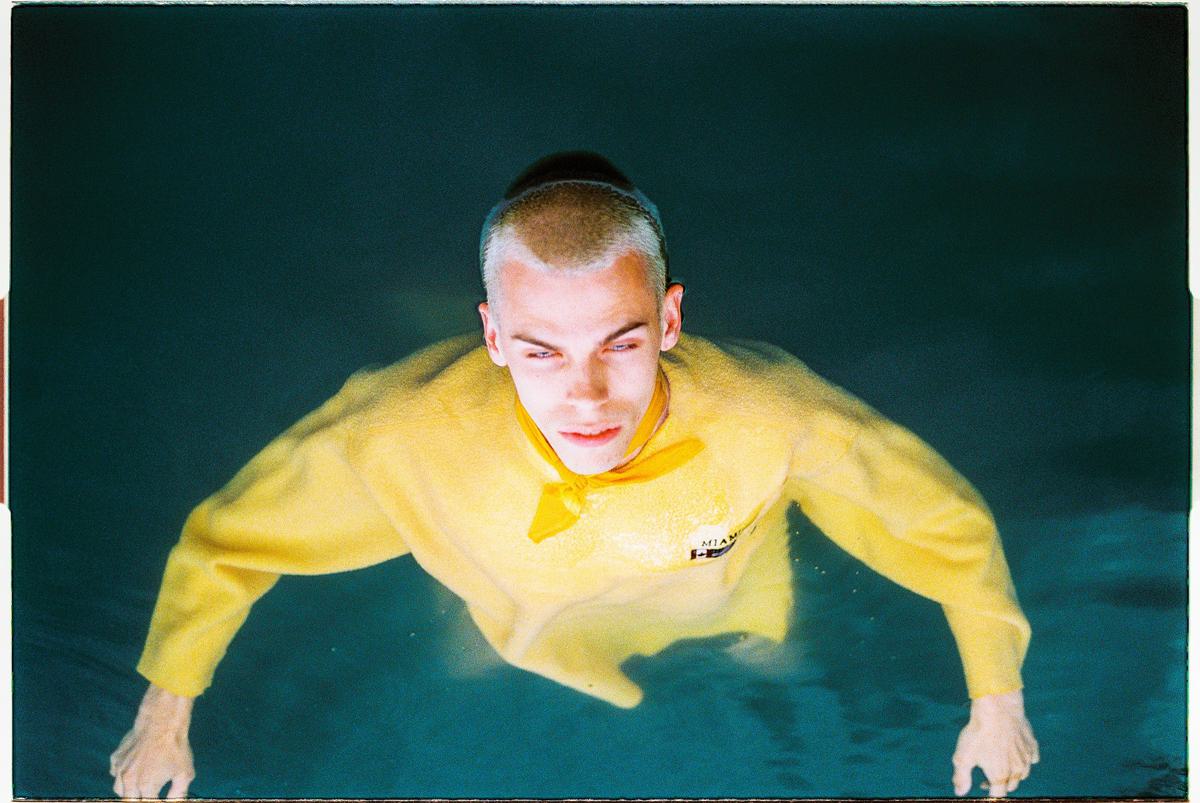 On the rise: Pen Gutt
18 September 2019, 12:57
In a language that only 0.06% of the global population understands, Norwegian rapper Pen Gutt is making waves far beyond his home country.
"We've been working on it for so long, and to finally be releasing it now is such a good feeling. But I just wanna do it and move on," Håkan Stubberud says of his new album Hold Deg I Varmen (Norwegian for "stay warm"). Since 2017 Stubberud has been releasing honest and hard-hitting rap over dizzying, infectious bedroom-productions. Stubberud took the name Pen Gutt (which translates as "pretty boy") playing on his background as a model. And while he's got looks worthy of the next cover of Vogue, his lyrics reveal him to be a modern philosopher.
I'm strolling down a busy street in the heart of Copenhagen together with both Stubberud and Samkopf. Stubberud had been doing interviews on his own until he realised that Samkopf's involvement in his music was too important for him not to join in telling the story of Pen Gutt. Initially they considered releasing an EP, "but I was like, 'I haven't said enough," Stubberud explains. He needed more space to dig deeper into the subjects that really matter to him.
For Stubberud, making music is as much about learning and exploring new things as it is about expressing yourself. "Doing an album was just me trying to figure out what it's like to release an album and how I feel about that," he says.
Håkon Stubberud was born and raised in Rykkinn, Bærum just outside of Oslo, the Norwegian capital where he now resides. After having spent half a year at an art school in rural Denmark a few years ago, coming back to Copenhagen now to play a show at an art fair seems like the perfect reunion.
Stubberud sprained his limb while crowd surfing at a gig in Trondheim and after two months he's still using crutches. He recently painted them for his show at Norway's biggest festival, Øya, to spice things up. In many ways, as I'm about to learn, he's not a person who makes obstacles stop him from doing what he loves.
If you do a good old fashioned Google-search on Pen Gutt, you'll learn that Håkon Stubberud has done a lot despite the fact that he's only 24. Besides from making music and being a model, Stubberud has taken on acting, performance art, studied Media and Communications (so has Samkopf), spent many of his childhood years at Christian summer camps and slowly grown to become quite the philosophy nerd. There's a lot to talk about, but for now, Stubberud is mostly interested in talking about movies, his favorite at the moment being the 2001 sci-fi thriller Donnie Darko.
"It's really bizarre but when it comes to movies I really like psychological thrillers that are like scary but even more just weird and sick," he explains. Another movie that gets him every time is the cult film Dazed and Confused from 1993. "I remember, after seeing that movie, that I was in a mood where I just wanted to hang with people. I didn't wanna know where we were going, it didn't matter what we were gonna do or what our goal was. Just hanging out was our goal," he reflects.
Both Stubberud and Samkopf go to movies for inspiration, and Stubberud jokes that his producer has a "Stanley Kubrick fetish going on". "I think that directing and making music in general are pretty much the same thing," Samkopf says of creating the right moods to accompany the words of Stubberud. "That's why I like Kurbrick. He's got this intense attention to detail. Like, everything matters, and in music you can also put meaning into so many different layers. So I try to think as a director when I make music.".
The more the friends dive deeper into their love of film, the more perfect their musical collaboration seems to be. "I feel like he's directed a movie for me," Stubberud says, looking up to catch his friend's eyes.. "I think that what I like most about music is that every time [I listen] I feel like I'm in a music video. Like just walking home having a track on and just sing along and feel like this song is a music video about me."
If Stubberud was to move on from music (God forbid it) and create his own movie or TV series, it would take inspiration from some of the core points of Dazed and Confused or the popular Norwegian series SKAM. "It showed that it doesn't have to be any more than 'this is how youth interacts nowadays'. There's a lot of meaning I find from just the youth culture and how they interact with people." Stubberud and a friend actually recently thought about making an hour-long movie about their culture, their friends and what it's like being young. No censoring things, just making it as honest as possible. "Like making people see how much cocaine is used," he admits. "Some things I want to hide and some things I haven't told my mom," he laughs. "But in movies and series you get to be a bit more free in your thoughts cause everyone knows it's fiction."
I ask Stubberud how he would portray the youth if he was to go on with the idea of making a movie. He thinks about it for a while and says that he would probably focus on how many insecurities people have, despite the confidence they're showing. "A lot of people are quite depressed and feels anxious about things." That word – "anxious" – gets Stubberud thinking about what he sees as a big fault in today's society.
"It's also really hard nowadays to see what's real and what's not, when it regards people saying that they're anxious. I don't think everyone knows what it means to actually have that feeling and actually have that diagnosis." For instance, Stubberud can say before going on radio that he's a bit anxious about it. "But that's not anxious," he says, glancing up. "I'm just a bit afraid. And if you know some people that actually feel anxious you know how hard it really is. I've got a friend who told me that it feels like you're laying in water and you have all this weight on you and you can't really breathe 'cause if you breathe it just gets worse." Stubberud gesticulates water seeping into his lungs. "And I don't think that everybody has that, they just talk about it like it has become some popular thing to say."
In general, Stubberud is a big fan of talking about the darker side of life. Still, he feels like he could become even better at opening up. He says that it's probably something more guys should learn from their girlfriends. A series about SKAM-actor Ulrikke Falch's attempt to make a whole school commit to feminism – and to make men share their feelings – made Stubberud realize that he himself would always reach out to a girl whenever he felt like talking.
"Boys are usually a bit more gravitating towards 'haha' and just joke about it and being like 'yeah fuck that'. I just remember all the times I was talking to girls and they were actually really into what I was saying. And I can see it for myself that I like to joke around with things and like not be so serious. It's okay, but maybe some things you should talk about, 'cause if you don't, it makes you act... maybe weird or makes you more angry."
The themes that you meet in Pen Gutt's music are indeed those we tend to deal with through the safe distance of a joke or metaphor. Stubberud had never experienced pain in such a way as when his father passed away last year. He's still in the process of learning how to talk about it. "It's different sometimes to talk about things and actually have experienced it and have it in your world. I want to be the same person as how I express myself on tracks and in music. But it's not always like that, 'cause feelings are hard and it's not that simple."
Stubberud has always had a tendency to explore and dwell on the things he doesn't know about. Maybe that's why, when his father died, it changed his perspective on and interest in death. When I ask if it's a theme he'll ever get tired of exploring in the music, he instantly says: "Yeah, I'm actually quite done with it," before correcting himself. "No, I'm never done with it, I'll always gravitate towards more dark stuff."
However, after a key conversation, something changed. His friend confided that, for the past 10 years, the only thing she'd been thinking about was death because someone in her family had been given a terminal diagnosis without a specific date. "I just want to live. I just want to talk about life," she told Stubberud. He noticed that it was the complete opposite of how he felt back then, because he'd never experienced that kind of pain before. "My dog died three years ago and it was maybe the saddest thing that had ever happened to me. I just hadn't felt it that much, so maybe that's why I gravitate more towards things I don't know like death or dark things," he says. Stubberud notes that he also talks about suicide on his record. "But I've started to be more interested in just living now," he finally says, looking up to make the sun catch his face.
And just as in the universe of SKAM and Dazed and Confused, hanging out with his friends is what makes him happy. He's started to be more focused on the people around him after realizing just how big of a role work has been playing in his life. "Now I feel like, 'You don't have to work that hard!' I'm not gonna remember all the days I just sat in and worked. I just wanna hang out, take a swim, talk shit and eat a burrito!"
After experiencing Stubberud's bold honesty, I found that I was already able to answer the last question I wanted to ask him and Samkopf: "Having gained quite a lot of awareness and interest from the world outside of Norway, why do you think that people connect with your music even though they don't understand a word of what you're saying?"
"Emotion is like the universal language," Samkopf answers. "I saw Silvana Imam at Øya Festival in Oslo this year and she's rapping and it's in Swedish with an accent and really quick and all that. But still there were goosebumps, 'cause the emotion is there and she means what she's saying."
There's no doubt that Stubberud, like Silvana Imam, means what he's saying. The debut album by Pen Gutt is about life and about death. But the rapper is done with the latter, as he states it himself. As I'm about to finish our chat, I ask him if there's anything else he wants to put out there before I turn my recorder off. "I think I'll just recommend people to go outside. Go see a friend and just talk, and grab a beer or a soda or whatever," he answers with a smile.
Pen Gutt's album Hold Deg I Varmen is out now.