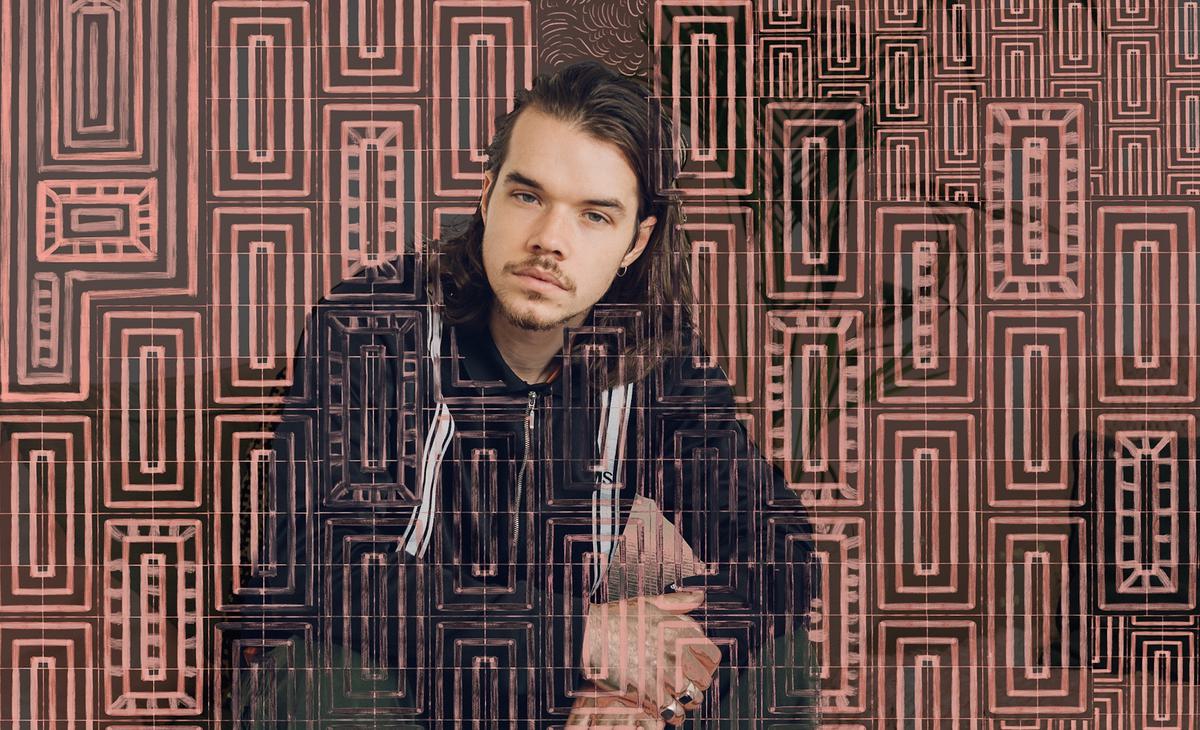 On the Rise

On the Rise
03 June 2019, 08:00
Jovial and carefree, singer-songwriter and guitarist Oscar Jerome radiates both charisma and an organised chaos, creating a distinctive and refreshing perspective on neo-soul and jazz fusion
Oscar Jerome is, by his own admission "slightly frazzled." Chatting to me from his London home, we introduce ourselves and discuss the weekends behind us. He warns me with a laugh: "I got back late from Berlin last night. I had a bit of a weird weekend" following a few dates touring in Zurich and Berlin. "I got a bit carried away and missed my flight".
Guitarist of London afrobeat collective KOKOROKO, Oscar Jerome's solo work is about to take one huge leap forward with his fresh signing to Caroline International, who have a history of working with the likes of Kate Tempest and Iggy Pop. In 2016, the artist released a self-titled debut EP, followed by a beautiful second EP, Where Are Your Branches?, last year. Creating a gorgeous fusion of jazz, hip-hop, soul and funk – to name only a few styles sprinkled into his genre melting pot – Jerome's smooth vocals play with groovy, syncopated rhythms. An effortless, mellow sound ripples throughout the Norwich-born artist's tracks – he delivers complex melodies from woozy guitars, brass sections and luscious synths, assembling laid-back grooves with direction and depth.
New track "Gravitate" marks Jerome's first outing on his new label, who picked him up following an appearance at SXSW. The single is a songwriting collaboration with close friend Ben Hauke and Ezra Collective's Joe Armon-Jones. "Whenever I need some piano wizardry, I just know who to call" he says. "I went round to Joe's house and we just recorded it in his living room. I think it was with a microphone in a shoe – that's why it's got a kind of tinny, old school sound about it. At first I thought maybe we should have recorded this professionally, but this actually sounds really cool – a kind of messed up old school sound."
Close friend Hauke helped to frame the record, with a short and funky drum beat that eventually became the backbone of the track. Ayo Salawu, also of KOKOROKO, developed the beat from a broken-beats influenced rhythm to a funk focused aesthetic. "You can hear in this tune that there's a lot of influence of South American rhythms and West African rhythms as well which makes it groovy," Jerome says. "The percussionist on it [Crispin Spry] is an amazing percussionist from a slightly older generation, who played on Soul II Soul records."
Peppered with cosmic imagery, "Gravitate"'s subject matter is personal and also contains a lot of metaphor. Jerome reflects: "it's going to sound a bit pretentious but – it's related to the creation and birth of a star. I was reading a lot about how a star is first created in the universe." In particular, Jerome makes reference to the "helium in your core" and "dust that shrouds your past", which refers to helium expansion and the matter that is visible through telescopes when looking at a young, recently formed star. "There's probably some physicist that's going to say 'You're chatting shit'" he jokes. "But I'm quite interested in space – a lot of it is a metaphor about self-acceptance and growth." He tells me this could be interpreted as "growth as a person, coming from a place where you have a slightly more negative view of yourself, or less respect for yourself. It's also knowing your worth, and that most people around you, who would perhaps not treat you with the respect that you deserve, are probably going through something negative themselves." He affirms: "You can phase out that stuff, and go and start a new chapter."
The intricacies of Jerome's musical background are reflected in his sound. As birds twitter in the background of our call, he recalls his first foray into music. "My dad was very into music. I always had jazz and soul and funk around the house. He plays the guitar and I kind of started by him teaching me a few chords and then I started learning classical guitar when I was about 8." Jerome's ties with music have always been close, having performed in bands since he was 14. It was at the age of 18 that he took the plunge and moved to London to pursue a four-year Jazz degree at Trinity College of Music.
Studying a course focused on a single genre inevitably has its benefits and drawbacks. "Quite often people are actually confused by it and how you can do that as a degree." As we talk, it becomes apparent how his sound has developed into such an infusion of styles and genres. "I'm really into jazz but I'm also really into other types of music equally, and I feel like [at Trinity] there was so much focus on jazz being the ultimate art form. In that sense I think I gravitated to certain people there who were also equally into other types of music like hip-hop or soul, reggae and dance music." London's diversity filters into the influences of many artists, and studying in Greenwich in South East London allowed Jerome the opportunity to connect with a wide variety of musicians, vocalists, producers and rappers – including some of the members of KOKOROKO and Ezra Collective.
Aside from London's vibrant music scene, we discuss other influences across a spectrum of genres. "My guitar playing and understanding of harmony – that's come through my love of jazz music." He cites jazz greats George Benson, bebop guitarist Wes Montgomerey, John Coltrane, Miles Davis and Canonball Adderley as crucial influences, as well as American soul and jazz poet Gil Scott-Heron and beat-jazz musicians Larry Corryell, Marvin Gaye, Donny Hathaway and Otis Redding. The works of hip-hop artists, rappers and producers such as Madlib, J Dilla and MF DOOM are also important to Jerome's sound. Rock has only recently started to emerge in his songwriting and Jerome admits "before I shied away from that a little bit because I thought rock isn't really that cool. I've realised now that recently in live sets it's started to come out a lot more. I love Rage Against the Machine too – I don't know if you'd really hear that in there."
Always composing and performing his own music, Jerome has recently seen a transition in the way that he perceives himself as a solo artist. "I've always just concentrated on my guitar playing... I think I was almost hiding behind the guitar a little bit. There was a lot of change in how I saw myself as a frontman and as a vocalist which really helped me get into a mindset." He muses: "It's been interesting. I love both things – I love doing my own music. I love singing songs that are really meaningful to me and my life and my opinions. But I also really love being a part of something that's bigger, and not being in the limelight so much."
A subtle eccentricity surges through Jerome's aesthetic, in the tropical hues of his single covers and in his music videos. The latter feature everything from trippy mixed media collages to performance art: in the kaleidoscopic video for his recent release "Misty Head/Sunny Street", younger brother Moth flaunts his unique drag artistry. He reflects on the journey working with his sibling: "it's been a cool journey for me [and it's] been quite an important thing personally that's taken a while to get right. He's opened my eyes to a lot of really interesting, artistic ways of expressing yourself that I was not aware of before."
The attention solo artists receive can be daunting, particularly learning to function with the intricacies of social media. Jerome admits he's struggled with the fact that "people get a perception of you when you're doing something as a solo artist. You feel like you have to put so much of yourself out there as a personality". Social media, he says, can be challenging for those thrown into the spotlight: "I found that a little bit hard at first, knowing how to navigate yourself and your personal life into a public domain. I wouldn't say it's invasive, because I'm really grateful that people like my music and are interested in me – I think it's amazing. I think it's [about] being able to separate what is your artistic life and what is your personal life. I think it's really important to get a clear division between what those things are."
Improvisation is woven throughout Jerome's work, both live and in the studio. "In terms of the writing [for "Gravitate"], me and Ayo the drummer were just in my house jamming ideas for this and playing around with it." He considers the impact of communication in both settings. "If you see us live, the songs often take quite a different shape. We still keep the core structure of the song but I like to keep it so that things can change – and play with musicians that have the confidence to do that" he tells me. "Through playing and improvising live, lots of [these changes] have then ended up in records."
Jerome's year is structured around live performances. A European tour set for October/November, he is also the support for Kamasi Washington's latest tour, gigging across five dates in the UK – Birmingham, Manchester, Glasgow, Bristol and Gateshead. "I kind of doubted that it would actually happen. It's quite nerve-wracking because a lot of us in the band look up to those musicians so it's going to be amazing to perform with them and tour with them. I think potentially some of my audience is the same, but then I also think that maybe some of it's different because what I make is more song-based, [while Kamasi's] is a bit more improvisation-heavy – very epic and more instrument-led. I'm interested to see how the crowd reacts…it'll be a good experience."
The artist has spent a fundamental portion of his life touring in the past few years, which has been pretty intensive. "At the moment I love it. It's cool being able to go to so many places and meet new people. Now I feel like I have a lot of good friends in a lot of different cities around the world. It's quite nice leading quite a nomadic lifestyle." Expressing his amazement in music's power to travel and reach people across the globe, he admits that reactions are not always what you'd expect. "Recently I played in Tunisia with KOKOROKO. We didn't really know that we had a following [there], and we played in front of a massive audience – everyone loved it." He recalls a similar experience in LA: "[It was] so far away from where I live, loads of people were singing the songs. It's absolutely crazy. It's still quite a novelty to me."
A new album is in the works. Jerome can't disclose too much, but tells me some of the tracks will be produced by himself. "At first I was trying to produce the whole of the next album. I thought it would be a great challenge to have complete creative control." But Jerome explains that he's not keen on spending too much time in front of a screen, and instead prefers collaborating with others during the creative process. "I'm quite a sociable person, so I do like to have input from other people" he says. "The guy who's helping me a lot with this album is called Beni Giles, who's a really talented producer, and he's great with my scatty brain. He'll keep me on focused on what we're doing."
It may be a drawback in the studio, but it's clear that we've got Jerome's scatty brain to thank for his ever-evolving, nomadic sound. He experiments with Latin American and West African infused grooves, pooling them together with luscious guitar tones and soulful vocals that dabble with flirtatious sax. With a sound that wanders as much as the man himself, we can expect Jerome's upcoming releases with Caroline International to continue to explore new territories.
Oscar Jerome's single "Gravitate" is out now.