Which is why it's no surprise that when Brighton based up-and-comers Orchards touched down in New York last March, ready to play the inaugural New Colossus Festival, they found a fan who'd travelled down from North Carolina, which is a solid nine-hour drive at the best of times, just to see them.
"It sounds bad, but I complain when I've got to walk to the Green Door Store…and that's a twenty-minute walk!" Vocalist Lucy Evers laughs, "but they've travelled for Christ knows how many hours to watch us. We did three shows; one on one day and then two on the next day, and they even helped us carry our stuff from one show to the next!"
If anything, it's a testament to the band sat before me — four friends who met in Brighton. Each component coming from an individual background of music, and being brought together through wanting to have some fun with it all. Since then, it's turned into a bit more than just playing in a room together.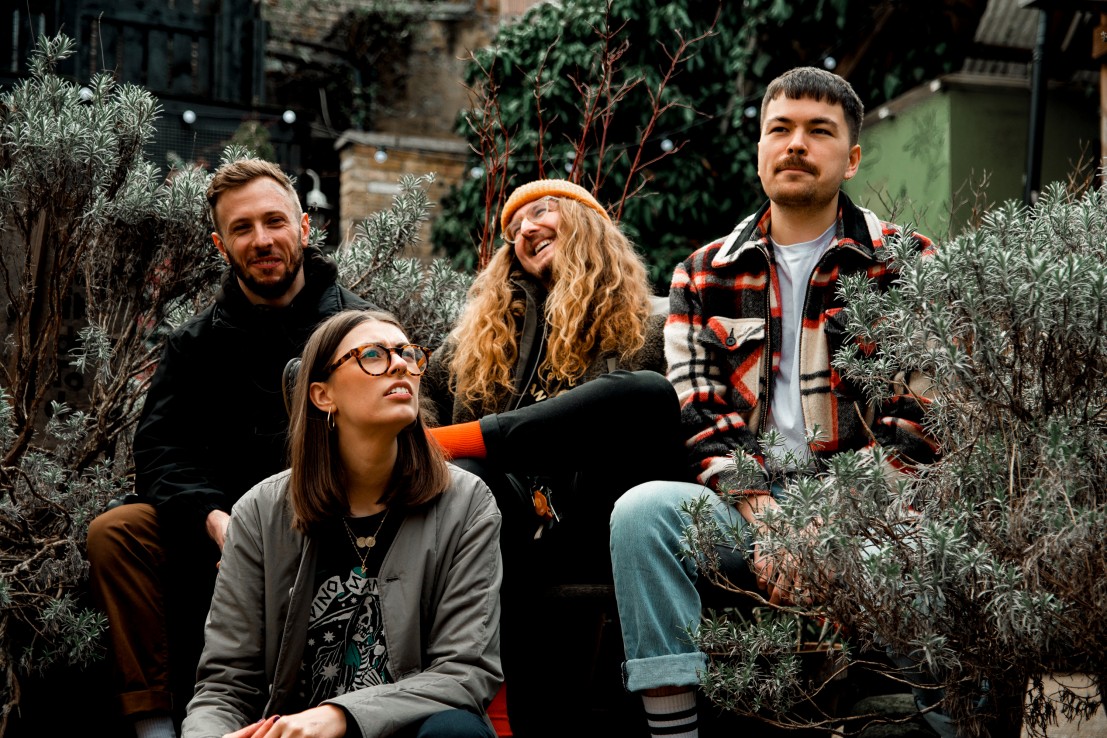 On this bitterly cold day, Evers, along with the rest of the band; Sam Rushton (guitar), Dan Fane (bass) and Will Lee-Lewis (drums), have travelled in to London from their homestead to chat about their upcoming debut Lovecore. What transpires is a reflection of how far they've come and what they've achieved — including the unexpected.
"Music is so powerful," Evers muses wistfully. "Like, if you think about it, there's nobody that at least hasn't listened to music. It's got such a power and energy. It's so important to a lot of people; that's why there are millions of genres because there are millions of pairs of ears and everyone's tastes are so different.
"I think it makes such a vast difference and everybody's can make a difference. Like how you feel that day? What music you listen to can determine how you feel that day...it's such a powerful thing."
It's fitting that their namesake is designed to be an organic system that establishes its way of living and surviving. When Orchards started up their fan Facebook page — the aptly titled Juice Box — they had no idea that it was going to become a self-serving way for their fans, and the band, to be there for each other.
"We've got fans in there who have been with us since we did our first big tour four or five years ago, nearly," Rushton says. "And to see them now, being friends with other people in there and having their own dialogues and knowing it's them helping each other now, I love it. It makes me feel like we're doing something that isn't just music."
If fans traversing their vast country to see the band isn't enough, there's even an Orchards meet-cute involving a couple of fans in Paris, who a year later came back married and expecting. Fane smiles as he recalls this moment, "[They said] this is the baby's first gig. We wanted it to be one of your shows."
Despite the good it's doing for the band, and their fans, Evers' relationship with social media is still a taut one. "I don't have Facebook on my phone because I find it damaging," she explains. "I purposely don't have it on my phone. I'll make a conscious effort, like twice a week, to go onto the Juice Box; just click on that and just see how everyone is and it is always the same positivity and cheerfulness."
Just over halfway through Lovecore, "Social Sobriety" hits as a spoken-word piece, originally written as a poem two years ago or three years ago by Evers. "I'd written it because I was getting sick of social media." She explains. "I had this really bad day, and putting my emotions down is a technique that my therapist taught me — writing down on a piece of sugar paper, and then burn it." "Does it have to be sugar paper?" Rushton asks. "Sugar paper's just fun because it's colourful." Evers instinctively replies.
"You just burn it afterwards to get that emotion out. I've done it for years; it's like a coping mechanism. And I've always done it since I was a kid. So, I was having a really bad day, and I was pissed off with social media. I wrote this poem down, read it back and was like, 'actually, that's quite good. I don't think I'm gonna burn that'," she chuckles.
Across the track, Evers questions and vents, not with malice, but the same understanding that Orchards have always perpetrated, which also makes you question and understand your viewpoint.
Of course, there's no smoke without fire, and for Orchards, their pyre is burning well on Lovecore. Brightness shimmers through an exotic waterfall of dancing guitar notes that elevate Evers honest and open lyrics, or as Rushton puts it with a smirk, "It's like a spoonful of sugar helps the medicine go down."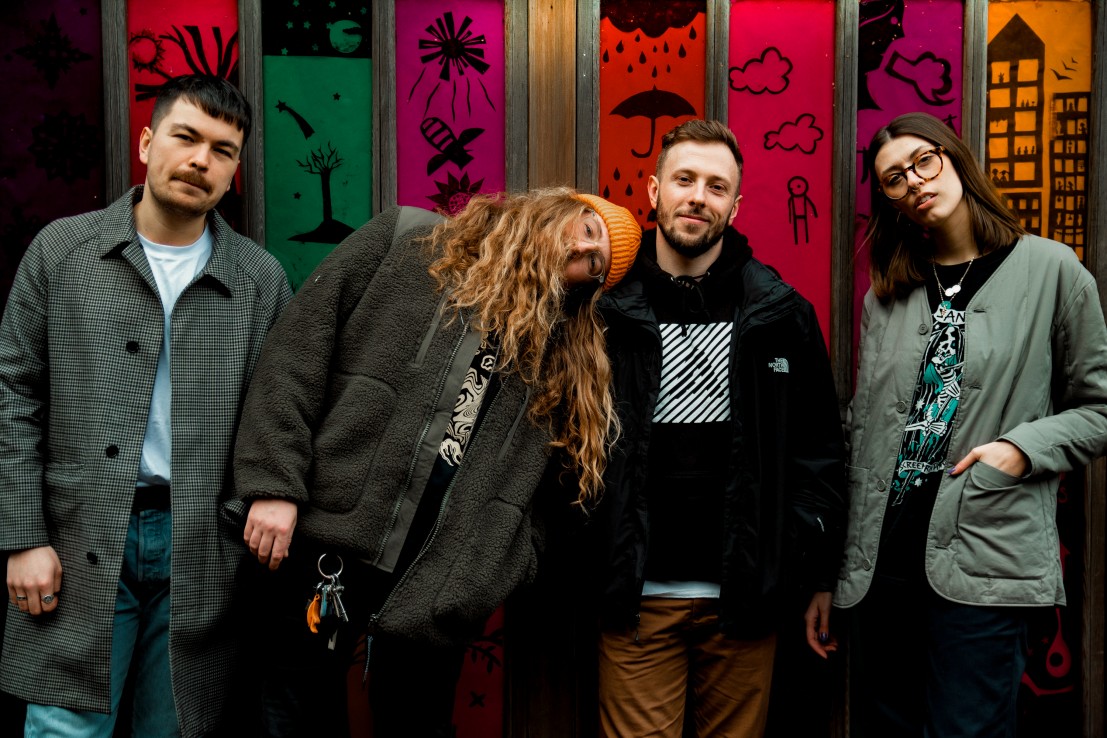 The word 'palate' keeps getting bandied around our chat in reference to the amalgamation of sounds that encompass Orchards, so I ask what that physically looks like to them. It's Evers who brings out the allegorical realness. "Okay, so we're gonna go this nerdy; an actual painters palette which is black. Then all the colours on it are, like the album cover, neon pastels, vibrant enough colours that you can see everything individually but if you were to smoosh them all in one colour, it's still going to stand out."
Off the cuff explanations like this are the reason Orchards have resonated with their fanbase: sincerity bleeds through every note and, in particular, lyric. Exclusively only writing from "truthfully informed experiences, something that's happened to me or how I felt," for Evers it all falls to honesty.
Delving into her experiences of counselling ("Magical Thinking"), and the energy of being both the lifeboat and sinking ship ("Sincerely Overwhelmed") Orchards would rather focus on these bare-bones than the usual clutter that can constitute an album.
Musing further, Evers explains; "We have a lot of fans who like honesty because I think we're the generation that's going to knock over being open and honest about things like mental health and like self-harm. It's a very important thing to talk about because it only, in turn, makes people healthier. And I think our community is very much like that."
More importantly, it's not from a position of pressure, it's a 'participate if you wish' scenario, but just know; Orchards are here for you. "You don't have to admit that you're going through anything," Rushton gestures, "but now you know that other people are."
Even the sounds of the band stem from a place of honesty. Given their varying backgrounds — Fane played in hardcore bands, Evers is a music theatre geek, and they all started "playing with math-rock bands," which Lee-Lewis explains. Merely writing the music they want to hear is why they're a band that fits both everywhere and nowhere.
"We played a show in Southampton, and about three people came up and asked, 'what are your guys influences?' And I don't think I could give you one. I don't think I could give you two!" Evers laughs. "We all have such eclectic tastes in music, so whatever happens when we get into a room together just happens. We write music that we enjoy listening to and that we want to make rather than going 'oh, it has to be this.'"
But just because they're determined to do what they like, it doesn't mean they're entirely ignorant to those that follow. Even during the process of writing "Sincerely Overwhelmed" Evers perked up excitedly, which she reenacts, "Oh my god, Vix is gonna love this!" Referring to one of their fans – a repeat offender at London shows. The mere fact that they can name and consciously gravitate toward knowing their fans' preferences speaks volumes for the compassion of a band that only want ever to be fun, and live that ideal through and through.
"In the grand scheme of things, we're a little band. We're not, you know, The 1975," Evers says. "I think that's why we write such positive and chirpy music so to speak because that lifts people's energy, what we want when they come to our shows — to be super positive and just have a really good time. Our audiences just want to be there to have fun, which is exactly what we want to do on stage because why would you not?"
Though things may seem like they're clicking into place for Orchards, that doesn't stop the demons from niggling away, especially when being pushed through such a cut-throat business like the music industry.
When I ask if the reality of the business can sometimes overshadow the positives of the band, there's a brief quiet of pondering before Rushton opens up. "You look at bands who do a debut record, and they're at such a 'higher level', he says with air quotes. "I used to be worried, [but] everyone's on their own journey, and I'm really bad at comparing because it's all like a kind of competition. You see it as there's only so much to go around and all that." Fane adds, "It's hard not too sometimes."
But, as their Juice Box does for their fans, the community surrounding Orchards is filled with characters ready to lend a sage piece of advice here and there. After finishing up a recent stint supporting Indoor Pets, the singer Jamie Glass approached the band wishing them luck, but more importantly "don't worry about the numbers." Fane continues.
"It's difficult to not focus on how many streams you get, how many pre-orders you've had, how many people have bought that pre-order with the t-shirt. How many people bought the pre-order with the special coloured vinyl? It's really easy to look at numbers and be like, 'Oh my god, oh my god' but it doesn't mean anything. What matters is how people react to the music. And luckily we're in a fortunate position with that."
Which is where the real journey for Orchards lies. They're a band who want to be a band, releasing albums that end up doing more than just entertaining, they want to be that band to someone, and as things stand, they're doing alright.
Taking a retrospective moment as our chat draws to an end, the Orchards before me feel as if the unpacking of their journey to this point has reinforced that this is what they were meant to do.
And if any of the above wasn't testament enough, then the five-year plan they'd set at the start of their journey being all but wiped out entirely within the last twelve months should do it. Sitting across from me with wide-eyed wonderment, Evers, as she pieces it together along with the rest of Orchards, all have a beating heart filled with understanding and are ready to be your band, just like they are for so many already.
Lovecore is out 13 March via Big Scary Monsters