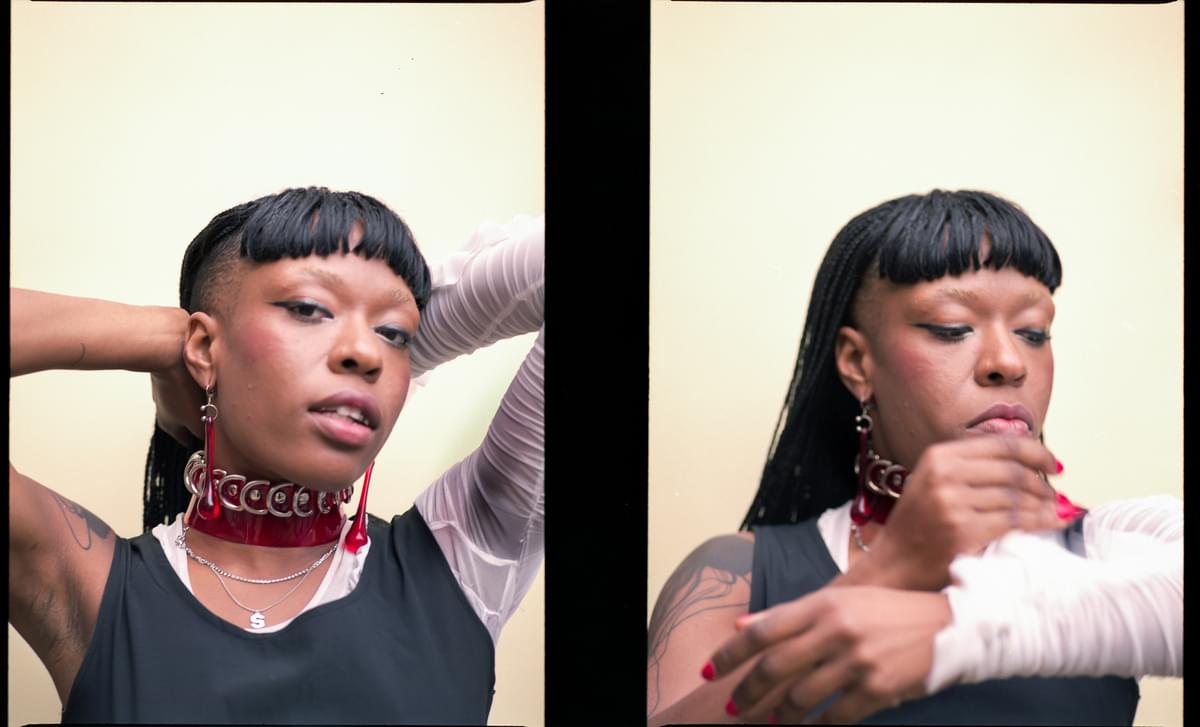 On the Rise: Sudan Archives
22 October 2019, 08:40
Violinist and gear-obsessive Sudan Archives grew up on a diet of Xena and drum machines. Her debut album Athena mixes the sounds of her heritage with the pulse of LA's underground.
Every hero or heroine has a backstory. Batman tragically lost his parents as a young child. Wonder Woman was sculpted from clay by the gods of Olympus. The story of singer-songwriter and prodigious violinist Sudan Archives isn't quite as dramatic, but – just like Wonder Woman – she has been moulded by her experiences and the people around her, helping to define the artistic vision for her debut album, Athena. It's a mystic brew: part hip-hop swagger, part pop sheen, and one large dollop of spiritual soul.
Artists' idols can spring from many places: Sudan Archives – aka Brittney Parks – found her role models staring back at her through her TV set. "Ever since I was a little girl I've always watched Sailor Moon and Princess Xena, all those types of TV shows," she says. "I've always been inspired by strong women, period." These powerful women have never left Parks' side, and they've had a hand in everything she does – musically and visually. But though she cuts a striking, bold figure, it was not always this way.
"I'd consider myself a bit of an outsider," Parks reflects. "In high school I definitely was. And maybe I still am? I remember at high school, I moved around to a lot of different high schools, and I remember having friends, but at the high school I graduated from, I remember not having anyone to sit with at lunch, or ever going to prom. That sounds pretty lonerish. It sounds a bit sad, but I wasn't. I was over everything."
Parks grew up in Cincinnati, Ohio, where her life revolved around church, working, and playing hooky from school. It was during this time that she would fall in love with music, and her weapon of choice: the violin.
"I don't know what drew me to the violin. I literally saw it and fell in love as soon as I saw it. When I was young I saw this group of people playing violins, but they were dancing too. It was very upbeat, very wild. It wasn't something I was used to seeing, because whenever I would see violinists, they would be sitting down in a group playing classical movements and stuff. So, when this group of fiddlers came, dancing round the room as they played, ever since then I just wanted to be like them – in my own way, though."
Seeing this energy captivated Parks. She wanted to bring her own style to her instrument, to create something wild, and truly her own. To save up for new instruments, she held down several jobs alongside her studies and locked herself away to hone her craft – just like her childhood heroines. "Whenever I got paid I would buy an instrument," she explains. "I had all these drums: hand drums and drum machines. That's when I properly tried experimenting, trying to make my own beats. My first beat was made off of my iPad, but I was always curious; watching YouTube tutorials on how to use the equipment."
In that mountain of gear, a firm favourite emerged – the loop station, which appealed to Parks' physicality. "I think being able to use equipment like that hands-on..." she says. "Using your feet or your hands, it made a lot of sense to me, because I like to touch things and create loops in that way, instead of just using my computer. I like to just grab a bunch of objects, record it, see what kind of sounds they can make, you know?"
As she learned more about playing the violin and beat-making, Parks began to discover how other cultures and artists have taken the violin and shaped its sound to adapt to their environment. She remembers coming across a Sudanese violinist named Asim Gorashi, who could play strings, whistle and sing all at the same time.
"He's like a one man band," she says. "When I saw that, it opened up the possibilities of what I could do as a solo performer with a violin. There's a lot of artists out there doing a lot of experimentation with violins, like Iva Bittová, she's a Czech violinist. There's one artist – I forget where she's from – but I think it's Eastern Europe. She loops violin but also wears tap dancing shoes. She then spins in a circle and loops her tap dancing to make the beat as she plays. There's even one-string fiddlers that play this kind of stone age violin made out of a coconut shell and horse hair. It just amazes me that these tribes just use the tools around them: like snake skin, talabash, horse hair to make these instruments, and then teach themselves until they master it – producing so many notes out of this one string."
This clashing of worlds and styles lit a spark within Parks'. On her quest of discovery, she decided to move to Los Angeles, America's mecca for woozy, beat-driven electronic music. It was here that her music was once again impacted by her surroundings and the people she met, igniting not only her inspiration but her career, too.
"LA is where I discovered the whole electronic music scene. I used to go to Low End Theory, which was kind of like a showcase for producers. You don't necessarily have to be a singer-songwriter to perform. You can literally just play your beats and that's the show. Seeing stuff like that really caught my eye, seeing people create their careers out of things they just love to do: whether it's making beats or creating live visuals. It was really cool to see that scene grow."
It was at Low End Theory where she met with Stones Throw A&R and Leaving Records founder Matthewdavid. After hearing her music, Peanut Butter Wolf signed her to Stones Throw. Her self-titled debut EP introduced the world to her fusion of North African-style fiddling, layered R&B harmonies, and hip-hop leaning production.
Today, Sudan Archives is an artist who invites contrast and contradiction, the yin and yang that constantly flows throughout life – especially hers. This sense of duality has stalked Parks ever since she was born, and is a major theme taken from Athena. It manifests itself in many ways throughout the record – in its melding of sonorous melodies, near-classical string arrangements and splashes of that spiky LA sound – but she also feels it's born from her status as a twin.
"When I moved to LA. it almost seemed to me like I was the bad twin," she sighs. "People thought I was hard to work with, but I think I just had a different approach musically, but I didn't know how to express that. My twin sister moved to Nashville, but, maybe like a year ago she moved to LA. – so there was a weird confrontation I had to face with myself. We almost had to get to know each other again because we hadn't lived so close to each other in so many years.
Park says it was "kind of awkward" because her and her sister were very different people – but the bond bought her comfort as well: "It felt really good, too, to have this sense of oneness, having someone so close to me living in the same place. It felt like I was living in a big circle."
Aside from rekindling her relationship with her sister, Parks also continues to take a great deal of strength from her heritage. You only have to watch the videos for singles "Nont For Sale" and "Confessions" to get the perfect visual representation of her character. Both clips showcase a modern take on the classic American rap video: the cars, the women, the urban landscape. But this is Sudan Archives' world, and the women are the focus here. She completely flips the script as she sings, "Mesmerized men at my feet / Let's go to the top just you and me."
These videos shine a light upon both branches of her roots – African and Western – with everything you see planned and setup to the smallest detail. And that's just how she wants it:
"I really like to be involved with how things look, or how I'm represented visually," Parks insists. "When I make music, I see exactly how the music video is going to play out. I think it's cool to be rooted and know where you come from. I'm from Cincinnati, Ohio, but I'm African American, so I'm honoured to be inspired by my Western culture and African culture. What I'm doing as an artist is expressing myself as an African American; mixing it all together because it's basically all the same, and we're all inspired by different types of cultures. Western civilisation was inspired by Greek culture. A lot of black Americans are inspired by Egyptian culture. As people from all around the world, we are all inspired by the greats, and we want to be like them. That's why Africa, and the world, is such a magical place to be as an artist, because it's almost as if the world is ours, helping us to produce something great."
Once Parks found some clarity and oneness within herself, she then had to open up herself and her music to others - something she wasn't comfortable with, at first. "I come from a world of making music like a hermit," she says. "Even being in a studio with another person... I didn't really know what to do. I would just sit there not saying anything, and the other person would be like, 'so… what do you want to do today?' – and a lot of the time I didn't know. I had to learn to ask for help and say what I wanted, but I also had to learn when to say I didn't need help and say, 'It's OK, I've got this.' I had to grow to make the album, it was almost like a rebirth in a way. This album is a journey towards the making of a goddess."
This rebirth, as she calls it, showed her a new way to express her lyrics and her music. She became willing to share the load with musicians and producers she admires. Athena sees Parks teaming up with a whole host of producers, people who have worked with the likes of The xx, Sampha, Charli XCX and Danny Brown.
"Working with so many people brings out so many different sides of you. You can't really beat around the bush. I felt like my older songs were kind of like Negro Spirituals: coded messages that never really got to the point because they were meant to say one thing but mean another. I kind of feel that is how my writing style used to be. But for this album, working with so many people and being asked so many questions from writers, they would always ask me, 'What are you really trying to say?'. And I would give them an answer, and they would tell me, 'Well, that's what you should actually put in the song then. Make it clear.'"
Once she mastered this more direct approach, she realised that collaboration was nothing to be wary of – that "an idea is just an idea". She began to take the ideas brought to the table by her collaborators and pull out the bits she liked the most – meaning Athena sounds distinct and idiosyncratic.
It may have taken her a while to get to this point, but Parks doesn't enjoy taking the easy route, because where's the fun in that? She describes her previous EPs as "a haiku of what the album is". The bare bones were there, but it would take more blood and sweat to create a full-blown record. ."But I don't like things that are forced," she admits. "I'd rather just wander, get lost, and then find something on my own. I know that things are not always what they seem. I question the idea of beauty, and find beauty within myself, and whatever feels beautiful to me."
There's a wave of female artists at the moment pushing the limits between art and music: FKA Twigs, Kelsey Lu, Solange – distinctly different heroines, each with their own unique super powers. When I ask Parks about being part of this scene, I hear her voice grow warmer as she speaks.
"I think there's some kind of Black girl magic going on," she grins. "I think there's a Black renaissance happening. We're all from different places, experimenting and representing ourselves."
"It's great that we all come from different cities and backgrounds. Little girls are going to be able to see that and think, 'I want to play violin, or I want to play cello." It's inspiring that girls are pushing the limits. I want young girls to be creative and question things, take a different route to the one you might usually take, just to try it out, because you never know what's going to happen."
It's all about completing the circle for Sudan Archives, and Athena is the link that has been missing. "I feel that the album ends with a sense of oneness. Not just within myself, but within everyone. I want people to listen to this album and know they have power, as a woman or a man. To be one with the good and bad that might be going on in your life. It's part of you, embrace it."
This album is for Parks herself, her fans, her collaborators, and everyone who has helped her along this long and winding path. But most of all, Athena is for that little girl who would while away the hours lost in the worlds of Sailor Moon and Xena. She wants to take it back to where it all began and make that girl proud. As she sings on Athena's opener: "When I was a little girl, I thought I could rule the world".
Athena is out 1 November on Stones Throw Records.
Get the Best Fit take on the week in music direct to your inbox every Friday