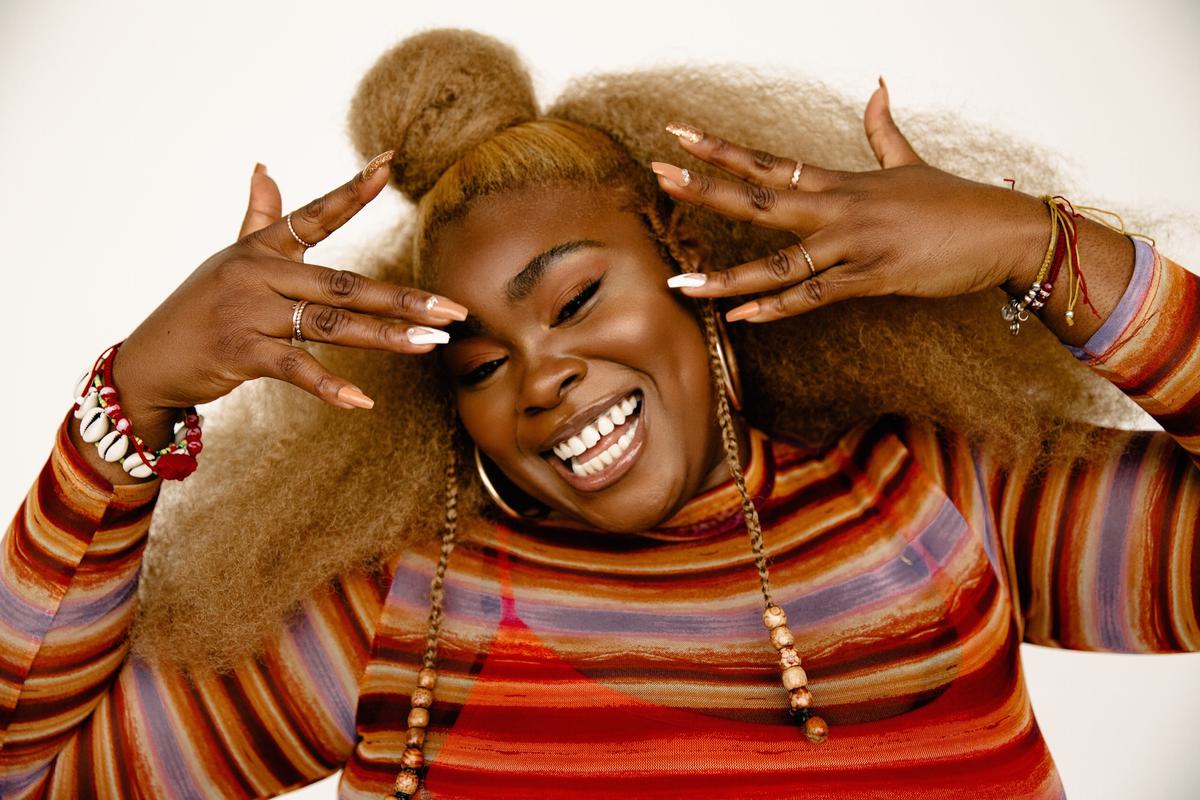 On the Rise

Nnena
23 April 2020, 11:00
Faith-driven and fiercely confident, Ohio emcee Nnena employs her comedy-writing chops to pen bold anthems of self-assurance.
Ohio-based rapper Nnena's vibrant personality has turned some important heads— including a certain acclaimed Hollywood director.
"J. J. Abrams – he's such a household name, you feel me? I don't mind taking this risk with him. I know I can hold my own. I know I can write. I know I can do anything I put my mind to."
Nnena has been releasing music under Abrams' nascent label Loud Robot for the past two years. Her soulful, powerful hip hop is imbued with themes of feminine empowerment, and her lyrics – often centring around losing love, and penned with an unsparing honesty – are therapeutic for both artist and audience.
"My message is just like, basically, 'bitch, it's gonna be ok. You're not alone.'"
Nnena first turned to music when she was faced with relationship problems. "It was this stupid-ass boy — he got married on me," she says. 'It was fucked up. And I just started writing all this heartfelt music. The very first song I wrote was about that, and it started helping other girls, so I was like 'Ima keep this shit going'."
Beyond her love life, Nnena draws deeply from her cultural background. When asked if her Nigerian heritage has an influence on the music she makes, she responds with an emphatic "Fuck yes!"
"When it comes to rhythm and shit — it's a certain type of rhythm we have, you know? It's different. And you just bring that... I'm not gonna say Americanize it, but add some of those aspects to it." Nnena's father was a DJ in Nigeria, and his record collection became an early source of inspiration. As for her mother, Nnena proudly cites her as the reason she's such a hard worker: "Mom's self-employed, she has her own shop. She's a seamstress. She's a chef. She caters. She does a lot."
This work ethic translated directly into Nnena' career in the arts. "I was my own team. I would do it all, all by myself. When I say hustle, I mean HUSTLE! Hustle, hustle, hustle." One thing is clear – Nnena knows her self-worth. "You know, I'm pretty cool. I make music, I work with J.J. Abrams, I'm a songwriter. I'm currently working on an album. Some would say I'm a singer / songwriter / rapper..."
"...And I make small films," she adds as an afterthought.
Indeed, her music career stemmed from an unlikely source: through online comedy skits, broadcast via Instagram and YouTube, Nnena landed a deal with Netflix distribution. She began penning a show titled Damn Nnena: The Hurt Bitch Chronicles based on her own life and experiences as a Nigerian-American in Cleveland. And then the show needed a soundtrack. "I was being cheap," she jokes. "It was time to license the music out for the show. I'm like 'that shit is just expensive for nothing'. I said, 'since I wrote the show, I can probably write a 2–3 minute song for it too'."
That song, written to accompany her show, was "Not The Thumb", her first independent release. It quickly gained recognition online, so much so that her music career superseded her comedy writing: "I put that shit on pause because music started working so much better."
As if balancing dual filmmaking and music careers wasn't challenging enough, Nnena was also completing associate's and bachelor's degrees in rehabilitation at Wilberforce College at the time. "I feel cool that I got those under my belt. I don't know a lot of rappers that can say that they have two degrees."
I inquire whether she was performing her music while she was at college. "Hell yeah. I went broke doing that shit. Everything I had, I'd use to go to Miami, and do dumb shit to go to an open mic night. Just stupid shit. But it got me out there, so it worked. I'm happy I did that." While other rap career hopefuls were relying on online platforms like Vine and WorldStarHipHop to be scouted, Nnena scoped out talent competitions nation-wide. "I went to Miami, Atlanta, New York... I went places that had competitions that I knew, if I went there, I could get that money. I would be so strategic. I would size everybody up."
Most of these talent competitions offered cash prizes, prizes which Nnena quickly scooped up. But in terms of reinvesting the cash, she wasn't as savvy. "I was mostly spending the money from these competitions on tickets home, because I was a dumbass," she laughs. "I had to take some dumbass risks. They worked out though, because God likes me."
I wonder whether she met any fellow artists or talent agents in these competitions that would end up helping her grow her career. "No shade, they kinda want me to help them. When I said I was my own team, I meant it. The person who helped me out the most is my mom, you know? Gave me some money when I was broke." So there's no one from her early days she'd like to thank? "The only people I can thank are the people who gave me the money from the competitions I won, I guess," she laughs.
Whereas these competitions afforded Nnena some notoriety and stage experience, her big break came when she was noticed on Instagram by a member of J.J. Abram's talent scouting team. "I was doing little freestyles here and there on my Instagram. She just so happened to scroll on my page one day, sent me a DM — the best DM of my life! I'm so happy I answered it! Then it just went from there. They flew me out to Santa Monica, and that was that."
It wasn't quite the rags-to-superstardom montage it sounds though. While waiting on an advance from the label, the rapper graduated and moved to Colombus, Ohio, delivering for DoorDash to make ends meet. "As soon as I got the cheque, I think four days later, I left for L.A," she says. "I didn't have a place to stay. I'm just one risky bitch. I can't wait around for it to make sense."
Self-motivated as always, Nnena's move was a conscious decision to be closer to her label and to the epicentre of the arts scene. "That was the best fucking move. When I moved out there, a lot of shit changed for the better. Being in the right place at the right time is a real thing out there. You never know who you're standing next to."
In Los Angeles, Loud Robot paired Nnena with a number of creatives, working on her songs and finessing her project. She expresses appreciation to the label for allowing her full creative control of her work. "They don't try to mute me, make me into what they want, which I'm so grateful for. When I came to them, I had tracks that were already ready. "Lovesick" was already written."
"Lovesick" is a heavy, soulful anthem berating a past lover, its theme a thread that runs through Nnena's catalogue. Employing the considerable resources and connections available to the label, the accompanying music video was shot in the same studio where Star Wars was filmed. Nnena proudly outlines her role in the production, from working alongside the director to sewing her own outfits. "I put a lot of thought into it. Me and the director worked together, so I had a lot of say."
The highly produced cinematic video for "Lovesick" is contrasted by Nnena's latest release, "Work It Out". The track is an energetic, sex positive romp, with a beat salvaged from producer Dave Hamelin's unused work for the Lion King. Its video harks back to Nnena's off-the-cuff Instagram skits, rapping at the camera and exploring Venice Beach. "I said 'Let's just go to the beach and have fun'" she recalls. "Let me do some weird shit.'"
Nnena seems comfortable being the flagship artist for Loud Robot, who appear to be testing the waters with her. "I was the first one," she states. "I know I've got some little label brothers and sisters out there. It's just very, very, very... very new." Despite the novelty, Nnena has been working with the label for two years, having released only four tracks in that period. The slow drip of content doesn't phase her. "How they wanna roll it out is just make little sparks for me here and there, just to get attention until it's my big moment. Which I respect! I want organic growth! I don't wanna be like one of these newbies, you see them for one year, and after, five years later, you don't know who they are."
"I don't even care that I'm not getting the most attention right now, 'cause I know my time is coming. I'm a faith-driven bitch, if you haven't noticed. I let 'em play they cards how they play them cards, cause I know I'ma be good. The time, she'll come." Indeed, the time may come sooner rather than later. Nnena is thrilled to announce she's shortlisted twenty-two tracks for her upcoming full-length album. Has she set a release date yet? "I don't even know if I'm allowed to say that," she smiles. "So I'm just gonna say soon."
When asked where she wants her career to take her, Nnena gives a grounded, philosophical response: "I wanna be in a comfortable headspace... and wealthy. And healthy. Those my three things. Shit, that's all I want. Stuff never goes as planned, so I just keep it simple with my goals."
As for her music, she hopes it can bring solace to people who need it. "I just want people to feel comfort. Especially when they hear my shit. It's a little escape, you know? I was escaping when I was writing it. Look at my shit like an escape room, how about that? Not one of those scary ones, the fun ones."
Nnena's single "Work It Out" is out now.