Growing up in Calgary, Melissa "Charlie" Storwick was obsessed with watching performers on TV, always ready to entertain strangers on trips to the grocery store with her mum. She was encouraged to take up hobbies to keep her mind active outside of school and was put into lessons to learn the trumpet and violin, eventually focussing on the piano above all, dropping the tuition and teaching herself by ear. "Lessons were killing the joy of learning for me, I just felt it was too analytical and there was no feeling in it," she explains from a breezy balcony in LA over a faltering Zoom call, as goes twenty-twenty.
She started to sing as she was playing, mum and dad constantly reaffirming her practice as leisure time. "My parents were like, this is a hobby, this is a hobby, you're gonna grow up and be an executive one day. And I was like, yeah yeah, whatever," she laughs. Eventually she was allowed to take up musical theatre in school, the challenge of combining singing, acting and dancing speaking to her burgeoning desire to entertain. "I was like, damn, this is fun. You can capture people's attention for a long period of time and enable them to escape and I just became more obsessed with that," she says.
Her upbringing was conservative, her parents religious. Her mum took her to a children's therapist to root out her growing pains. "The psychologist was like, she just wants to do everything to the best of her ability," says Storwick. "But that makes sense to me now because I just have this deafening work ethic where if I'm going to do something, I'm just going to do it with my everything, even if it breaks me down."
At the age of twelve she auditioned for Canadian TV talent show The Next Star where the marketing team gave her a makeover, rebranding her as 'Charlie'. "They're sitting me down and they're going, we think that you should change your name to Charlie on the show so people have something to follow. We think that Melissa's not a striking name," she laughs, shaking her head. "I wanted that life so bad at twelve that I was like, OK, OK fine, do it, whatever. They could have told me that my name was goddamn 'Hot Dog' and I would have gone along with it."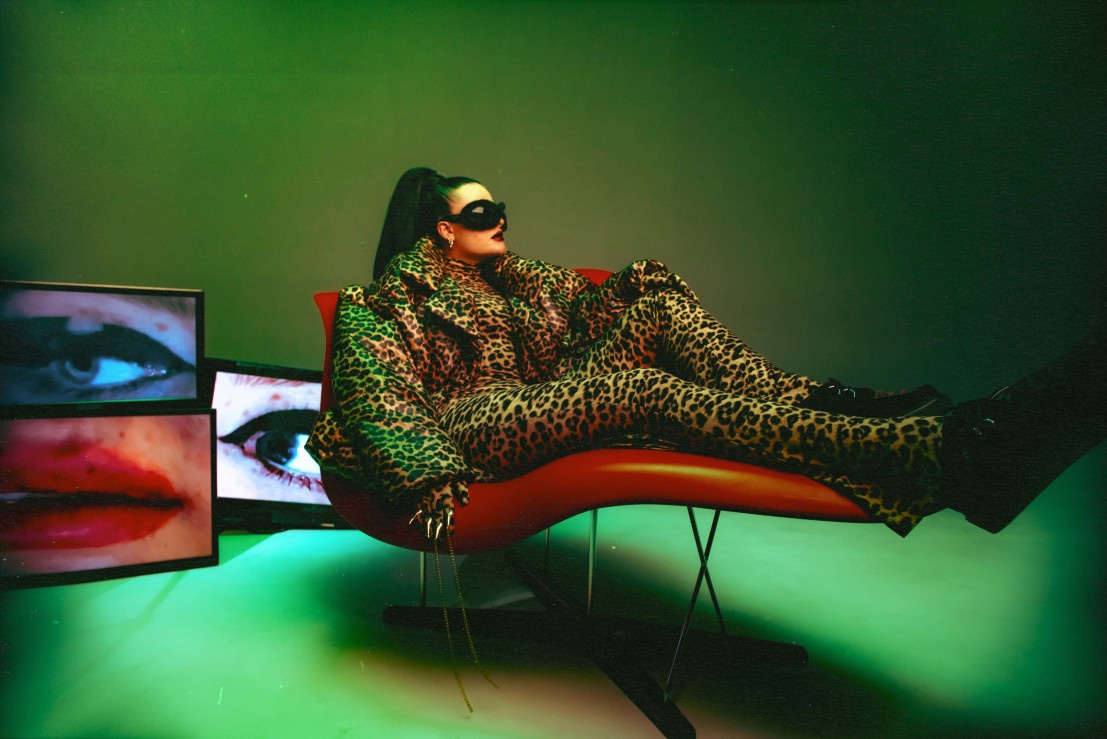 She ended up winning the show, then landing a starring role in the sitcom Some Assembly Required where she worked until she was seventeen. "It was weird growing up being famous. Like, having people everywhere you went follow you, taking photos of you," she says. "Being twelve and having that much attention is very interesting with how your brain develops because you're used to just having everything and anything now."
Upon leaving the show, Storwick turned her attention back to music and began self-releasing her own material. She was invited to a writing workshop organised by Canadian collection society SOCAN, and it was there that she met British producer BHAV who invited her back to the UK for further sessions. "I went the day after my eighteenth birthday and we started working. He really was there," she smiles. "And we worked twenty hours a day, ten days straight, we made like twenty-five awful songs and I was slowly peeling away who I was as an artist and as a writer. And he really took the time and was teaching me, this is what a song structure is, these are artists you should be listening to for melody ideas, concepts are important, all this shit behind the scenes you don't think about when you listen to a song."
Next up Storwick travelled to Berlin for writing sessions with German quartet Hitimpulse, living in their studio for four months, working on songs. "They said, you know what, we want to get you signed, we want you to be the superstar that you are." She laughs, "People talk shit so I'm not really taking it personally or seriously."
However, true to their word, Storwick ended up signing with Sony in Germany under the supervision of the European president Daniel Lieberberg. "I still don't really understand how I ended up being in Daniel's care because he really does care about his artists," she says. "That was almost one of those moments where you go, you know what? This was meant to be. And I think my whole journey has been a very reliant journey on just the universe making it happen, because I was putting in the work."
Storwick moved to LA and began, as she puts it, to write her ass off. "I must have written two-hundred songs that year and was just really, really hustling," she explains. Her credits include Ashnikko's "Cry" (featuring Grimes). But she was also writing for herself, creating a body of work definitive to her new persona as FAANGS, a name inspired by the vicious city she now called home.
With first single "HUH" released last month, Storwick's debut EP Teeth Out is due early next year. It's a raucous rush of trap-pop that hinges off her slick, velvet vocals and imagery-thick lyrics. The production is rich and expansive, toying with the flow of the songs. Lead single "HUH" is like a sadistic roller coaster, turning your mind upside down, exhilarating and dizzy it's three minutes inside another world.
"Teeth Out is about breaking away, but still acknowledging the past that I've been through, a lot of hard shit and a lot of great shit. I think it was pulling my teeth out, not taking no for an answer and just pedal to the metal, just being my biggest supporter and just believing that it was gonna work out if I just kept going, no matter how many no's I got." She pauses, "There's no way I could ignore that I've been a child star because it made me who I am."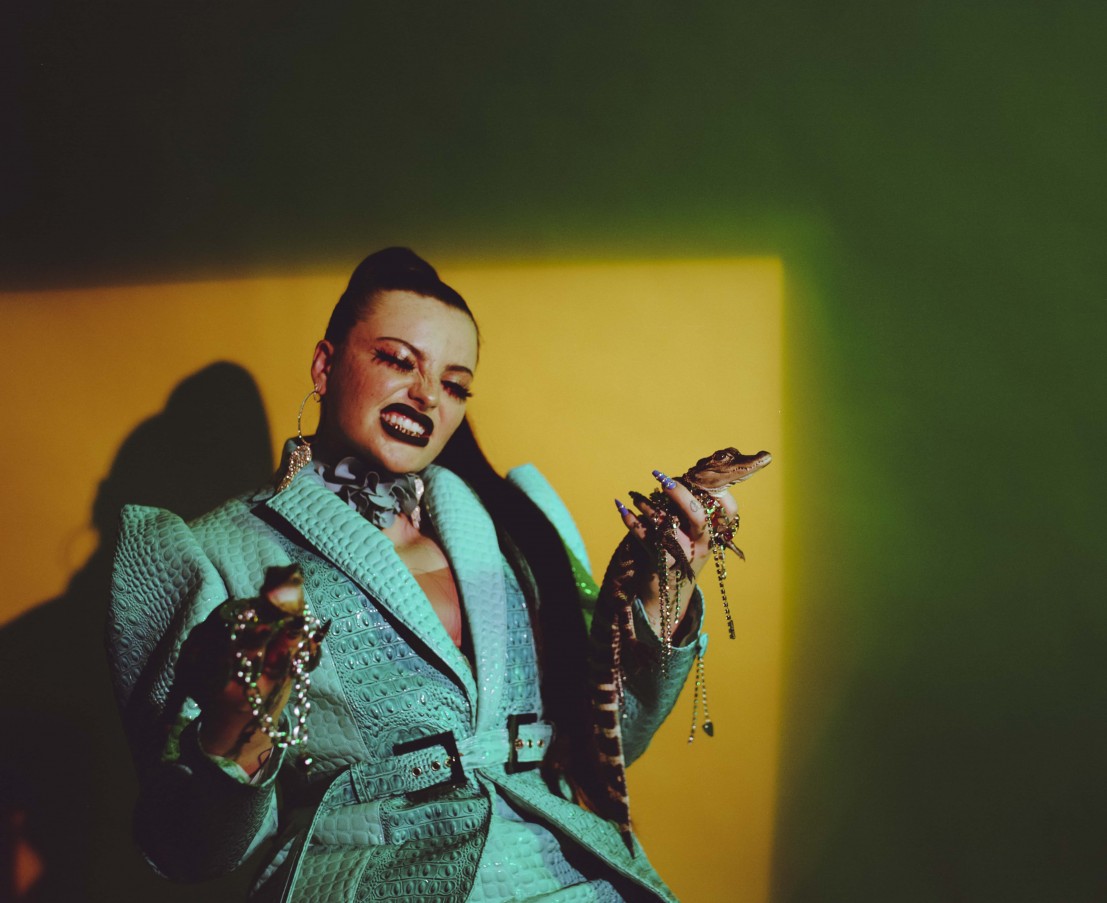 The aesthetic of FAANGS is as striking as the music. Everything you see in the campaign comes from the mind of Storwick, her creativity and vision, from the videos to the fashion. "Everything that's written, down to the photos, down to the social media, down to the name, everything starts with me and I just get people who can help me execute it," she states.
And there's only one other person she'll afford credit to, Tim Burton. "My parents thought I was possessed when I was young, I'm not kidding," she laughs. "I just became so obsessed with Tim Burton's movies. They were so colourful but they were so dark. It was just this contrast, the juxtaposition of a horror movie with beautiful characters with beautiful outfits in beautiful settings, but something was a bit strange."
Watching the video for "HUH", with a Beetlejuice inspired colour palette, she's like a Helena Bonham Carter character; theatrical, dangerous, wild and vibrant. "I just couldn't get my head around how this man with one brain can make this world," she smiles. "When you watch that shit, you don't even know where you are. I just want to do that for other people through music."
Try saying FAANGS three times tonight and see what happens.