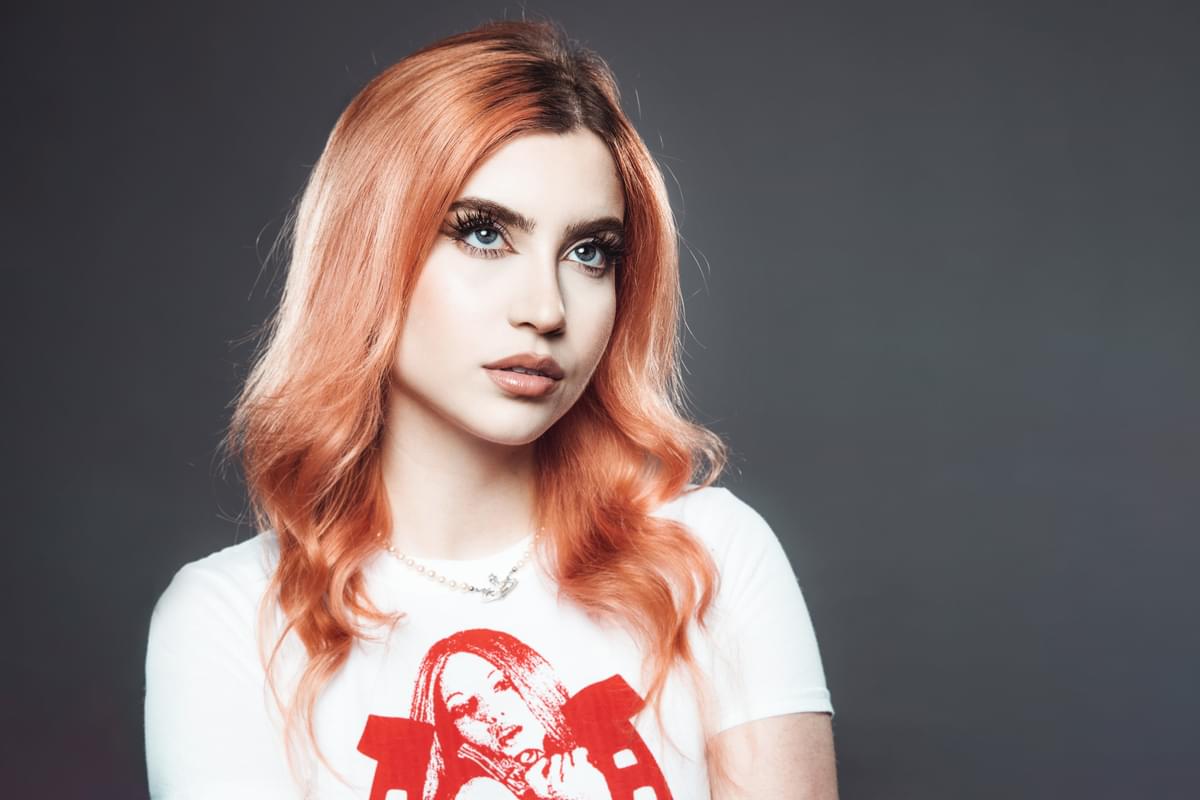 On the Rise

Abby Roberts
17 January 2022, 09:45
From the biggest beauty creator on TikTok to a legitmate rising music talent, Abby Roberts isn't pandering to anyone's tastes but her own.
Abby Roberts would like to leave her bedroom now, please. The 20-year-old has grown up in the gaze of millions, her teenage years exposed under the sharp halo of a ring light, rendered in high-definition and condensed to a well-edited matter of minutes. When, at 11-years-old, she uploaded a video to YouTube demonstrating a makeup tutorial on her younger sister, Charlotte, what began as innocent, creative expression swelled into unimaginable influence – and ever since, Abby Roberts has existed somewhere between reality and illusion.
"I was always a bit of an introvert and I didn't really go out clubbing with my friends. I was like, 'I'd rather paint my face in my room'", she tells me as she perfects a swish of black along her lash line. She is at the forefront of a generation more comfortable online than outside; there was an endless palette of colour and creativity beyond the grey drizzle of Leeds that existed outside her bedroom window. Watching her, there's little wonder why Roberts has millions of followers enraptured: as she prepares for the photoshoot, her face is a canvas that she approaches calmly with a kind of artistic poise, following an unseen blueprint in her mind reflexively. Every brushstroke serves a colour which appeals to a particular light or angle – and all the while, she talks freely and easily, undistracted by a process worthy of hours of undivided attention.
But of course, Roberts has been a makeup artist for almost a decade now – and an entrepreneur for just as long. Creativity, though, is a love affair that has been life-long. We play music to fill the airy studio space, but she politely asks if she could put a playlist on of her own. With the same quiet confidence, she hits play on a collection of far-flung sounds, from the incisive, rusting guitars of Pixies, to the cherry-coloured daydreams of Cocteau Twins and the restless, fluttering voice of Lana Del Rey. It's music that exists in the same world as hers.
Roberts' as-yet-untitled debut EP captures all the shades of the music she loves, and its dewy sincerity and courageous introspection is a statement of her own coming-of-age story that isn't so different to yours. For her, it's about reaching across from the smoke and mirrors you imagine she exists in for you to realise that she is real: prone to the same bouts of joy and despair, exhilaration and heartbreak as any other.
She knows what you're thinking. Roberts is nothing if not acutely self-aware – something she was forced to be from a much younger age than what could be considered normal or necessary: "I wanted these songs to be respectable. I was very cautious with not rushing into anything when I didn't feel ready for that, because I know there's this whole thing with influencers going into music and being seen as this cash grab, kinda thing. For me, it was so much for than that."
She knows that attention doesn't equate to respect – or agency, for that matter. "I just got into this real creative rut, makeup-wise," she says. "I'd be trying to think of ideas, but I just wasn't excited to do it anymore. I think if you're not excited to do something, that's a sign it's time to expand your horizons a little bit. I've noticed a lot of comments asking why I'm not doing makeup as much. I've been doing it for nine years now online, and I wanted to look for inspiration to do different things rather than just being stuck in my room doing makeup all the time. It's been hard going through this transitional period, but I want people to see a different side of me." Her career as a social media influencer, something she didn't choose but she feels was "thrusted into", has meant that she can meet the suspicion her followers have towards her music with a tough skin.
I ask her why social media influencers, in particular, are harshly judged for other creative endeavours. "I think it's because they don't see a lot of your life," she shrugs. You know, they see the fifteen seconds in a TikTok video. They don't see the hours and hours I spent in the studio; they don't see me staying there until 4am and having little mental breakdowns in my hotel afterwards, you know? It looks like it just came out of nowhere. But people think they know your whole life from so little."
Unlike every other step in her career, her music wasn't made with an audience in mind. "A lot of the time, when it's an influencer-turned-musician, it's kind of just something that appeals to a lot of people. It's an easy concept for people to grasp hold of," she says. "It was never something that I thought, like, 'Oh my god, are people going to like this?' It was just something I needed to get out of my system. It's personal to me."
It's true. Listen to the six tracks on her upcoming debut EP, and you will find a spectrum of sound and ambition: there's no low-hanging fruit, nothing to ride on the coattails of a trend, no hollow epithets. As with every dimension of her creativity, this vision was hers, and hers alone. Ever the perfectionist, it has been hard for Roberts to add the final flourishes and step away: tracks have been cut and added, the release date has been pushed and pushed, and she's still hovering over a list of forty names for the project on her notes ("I don't want it to be too pretentious or arty-farty. I'm still not any closer," she laughs.)
But she was certain with "Paramaniac", the lead single. It's a soaring soundscape of indie-rock, her voice so light it threatens to float to the heavens. "It gives me coming-of-age vibes," she tells me. "It's my favourite from the EP because it summarises everything I talk about across all the tracks. It has been a really personal project to me, and a lot of the stuff I talk about is super close to me, like breakups, but also personal struggles and pressures I feel have been put on me in the job that I do and just being in the public eye. It's something I've not really spoke about online before, but I think music has been quite a therapeutic way for me to show that."
Life as a social media influencer is about creating an illusion, and with that, Roberts has found that keeping certain parts of her life at some remove has been a matter of survival. But in this space, in the three-minute magic of a recording studio, she is exhilaratingly honest: "My failure of a love life / The fact I'm never satisfied / I'm quite shit at guitar / I know that's only my own fault / I wish strangers liked me more / Social media's a bore / Might be best if I just quit / Does that make me a hypocrite?"
But it's more than just an exorcism of her own demons, it's an outpouring of feeling for the people she loves: the familiar feeling of helplessness when you must accept you can't make their struggles disappear. It was written about her best friend. "It was about personal stuff to do with being a woman," she shares. "There's a lot of shit you have to go through, and I don't want to speak on her behalf as far as that stuff goes, but it's definitely something I can sympathise with. I've gone through similar situations to that." It's an experience her producer on the track, Noah Terefe, could relate to in a different way. The pair collaborated in bringing those sentiments to life both lyrically, but also in the way its cathartic wall of guitars at the track's zenith feels like a stinging gulp of fresh air. "It's quite hard to listen to, sometimes, because it's so personal," she shares, speaking about the wider EP. "I've got to be in the right mood to listen to it."
While a track like "Pink Champagne", with its dreamy, bedroom-pop lilts in the vein of early Clairo, can distract from lyrical heaviness, a song like "Cigarette Burns", with its percussive bleakness, is much more forthright. "That's probably the darkest one," she confesses. "I wrote that literally at the hardest point of my life last year. I'd ended up in hospital because I was overworking myself, and my body just kind of was like, 'Stop'. Yeah, so I ended up there. After that happened, I kind of had a big realisation of: 'Shit, I need to be easier on myself and know when to stop'."
Her passion is her work, and work is her passion: Roberts, on the one hand, is privileged enough to call them the same thing, but when the lines between them are so blurred, so are the boundaries of work and pleasure. "I think I'm so scared of failing at life, so I just work all the time," she tells me. "Like, doing get me wrong, I love working so much. I love my job, and half the time, it doesn't feel like a job, which is kind of the problem. I don't know when to switch off. When I'm not making stuff for social media, I'm in the studio, writing about these really hard things that are quite mentally draining, naturally, to talk about."
Roberts recognises that having the platform to be able to explore music in such depth is a "luxury". She tells me that she'd been looking back at family photos lately, and it's clear that music, just like makeup, have been lifelong passions: there's Abby with her hands smothered in paint, but there's Abby, too, holding a microphone, putting on a performance with her cousins. "It just transfers over, whether I'm doing makeup and painting on a canvas or making music, I have to be creating something otherwise I get bored so easily," she laughs.
She has always written, always keeping a diary and letting her feelings bleed out into fragments of notes on her phone. The music she loves is rooted in those same candid moments of self-reflection and arresting honesty, taking the personal and elevating it to the universal. Roberts could talk forever about the discography of Lana Del Rey – her dad introduced her to Born to Die when she was barely in her teens (but the stormier Ultraviolence is her favourite); or the lyrical brilliance of Billie Eilish, who has inspired Roberts to be courageous in her self-expression. "I like cool-guitar-sad-girl-rock vibes," she jokes. But really, it has to have an emotional dimension; the lyrics come first - and the music simply follows.
But what would this EP be if Roberts didn't address the elephant in the room? "I feel like I have to document every part of my life, because if I don't, it's a waste of time because nobody saw it," she says – and that puts words to the anxiety of an entire generation who, like Roberts, know no different. "I always felt a little bit fake, like, putting on this… putting on an act, or something. I didn't feel like I fit in with the beauty guru crowd much," she shares. "It's all quite airbrushed, and I was just, like, not feeling it anymore."
"I feel like I'm so suspicious of everyone. I don't trust anyone going into relationships, and that kind of stuff – I don't know what your intentions are."
Her track, "Video Girl", is about addressing the divide between her online persona and her offline self. Over brooding guitars, the lyrics are wracked with second-guesses, paranoia and living under the excruciating weight of playing pretend for living. "It's one of my favourite songs, conceptually, because it's written from three perspectives," she tells me. "The first verse is written from the perspective of me before becoming an influencer and comparing myself to these people who seem to have these really perfect lives. It describes the whole journey of starting to gain a following online and realising that things are not as perfect as people make them out to be, and the struggles of losing friends and the change in the way people treat you."
Now, Roberts is keeps her close friends as people who she went to school with because they were there before all of this. She says, "I feel like I'm so suspicious of everyone. I don't trust anyone going into relationships, and that kind of stuff – I don't know what your intentions are. And with friendships, if someone's wanting to take videos and pose for pictures the first time we meet, I'm like, 'What's this about? Really? Do you want to be friends with me, or do you just want views?'"
"Video Girl" crystallises Roberts' identity crisis in freefall. The anthemic chorus of the song is her channelling the voice of her younger self: "Video girl, I wanna live in your world / Does it make you happy? 'Cause that's what I've heard / Wish I could look out from your lens / What's it like in the deep end?" But the end is Roberts herself, speaking back to her followers and little Abby, who knows with hard-won wisdom that it's not all what it's cracked up to be: "You say you're unhappy, but that seems absurd / It's easy to say from the outside / Video girl, what's on your mind?"
"Everyone puts on an act online," she says matter-of-factly. "It's an exaggerated version of your personality, right? And sometimes it's like, 'Oh my god, who am I?' Like, 'Am I acting this way because that's who I really am or because that's who people want me to be?'" Roberts has had to change, almost chameleon-like, to feel comfortable in her own skin. "I think in the beginning of my online career, it took me a while to figure out who I was, and I went through so many phases, dressing a certain way and doing my hair a certain way. I had every possible phase you can think of… it's so embarrassing. But I think I'm finally at a point where I'm comfortable with myself. It's difficult, though. Literally everyone's eyes are on you and everyone makes mistakes when they're growing up - but having to make those mistakes in front of everyone is another situation."
But with that being said, her career, despite the its strain, is not something she wishes she never had. "I'm super grateful for everything, you know," she says. "It's brought me so many opportunities to meet so many people. I met Liam Payne from One Direction, and little Abby was such a One Direction stan at 12-years-old! It's mad. Even the music stuff: I don't think producers would have been reaching out to me if I didn't have this platform already. I feel like it would be crazy to turn my back on it… I mean, it's so fun as well. It was my dream job as a kid to get to play dress up for a living."
This EP, for Abby Roberts, is about long overdue transparency – and you can tell that with the release of "Paramaniac", she has found a lightness of being. "I hope the music speaks for itself," she says. "It shows how much I've worked on the lyrics because they're so personal. It's obvious that I wrote everything and that I was super involved because it reflects everything I love. It's not just something that was orchestrated by a team. I guess I just want people to understand how much effort I've put into this. It didn't come out of nowhere. I've been so happy dedicating myself to this," she smiles, "and I believe in it so much."
Abby Roberts' six-track debut EP will be released later this year
Get the Best Fit take on the week in music direct to your inbox every Friday