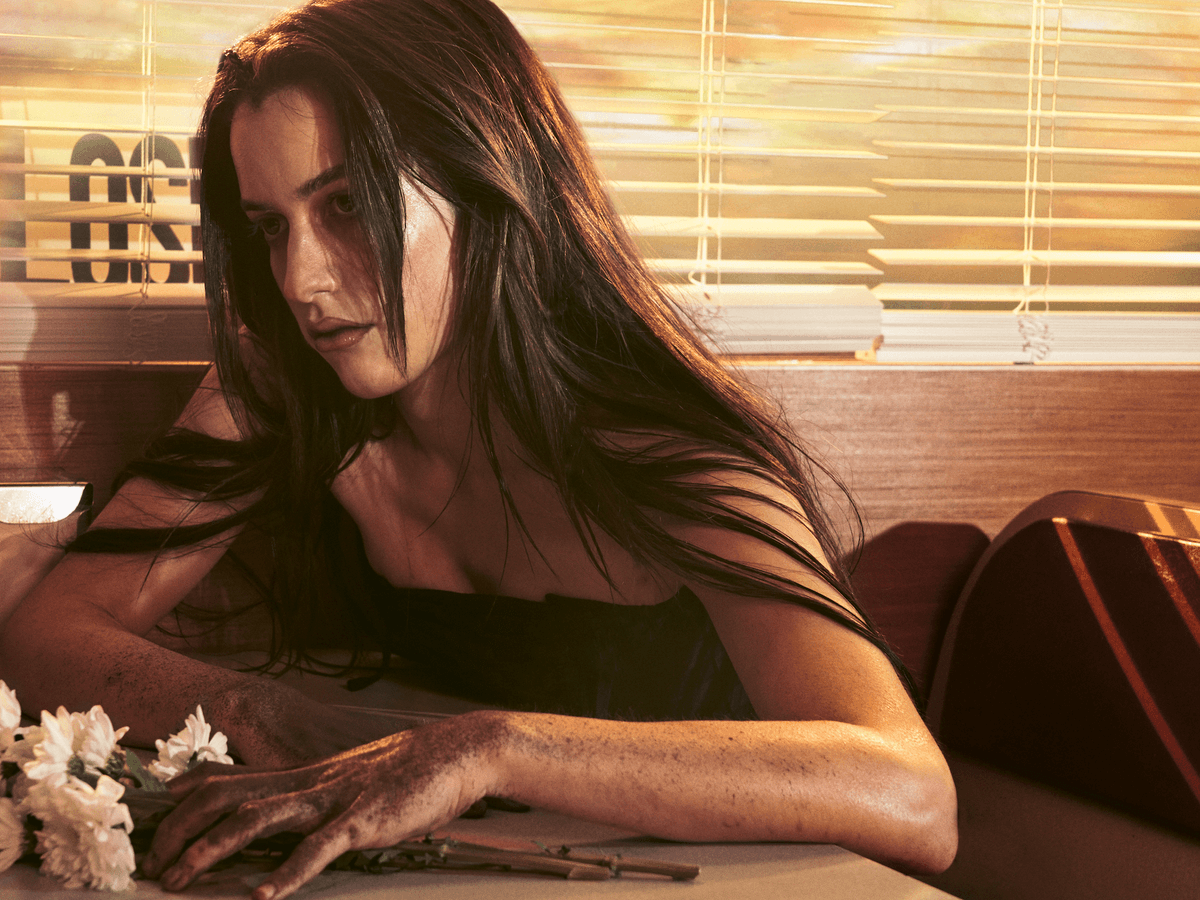 On The Rise: Oklou
21 October 2020, 15:00
A stirring escapist masterpiece Galore is the final puzzle piece Manyiel needed to craft in order to feel whole as an artist. It follows years of hard work, sonic experimentation and personal upheaval and across its 11 tracks, the mixtape becomes the ultimate manifestation of both hope and fear.
Manyiel documents some of the darkest moments of her life, she embodies loneliness and despair while taking her first steps into the shining, bright lights of her next chapter.
Growing up in the French countryside with her family, from a young age Manyiel was surrounded by music, namely the tracks on her parents' much-loved compilation records which included the likes of Queen and Sade. She fondly remembers, around the age of three or four, her parents' find a new passion for folk music, comparing the traditional storytelling nature of folklorique to that of North American country music.
Being asked about the soundtrack to your formative years is almost customary, it's something Manyiel has talked about countless times, but she always finds something new to discuss. "Yesterday I was thinking about this," she says. "Sometimes I have flashes of an album I used to listen to for years and I forget so much stuff."
She admits for a period of time she was really into what she describes as "English rock", commonly derided as landfill indie. Naming The Fratellis as one of the more memorable bands she says "I know all the songs by heart, even now, and I just don't remember because I think there was just so much music in my life."
By this time Manyiel was already becoming a musician in her own right. Undergoing classical training for both the cello and piano, there's no wonder her listening habits fluctuated between a leisure activity and granular dissection of everything she consumed.
"I've been performing for 24 years," she laughs. "Me and a friend of mine, we have a meme, it's I started piano at six, because so many people say that in interviews 'yes, I started piano at six', but me, I actually started piano at four and cello at ten."
"I've always been drawn to low sounding instruments" Manyiel explains, a pull which can still be heard across Galore with the addition of droning synths amidst some of the project's more brooding moments. "The double bass was just too big," she continues "and some say the cello is very close to the human voice in terms of frequencies and I think that's true."
Even Mayniel notes that her love of these deeper sounds is present in the music she's making now, but as for the influence of her classical training that's hard to describe. Mayniel breaks it down into "what I've learned, my abilities, my knowledge on the technical side and then there's my sensitivities and my appeal to melodies and harmonies all of that is a big mixture of not just my classical training, but everything."
Taking her time to really think this through, Mayniel isn't sure if her classical training has actually had a big influence on the way she writes pop songs. "Obviously my brain works in a certain way, but people create amazing melodies and harmonies without ever even reading sheet music," she ponders. Not sure how much any of this is connected, there's one thing Mayniel does know for sure is a direct result of her classical training; "I know my way around a keyboard."
From the auditions through to spending a lot of her free time studying music, both classical and contemporary, Manyiel grew her confidence and skill as both a performer and musician simultaneously. She began playing in bands using her skills on the cello, piano and guitar to her advantage.
Making hazy dream-pop for around three years with her most enduring band-project releasing 2 EPs and making a handful of music videos, but at 22 it was time to go it alone. She jokes that money was an incentive for her to strike out on her own, but does raise the reality of "playing a gig for 500€ which is split between five people versus being alone."
Having started making demos at 19 when she got her first computer, Manyiel's inquisitive nature found her picking up the skills to create music digitally. Replacing the need for other people, it meant Manyiel became the drummer, the producer, the singer and she had total freedom. Her YouTube channel acts as a time capsule for these early days of experimentation with clips showcasing her virtuosic piano skills to a 33-second long Enya cover through to a haunting rework of Beyoncé's "I Miss You". It's her virtual sketchbook, but of course there was so much more these learning curves which were undocumented, or at least unpublished.
Manyiel likes to draw a lin between pre-internet and post-internet. Around that boundary line Manyiel explains she met someone who "opened my mind to a new way of appreciating music and art, and I'm really grateful for having met that person."
The pair, having read an article in a fashion magazine about the growing popularity of Tumblr-originating subculture seapunk, were curious to find out more and headed online – "that was the beginning of everything," she laughs, "there were so many subcultures on the internet at that time and it was the beginning of PC Music, 2012 was fascinating."
When it finally came to releasing her own music, it was seeing her friends react positively that really cemented the idea that she could actually do this. In terms of other special moments, getting a co-sign from fellow pop outsider Palmistry is up there, "I was like I can do this," Mayniel explains of the moment she saw he'd liked a track on her "low-key" Soundcloud.
Getting recognition from the artists she admires never gets old. A significant step up from a like or share on social media is working and collaborating with those artists you admire and PC Music head honcho A.G. Cook is just that. He co-produced "girl on my throne", a hyper-active addition to the mixtape, bringing his own eccentricities to Oklou's off-kilter palette.
The mixtape began to take shape last summer while Mayniel was on holiday with friends, including longtime collaborator and kindred creative spirit Casey MQ. Already having the desire to make something longer than an EP, a long-player which would play out as a story, she set out gathering her demos and figuring out her next steps.
On this trip, they were sharing ideas and work with each other and Manyiel explains how Casey quickly began to piece things together and help her figure out what she was saying.
"He said things to me which were so precious regarding what I was saying in all these demos," Manyiel remembers. "I didn't even identify these feelings myself, but he put words [to] the energy of these demos and then I never stopped working with him. We really made it together. It couldn't have happened without him."
Summarising that energy, Mayniel says the mixtape is "about escaping your reality and trying to exist in another dimension than your shitty apartment." Gravitating around themes of love, relationships and loneliness, the making of Galore not only stemmed from a tumultuous time but was intense in its own way.
"Having to make difficult choices in your relationship and writing the songs at the same time is so fucking emotional," Mayniel tells me. "I have vivid memories of me writing the lyrics and crying, but you know when you're super sad you also feel super alive. I wouldn't say I'd go through that again, but that's life." Despite the emotional process, Mayniel loved it because it was the first time in a long time she'd been able to feel something other than what she describes as a "void".
Not only is it the first full-length project from one of the internet's greatest experimentalists, but it's also been a catalyst on a personal level for this artist to feel connected to her own work again. It's a connection that's so intimate Oklou admits she hopes she's able to feel the same way about songs she writes in the future.
"It has happened before," she says remembering "Friendless" and a handful of instrumental pieces, but "emotionally speaking [this] is on another level."
Galore is out now via TaP Records.
Get the Best Fit take on the week in music direct to your inbox every Friday