"I'm generally hard to get in touch with and I'm nearly impossible to get in touch with when I'm touring!" Whitford tells me from his Los Angeles home on a rare day off. "I just got home from the road two days ago. It's basically finished. I have a few California shows with Phoebe left and a show in Atlanta, but the proper portion of touring is over. I'm back home for the most part now."
It's been a while since we heard from Whitford, the solo artist. His debut album, Afraid of Everything, was released in 2018 during a break between appearing on Bridgers' own 2017 debut, Stranger in the Alps, and 2020's critically-adored Punisher. Whitford's second album, Afraid of Nothing, set for release on November 12th. What came first, the clever inverse of that title or a genuine progression of mentality, I ask. He hesitates. "I tend to be one of those people who makes an off the cuff decision and then applies analysis after the fact," he laughs. "I wrote the song that also has that title and I liked the song a lot so I figured it'd be kind of funny to name the record that. But on some level too, as a human being, I definitely do feel dramatically different from the person I was when I made my first record. My perspectives and sense of responsibility have changed from when I was 18 into my late 20s."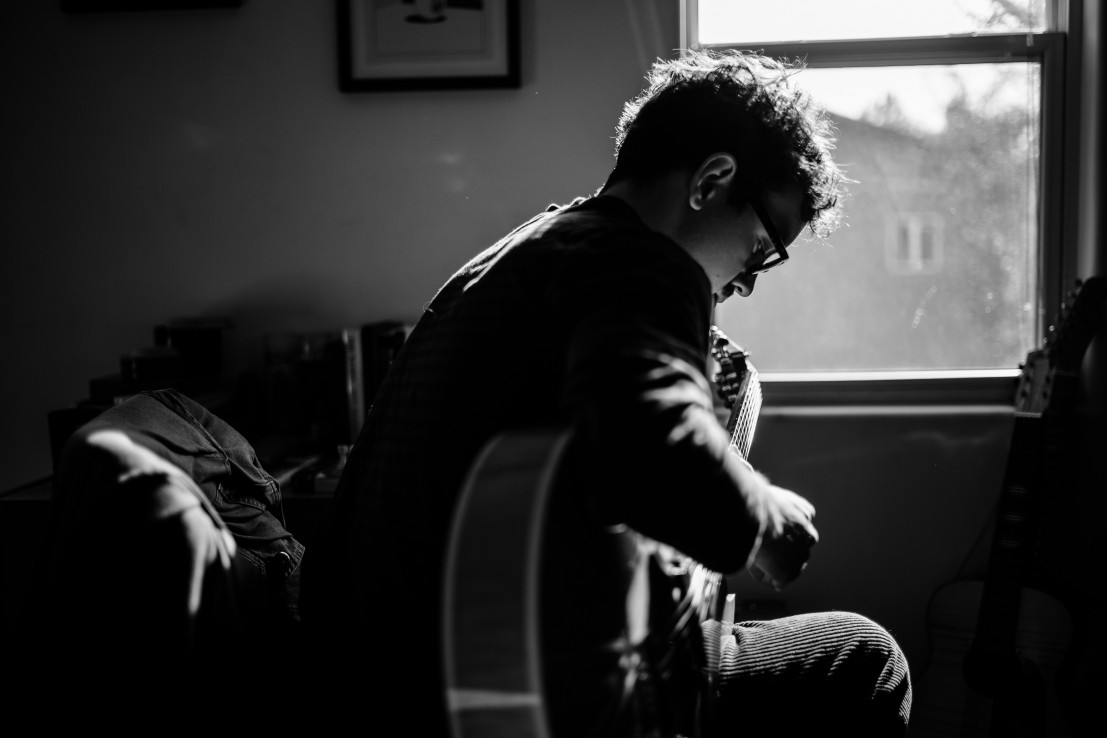 Whitford had been sitting on the songs that make up Afraid of Nothing for a while, having first recorded "about five of the songs" back in December 2019. They were only supposed to form a small EP, but the pandemic soon changed that. "I suddenly had all this time, as most of us did," he remembers. "My roommate had a really great studio in the garage so I started splitting the rent for that studio. I've spent so many hours recording demos in my life on such minimalist gear that I figured it was a good excuse to learn how to run an actual studio. And so I did that and found it was fun, so I thought I'd add a few more songs and make it a full record instead of an EP."
As we talk, there are few signs of tiredness from Whitford, despite coming to the end of a gruelling 25 date tour. Didn't he need a break? "I feel pretty good," he says honestly. "It's always the first two days after a tour that you feel pretty thrashed. It was 40 days on the road which was intense to do after not touring for almost two years!" Touring so suddenly again, particularly for the first time since the coronavirus pandemic, brought several challenges. "There was a physical shock, to go back into travelling around so intensely. You're not getting the best sleep, you're not eating well, your schedule is so weird. The last time I toured with Phoebe, the venues were much smaller but now we were playing shows to a minimum of 4,000 people," he laughs appreciatively.
It was the new COVID rules that wrought the biggest culture shock. "The (COVID) protocol is so strict now," he says. "You can't go eat anywhere, you can't go into a store. You can basically be in the venue or the hotel or bus. You're offset by this experience of these crowds having this amazing time and you feel like a caged animal. So I took that for granted, the psychological relief of going to a bar or a restaurant or whatever."
"I don't get so discouraged that it might take five demos in order to get the right take. I realised that sometimes the way to refresh an idea is to put it in a different outfit."
Whitford has become known for his virtuoso guitar playing - not only with Bridgers but also with the likes of The National's Matt Berninger - and it first bursts forth on the album's second (and standout) track, "Salvation Army", a beautifully solemn slide guitar driving the track forward. "It's about being in a situation that is volatile or destructive and you're trying really hard to fix it," Whitford tells me when I question the song's meaning. "It's about coming to this point where you realise the problem with a relationship is inextricable from the relationship itself. It's about getting to your wit's end with something that you want to make possible but it's just not possible. It's about defeat and acceptance and hope and all those confusing things that come with being in a situation that isn't great for your health." Is the rest of the album just as self-analytical? "I think so, although I wasn't necessarily thinking about that while I was writing it," he considers. "It was interesting to write these songs and then come back to them later and realise they were very self-analytical or that my perspective had changed on things."
His entire approach to making music has evolved over the years too. "When I was first getting into writing and recording songs, I was much keener on making one demo, making one recording, and just leaving it at that," he reveals. "Now I don't get so discouraged that it might take five demos in order to get the right take. I realised that sometimes the way to refresh an idea is to put it in a different outfit. So, for example, instead of doing a song as just an acoustic vocal, I'd do it with a drum machine and a piano." The impudence and impatience of his youth have been replaced by a more seasoned outlook. The songs in Afraid of Nothing were unhurried, naturally tweaked over a few years. "Honestly, there's nothing worse than finishing a record! You finish it and you're like, 'well the fun part's over.'"
It was through making music alongside Bridgers that he met a profound influence. "Her producer is this guy called Tony Berg, and he's probably my favourite producer," Whitford reveals. "He's one of those people who, no matter who he's around, he takes on a mentor persona. It's just part of his personality. So working with him definitely instilled ideas about production and recording that I definitely wasn't thinking about six years ago."
Whitford first started playing guitar when he was 12. It was a performance with his middle school band that proved to be a pivotal moment in his future, even at that early juncture. "I had been playing guitar for about six months and I remember having this big moment watching back a performance that I'd done with my middle school band and feeling really self-critical," he says. "I remember having this conversation with myself where I was like, 'ok, I'm going to wake up tomorrow and I'm either going to quit playing music, or I'm going to practice 10 times harder than I have been doing'. For whatever reason, I chose the second route ("It worked out," I joke. "I think so," he replies modestly.)." His entire existence in high school afterwards revolved around the guitar, practising whenever he wasn't in school.
After high school, he moved in with his brother who lived in Nashville, a decision that proved formative. "I met some great people who are still great friends of mine that I've played music with, they've played on my records." One of these people was Bridgers. "We were immediately really fast friends," he recalls. "We kept playing together from day one. In terms of getting a major break, though, there isn't one indelible moment. It's just been all these really beautiful, organic friendships that arose out of saying, 'let's play music together.' It feels like luck, it really does."
Just like Bridgers, Whitford's quiet and vulnerable confessionals recall the work of Elliott Smith. When I offer that comparison, a smile immediately curls on his face. Rolling up his left sleeve, an Either/Or tattoo is revealed. "I have an Elliott Smith tattoo so I find that very flattering!" I get the feeling that he could have happily spent the rest of our interview solely discussing Smith's music. There's unanimous agreement that he was one of the greatest guitarists of all time, something that often gets underplayed due to the timeless ability of his songwriting. . "No one ever talks about his guitar playing. Whether you're just talking about his acoustic arrangements or his electric playing, it's all so composed and fucking incredible. An absolute genius. I can't think of anyone else that's done better justice to what The Beatles did. You can hear every Beatle in him, at least to my ear."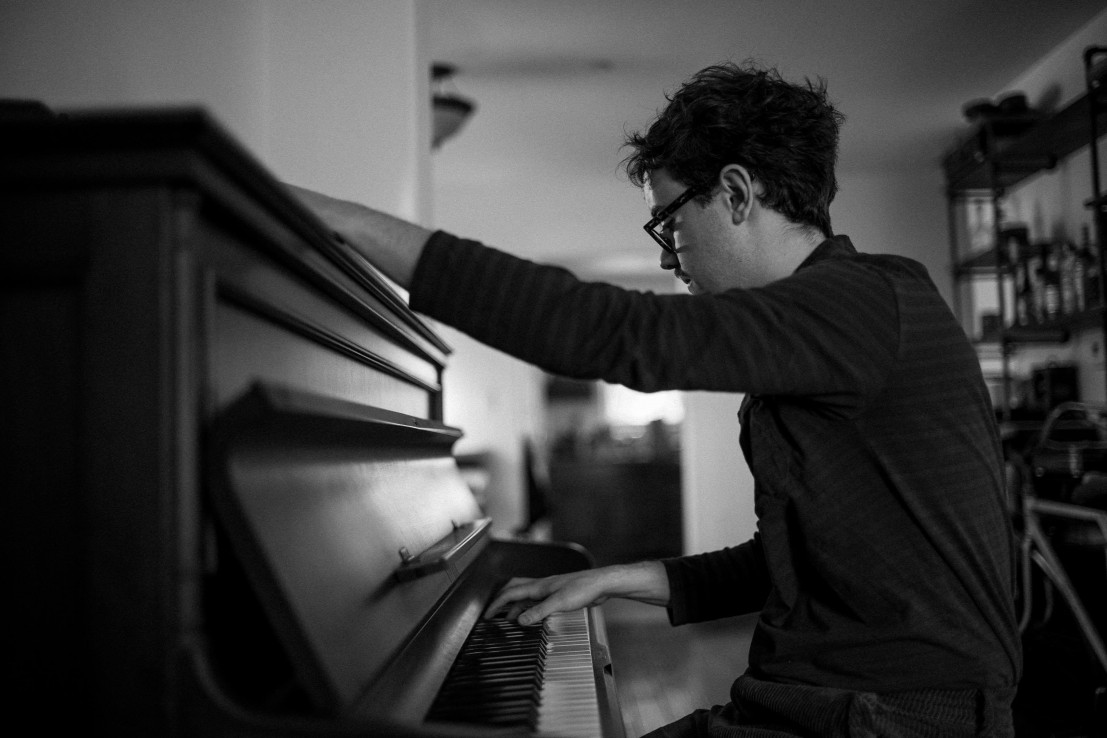 Before Smith, there was an appreciation for Bob Dylan, but his early musical influences were mainly blues guitarists like Jimi Hendrix and B.B. King. "(Blues) seems to be a common entry point for guitar players," he tells me. "When I started playing guitar I was mostly interested in blues music. My interest in Dylan then deepened when I got into songwriting. There was also Neil (Young), Leonard (Cohen), Jackson Browne, Joni Mitchell too. All the people you'd expect! And Paul Westerberg too, I'm a huge Replacements fan."
Is teaching guitar is easier than teaching songwriting? Whitford considers for a moment: "I tend to feel that songwriting just can't be taught. You can explore structures and themes, and studying those things can be valuable, but I don't think the end result of that is necessarily writing good songs. All of my favourite songwriters just have this way of showing you the world, the way that they see it, that's so compelling. That's the weird little magic of it, it's this unnameable thing." Whitford returns to Smith to establish his point. "You could sit down and parse all the elements of an Elliott Smith song that are amazing, but you can't then go and apply the methodology of it and think that'll guarantee the song's going to be good."
I was curious coming into the interview about the distinction between Harrison Whitford the touring musician and Harrison Whitford the solo artist. Was one a means to an end? And which one took precedence? Even midway through our chat, I believed I knew the answer. "When it comes to my solo stuff, I've never really had an interest in doing it or pushing it that much," he tells me openly when I broach the subject. "The way I survive is by playing guitar for people and then making my own records when I feel like it. That existence I've worked out is way more favourable to me." He uses the example of his good friend to explicate. "You look at someone like Phoebe - that outcome, where that many people are that eager to listen to your music, where you become financially sustained, that's a really rare outcome. I just don't really have a part of me that's interested in that hustle."
"I'll continue to tour whenever it feels right and necessary and make solo records when I feel like it though. I'm also interested in taking more time to focus on visual art, just being open to whatever avenues of creativity show up."
His solo albums, then, act as art for art's sake, rather than being about commerciality and business. "I love playing guitar just as much as doing anything," he adds. "So somebody calling me up and paying me to play guitar on their recording is amazing. I'll continue to tour whenever it feels right and necessary and make solo records when I feel like it though. I'm also interested in taking more time to focus on visual art, just being open to whatever avenues of creativity show up."
He is planning a solo tour, however, with a return to the UK and Europe on his horizon. "I love touring outside of America, it's way more interesting," he enthuses. Whitford last toured overseas in February last year, alongside his friend Noah Gundersen. "I was opening for him and playing guitar for him, that was a fucking awesome tour. He's a great hang. We went to places I'd never been before like Istanbul, that was amazing."
When I ask about any highlights of his time in the UK, it's not a particular gig he remembers, but the downtime. His face suddenly lights up: "one of my favourite Indian restaurants is in Glasgow," he says, to which I guess Mother India (it's not that impressive a guess - my old roommate used to work there and I was made well aware of its famed reputation). "Yes!" he cries. "We went there when we played Glasgow last year. The next day we had to drive for six hours or something. So we went to Mother India at 11 am and ate so much food and then slept all six hours in the car. It's so good. That's actually my favourite part of touring in that general region, the food is so good."
Whitford has a lovely vision for his future. "I think my dream situation in life would be to just be home and recording all the time," he reflects. "I love touring and performing but you play a show and you have 20 minutes of adrenaline and then it's over. It might as well not have happened." He is now 26; with touring - hopefully - going to become more of a consistent thing as the music industry slowly returns to a semblance of normality, it's perfectly feasible to envision him not releasing another solo record until his 30s. Producing, he tells me, is what he'd love to do more of. "That's also a situation where I'd like to have my own space to record but recording here is very expensive! There's something about getting to record other people's songs that I really like. I have so many friends who offer such different things musically so it'd be really nice to be in a position to offer them something, too. That whole process is like a drug to me."
Afraid of Nothing is out 12th of November via Screwdriver Records