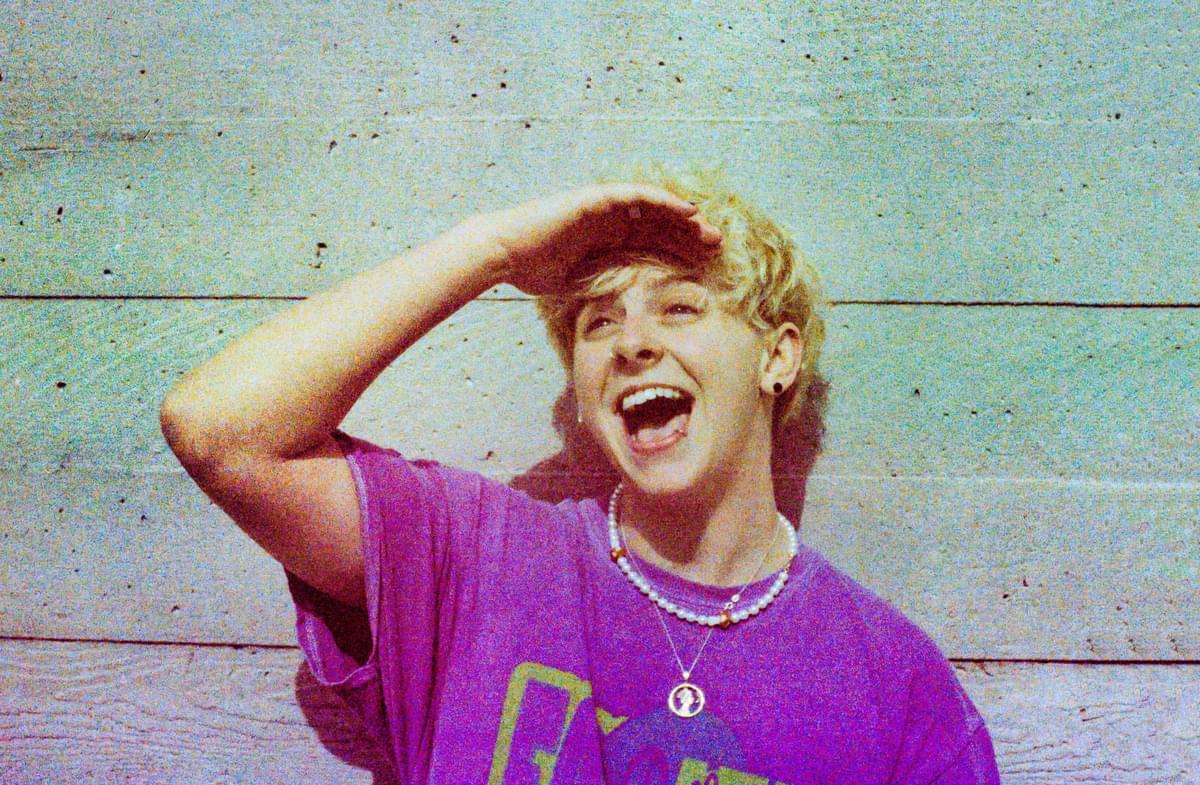 On the Rise

NOAHFINNCE
02 June 2022, 09:00
Singer/songwriter, internet sensation and pop-punk's newest star NOAHFINNCE is finding his feet balancing multiple careers.
When asking Noah Finn Adams why he doesn't like having his photo taken, he replies with a quick-witted and sardonic "being perceived." It's ironic given that Adams has spent nearly a decade in the public eye under the play-on-words alias NOAHFINNCE - closing in on one million subscribers on his YouTube channel whilst simultaneously having a rapidly escalating career as one of the most refreshing artists that pop-punk has seen in recent years.
I meet Adams on London's Southbank, which the Ascot-raised 22 year-old knows like the back of his hand, having spent his teenage years hanging out here with his fellow "weird internet friends." His online career began in 2015, as part of the spam community – a group of people who post random content several times a day – moving from Instagram to YouTube because the former only allowed users to upload clips shorter than 15 seconds.
He was an emo teenager who would obsessively play guitar for ten hours a day before uploading covers online, one being "I Don't Know My Name" by America's Got Talent star Grace VanderWaal, which currently sits at over 1.6 million views; the fourth most popular video on his channel, sitting in between a reaction video to straight TikTok and a personal documentation of female-to-male bottom growth.
"As soon as I finished school in July 2017, I [thought] I may as well just make this a job," Adams tells me. "I had 100,000 [followers] on Instagram by the time I finished school, and thought it would be silly not to take this opportunity to do something that I enjoyed doing."
At that point he would post two videos a week: "One would be a cover and then one would be whatever else, so that the covers were keeping the views up [because] those are the videos that would get more views. Then I started testosterone and posting my videos whilst terrified that my voice would suck because it was breaking. When I started writing my own music is when I started posting fewer covers, because I have a limited amount of creative energy and I'd rather use it to make my own music than do covers."
He adored noughties emo and pop-punk icons like Green Day, Fall Out Boy and My Chemical Romance, and as a multi-instrumentalist who can sing, play drums, guitar, bass and ukulele - it's surprising that Adams never saw music as a career option. "I was supposed to go to university, so maybe I'd [do that], but I wouldn't be posting music online." He explains.
"The only reason I felt confident enough to post online is because I had followers encouraging me to do so. I'm not hung up about being known as a YouTuber and not a musician. I do both, people know me for both."
Adams released his debut single as NOAHFINNCE in 2018 with "Asthma Attack", a twee ukulele pop track which was very much of its time, but lyrically wise beyond its years. "I was expecting a lot of people to not give a shit," he admits when asked about the transition from posting covers to original music.
"The way I grew an audience was very much aligned with going to concerts and doing all this emo shit, so everybody involved was kind of into that. It's not as much of a worry anymore because I know there's a big portion of my audience that do really enjoy the music [and] like the genre that I make regardless of whether or not it's me making it. It's also kind of easy because at least I know there's a solid amount of people that will give a shit regardless of if they like the genre because they like me and my music is about my life. Everybody's been really supportive."
Openly queer and dressed in skater clothes, bleached hair and face piercings, current day Noah Adams is living a life that's the polar opposite of his teenage self - who spent most of his time presenting as female at a naval boarding school for kids who "couldn't get into Eton.".
"[When] I started growing an audience on Instagram, I was Noah online, but a girl in school. Nobody knew I was trans and I didn't come out as trans until I finished school. That was really where they felt like completely separate parts of my life. It was a bit of a Hannah Montanna moment. I've known I was trans for years and finishing school was the part where everything melded into one, and it felt less like I was living two different lives."
Adams might be an aficionado when it comes to life on the internet, but for his music career he's still very much in his own words, "a baby". After the successes of his internet career, NOAHFINNCE signed in 2020 to iconic pop-punk record label Hopeless, the home to genre-stalwarts New Found Glory, Tonight Alive, Sum 41 and Taking Back Sunday.
Such a big signing and career expansion would make most YouTubers want to quit or drastically reduce their non-music content creation – just look at the careers of Patty Walters, Dodie and Troye Sivan. Not for Adams though, who continues to push his music-related endeavours alongside his more personal content on the same channel he's had since 2015. "I write songs about my life and my videos are about my life, so they're kind of the same," he explains. "But also in my head, when I'm planning my week and [saying] I need to film a video, but then I also need to write a demo, and I also need to do vocals; they're completely different so it's difficult to balance the two. I have no routine, which is something that I've been trying to have for the past year and a half, but they're very much meshed together online, but in my head they feel very separate. My boyfriend [says] 'you're burning yourself out because there's no separation', I'll be working at 2.00am."
"I don't want to be the token trans artist because that's not what I write music about, and it's not relevant to me really anymore in this world."
Whether intentional or not, Adams' existence within the pop-punk scene as an openly LGBTQ+ person is helping shape the scene in a much needed way. "Part of being signed to Hopeless comes with the scene being full of 40 year-old men that hate anything that isn't four white men on stage singing about how much they hate their girlfriend," he tells me, exasperated. "Less so now [because of bands such as] Meet Me At The Altar and pinkshift, and a bunch more in the scene getting signed; it's not just the same pop-punk band four years later. People are getting more used to that, but still the amount of comments I'll get from people who only listened to music 20 years ago [saying] 'he's only signed because he's trans and because he's gay'...Even in talks with Hopeless we were both like, we don't want this to be branded as a trans thing, or a gay thing. I don't want to be the token trans artist because that's not what I write music about, and it's not relevant to me really anymore in this world."
The comments questioning NOAHFINNCE's place in pop-punk materialize in real life as well as online. Adams' third ever live show was at Slam Dunk Festival (the first being a warm up show and second a support slot for McFly). "It was fun, but there were people coming up to me after the show being like, 'Hey man, like I've never heard your music,' and they're the type of person that I'd look at and think, 'You're gonna hate crime me!'," he says mockingly.
"It just pisses me off all time when I release stuff, people will see a picture of me and say, 'Why have you signed a TikToker?' and I'm like, 'I'm just young!' They'll be like 'We love Machine Gun Kelly Jr,', and I'm like 'no, I'm just blonde!'"
NOAHFINNCE may feel disenfranchised when it comes to it, but he is part of the resurgence of emo and pop-punk in pop culture, spearheaded in the mainstream by the likes of Willow Smith, YUNGBLUD and Olivia Rodrigo. "I love a lot of it but there's some of it that at this point kind of feels like cashing in on the culture. It's very clear that a lot of artists have seen that pop punk is profitable and have incorporated that in their music, and on the other hand, I love it because I like that kids that wouldn't be into that kind of music hearing it and [might] listen to other stuff that's pop punk inspired."
Adams' latest EP is titled MY BRAIN AFTER THERAPY, and is the sound of an artist becoming increasingly more comfortable with himself and balancing his dual-careers. "I want to do both for as long as I can do both," he tells me. "I don't see any reason why I couldn't, I don't think I'm going to get ridiculously big enough that I'm not going to have an hour to film a video, because I enjoy posting videos and my audience enjoys videos. I know a lot of people that grew up on YouTube and then moved into music want to have a degree of separation and be like 'I've moved on from that, I'm more than just that', but that's not me. I'm proud of what I'm doing on YouTube because it's doing better than it ever has.
"I feel like some people are maybe ashamed of doing social media [but] I go out in public and every now and then someone will come up to me and be like 'Hey I really enjoy your videos.' Nowadays people come up to me and [say] 'I really enjoy your music' and I'm like what?!"
The EP sees NOAHFINNCE proves he's not a one-trick-pony, ditching cliche pop-punk infrances for a more expansive palette that touches upon nineties emo such as "Chasing Daylight", and brooding angsty grunge as on "Tell Me That You're Okay."
"The main difference is I know what I'm doing now," he explains. "The last EP was a collection of some of the first few songs I had ever written in my life, whereas this one I had more of a direction. 'Worms' was the first song that I finished for the EP, and after that I knew exactly where I wanted the direction to go. I'm more confident with experimenting with [the sound] too because I'm less nervous about what people would think."
Adams' first EP – last year's STUFF FROM MY BRAIN – was written before he started therapy and the second after he finished it. "I've learned a lot in therapy!" he explains. "Everything that I discussed in therapy were the kind of things that I write songs about anyway, but going into therapy has helped me understand those feelings [and] the songwriting as well because I can understand myself more, I can write about it better and I can write about it in a way that it's like therapeutic to me. I'm really enjoying writing because I know what I'm writing the songs about. This is literally my brain after therapy."
As his career in music and on the internet continues to grow, Adams is unphased by the grandeur of it all. He's indifferent about writing with big-name songwriters, and has never been to a big recording studio, instead preferring a home setup that mirrors the comfort of his YouTube videos. He even approaches his career trajectory with the same repose. "I've never had a goal," he explains. "I've never had intent. I only did YouTube because it happened to work out, doing music because I really enjoy music and I was given the option to do music."
But that's not to say he doesn't care. "I feel very fulfilled [and] it's so early on that I can't be bored of it yet. I'm just enjoying what I'm doing and I want it to grow. The goal is growth but I don't know what the peak is. I thought I would never get 100,000 on YouTube, and now I'm close to a million, so I'd rather just be happy with the way things are going than set an expectation and always be disappointed that I never reached it. I wouldn't want to ruin that by being disappointed in myself. I'd rather go with the flow because that's what got me here."
MY BRAIN AFTER THERAPY is released on 3 June via Hopeless
Get the Best Fit take on the week in music direct to your inbox every Friday