Ben Merrington and Jon Finch started Grillstock in 2010 as a celebration of BBQ and music. The first festival was in their hometown of Bristol, had a stage made out of pallets, and between two and three thousand punters through the doors. The brand grew over the years and across the country, climaxing in a 30,000 strong audience in East London, a cookbook, and a series of restaurants.
However, things ended last year as the food chain closed its doors and the pair withdrew from the festival circuit. But they haven't hung up their aprons entirely. Instead Ben and Jon were at Black Deer Festival last month curating and running the Live Fire Arena with their old grilling maestro Dr. BBQ aka Ray Lampe.
Ben grew up in Milton Keynes but has strong family ties to South Wales. He opted on Bristol for University and stayed there after graduation, working as a freelance designer. Heavily influenced by his dad, uncle and cousin when it came to music, in 2010 he took a trip to South by South West that truly ignited his passion for Americana. Returning to Bristol and with Grillstock firing up, he brought his love and knowledge of country, blues and everything in between to the festival's curation.
Here he talks us through nine songs that inspired him, just before heading over to prepare 300 portions of chicken and waffles for Black Deer Festival's inaugural Sunday Gospel Brunch.
"Scooby Snacks " by Fun Lovin' Criminals
"They're quite local to Bristol and I think it was our third or fourth year doing Grillstock and it was at the point where the festival was getting bigger and we could afford bigger acts. Huey came to DJ for us in Manchester the year before and so the relationship developed there. And they came back to play at Walthamstow festival which was a huge crowd and they followed Grandmaster Flash, so you can see how that sort of music is hitting home with our fans.
"They hadn't played in Bristol for a long time and Huey had his little boy there and his wife at the back of the stage, and then it was just that moment where the crowd turned out, the sun was out, and it was bang on for our audience. And it was that moment where we grew from what was seen as a food festival into a real kind of serious, this is not just about food, it's a great experience. I would have said 90% of our audience at Grillstock when this came out were the perfect age, and everyone was hearing it. And so to have Scooby Snacks playing… it's quite cool. That was a pinnacle moment for us."
"Texas & Tennessee" by Lucero
"I mean these guys, I got into them from my cousin. They're just pretty modern, great Americana. A little bit down and dirty, a little bit cool and low. I saw them out in Austin in 2010. These guys are great live. I saw them live right in the centre on 6th street in one of the bars down there and then every time they're in the UK we go and see them, without fail. I've seen them in all sorts of different venues playing all sorts of different types of gigs. This is just my favourite song of theirs, just something about it brings what Lucero is to me together. I think they're from Tennessee and they're just great storytellers, a really interesting band."
"Giving Tree" by Left Lane Cruiser
"Left Lane Cruiser played here at Black Deer on Friday night and I was there. This is another one who are kind of on a similar time and wavelength with Lucero. I got into them again through my cousin I think. We went to a really cool bar in Austin which is just outside of the centre called The Hole In The Wall, it's quite a famous dive bar. When I saw these guys there was another artist playing called Austin Lucas and they played on a stage that was about four by four foot, and there was three of us in the audience. And then on Friday here, there were hundreds.
"That guy can shred the guitar like crazy. There's just two of them and the sounds they can get from just two of them is amazing, I think. I've always loved them. I think they're great driving music. This is one of their early songs and when I was first getting in to them it was my favourite song and it's always stuck with me."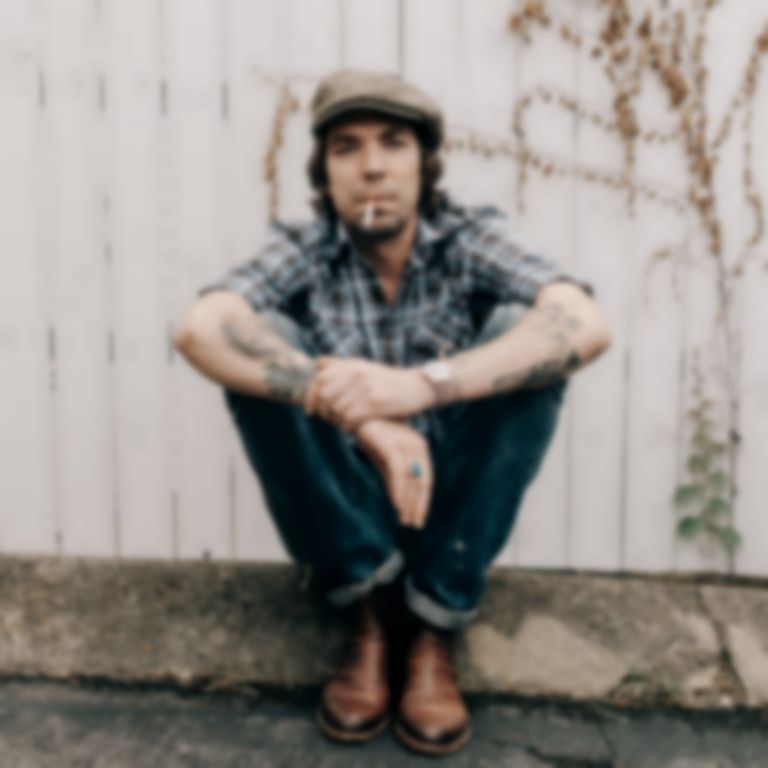 "Can't Hardly Wait" by Justin Townes Earle
"So you can see how my Austin trip is reflecting massively on this weekend, because they have so many artists I saw on that trip playing here. Purely coincidental and I was stoked! And this guy, I knew who he was and I liked his music but we weren't hunting him out. South Congress in Austin has loads of cool shops and galleries and Allens Boots. I love that place.
"We were just milling around, getting some food and we walked into this art gallery and just kinda walked straight out the back and Justin Townes Earle was playing to like twenty people. It was a really hot afternoon, I had a pint of cider and I was like, oh man, this is cool. And that's what SXSW is all about I think. That memory has stuck with me, and he played this song. It was a really cool discovery and actually, I went to see him last night on the main stage and it was like weirdly almost the same; the sun was low and it was really warm and he played this song and I was like, oh man this is cool, this is like serendipity."
"Walkin Man" by Seasick Steve
"He was always one of the guys we really wanted to get to Grillstock. We were trading food as Grillstock at Glastonbury, and the guy who programmes the West Holts Stage was our booker for Grillstock and the guy who ran the West Holts area ran our bars. And Seasick Steve was playing Glastonbury that year, and so I got to stand on the stage, just to the side, watching Seasick Steve and John Paul Jones.
"So after that I really wanted to get him to play Grillstock, and one year he was playing in Bristol and a friend of mine was the promoter for it so I said, can I come and say hello and bring him some goodies and hopefully tempt him to play Grillstock next year? So I took him a couple of Grillstock t-shirts and hats and a couple of bottles of whiskey. Went to say hello, he was a lovely guy and then nothing happened. We could just never make the dates work.
"And then he popped up on Facebook on a plane with Matt LeBlanc wearing the Grillstock t-shirt I brought him! So that was really cool. And then, even better, Steve emailed me himself, out of the blue, and said, I really like this t-shirt design, will you do me a design for my new album launch and my tour? So I was like, yeeeeahhh! So I did this design for Steve, for the album Keepin' the Horse Between Me and the Ground. And I went to see him at his big Wembley gig and my t-shirts were up in the merch. But we never got him to Grillstock! Maybe Black Deer next year…"
"Gin & Juice" by Hayseed Dixie
"I mean, this was just from my Grillstock days. I think they played at the second Grillstock which was in 2011 and we had them every year after that, pretty much. Hayseed Dixie were like our house band. We loved them and they were perfect entertainment for mid-afternoon when everyone had had a few beers and wanted to get their groove on and have some fun.
"John is a really interesting guy to hang out with and talk to. And he's such a talented musician. I know they do covers and stuff like that, but he's an amazing musician, and the whole band around him too. And Gin & Juice is obviously a cracking song. It was always the one where everyone was like, let's go, let's party. They were such a great part of the festival.
"I remember one year, we always had a charity, and one year it was a testicular cancer charity, and their thing was orange pants. And Jake their bass player is a big guy, and that year he came on just in orange pants. So they really take part in the festival! They've also got a song called Poop In A Jar, and so one year we included a fake dog poo in a jar on their rider. Toilet humour at any age - always just amazing fun."
"The Wind Cries Mary" by Jimi Hendrix
"My last three songs are a bit more from my youth and just influential songs. This is my favourite Jimi song. I mean, who isn't a massive fan? My dad always had like BB King playing at home when I was younger so I got into a lot of blues via that and Jimi was a natural kind of progression into music that wasn't Britpop. Everyone always goes for the bigger songs but I just always liked this one. And everyone wishes they could play like Jimi. But this is a good one to stick on some noise-cancelling headphones to and just disappear for a bit."
"The Thrill is Gone" by BB King
"My dad was into music. My uncle was more into the country side and my dad was more into the blues, so I guess I got a lot of influence from both of them. My dad took me to see BB King a couple of times, so that was really cool. At large gigs like the NEC in Birmingham. And I was pretty young, like 14 or something, so it was a bit of discovery. All your mates aren't into that at that age.
"But this is one of his more popular classic songs. What an amazing guy to see live telling his stories, an original bluesman, and I think a lot of the music stems from his stuff, a lot of hip-hop guys mention him a lot and I'm lucky I saw him a couple of times. I never dreamt of putting on stuff like this but it just happened. I guess your background has an influence whether you like it or not. This is one of my earliest memories of getting in to Americana."
"I Alone" by Live
"This was when I was even younger. I think I was influenced by my cousin a bit. I think this was the first ever album I bought on CD. Actual, physical album CD. And again at the time, this was pretty alternative. It was probably my first introduction to American rock and that alternative side. Firing on from this maybe I got into more punky stuff.
"I listened to this album so many times I almost burnt it out. And I remember the shop, it was one of those shops that went bust, I think it might have been Our Price. I reckon I might have been twelve or thirteen. I still love it and I listen to it now and again. I think this was one of the bigger singles off the album, they've got another one called Shit Towne that's really good. This one is slightly more listenable than the others. I really liked the album cover as well. There was a really cool oil painting of a giant or an ogre on a cliff. It was called Throwing Copper. For the time it was quite out there."