Ahead of his debut album and an appearance at this year's Black Deer Festival, Emmy and Golden Globe winning Damian Lewis talks Ed Nash through the songs that soundtracked the pivotal moments in his life.
When he was a teenager, Damian Lewis thought he was Elvis.
Whilst his friends were exploring the worlds of Goth and Post-Punk, the young Lewis spent hours perfecting the Presley quiff and developing a lifelong love of '50s music. Fast forward to today and his acting career couldn't be more different to his hero, rather than the missteps of The King of Rock and Roll's film roles, Lewis's body of work on screen and stage can only be described as illustrious.
Following his breakthrough as Major Richard Winters in Band of Brothers, he's shapeshifted through a range of characters, from Homeland's Nicholas Brody to a delightfully devious Henry VIII in Wolf Hall, bringing an old-school charisma each part, which came full circle with his take on Steve McQueen in Tarantino's Once Upon a Time in Hollywood.
But music always competed with acting as Lewis's artistic calling – he's also an accomplished footballer, regularly appearing for England in Soccer Aid, where he was famously nutmegged by Zinedine Zidane in 2010 – and now he's finally ready to release his own songs with his debut album Mission Creep.
An artist stepping out of their natural milieu doesn't always work – if you've not seen Mick Jagger in the 1970 version of Ned Kelly, don't worry, you're not alone, even Jagger didn't sit through it – but Mission Creep is anything but the work of a dilettante. Lewis's songs are beautifully written and performed, drawn from a combination of his background of busking around Europe in his early twenties and stories from his life since.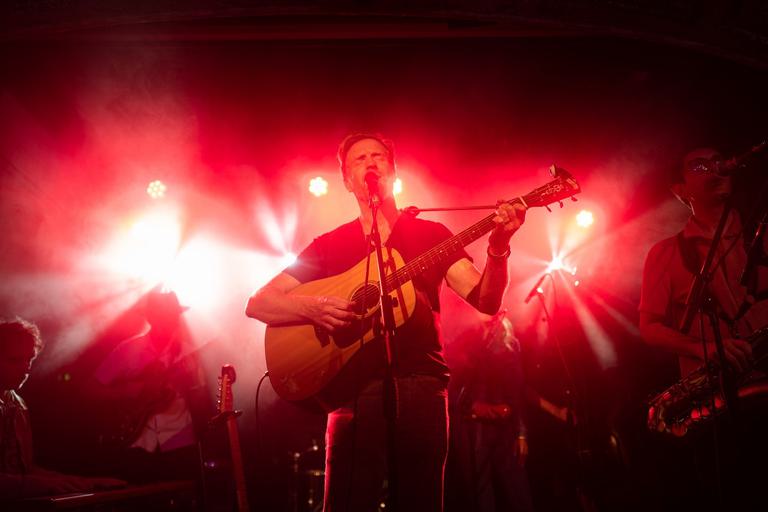 When we meet, Lewis is wonderfully chatty and totally at ease, perhaps in spite of the heartbreak of the passing of his wife, the inimitable Helen McCrory, in 2021. Lewis wrote a beautiful eulogy about her, that included McCrory's wishes for their family's future. "I want Daddy to have girlfriends, lots of them, you must all love again, love isn't possessive, but you know, Damian, try at least to get through the funeral without snogging someone."
Lewis has kept himself busy since and is gearing up to play the Black Deer Festival and London's Union Chapel, followed by a tour in September. "It's a really fun thing to make a collection of songs and turn them into a record" he tells me. "I never felt I had a particular gift for writing songs, but I suddenly found it easy and enjoyable; the form of a song as a way of communicating."
I ask him how it's different to acting, and suggest that songwriting, performing in plays and films are essentially all different ways of being a storyteller. "Being onstage is quite easy for me, I feel comfortable up there and it's lovely to be in front of an audience. It's the thing of musically, there's got to be sound, as well as communicating a story. But you're right, it is storytelling. The difference is you're telling it as yourself. You're essentially saying, 'I've written a poem, I put it to a bit of music, and I'm now going to play it to you.'
How does acting differ in terms of telling a story? "With acting, someone else wrote an amazing play with these incredible story arcs, and these wonderful, famous characters that we all know and love, and I give my interpretation of that by sublimating myself into the world of a play and going down the rabbit hole. And that's very different from standing there as yourself and saying, 'Listen to my song.'
Talking with Lewis about the pivotal songs in his life is a delight. His analysis and love of music makes the conversation more akin to talking to a music geek, rather than a handsome devil of a Hollywood star. When I ask about the decision-making process behind his Nine Songs choices, Lewis brings up his appearance on Desert Island Discs in 2014, which he still thinks about almost a decade later.
"I still wake up in a cold sweat over my Desert Island Discs, which were terrible. It was a disaster, I overthought it. You become very self-conscious, you think 'How do I present myself?', because you can create a narrative out of these things."
Of the artists Lewis chose that day, only one of them has made the cut this time – which is of course his beloved Elvis – but he's taken a similar approach to our conversation. "I tried to Desert Island Discs this a bit, so I don't know why I tried to do that again. There's no right way to do this and you've only got nine songs. So you think, 'Is it songs I like dancing to?', or 'Have they got to have an important story attached to them?'"
As with his songwriting, Lewis's choices are inherently autobiographical, taking in a song that's indelibly tied to the death of his mother, a cover version he sent to McCrory, and a lullaby he sang to his children. "There are stories with some of them, of times in my life, and some of them I like for loads of different reasons. Anyway, here we go, here are my nine songs. I'm excited. I'm ready."
As we finish up, I can't help but ask how it compared with Desert Island Discs, was it better? "Yes. This was fun, this was good fun. I hope the choices were OK and that they're fun enough!"
"Mystery Train" by Elvis Presley
Those Sun recordings were the Elvis I fell in love with. In the '80s, when we were all listening to lots of electro synth pop - and I've got time for that, by the way - I wasn't going off-piste by getting into A Flock of Seagulls, The Cure, or going into a Goth place. I really liked all of them, but I was stuck in the '50s.
I was listening to Bill Haley, Eddie Cochran, Elvis, The Everly Brothers, all those guys, and I loved them. I loved the bluesy, bopping, rock and roll thing that was going on. And I thought I was Elvis. For a good chunk of my teens, I worked on my quiff endlessly, and I loved him.
"Mystery Train" is brilliant because there's no percussion in it. It's amazing that when you listen to it there's no percussion, it's all slap and flick on the bass. It's the percussiveness of the way Elvis plays his guitar, and then you've got the lead guitar with it. It's very simple. It sounds like a train on a track, the way it's done is beautiful, and his voice is sublime.
It's got that early rock and roll bounce and groove that I always liked, which is why I think I missed punk. I was into that bebop, rock and roll sound. I loved it, that's what I was listening to.
BEST FIT: Do you think you missed out by not getting into punk?
There are lots of cool bands that I came around to later, in a historically interested way - The Clash, early Stranglers, but not Buzzcocks or The Sex Pistols. I was into that rock and roll rhythm. I found the chord changes and the harmonies that came out of that period of the mid-'50s and late '50s totally beguiling. I didn't know anyone who was listening to the kind of music I was, they were either listening to Goth, Punk, New Wave or Post-Punk.
BEST FIT: Something that's always fascinated me about this song is that the phrase 'Mystery Train' isn't in the lyric at any point, it's only the title.
That's it, (sings) "Train train, coming around the bend / Well it took my baby, but it never will again". It's literally a train that comes into the song and leaves - the mystery train. It's great.
"You Brought a New Kind of Love to Me" by Frank Sinatra
This one comes out of many different things. Growing up, there was a lot of music in my house. My Dad is 92 now, he was born in 1930, so I didn't grow up listening to The Beatles and The Stones and all that sort of stuff. I had to find those myself, because my Dad was already 30 in 1960, and he probably felt that The Beatles were for 15-year-old girls, which they basically were to start with.
We had Benny Goodman on, Ella Fitzgerald and Frank. I discovered the Nelson Riddle version of this on Songs for Swingin' Lovers! much later. It came out of that time in the '90s, when lounge music remerged, all the Andy Williams stuff - "Music to Watch Girls By", or songs to snog girls to, that's how I interpreted it. I think Songs for Swingin' Lovers! was re-released that time, I might have that wrong.
This is a song that I sang to my children as a lullaby, and it's very weird that we're doing this today because I had the most incredible experience. I was taking my son to school today - he'll hate me if he ever sees this is - he's 15 and suddenly, out of nowhere, he starts humming "If the nightingales could sing like you / They'd sing much sweeter than they do", and I got this warm rush. I'm sitting in the car in traffic, and I said, 'Oh God, that's a song I used to sing to you as a lullaby.' And he just immediately stopped!
BEST FIT: That's probably because he's 15!
Of course. It's that song and "Three Little Birds" by Bob Marley, they were the two songs I always sang them as lullabies to sing them to sleep.
Frank is unsurpassable with his phrasing, and his breath, and this is my favourite album of his. "You Brought a New Kind of Love to Me" doesn't quite have the witty lyricism of a Cole Porter song, but it's (sings) "and if the Sandman brought me dreams of you / I'd want to dream my whole life through / you brought a new kind of love to me." It's a lovely song, so that's why it's there, it was my lullaby song to my children.
He was the crooner of the '50s and '60s, he was the top of the mountain. We've come to regard him as the best of all of them. His voice had a little bit of a rock and roll in it, that Deano didn't have. Bing, who was the generation before arguably, was sweet and sonorous, but Frank had a raspy edge in there. Sammy Davis didn't have that rock and roll, Sammy Davis wanted to entertain you. Perry Como, Neil Sedaka, who where else do we go, Bobby Darin? We can keep going, there were lots of them, but I think Frank was the best.
"Harvest Moon" by Neil Young
I love "Harvest Moon" as a song. It moves me, it's a very beautiful song. Neil Young always moaned about the success of Harvest, because he said it put him in the middle of the road and he didn't travel well there. He didn't like it, but it was a massive, number one selling album.
It was acoustic and I have to put my hand up and say, I like middle of the road Neil Young. I loved Harvest. And then many moons later - many harvest moons later - he made "Harvest Moon", and I don't feel I'm there yet, but there's something very touching about the autumn of your life, which is what he's singing about.
The video is so touching, it's just him and his lady as an older couple, shuffling around the dance floor having a little dance. It's absolutely beautiful and I love it. It was a song I actually sent to Helen once, my wife, who I lost a couple of years ago. I remember I was filming in New York, and I learned to play it on my guitar and it's now one of the cover songs that I play in my set and it's also on my album.
I have three covers, this, a JJ Cale song "After Midnight", and a Leon Redbone song, "Why", which was a Jelly Roll Morton song originally, but there could easily have been a Tom Waits or Dr. John song on there. I play Dr. John and Tom Waits in my set. They're very much influences of mine, those of singer-songwriters.
BEST FIT: When you learned to play "Harvest Moon" in New York and sent it to Helen, did you send your version or Neil Young's?
Both I think, it was compare and contrast.
BEST FIT: Putting yourself up against Neil Young, that's tough by anyone's standards.
I know! It's dangerous, very dangerous!
This is an important song for me, because back in 2001, I was in LA and a little-known band called Coldplay were playing a gig downtown that night, I think at the Mayan Theatre.
We went down there to listen to Chris Martin and the boys play a really simple little set. He got to the end of it, and said "My Dad always says to me, 'Chris, why don't you play more songs? People have paid money and they probably want a longer concert', and I said, 'Dad, these are the only songs we've got, we haven't written any others.'" And it's because at that point they were just playing Parachutes.
I feel very much like that when I'm playing now. We play gigs with the band, which I enjoy so much, but I've written one album, so we play our 12 songs and a couple of covers we throw in to juice it up a bit and get everyone a bit lively. But it's a curious thing, he was just starting out then and I'm starting out now, considerably older than Chris Martin was when he was started.
The story was that something amazing happened that night, which I've never really spoken about before. My Mum was killed in a car crash in India in 2001, and it was the night I was at that concert. "Yellow" became my anthem for my Mum, because I heard it for the first time live that night.
Coldplay have become the band they've become, and everyone's probably got an opinion about that. That first album, Parachutes was a very beautiful, honest, lyrically and melodically strong set of songs, it was a really well written album, but it's become about that night for me.
That night on February 14th 2001 has become a big concert for me, as I later found out what had happened to my Mum. "Yellow" is a song with a lot of meaning for me.
"Pull Up to the Bumper" by Grace Jones
BEST FIT: The lyric of this song is very risqué to say the least! A choice line is "Pull up to my bumper baby and drive it in between."
(Laughs) I know! We kept playing it, we used to play in front of the kids as well, and it was 'Oh, that's quite a dirty song!'
I had a little mews house in Camden, down the street from where Amy Winehouse used to live actually. It was a great five years; it was a party house, and that song would come on a lot. For every party, every small gathering of people, I put that song on, and it just reminds me of a very, very happy time, of being in that very small mews house with a roof terrace on the top and playing that tune a lot, dancing to it a lot in my tiny little sitting room, crammed with too many people. I just had to put it in here, because it was a happy time.
BEST FIT: When was that?
It would have been the early noughties. I'm a sucker for a bit of funk disco, I could have given you a Parliament, Funkadelic, or a George Clinton tune, something like that, but this is Grace Jones and she's a phenomenon, isn't she? And this is a great tune.
"Sometimes" by The Brand New Heavies
This is another song that's attached to a time in my life. I was introduced to this album by a friend of mine called Raz. We were all up at the Royal Shakespeare Company together, living in Stratford-upon-Avon, and I had a motorbike up there.
We were all living the actor's dream, living on a big campus, doing Shakespeare, which we all aspired to do or wanted to do. It was just a very happy, quite hedonistic, summer up there, in a not very rock and roll Stratford-upon-Avon.
The Brand New Heavies brought this album out, Shelter, and I loved that album. And this song "Sometimes" was the song of that summer for me. It's got a fantastic groove to it, it's touching in on that old funk. And I thought that The Brand New Heavies were just brilliant. They had their moment, it was quite a short moment, but right there and then I liked it.
BEST FIT: Tell me about that summer and what was going on your life when you were living the life of a young actor?
We lived in a little cottage up in up in Stratford-upon-Avon, right near the river, I had my motorbike up there and I was falling in and out. A girlfriend of mine lived near Oxford, so I was bombing through the countryside on my motorbike on days off, drinking in pubs and coming back.
I'd play Shakespeare by night, staying up late and going to The Duck, which is the famous pub where everybody goes, which was run with a rod of iron by Pam, the landlady. I was living the life of a young actor away from home, it was really fun.
"Twenty-Nine Ways (To My Baby's Door)" by Koko Taylor
She was part of Chess Records in the '60s and was discovered in a bar by Willie Dixon, who I love. He was one of those heavy, Chicago blues artists and he wrote hits for everyone else, he was a big songwriter.
He and Koko Taylor played some duets together and they had this amazing hit called "Insane Asylum," which is deep and heavy, and you think it's a bit inappropriate when it's starting off - 'Oh God, it's an older man singing to a much younger woman and this isn't going to sit too well,' - but it's about being driven crazy through love and it's a brilliant, heavy blues tune.
I could easily have chosen that song, maybe I will! "Twenty-Nine Ways (To My Baby's Door)", is about all the different ways she's cooked up - to come in through a trapdoor, through the window, through the door - to get to see her lover.
She was known as 'The Queen of the Blues' and had this slightly lighter rock'n'roll voice, but with this rasp in it that I love, and that's why I've chosen it. I discovered her quite recently, she's not someone I've known forever and ever, but I just love her.
BEST FIT: How did you discover her music?
It was looking around and doing music research, going into the blues world, looking for inspiration for what I was writing. And I found this whole era of Chess Records, seeing some of my favourite blues artists have been on there, and then discovering her, having not known much about her.
BEST FIT: Are you always on the lookout for new music or do you stick with what you love?
I think we must keep looking for new things. There was a study done about the music of your youth, which remains your favourite music because at that time, which is through your late teens and early 20s, hormonally you are at your most impressionable.
And for example, for an exercise like this or for Desert Island Discs, so many people overwhelmingly choose music from that period of their life, their formative years, when you're discovering the world and the music that has affected you the most.
I've discovered some fantastic music in the last two or three years. Consciously, I think, because I've been going back into it, but like we were talking about, it's 'Keep looking, keep looking'. The scourge of the playlist is if you find a song or an artist you like, go and find an album and take the time to listen to an album, rather than just allowing the algorithm to give you artists alongside it, which is an easy trap to fall into and you never really do a deep dive on one artist.
"Waiting in Vain" by Bob Marley & The Wailers
There's a lot you can say about Bob Marley. People felt that he sold out when he started a relationship with Miss World, that his working man credentials, the black man's struggle, everything was compromised, but he wrote some cracking tunes.
"Waiting in Vain" is maybe not the most obvious one, but it's a love song, a beautiful, plaintive love song, that's essentially saying, 'I'll just wait, I'm going to wait for you because you're incredible. Don't keep me hanging on forever, but I will wait.' I love it tonally and structurally, its rhythm, the way the song is set up and I love the guitar (sings guitar line). I don't have a story attached to it, it's a song that I've always really loved.
When summer comes around, I always want to start playing a bit of Ska and a bit of reggae, because the summer is synonymous with Jamaica, it's the whole package. Island Records' Chris Blackwell brought over local Jamaican music to London. It got fused with what was going on in London, and that became Rude boy and Two-tone music. I loved "My Boy Lollipop" by Millie Small, that was the first big hit of that style of music. He brought her over here and she was an immediate hit.
The way Island records packaged their records and the fact that he lived in Jamaica… Ska just feels like the beach, doesn't it? There are songs like "Blam Blam Fever" which was about the killings in downtown Kingston and "007 (Shanty Town)", which are actually quite political music, and all that Trojan stuff they put out is a huge favourite of mine.
I could have chosen one of those instead of "Waiting In Vain" but I love it all, and for me, it all sits in the same place.
"When the Levee Breaks" by Led Zeppelin
After I'd spent my teenage years listening to old '50s Rock and Roll and a lot of '80s Electro-synth pop, when I left school I'd grown my hair, got a motorbike and busked across Europe with a guitar. I discovered a whole load of bands I may have been a bit slow to get to, but Led Zep was one of them, as well as The Stones, T. Rex and Velvet Underground, guitar bands of the late '60s, early and mid '70s.
It was that sound. I was never a metaller, but Led Zep had a heavy, heavy rock sound that was rooted in blues and folk at times, that was such a cool blend of all these different things, driven by the genius of Jimmy Page and Robert Plant's incredible voice.
Robert Plant has gone on record as saying he's embarrassed by some of their early records, when they went into that fantasy Tolkien stuff, but "When the Levee Breaks" is actually is cover, it's not an original of theirs. And I could have easily chosen "Going to California" which is a lighter, folkier song, from IV, or "Ramble On" from II.
With Led Zep, I was blown away from a much lighter sensibility - of 50s rock and roll, acoustic guitars, The Everly Brothers harmonising, Elvis playing "Mystery Train". The one person I loved back then who was leaning into a slightly heavier, grittier sound was Eddie Cochran, which was so cool, and which you sort of hear a bit later in Creedence Clearwater Revival, who I also love.
But Led Zep smelt and felt like freedom, they were heavier, cool, with bluesier, hard rock sounds, and "When the Levee Breaks" is the epitome of that.
BEST FIT: I listened to it again last night, the drums are so loud they knock your head off.
John Bonham was incredible. They used to say that about Charlie Watts as well. It's amazing what sound you can create when you've got jazz drums in a heavy rock band, you've got at these cymbals, it's very splashy, it's like jazz and its genius.
Mission Creep is released 16 June on Decca Records. Damian Lewis plays Black Deer Festival, which takes place at Eridge Park, Kent from 16-18 June