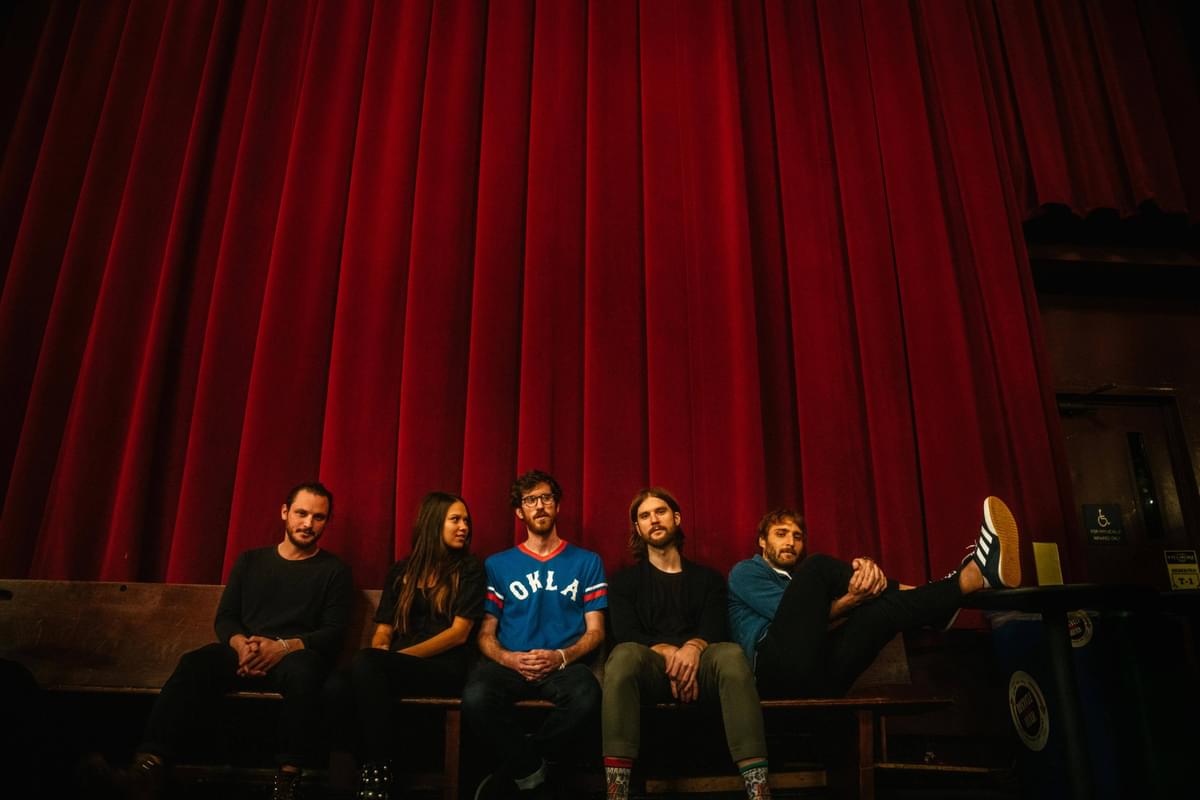 Mt. Joy on how to maintain faith throughout the hardships
27 June 2020, 09:00
It would be an understatement right now to say that the world is in turmoil. When the COVID-19 pandemic started to emerge and we understood exactly what ramifications this would entail, many of us found solace in art to keep our spirits high.
Formed in 2016 and named after a mountain near where guitarists Matt Quinn and Sam Cooper grew up, Mt. Joy are a breezy five-piece indie outfit originally from Philadelphia, now based in Los Angeles. Their debut self-titled record, along with the viral success of their radio hit "Astrovan" saw Mt. Joy reach critical acclaim, embarking on lengthy tours across the world with the likes of The Lumineers and The Shins.
Seven months ago, Mt. Joy teased us with the heartwarming release of "Every Holiday", a bittersweet Christmas song about getting through the holiday season with a loved one. Following this, the release of the track "Rearrange Us" sees the band go in a far more psychedelic, bluesy direction, full of rich textures whilst unleashing their full potential to create a grander sound.
Looking back on their achievements, Quinn believes that within their four years as a band, selling out The Fillmore in their hometown of Philadelphia last year was their biggest accomplishment thus far.
"In the beginning when we were playing shows and touring around, we had maybe a couple hundred people coming to see us which was good, and then others would be around 20 or so. During that period we kept asking ourselves; is music really what we should be doing? We had a little bit of traction through Spotify which got us out on the road but we kept asking ourselves; is there something that is going to be worthwhile for us? Seeing my friends and family who were there from the start in a venue that holds over a thousand people, you can no longer deny it to yourself because you can truly see that something is happening there."
Under normal circumstances, Mt. Joy would be well under way creating new memories on tour and exploring what the world has to offer. Of course, right now, this isn't possible with the normality of concerts and life in general before the pandemic hit, feeling like a lifetime ago.
"It takes a certain person to stick with being a musician and the lengths you [have to] go to for touring as well as having a sense of adventure," Quinn says when I ask what he misses most about being on the road outside of music. "We have a really good crew and we have all become really close as band members. We're not like Fleetwood Mac where we all hate each other but have to carry on for the sake of the music. I'd never been to the UK before, for example, and I got to experience pubs across the country with my best friends. That part is something we never take for granted."
When you listen to Rearrange Us for the first time, you feel a true sense of urgency and that you're part of something bigger. Cuts like "Acrobats" and "My Vibe" contain swirling guitar solos alongside intense arrangements, elevating past the tried and often bland mannerisms that mainstream indie rock has offered us in the past.
"The main difference between the first and the second record was that originally I would sit in my bedroom with an acoustic guitar, Sam would add guitar and then the rest of the band would work around it to keep the sense of folk tradition alive. There's something really beautiful about that and I don't think it's something that we would shy away from this time around because of the experiences we had on the road. We had a different sense of arrangement."
"A big thing for us is that when you go to Spotify or if you own our vinyl; we wanted our fans to be able to listen to both albums one after the other as an experience without it being a variation on a theme. We wanted to make something that was different and that was really fun for us, which took a lot of hard work, so that was the main reason we made a musical shift."
Another change with Rearrange Us is the lyrical focus of overcoming mental health struggles and the turmoil from past relationships. Quinn was open with addressing this, and why he grabs his guitar to make sense of things when he finds himself in a tough spot. "As is the case with a lot of people in this world I have struggled with depression and anxiety since I was a teenager. I know that I have been relatively lucky compared to how others have suffered. I don't ever want to say something on stage that is so antithetical to what the rest of my band mates believe."
"When we were writing Rearrange Us it wasn't just me going through a breakup, it was literally everyone in the band except for one of us. We had also gone through similar stuff in terms of leaving our hometowns and travelling all over the world for most of the year. You're never home and it changes your life. Change brings about anxiety and I believe that's where that came from."
For Quinn, sometimes his method of songwriting can be as simple as getting a melody stuck in his head and snapping his fingers around the apartment. Cooper once suggested that it be put on the record, despite feeling like it was an underdeveloped and brief idea. This gradually became the band's mantra, to look at the positive aspects of life and not be sucked away by negativity.
"In terms of the gospel side of it, we have to give props to Liz Vice who's an incredible gospel songwriter. She is from Portland, Oregon, where we were recording and she stopped by that day when we happened to have this little vignette. Her voice and sensibility as a gospel singer made it so much more authentic and we owe her a lot to her for that."
Given the difficulties of band members not being fortunate to all live together in the same household, Mt. Joy have used this time off the road to throw ideas back and forth in order to keep their creative process fresh and relevant.
After a long tour, Quinn stayed in New York City when the pandemic first hit. "As you can imagine, this was not very relaxing so I figured that I might as well work to keep my mind off of things. I put my focus solely into writing; we've been throwing ideas back and forth so I think that everyone is in the same boat. Thank god that in this age there is another way of transferring ideas without all of your band mates being in the same room, otherwise I know that ourselves and our friend's bands would be in big trouble."
If you've ever had the pleasure of feasting your eyes on the artwork that Mt. Joy use for their releases, you would know how visually vibrant and colourful it all is, all thanks to the talent of Steve Jerrard. For the most part, they let him take free reign over the direction he wanted to go for. In this case, an abundance of animals and foliage across a fruitful landscape.
"Sam was friends with Steve in college. He gave us this sketchbook with all of these crazy drawings, some of which he has since gone to put online and some of which he hasn't. For the album cover of self-titled we saw this incredible piece and asked for it. On Rearrange Us we did ask for a piece to be commissioned but just in the sense that we gave him very loosely what we were looking for and he just took it and created a really beautiful piece so we are pumped about it."
Whilst it appears that Jerrard is the band's resident artist for the time being, they have received plenty of fan artwork from various different artists, especially in this time period of the pandemic.
"Really it feels like a collaborative effort with them giving back to us. He has done such an amazing job so far [that] it would be hard to fire him at this point. If you're an artist reading this then please don't shy away— especially during this pandemic, we've been blown away by how much amazing artwork that we have received."
During the first week of the album's release all profits went to Campaign Zero, a widely talked about police reform campaign that started in 2015, as a response to the Black Lives Matter protests worldwide. As Quinn explains: "It would have been completely tone deaf to be like, 'Swipe up to get our new album' on Instagram alongside the necessary flow of information and change, inequality and the depths of it around the world. We said to ourselves that one day we would love to celebrate it but now is not the time."
"Right now, so many people are coming to terms with their own internalized racism and how they can make this change not only for themselves but for others around them. At the end of the day if everyone can make changes for themselves then that's the way we move forward. So the last thing we wanted is for people to not be doing that. It's been a weird balance but as long as people are listening to black voices and amplifying them where they can, and protesting peacefully, then that would be our hope."
In many ways, the title Rearrange Us us could be seen as a reflection on how we all have to adjust to the global situation this pandemic has put us in. It's hard to think about what the world will be like in the future and if we'll ever have a semblance of normality ever again, but Quinn retains a sense of hope.
"We are hopeful that when 2021 comes around we are living in a world where Donald Trump is not the president and black people don't have to fear the things that they are fearing, people can tour and we aren't being afflicted by a terrible virus. You have to be hopeful that after all of this, the world will be back to a brighter place. We want to be able to pick up where we left off and now that we have a new album, I feel like it would be a lot of fun. In the interim we recently managed to get back together again so I guess if we are never able to tour we will record some live sets and create some 'no fan' concerts, so we'll see."
Rearrange Us is out now.
Get the Best Fit take on the week in music direct to your inbox every Friday