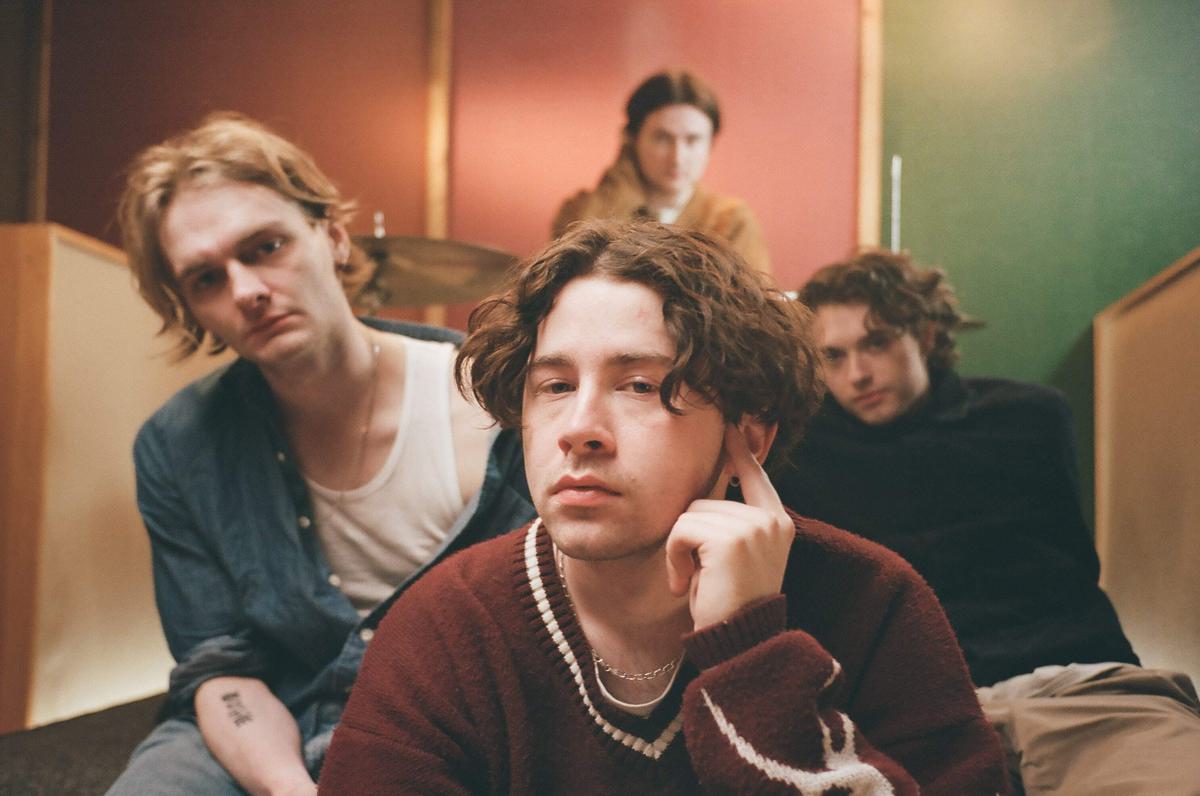 On the Rise

modernlove.
24 November 2022, 08:00
After winning hearts with their youthful indie-pop romanticism, Irish quartet modernlove want to make music you can grow up with.
"If you do anything too much you just get bored of it," says modernlove drummer Cian McCluskey. "We felt we went super pop on the last EP, which was great and we wanted to do it. With this new one we want to do the opposite and go a little bit further in a direction we haven't explored yet."
It's a damp Monday morning and modernlove are hungover, calling in from separate houses around their hometown of Drogheda. Formed seven years ago when they were just fifteen, the group broke out of lockdown with streaming success, sold out shows and a collection of indie-pop paeans to the pain, joy and complexities of naive young love.

McCluskey met guitarist Graham Fagan at secondary school and the two began jamming together, eventually convincing childhood friend Barry Lally to join on vocals. "He came in and sat quietly and Graham was like, 'Who is this guy?'" laughs McCluskey. "Eventually he got comfortable enough to sing."

The quartet was completed by bassist Daniel Rooney who'd been playing in various bands around their hometown. At first a temporary addition, it wasn't until they began to write their own material that Rooney committed to the group. Bringing his laptop to rehearsals and using GarageBand to help piece together their ideas, the first song they wrote was the upbeat yet downcast wave of "Us".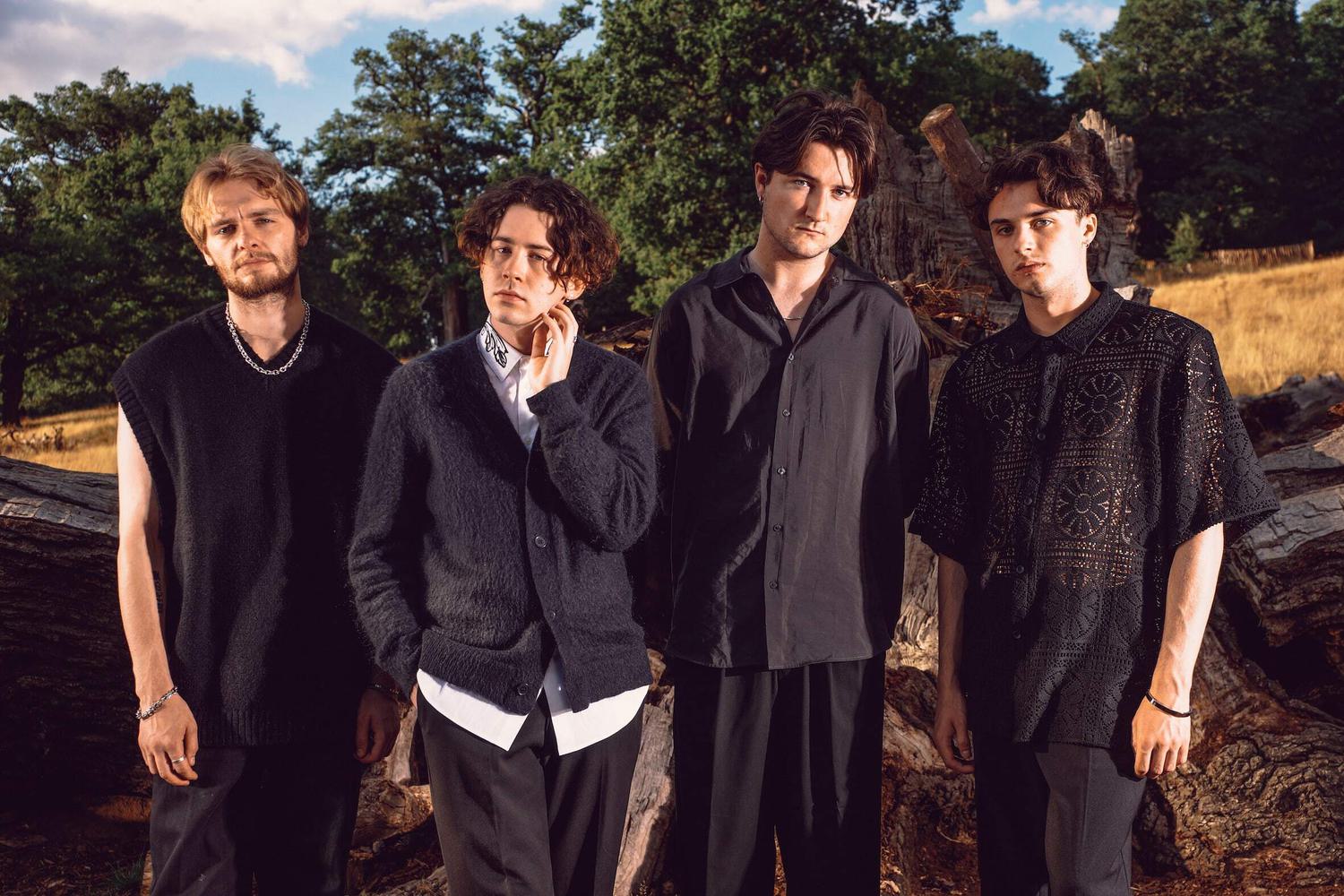 Although being close to the capital, the band felt ostracised from the country's music scene. "We're in a different county, so you can't ever dare call yourself a Dub if you're not from Dublin. You would never do that," says McCluskey.
"I think we probably exaggerate that a little bit. Oh, we're in this tiny town in the middle of nowhere. We just feel isolated, I guess," Rooney continues.

Starting to gig at fifteen, they also found themselves barred from playing in pubs or venues. Instead, they built their own scene in and around Drogheda, putting on gigs at their local youth club, Boomerang, and watching as other bands began to form.

They enrolled in various music courses at colleges in Dublin, but always kept the band as their focus. Going into 2020 modernlove had a run of self-released singles and were working towards a debut EP, until covid hit, breaking up the scene they'd started to build.
After the initial shock of lockdown, the quartet regrouped and focused on writing. They emailed each other ideas and demos, meeting for walks to exchange hard drives of recordings. They continued to release music, a single every two months, vying for industry attention. "We didn't have a record deal or anything, so we were just throwing stuff at the wall, seeing what would get us noticed," says McCluskey.
Mid-pandemic, everything changed when an A&R from Akira records reached out interested in working with them. To this day the band still seem shocked recounting their luck. "It was pure chance. We don't have the hard neck that a lot of people have, emailing people all the time. We just kept putting music out hoping somebody would like it enough to work with us," says McCluskey. "That really pulled us out of a bad time. Just out of nowhere that record deal happened and it really gave us a bit of purpose during lockdown. It really helped us out a lot."

Looking back now, they feel that without the intense period of creation that covid enforced, they may never have been discovered. "I don't think we would have gotten what we got if covid didn't happen. We wouldn't have written the songs that got us recognised by the labels. It was a bit of a blessing for us," says Fagan.

Together with their new label the band took down their previous releases, tweaking and remixing the original recordings to help elevate the songs. A year later they released their debut EP, monochrome blue. "I don't think we wanted to rush in to making an album until we had fans and people that would be excited for it," says Rooney. "It's such a huge undertaking and you can only do your first album once.

A mix of introspective indie and bolstered pop production, they moulded their former works while still continuing to write in lockdown. The tracks "2 Missed Calls" and "I know it's tearing you apart" were collaborations with LA-based producer Luca, known for his credits with Arlo Parks and Lana Del Rey. "Whenever we work with a producer, it's just to elevate what we've done," says McCluskey. "We were here in the dark and the rain in our bedrooms and he was in California and his room was all sunny and warm."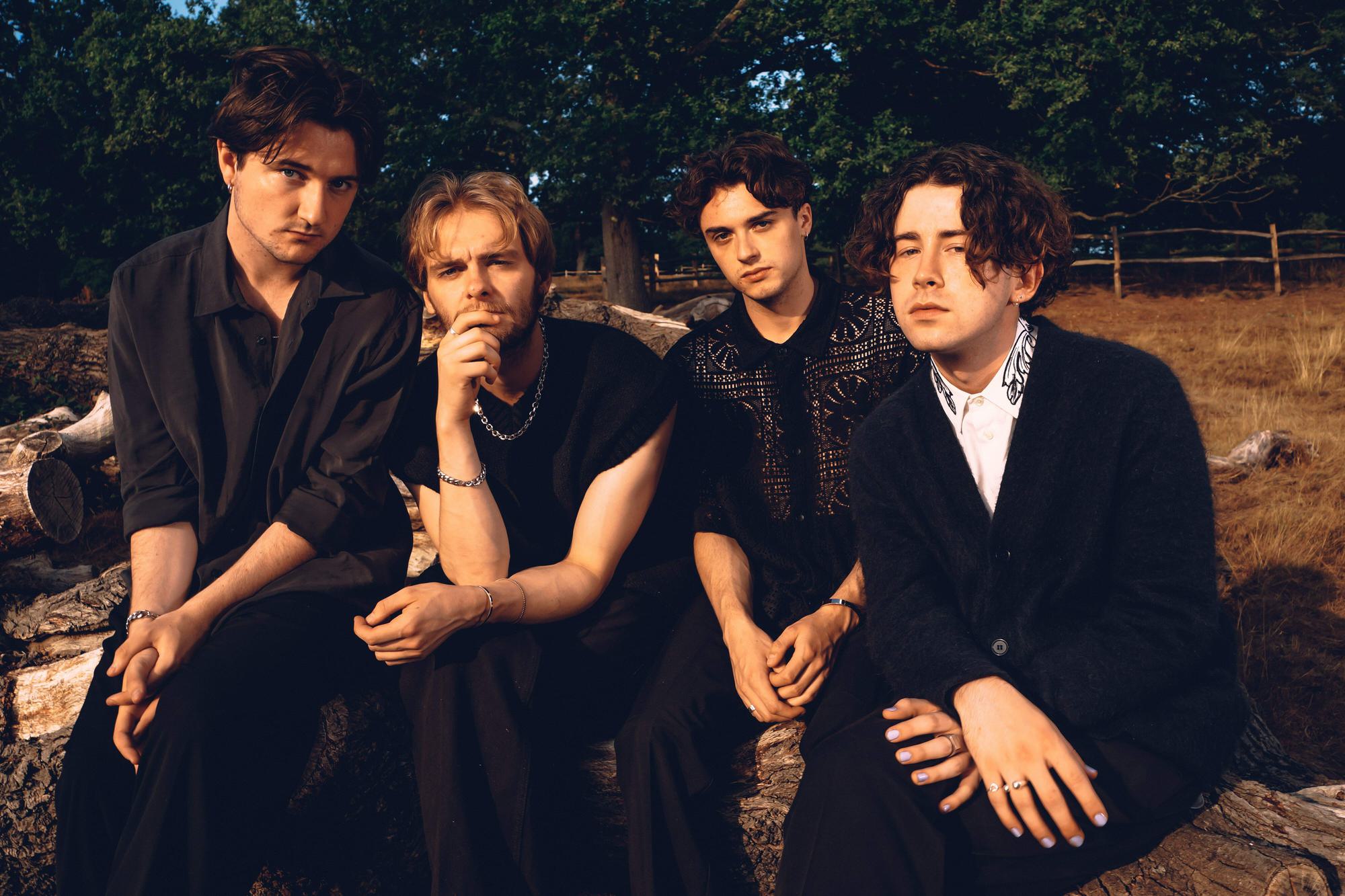 Following this year with Oh My Mind, it's an EP that still recalls their early demos and singles and gives them a fresh lick, including the song that started it all, "Us." Tracks such as "Follow You" are bright and fast-paced, earning the group comparisons to the likes of Bloc Party and The 1975. However, moving forwards, modernlove want to reflect the place they're in now. "The whole theme of this next release is just to go the other direction to what we've done, which is a bit more serious, self-critical and introspective," says McCluskey.

First single "Take Me Far Away" is a rush of explosive pop-rock, Lally's vocals still vulnerable against the wall of driving guitars, while new offering "Until My Heart Stops Beating" channels The Cure into a haze of shimmering indie and heartfelt sentiment. "The new songs are very, very fresh," says Roooney. "Playing songs like "Follow You", it was a reminder of maybe we're trying to do too much in all these intricate pop bits, but it's fun to go on power chords for an entire song."

Recording some live elements at a studio in London, a lot of the new material is still recorded by the band in their bedrooms, at times self-producing. For modernlove, they want their music to be a true representation not only of their creative vision, but their emotional journey. "Your music is growing up along with you and reflecting what's happening in our lives," says Rooney. "When you get older it's harder to write certain emotions. It just gets more depressing."

Welcome to modernlove.