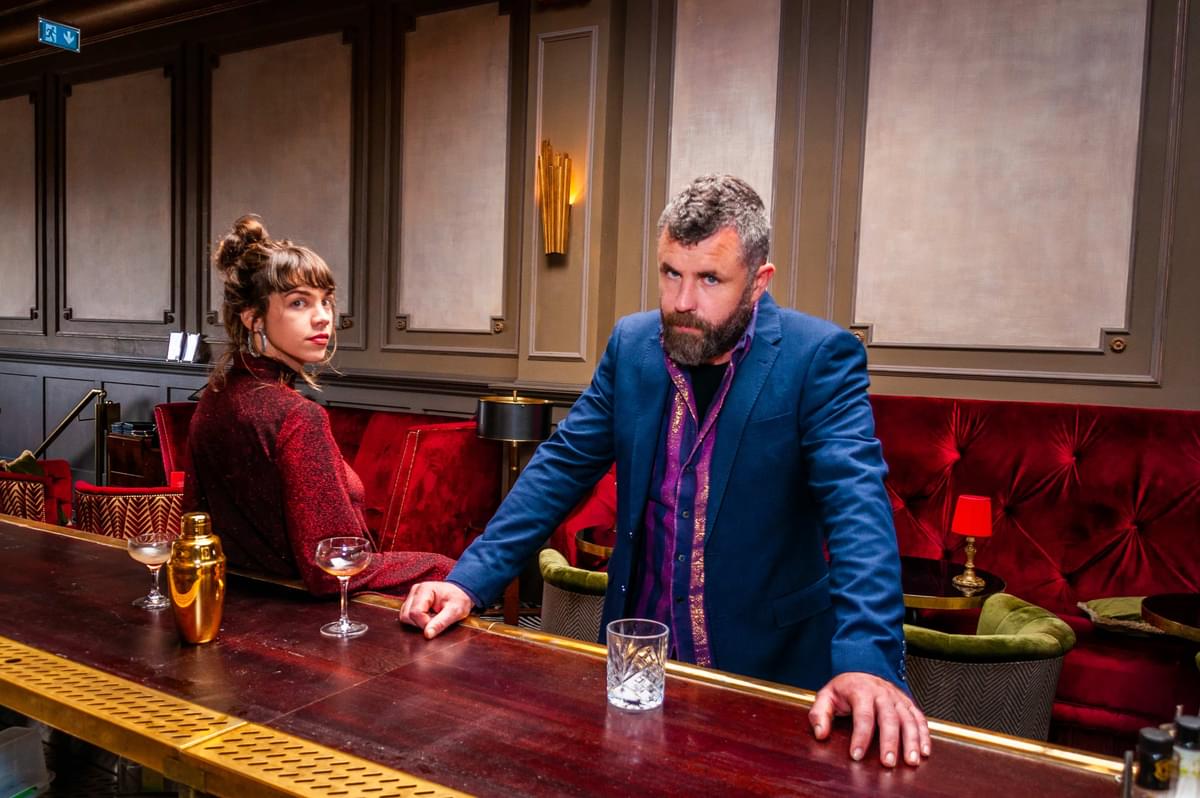 How Irish artists Mick Flannery and Susan O'Neill won the Phoebe Bridgers seal of approval
03 December 2021, 09:15
"Perhaps we have misery in common?" suggest Mick Flannery down the Zoom line, ruminating on his kinship with Phoebe Bridgers. Collaborating with Susan O'Neill over lockdown, the pair wrote and recorded the stunningly emotive album In The Game, which is picking up accolades on both sides of the Atlantic.
Having just returned from a US tour, including a date in Philadelphia as a personally selected opener for the indie darling, Flannery and O'Neill are still trying to get their heads around the last couple of years.
Both musicians are well-known names on the Irish music scene and beyond. Flannery, one of Ireland's most respected songwriters, released his debut album Evening Train in 2008, a concept album about the journeys of two brothers. Prior to the album's release, he picked up two prizes at the International Songwriting Competition in Nashville. "The award itself was prior to me ever setting foot in America," he grins sheepishly. "I'm not sure about this award. I have pedaled that award a good few times, but I haven't been outed yet as a complete fake."
Since his debut, Flannery has released six further albums, toured internationally and won several high profile prizes in Ireland. Taking inspiration from the likes of Kurt Cobain, Leonard Cohen and Bob Dylan, his writing holds a certain gravitas, walking the line between the storytelling of folk and the theatre of rock. In 2019, his debut album was adapted as a musical for the stage by Ursula Rani Sarma, playing for ten nights in his home-city of Cork, over ten years after its release.
Like his debut, In The Game is a concept record. The album tracks the highs, complexities and pitfalls of a relationship between two musicians. However, while Flannery embraces the structure of a concept to get the ball rolling, it's not something he feels beholden to. "The first album had a storyline thread through it, so in the liner notes of the CD or LP, you could read the narrative between the characters," he explains. "This album doesn't really have that. The other albums, sometimes I had concepts in mind, but I ditched them when I got too far away or wrote too many songs that couldn't be roped in. Concepts always help me to start writing songs, so I always have some background concept in mind."
For O'Neill, collaboration has been a cornerstone of her creative output. Raised in County Clare, her musicianship is honed by the traits of the trad circuit. Under the abbreviation SON, she released her debut record Found Myself Lost in 2017. "I didn't really have a release, I just recorded a bunch of songs and went on to CD Baby and uploaded them," she laughs. "I had no management or anything like that, so they were not there one day and then they were there the next. That was the extent of my release strategy."
Whilst touring her own project, she also began session playing for the electronic Irish group King Kong Company and traditional folk musician Sharon Shannon. "I played around with a lot of different bands. The King Kong Company, they would be this mix between techno and ska, and Sharon Shannon was trad. So I was touring with both of those at the same time, so I was really busy doing trad world and then techno world. It was a little bit of a head mash at times, also a wardrobe mash," she laughs.
The way O'Neill can glide between genres and across varying projects so effortlessly is testament to her tight-knit and supportive community from which so much talent is nurtured. "I just became involved with them through playing on the Irish scene," she shrugs. "It's so small that you just make connections and fall in with crews and two or three years later, there you are. It's all very organic. They were friends first."
But O'Neill's music has taken her far outside of Ireland, and at the start of 2020 she was kicking off her second tour of Australia before heading to the US. "When you're overseas, you're actually free of the expectations of yourself and what you think you should be in front of people you know," she smiles. "It was nice to play in front of these audiences that were completely new to me and I came out of my shell quite a lot over there."
But we all know what happened next. O'Neill had to cut her tour short amidst startling news coverage and growing anxiety. "It was unusual to sit in Sydney and watch all these little red dots pop up on the map of the world, and just make the decision to come home," she shrugs.
Prior to the pandemic, Flannery and O'Neill had collaborated on a couple of tracks, albeit in fits and starts. They were introduced to each other by their management company, and their first co-write was on the song "Trouble", a brooding cut of heavy melody. "We only got the chance to do one in-person songwriting session. The "Trouble" song came from that first one," explains Flannery. "The rest were written and arranged through Zoom. The odd time when restrictions eased we got to be in the same room, for a little while, but most of it we wrote apart from each other. Then we got lucky with the easing of restrictions around the time that we needed to record."
Previous In The Game single "Baby Talk" began life in the US as a solo track of Flannery's. Recording with Australian producer Tony Buchan, known for his work with Courtney Barnett and Smashing Pumpkins, Flannery flew to LA mid-tour to get into the studio. "We had a gig in LA and we had a gig the night before in Colorado, and myself and Christian Best, the drummer, took an earlier flight to Los Angeles to go and do the recording session on the day of the gig," Flannery explains.
After their success writing "Trouble", Flannery reached out to O'Neill to help complete "Baby Talk". "The song is actually recorded a little bit in LA, a little bit in the west of Ireland in Clare, and then the strings were back in LA again," she continues. Released in September of 2020, the song went on to win Best Original Folk Track at the prestigious RTÉ Radio 1 Folk Awards.
Alongside writing with O'Neill, Flannery was busy with his solo project across the period of lockdowns, releasing his Alive (Live From Cork Opera House 2019) album with the proceeds being split between his band and crew. However, the period of local isolation, restricted travel and enforced space allowed the pair to continue growing their creative relationship. "The pandemic certainly helped," confirms Flannery. "We had just done one of two songs, and we had shared other songs, and after a few months of lockdowns there was no reason not to keep going. There was one point where it was going to be an EP, but we had gathered together enough songs to start thinking about an album, so that's what we naturally veered towards."
Connecting on a call each week, the pair would go away and write, then reconnect again to run over their work. "For me, I was having a great time I'm ashamed to say," Flannery laughs. "The pandemic really suited me so much that I thought maybe jail would suit me. I didn't feel any pressure to do these songs with Susan, and I just had a good, creative time. There was so much time that it was hard to feel under pressure."
While Flannery has worked with countless musicians and participated in many writing sessions across his rich career, collaborating in such a finite and comprehensive manner is something that's rare in his creative output. It's a way of working and releasing that's taken him a long time to come around to. "I just had this selfish attitude that any idea I was to have was my own and I should cordon it off for myself. You're just liable to lose good ideas to collaborations," he shrugs. "But I've learned that that's not true. You can have different opportunities with co-writing that you could never have on your own, and the ideas that would come between two people, they just would not arrive with one person."
In The Game is a collection of songs centred around the themes of a relationship, the light and dark of falling in love and falling apart. The two main protagonists are both musicians, one a hyper-talented, endearing diva and the other an ambitious but less naturally-gifted, insecure, male. For O'Neill, working with Flannery and trying out the structure of adopting characters and concepts afforded her a new way of approaching songwriting. "I detrimentally thought I had to live through everything. In order to write about it I would create tensions within my life," she half-laughs.
Writing with the security of a character's mask also helped O'Neill uncover her hidden diva. "I'm enjoying trying on the nature of what she's supposed to be," she jokes. "It's nice to own being a diva for a little while. The concept thing was very new to me, but actually it's been amazing to look into the benefits, and I'm exploring that a lot more since. Really going into a story and tapping into the empathy of it and then removing yourself, that it's not actually a personal thing, but being an observer and using that as the little gold bit in the middle. But it's something that Mick has a lot more experience with."
Flannery shrugs earnestly. "I'm an experienced fraud," he smiles. "I do like playing with the character idea, but your own personality will come through, always, you can't avoid it. But I think it's good to have a little bit of an angle on things. It's fun to poke those types of subjects."
In The Game is an album steeped in glamour and grandeur. Blending folk, soul and rock, it's the songwriting that stands out, instantly engaging, soaring and intimate. The pair's delivery is rich in emotion, dark, smokey and direct. The record opens on "Trouble", the pair's first co-write, gripping from the off with a rhythmic lyrical pace and air of timelessness. New single "Are We Free" plays around with the dynamics of call and response, a battle of the wits, racked with imagery and universality, the production capacious enough to let the words breathe.
As poetically adept and emotionally intuitive as their lyrics are, the way their vocals spar and relent is the real drag to the heartstrings. "These Are The Days" is so loaded and cinematic it makes you want to fall into a black and white whirlwind romance, the sublime storytelling delivered with a confident class. Every song on In The Game takes you on a journey, each player has their moment, each instrument sharing the weight of the record's gloriously heavy sentiment.
The album was recorded between LA, Cork and Dublin, with the exception of a few extra lines here and there. Having already begun recording with Buchan, who also produced Flannery's 2019 self-titled album, the pair worked remotely with the California-based producer. "I just loved what he'd done on "Baby Talk" and I was excited to work with somebody in such a remote way. It felt like we were using our modes of connection in a positive and open way," O'Neill smiles.
As restrictions began to ease, the duo recorded with Flannery's live band in a studio in Dublin, before moving to Monique Studios, Cork where the brunt of the record was laid down. After several months of isolation, the intensity of the moment is palpable on the recordings. "That's a really important energy to have in a room," says O'Neill. "In one sense there's working across the world, but in another sense, in the middle of a period of total isolation and no live music, we got to meet up and do one of the most exciting things that there is to do in music. There was something special to be captured there."
However, for all the joy of being united and creating music together, having a producer eight hours behind on the other side of an ocean did have its drawbacks. "I guess we had some hopes that Tony might be able to come over and be there in person," admits Flannery. "There's no substitute for being in the room. He would receive files in the morning and we would already have finished our day. He would send back notes, and there was a certain amount of time wasted. Not perfectly ideal, but Tony did a great job under less than ideal circumstances."
Less than ideal circumstances, maybe, but for O'Neill elements of the recording process were even more precarious when it came to laying down some of her trumpet takes. "I was living in a mobile in the West of Ireland and I had no internet. I would have a little bit of data on my phone, so I would be on the phone to Tony and he would sing out lines. I would record them between showers, because it was just so windy that any wind wouldn't let you record in this shaking box of a thing," she sighs. "Then I would drive down to the hotel the next day and I'd log into their wifi and send off the files in the morning. With their permission! But I just would be a little bit shy, so I would just sit in my car and park as close to the side of the building as possible. So I'm there in my car with the computer trying to send off trumpet files that you now hear on the record."
For all the hard work, ingenuity and perseverance across a strange year, the rewards have been forthcoming. The record has received critical acclaim internationally, however, the support of the Irish musical community is still something that Flannery feels holds a great amount of weight. "The community feels small because it is small. It's small in comparison to London. The population is a fifth of London?" he says. "Other Voices, they've been really kind to me and us both of late, they've given us lots of attention. I've been very privileged to keep writing miserable songs and making a living."
As their profile grew and restrictions began to ease, the pair could finally make the most of their growing profile with TV appearances and prominent live performances. For O'Neill, it almost feels like things have happened the wrong way around. "One thing that I found to be unusual was the singing of the songs post-album production," she explains. "Normally you get a chance to road test these things before you put it down. So I feel like the songs are now evolving into these totally new things, now that we're actually getting to play them to humans and see how they're being received. It'll change the way you embellish certain parts of the song and maybe give less on some and more on others."
One prominent fan has been misery-indie's poster girl, Phoebe Bridgers, who said of In The Game, "I love this fucking record". The connection between Bridgers and Flannery came via Buchan. "There was talk at one stage of Phoebe singing on the album before she found out that it was a dedicated duet relationship rather than a batch of duets with a variety of singers," Flannery explains. "Tony let me know that Phoebe had heard a few of my songs and liked them."
She liked them so much that she invited the pair to open for her in Philadelphia earlier this year. Already on tour and driving across the US, they had to jump out of their car and onto a plane, a whirlwind experience. "We were delighted when that invitation came along. It was quite last minute," smiles Flannery. "We were driving around the Southern states, making our way down to Nashville. It was between Knoxville and Nashville that we just had to fly to Philadelphia and fly back to meet the car again, because we couldn't turn down this lovely invitation."
It was well worth the extra effort. "The gig was amazing," he continues. "Being the opener for the opener, first on the bill, you can be fairly sure that you'll be ignored. But that didn't happen. The audience were really beautiful to us, they did the whole lighter thing. They lost their minds when Susan started to play the trumpet. It was really welcoming. It was a testament to Phoebe's following, how nice they were."
For O'Neill, the experience was a welcome shock. "We were still road testing songs at that point, and then all of a sudden it's in front of lots of people and a completely different audience, but they were very beautiful," she smiles.
"Phoebe Bridgers is a beautiful human being. She was very kind to us," continues Flannery. "She met us before the gig and she was really gracious. It was very inspiring to see her do her set, as it is, with no extra stuff to try and impress six-thousand people. She just did her thing and people loved it and I was very inspired by it."
While they may be in the business of misery, it's good to know there's a little light out there.
Subscribe for news and competitions