"It's so hard to be human / I keep getting confused with the do's and the don'ts," sings Michael Aldag on debut single "Entitled". Just two years later, the 19-year-old producer, singer and songwriter might still be figuring it out, but he's taking everything with a pinch of salt and a heavy-handed dose humour.
"The more you write [the more] people have references and can say that it's your sound, but anything is your sound; any synth I press is my sound. It's not like I've got a really good grasp on it – I'm just faffing about and whatever happens, happens – I have something I'm going for but it's not a formula at all. I literally have no idea what I'm up to most of the time," Aldag confesses from the other side of a Zoom call. He's animated, yet soft spoken and self-effacing. Apologetic at his habit of waffling, yet eloquent in getting his point across. From the offset of our conversation, you can tell that music is Aldag's labour of love. Transmuting the mundanities and hardships of life into anthemic pop songs that focus on acceptance and growth is way of clearing his thoughts. Having people relate to that, and actually enjoying his music, is merely a bonus.
Aldag grew up in the quaint seaside town of West Kirby, and whilst his parents aren't particularly musical, they were always happy to facilitate his desire to pursue music and take up lessons. This desire was fuelled by his musically-inclined grandmother who played piano and often sang at talent shows. Whether it be to follow in her footsteps and learn how to play the piano or to imitate the guitar god's that his dad would play in the car on the way back from her house; her presence was vital in shaping Aldag's journey into music. Having first got a taste for the world of performing at the age of seven when he auditioned for a solo and sang "Silent Night" in his school's nativity, he found himself enraptured by the world of choirs until he was fourteen, but as expected, on the cusp of discovering his individuality, Aldag decided to give up the choirs and experimented with writing his own songs. By the time he was sixteen he had discovered music production – "and I haven't stopped since then," he tells me.
Aldag listens to a lot of rap music in search of inspiration for his own creations (one of the first CD's he ever bought was by Dizzee Rascal) and admits that it's mainly the production factor that he focuses in on, "because I can't rap to save my life – and I'm not going to try!" He's come a long way from illegally downloading music on his BlackBerry and downloading Logic onto the MacBook that he bought himself for his sixteenth birthday. Beaming as he holds up his latest purchase – the infamous Teenage Engineering OP-1 synthesiser – Aldag takes me through the simple bedroom setup that he's acquired over the years which allows him to record what he coins "electropop that is about the trials and tribulations of youth".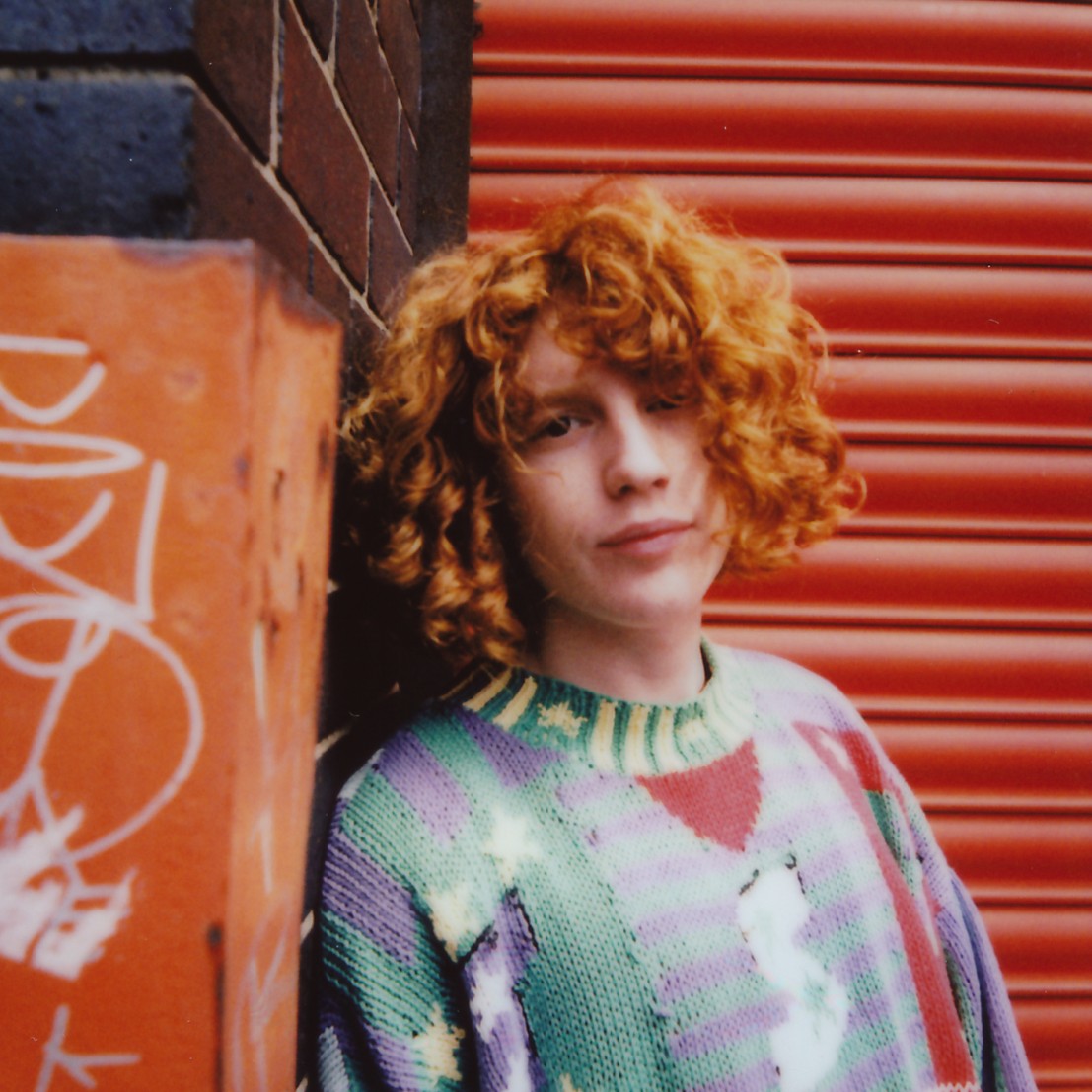 "When I was about 16, I just had enough of everybody here and I just wanted to see the world," says Aldag of the pivotal moment - after seeing Brandon Flowers of The Killers perform - when he decided to put all of his time into creating music and escaping West Kirby. "I thought, if I'm going to do it, I really want to make people feel something. I don't want it to be niche. I want it to be big, emotional, melodramatic, and with meaning," he continues. Soon after, he saw an advertisement online for the Levi's Music Project and decided to apply without a second thought about actually being accepted. To this day it's a decision that he's incredibly proud of because it accelerated his career at a rate he could never have predicted. The six-month project provided Aldag with weekly masterclasses and sessions which helped him understand the industry and find people to create with. Most importantly, it gave him live experience as he was able to perform at fashion launches in Barcelona, Brussels and London.
Aldag's charm comes from his lyrical genius. Electronic soundscapes that house anthemic pop songs contain one-liners that feel as self-deprecating and trivial as they can be self-righteous and complex. Songs such as "Vodka" from his debut EP Navel-gazing and the standalone singles "Arrogance" and "Divorce" show Aldag at his wittiest and cheekiest – "Fuck you / your mum / and all your friends" being one example of this – but it's his development through time spent as one of the Class of 2020-21 'Most Ready' artists at the LIMF Academy, who support Merseyside-based artists, where his song writing capabilities are truly being pushed to new heights.
"Most of my songs, if not all of them, are about personal experience. I'd love to be able to do a storytelling one, and there are some like that, but most of the time I just find myself talking about myself. I'm not sure what that says about me!" he chuckles. Likening his creative process to that of catching a train because he's often producing and writing at the same time, he notes that there is potential for an idea to pass him by if he's too focused on the other side of it. He's trying to strike a balance between the two, but there will always be an irregularity in which his songs come together. If you threw Lorde, Sam Fender, The Killers and Chvrches into a blender and sprinkled a bit of Phoebe Bridgers onto the finished product, you might be on the cusp of defining Aldag's sound. Though don't worry if you miss the mark. Falling into any specific genre isn't something he's too fussed about doing so early on in his career, instead, preferring to experiment with his feelings.
On the current batch of songs that he's working on, Aldag's style fleets between atmospheric synth-pop as he contemplates making peace with himself ("See we're not all meant to be a star / some of us are better off as we are / and that's ok – OKAY"); a tinkering trap-pop number which is reminiscent of Mr. Sandman as it recounts the messiness of modern relationships ("One of us cheats / lies / rumours get denied / screenshots get shared and rumours get denied" – LOML); and The 1975-esque signature guitar driven indie that dances over conversational observations (You wear flares and say you're looking for some indie love / I've got a fringe / you've got a fringe / is that not indie enough?" – Polaroid).
Whether they're rooted in one specific reference point or will eventually become snapshots of Aldag's life in that very moment, what is certain is that this collection of songs is likely to be on his debut album. "Tonsillitis" was written during one of the intermediary lockdowns where Aldag was working a job checking temperatures for people at a spa. He had come out of a "sticky breakup" and, whilst mulling over petty feelings and moping over the situation, he tapped into stream of consciousness method of writing that was akin to that of Phoebe Bridgers' Punisher album. "It was a very long and isolating day and I was listening to Phoebe Bridgers in my earphones," he says. "If I hadn't listened to her new album around that time, I don't think I would've written those songs. I love the way she picks up on very random, mundane things and spits it into a whole song."
This candid means of expression is something that seeps into his TikTok account where he posts short humorous clips that make fun of British culture and the lives of Gen Z. "It's such a good app, but you should have it in moderation because it just gets nuts," Aldag says. "I'm definitely not a TikToker or an influence and I never want to be like that," he continues. "It's a useful platform and my songs have got some humour in them as well so the two things are not world's apart. I hope it gives a more well-rounded view of me as a person." Whilst he initially decided to keep his music separate from his online personality – which is merely an exaggeration of the person that sits before me – he is now slowly bringing the two together as he's amassed over 27 million likes and can see the power of the platform.
"I always wanted to be gigging in dingy pubs – and don't get me wrong, I've done my fair share of dingy pub gigs – but things really progressed when I was just sat in lockdown doing TikTok's to myself. I started it last August and it was also the time that I wrote 'Divorce' and 'Tonsilitis'," he says, before mentioning that it was probably a bout of loneliness that spelled the start of him being on his phone a lot more. This connectivity aspect is what continues to fuel Aldag in his music career. "I love responding to DM's because these people are literally letting me live – I was going to say live my dream but I'm still sitting in my bedroom," he corrects himself with a laugh. "I've been able to sign a deal and I have some sold out shows. It's baby steps but to be able to have that way of saying thank you to people and building a connection with them is really good."
Rather than churning out EP after EP, Aldag has become a fan of the fast consumption that comes with dropping singles as and when they're ready instead of waiting until he has enough songs to release something longer. "Originally, before I got signed, I was going to do an EP and then an album but I think that was me being scared of the word 'album' because it has a lot of gravitas," he says. With an ever-maturing sound and an ever-growing fanbase thanks to TikTok, Aldag is less afraid of going straight in with a bold statement. "I've got enough songs now, so it's about recording them and making sure that it's something I'm proud of, and hopefully people will like it!"
"Trust Funds" is out now