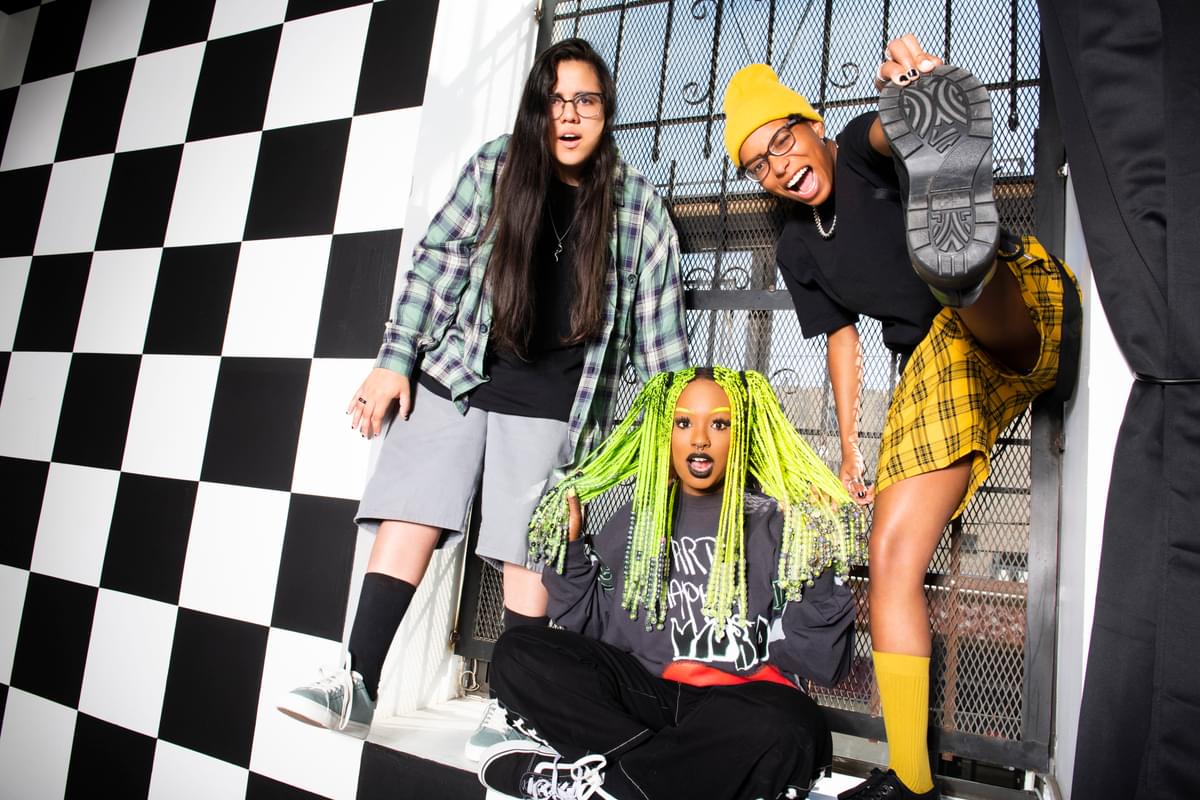 On the Rise

Meet Me @ the Altar
06 October 2021, 09:45
As the first all-female band to sign to the infamous record label Fuelled by Ramen, Meet Me At The Altar are helping to carve out a space for people of colour in the archaic and white-washed genre of pop-punk.
It's 2007, and everything is dyed hair, raccoon eyeliner and nonsensical MSN Messenger away statuses: fate fell short this time, your smile fades in the summer. Infinity On High has just been released. Pop-punk is in its heyday.
The genre, which was paved by godfathers blink-182 and Green Day and subsequently continued by contemporaries Fall Out Boy, All Time Low, Mayday Parade, All-American Rejects, Simple Plan, and New Found Glory has quite an archaic history. With the exception of outliers Paramore and lead vocalist Hayley Williams, pop-punk was almost exclusively and overwhelmingly male territory. Pop-punk, and its adjacent stylings of emo, served as the creative release of the fragile male ego. The sexual assault allegations against bands such as Brand New would come later, along with the eventual collapse of the legacy of Warped Tour, now regarded as a breeding ground of misogyny, male chauvinism and sexual misconduct.
Fast-forward nearly two decades later, and pop-punk is having a resurgence within mainstream culture – but its modern-day ambassadors are completely different to those from its supposed prime. Enter Florida-based Meet Me @ the Altar, a band consisting of three women of colour (and whose oldest member is 22 years of age). Tea Campbell (guitar and bass), Edith Johnson (vocals) and Ada Juarez (drums) have taken it upon themselves to reclaim their beloved genre and to collectively move on from its toxic, tainted past.
"It's about time," says Campbell. "Those bands have had their day. It's gotten so messy with those older white male pop-punk bands, and now it's time for other people to have their chance."
"Black women get told that they can't do pop-punk, they can't play guitar," Johnson adds, firmly, with a quiet defiance that says: well, here we are.
And boy, do Meet Me At the Altar have their chance. The band's first inklings date back to 2016, when Campbell discovered Juarez's drum covers of Twenty One Pilots songs online. After forging a quick friendship virtually, they decided to form a band, eager to find like-minded individuals to bring their ideas to life. Lead vocalist Edith Johnson joined two years after the band's initial formation – her audition was rejected on the grounds that Johnson said she would have voted for Hillary Clinton during the 2016 U.S. presidential election and not Bernie Sanders – as they ended up going with another singer. An unhappy Johnson continued to text Campbell "almost every day, for two years!"
"They didn't choose me. But I felt really connected to them, and I wasn't going to stop [contacting them] until I was in," Johnson recalls, laughing. "They're women of colour and I wasn't seeing that anywhere else. That's one of the reasons why I was so determined to join. I wasn't going to join anything else because I didn't want to be in a band with white dudes in general, to be honest."
The trio have released a smattering of songs including the memorable single "Hit Like a Girl," but it wasn't until the release of viral instant-classic "Garden" in 2020 that they finally started to garner some buzz. "Garden" contains signature high-octane guitar riffs and a soaring, catchy chorus that sounds like an amalgamation of everyone from Flyleaf to Mayday Parade. It caught the attention of All Time Low lead singer Alex Gaskarth and The Wonder Years' Dan Campbell. They signed with legendary pop-punk record label Fueled By Ramen not long after, releasing the six-track Model Citizen EP in August 2021. It should be noticed that they are the first all-woman band to join the label.
And while Meet Me At The Altar's sound has been heavily inspired by their pop-punk icons and idols (Johnson herself auditioned for the band with a Paramore song), their lyrics are a departure from what the genre is usually known for. While some songs on Model Citizen acknowledge some darker moods and feelings, there is still an uplifting, positive sensation within Meet Me At the Altar. This, Campbell says, shows the juxtaposition of pop-punk; darker themes that are contrasted by the high-energy instrumentation, but still with ideas about self-love, positivity and self-acceptance. This shift in lyrical content marks the start of a new chapter within the pop-punk canon.
"Pop is mainly happy," explains Campbell. "And that's why people like listening to it. Pop-punk isn't [happy], but the pop-punk sound is so good. We wanted to blend the two. Especially with Model Citizen – some of the songs have darker undertones, but at the end of the album, the message is always that it's okay to not be in a good place. As long as you're acknowledging that and working to better yourself, that's all that matters because no one's perfect. Right? Nobody can be that model citizen."
Both Juarez and Johnson nod vigorously in agreement. "Right," they repeat in unison, reaffirming Campbell's words and confirming their shared philosophy.
Mainstream pop music has helped pop-punk claim a renaissance in the year 2021. Willow Smith and Olivia Rodrigo, arguably two of the most famous female pop artists today, both released records this year which have embraced and were inspired by pop-punk.
Smith's are the most obvious, consciously shifting to a more guitar-heavy sound; on her album lately I feel EVERYTHING, Smith collaborated with pop-punk princess Avril Lavigne on "G R O W". The song also features blink-182 drummer Travis Barker who appears on two other tracks – "t r a n s p a r e n t s o u l" and "Gaslight". Smith and Rodrigo – aged 22 and 18 respectively – were too young to be swept up in the pop-punk craze of the early-to-mid aughts, but that didn't stop them from making conspicuous sonic homages to the genre, and it's all the more serendipitous that two of pop-punk's most influential figures, eventually end up playing together on a Willow Smith song.
Meanwhile, for Rodrigo, the grunge-heavy "good 4 u" is a standout track from her debut album Sour. Rodrigo even gave songwriting credits to hit Paramore's song "Misery Business" and has continued to embrace the mid-2000s aesthetic in her music videos, alluding to cult-classic favorites Jennifer's Body and The Princess Diaries – films that came out before she had even started elementary school.
And even this bleeds into Meet Me At The Altar's craft as musicians. Though pop-punk is their favoured genre, it wasn't what initially inspired them to take up instruments. "The earliest stuff for me was probably Hannah Montana!" exclaims Johnson, as Campbell and Juarez laugh in agreement. "The Cheetah Girls were so good, and even the High School Musical stuff. Everything [that was on] Disney Channel!"
"Sometimes people will say our lyrics are too cheesy," Campbell says, "but we don't give a fuck. We know how influential Disney Channel was on us. So if we can be that type of group for kids, then why not? They're going to grow up being inspired by us, like a modernised Disney Channel situation."
"We'd listen to P!nk and Ashlee Simpson," Johnson continues, rattling off two of the most influential female pop musicians who became known for their guitar-heavy music. "Pop is just so authentic and real."
With their band ethos firmly in place, it won't be long before they can begin to inspire other young women of colour to pick up guitars and take up space in pop-punk. The band are currently on a massive three-country arena tour, and they've got a slot supporting heroes All Time Low in the United States in October – a band they've worshipped since childhood.
Supporting a band like All Time Low on the country's biggest stages means that they will be given a visible platform to cement themselves within pop-punk as women of colour. It's something that has been long overdue, and something that more established bands should be doing: using your fame and legacy to share a stage with young, non-male bands to raise their profile and break up the boys' club.
"Sometimes male bands will just pick the same all-male bands as their support acts, over and over again," Campbell says, shaking her head sadly. "We're so thrilled to open for All Time Low, but this is just the start. We need to do more. We need to be more inclusive. There's only so much that bands can do to get the attention. We are super fortunate, but there are so many bands like us, full of women of colour who will get overlooked."
Meet Me At The Altar also have an all-female touring crew, from their band manager to their photographer. They simply wanted it that way. "It wasn't hard," remarks Johnson. "Representation comes in so many different forms. They're there. All you have to do is look."
Get the Best Fit take on the week in music direct to your inbox every Friday