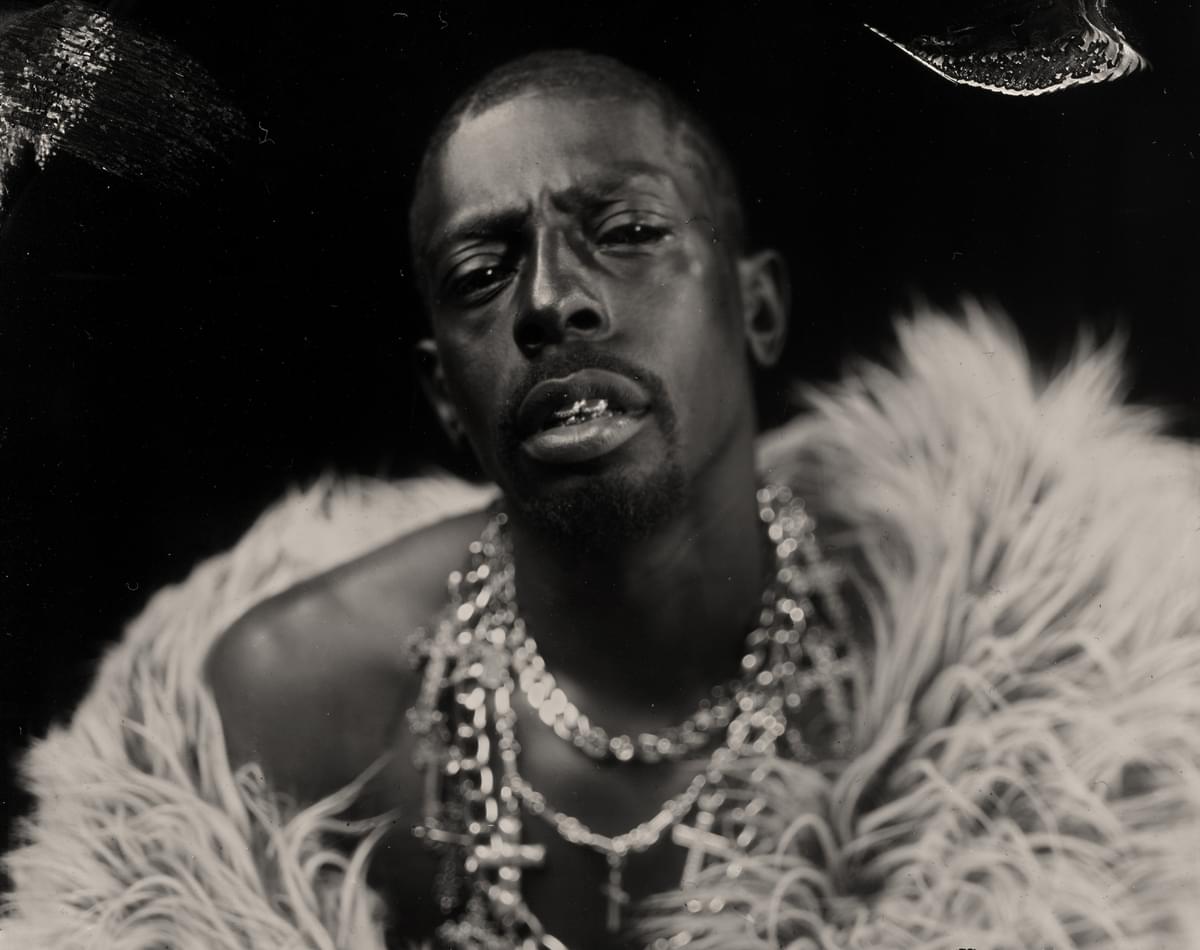 Meechy Darko is rewriting his own history
02 September 2022, 08:00
Flatbush Zombies co-founder Meechy Darko lays out his theory on life, death and everything in between to Alisdair Grice.
Meech AKA Fleezus Christ AKA Dirt Cobain is in LA but on "New York time" when he pops up on a late afternoon video call.
His aura is one of refined relaxation, unperturbed by the errant bustle in the background, speaking with such clarity about his solo work that it could only come from the mouth of the founding creative force behind Brooklyn's lauded Flatbush Zombies.
His character reflects his attire and vice versa, as he sits donning a deep red BAPE snapback, covering his now notorious spider web haircut that demarcated a new look for this new chapter. It's a subtle flex from the artist that started collecting Supreme far before StockX, online drops and bots, and it's apparent in his demeanour that it's the music that holds the most power for him, not the image.
When speaking, Darko is a far cry from his braggadocious, exuberant performing persona. He's grounded to a point where I'm taken aback. His typical gravelly sharp vocals that pepper each Zombies track are swapped for a low, deep, pontificating voice that pauses to consider each question with reverence. He treats conversation like his verses, occasionally pushing on the throttle to rev more passionate thoughts to the foreground but being well aware of tapping the brakes when the conversation gets dark or touches on one of Darko's favourite subjects: death.
In a way, Meechy has always touched on the delicate subject matter of death, but having lost his dad in 2022 to a fatal police incident in January 2020 and his Aunt a few years back, his previous obsession with death and its many winding roads has morphed from a morbid curiosity into real-life tangible grief, on that haunts each word on 'Get Lit or Die Tryin'' or the soporific eulogy of 'Lost Souls'. Darko's ability to convey these heaving emotions through sheer song-craft is unmatched. If the Grim Reaper took a tab of acid and wrote poetry, the result wouldn't be far from this Brooklyn local.
"I feel like after this project, I'm going to do my best not to talk about death as much," he begins, "because I've talked about death all my career. My [social] handle is 'MEECHISDEAD', for Christ's sake. Of course, I'm gonna touch on the subject matter, but I feel it's something I naturally gravitated toward since I've been a child. It's something that fascinates me and something I've always thought about — like what happens when you die and how people are affected by death. I know some people who never lost anybody. I've lost friends since I was in junior high school and shit like that. It just always been something that's been on my psyche."
He continues, "I don't think about it when I write about it. I don't think death is as scary as other people do. I'm more afraid to talk about catching a cold. I feel like it's something that is relatable whether you can relate to it now or you will eventually relate to it because you're gonna lose someone eventually. I try not to be depressed about it. I try to be realistic about it, you know? It's a complicated subject and I feel like no one knows what happens so you can talk about it forever. We don't know what happens after — it's like the most fascinating thing, it really is." Having collaborated earlier last year with James Blake on the eerie "Afterlife", Meechy's flippant lyric on the track "High boy, meet me in the clouds or somethin'" is further evidence that the rapper is intrinsically linked to morbidity, but significantly, he's not afraid of it. Nor is he afraid in his latest seminal solo venture in "Gothic Luxury".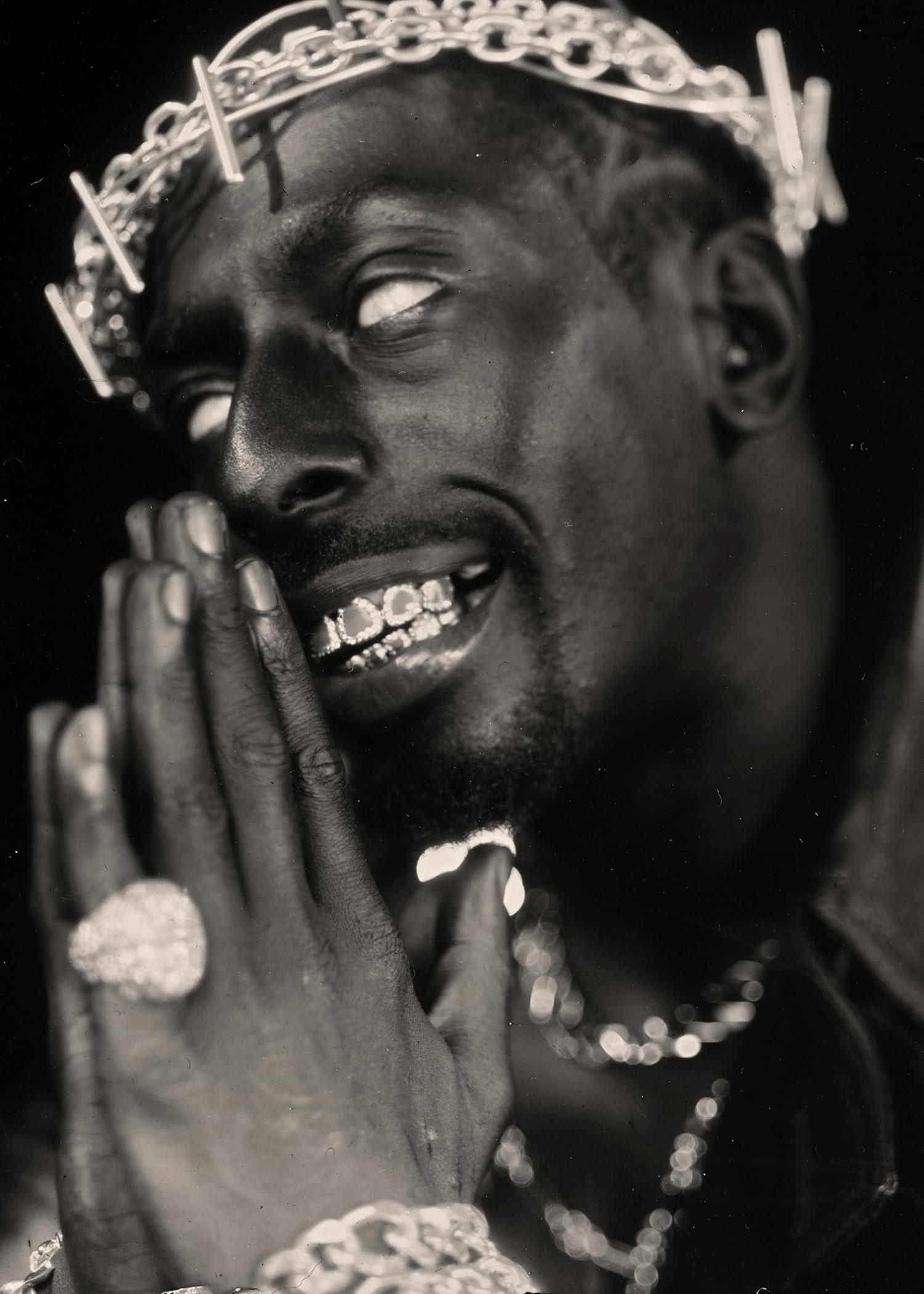 "My life's a movie" Darko begins in CURSED, setting the scene for a veritably cinematic experience. As a complete record, it combines flecks of Ye's 'My Beautiful Dark Twisted Fantasy' in its unique sampling and innovation, whilst still keeping true to Darko's East Coast rap roots, with his Flatbush Zombies DNA on full display. His gothic venture is delivered with the reverence of a certified star, one that is knowingly making his own voyage into the unknown, rapping about gun-enamoured America and trigger finger on 'Never Forgettin', complicity in capitalism on 'LAVÏ$H HABiTS (Gothika) and condemning conspiracy riddled pariahs on 'Kill Us All (K.U.A.). His voice is political and potent, but never belabours a point. Hearing Darko's sole viewpoint as a Brooklynite is like holding a magnifying glass up to the cross-pollination of corruption, mental health, grief and how it has affected over the last 32 years.
Having the opportunity to make music separately from his co-conspirators had always appealed to the rap star, but the first day in the studio was a different story altogether. He made the active decision to not invite the remaining members of Flatbush Zombies into the studio. He starts, "That was the only challenge I think I made consciously. I didn't force it though. I'm not saying Erick or Juice was a crutch for me by any means, but I'm so used to looking left and right and having someone or asking of their opinion, even if it's subconsciously. I didn't use them in the whole process of making this album because I wanted to see what I can do without having to look over to my brothers. Instead of impressing them with the genesis of an idea that was small, I want to impress them with the whole body of work."
In his attempt to create something outside of his normal wheelhouse, he recruited the help of super producer 'Dot Da Genius' (Kid Cudi, Nas, Denzel Curry) to assist in creating a new sonic experience. "I wanted to build a new relationship with like Dot Da Genius, who executive produced the whole album. I made sure that I do my best to build relationships with the people I have in front of me because everybody that I work with musically I try to continuously work with for the rest of my career. You can't be afraid to take risks. And these are my brothers, so they know if I play them something, I'm playing it for reason. I want them to be excited when they hear this."
Darko's distinctive voice has long-littered Zombies tracks with his impossibly gravelly tone, complementing Zombie Juice's higher pitch staccato attack and Erick's warmer, more rounded addition. But left to his own devices, Darko has presented a musically rich record that spans influences from Kanye West to Wu-Tang Clan and Busta Rhymes.
When it came to putting out his seminal work as a solo artist, Darko's peers were the first to berate him for not putting out an LP of his own material earlier. "Most people said 'about damn time." he laughs. "We always wanted to explore our own solo sounds, but I think it scares people; the idea of a group doing solo endeavours. Because most groups aren't really built off of much foundation outside of the music. But I never really felt that with Erick and [Zombie] Juice because they are my real brothers. I don't have any brothers — those are my real brothers. Mostly, it was just about time… (aside) it took long enough."
Often solo work can come out of a jaded space; either a mindset of escapism or sometimes even a place of boredom or falling out, where band members are struggling creatively and failing to bounce ideas off each other. But this was never the case for Darko, with his work in Zombies and Beast Coast existing concurrently with his solo work, 'Gothic Luxury' serves to complement his legacy. Undoubtedly, there's always been an animated, Odyssean graphic novel-influenced edge to a lot of Darko's work, but he concurs that if each member of the group began producing solo material, the output is only going to bolster and enlarge the Zombie's universe." It's going to be more diverse. Because the music that we make together — as strange as it is — this is new. We've never really heard us do things alone. So it's a whole new universe. So now we got three universes that we'll bring into the Zombies."
"The dark cloud is hovering over me but it's not going to stop me from doing what I'm doing."
(M.D.)
The working title for the record was 'Cursed', a more succinct, impactful statement that Darko felt didn't represent the new world he was trying to build. "Words are very powerful," he begins. "I think when you read something like 'infinite sadness' or whatever the hell it may have been called, it puts you in a state before you can even take in the music. With 'Gothic Luxury', you can Google that. Before I said those words they had never been put together. I'll make a mood for myself just to make sure I stay in character. I wanted the album to feel musical grand and luxurious, but I didn't want I wanted to feel heavy. Luxury doesn't necessarily mean good and positive, luxury just means it might be expensive and rich and valuable and worth something but you know how expensive couches cost $30,000 but you sit on it and your ass still bleeds. So to me, 'Gothic Luxury' was more about finding comfort in the darkness. It's like making the best out of the situation. The dark cloud is hovering over me but it's not going to stop me from doing what I'm doing."
In keeping with Darko's plan to build a Zombies extended universe, he shares "I want to eventually make this a trilogy one day". It becomes more evident as we speak that he has been sitting on a long list of tales to share for a very long time. When it came to telling his own story, Darko recalls the moment that clarity struck. "I think it was first in my mind around the Beast Coast sessions for the Beast Coast album (Beast Coast are the supergroup comprised of Flatbush Zombies, The Underachievers and Pro Era, founded in 2012). A lot of those songs were recorded in the Zombies studio that we had in Brooklyn. I was in the studio most of the day so there were times when I would be there before everybody and I would just make a song. So I had an idea: 'If I was to make an album, this is what I want to talk about'. What I had in mind back then is definitely not what it ended up being because, at that time in life, there were people I wanted to talk to about certain things." With the realisation of this shift, Darko shied away from news cycle discourse and instead immersed himself in a world of his own making.
"I wanted to talk to the world about a lot of things that are common conversations now. A lot of things have changed over the last few years, even the last two years. From politics, people's views on religion, finance, everything has really changed. When everyone else in the world starts to talk about something, I tend to stray away from it in a weird way. It's not on purpose. I still talk about it, but don't make a whole album about it, so I made Kill Us All (K.U.A.), we can get all those points across in one song ("Black kid get shot, white man get tazed/Media spread lies, politicians get paid/Doctors wanna drug you up so you can reach an early grave/Prisons wanna lock you up so they can fill up every cage") instead of being long-winded."
"My original idea for my first solo album was going to be really emotional, dirty laundry. Just me baring everything. But as time progressed, I realised, I don't think I'm ready to even tell that story yet. I'm ready emotionally. But I feel like I need to get better. I don't know if that's just me not being hard on myself. But I feel like I need to get better to tell that story as good as I need to tell it."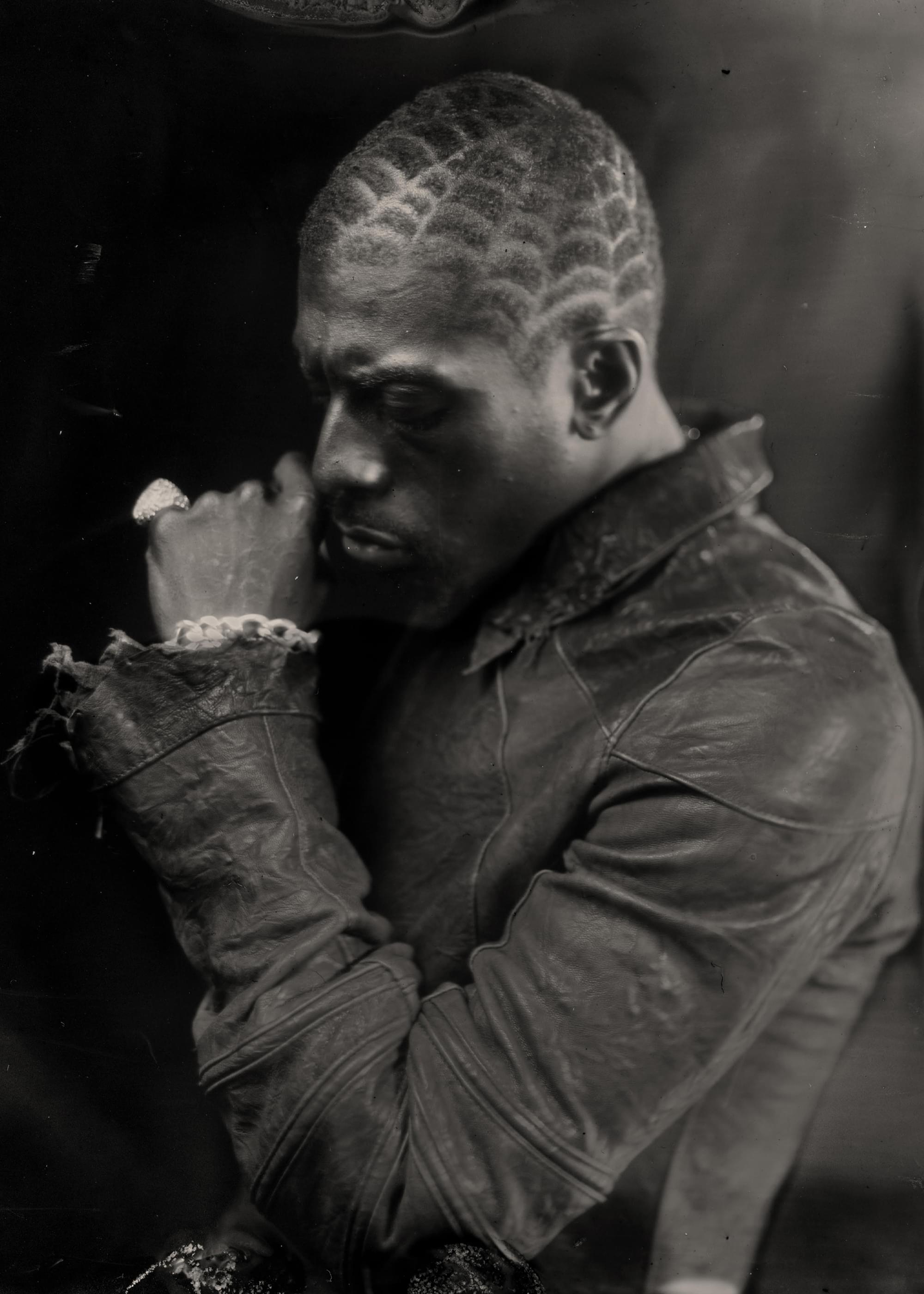 Darko's life has been a rollercoaster rife with death, grief, narcotics and touring at every turn, and he truly sees it as a mission to get through each day. He walks around carrying a mantra, pasted on every tweet he writes, all over his Instagram and floating in his skull every day. 'Own the day' are the three most powerful yet volatile words for Darko, possessing him to get out of bed each morning and maintain his status as one the driving forces in Brooklyn's long-standing rap scene.
"Life is a challenge" he shares. "Every day is a challenge and you've got to decide if you're going to step up to it, run away from it or ignore it. When I made that quote, there was just a lot going on in my life from my father's passing. I'm an only child, so I don't have any brothers and sisters outside of Erick and Juice and my family looks to me for a lot. It's not about money. It's emotion, it's time, it's a conversation, it's love, and in that kind of situation, a lot of people look to me for that. Grief is a very complicated thing. There's no handbook on how to and if there it's bullshit. You know, some wounds don't really heal, they just they get close to but it's very easy to reopen them, you know?"
With grief playing such a leading role in the records, Darko assures us that is not the only emotion he wishes to convey or goal he wants to achieve. Recording this record allowed him to tick off some bucket list collaborators, including fellow Brooklyn local Busta Rhymes and a track that never quite made it to the record with the legendary Mary J Blige. Darko opens up about his collaborative decision-making and his desire to subvert assumptions.
"'Lost Souls' and 'Cursed' were the first two songs I recorded since my father's death. The 'Lost Souls' verse came first and the first 8 bars of 'CURSED' believe it or not I freestyle. Time progresses, and Denzel says he's going to keep Lost Souls for his album. But it sounds better on my album so he gifted me the song. But I sat and listened because I always wanted somebody else on it. Busta Rhymes came to mind because I feel like there are a lot of parallels with me, Denzel and Busta Rhymes as we're looked at as very loud, brash voices known for our crazy hair. I'm very big on juxtaposition, and I'm very big on 'you're not going to always get what you think you're gonna get'. So just because you read Busta Rhymes, Denzel Curry and Meechy Darko, you're not going to get this crazy uptempo, fast-rapping-ass song that you probably wanted.
"I wanted to do that for my neighbourhood man. I wanted to do that for my family and the people that I grew up. We grew up listening to Busta Rhymes we used to perform at our block parties. I performed Busta Rhymes music when I was a kid. It is deeper than just rap for real. He was on my bucket list. Jada Kiss - bucket list. Bun B - bucket list. Busta - bucket list. Black Thought - bucket list. So when I die, they can say not only did he rap with his idols and people he respected, but he wrapped very fucking well with everybody he's been on a song with. That's my legacy."
"I'm hypercritical of myself sometimes, but I'm definitely blessed and proud of myself without a doubt, and the people around me are proud too."
(M.D.)
A track that failed to make the record was named 'Every Time', teased on a whiteboard on a track list Instagram post that Darko published in June. The most interesting fact about the track however was that it featured the words (Mary J) after the song title, implying a potential Mary J Blige feature. On this, Darko opens up and shares that it very nearly happened, teasing that the upcoming speculated album trilogy may just provide an answer to this disappearing track.
"This song 'Every Time" I was writing for my father before he passed. I got a little stuck because I was talking to him in the song. I thought maybe on verse two, I could talk to him in spirit, but I couldn't figure out how to approach it properly. I had more unpacking with life to figure out, I don't think anybody's ever had a song like that, where the first verse is for somebody that they made it for while they were present. And then the person passes and it gets a second verse talking to them. I didn't want to rush something like that. There are a few songs that didn't make it. I can't say much about them though because some of them have features on."
Despite some tracks not making it to the record, fans can look forward to a potential trilogy on the cards. Darko is immersed in a creative spiral that will only thrive from further fan support. He recently took the chance to play a few songs at shows in LA and NYC respectively to a rapturous reception, understandably many of the Flatbush Zombies fanbase are more than happy with this development. With 'Gothic Luxury' announced, It is important to note that Flatbush Zombies' sprawling odyssey is far from over. As Darko embarks on this long-awaited solo project, the trio's music has seemingly been put on ice and will instead embrace their distinctive, individual storytelling abilities. So whilst avid fans dig into 'Gothic Luxury', they can also look forward to potential future moves from the rest of the Zombies team.
As we speak a few weeks before the release, Darko spills "I'm hypercritical of myself sometimes, but I'm definitely blessed and proud of myself without a doubt, and the people around me are proud too. Hopefully, when the fans get this, they're proud and they're excited. I'm not here to drag my feet when it comes to my solo music. I'm going to release as much music as I can until I don't want to make anymore."
In keeping with Darko's 'Own the day' mantra, he leaves the call with an impetus for progress within ourselves. "Even if I don't know where I'm going, I gotta look like I know where I'm going. When I wake up, I gotta act like I know what I'm doing. When you don't move like that. You're like a feather in the wind, you can go in any direction." Darko is a kingpin of modern rap, and the formidable 13 tracks of 'Gothic Luxury' see him undertake his most ambitious yet delicate project to date. The Kanye comparisons are warranted, and Darko has set himself up for a very similar trajectory.
Get the Best Fit take on the week in music direct to your inbox every Friday