To mark ten years since the release of second album The Blue Notebooks, which demonstrated his intense trademark soundscapes and featured readings from a young Tilda Swinton, Richter revisited the work with a timely reprisal at London's iconic Royal Albert Hall alongside many of the original Max Richter Ensemble and guest musician Daniel Hope. Before last Saturday's career defining show, that also included his memorable reworking of Vivaldi's Four Seasons with the Royal Philharmonic Concert Orchestra, we caught up with him to discuss his inspirations, the last decade and what's coming up next for the neo-classical trailblazer.
Hi Max, you are often painted as being a forerunner of contemporary classical music world - how did you find your place in that niche?
Well, there was no niche when I started really. My background is very twofold, in that I have a very straightforward classical music education but at the same time I was listening to, and later went on to work with, electronic music acts; people like The Future Sound of London. At the beginning when I started to make my own records, like The Blue Notebooks and Memoryhouse, there were no neo-classical scene. I know it's cliché, but it was always that thing of making the music you'd like to hear if you hadn't written it. I just followed my enthusiasm and that's the material I ended up on. Later, people started to talk about it as if it was a part of something, but really at that time there wasn't really anything there to be a part of.
When you first started out were you aware your music didn't sound like anything else that was around at the time?
Yes, in a way. I remember feeling that I wasn't sure if there was an audience for it. I was just ecstatic that someone would let me record and release my own stuff. I just followed my enthusiasms and did what I felt like doing. At the time around the first Sigur Rós album and Arvo Pärt on the classical side, I just thought there was a connection. Along with the early Boards of Canada stuff and the early Warp stuff, I just thought, "there is a common ground here." It felt natural to me to occupy that common ground but I didn't think of it as being defined in that way. It was more a feeling that I had and there were elements of both these two languages I had and enjoyed working with. That appealed to me. I went ahead in that way and did my own thing. I think that's all you can ever do really.
It will be the 10th anniversary of your second album The Blue Notebooks this weekend, and without making you feel too old, does it feel like it was that long ago?
It felt like it was yesterday! It's really really weird. I was thinking about this yesterday actually; that it can't possibly be ten years but it is! It's strange because I don't ever really listen to the records. We play those things live and, although it isn't what I am doing now, it feels current in my brain. It hasn't really aged in any way I can put my finger on but time has passed. It's quite puzzling. I think most people who make music feel that way. In a way, records are a snapshot of a moment but we're still playing them live and they do keep pace with you somehow.
Can you explain a bit about where you were in your life when you wrote the The Blue Notebooks and the themes you wanted to explore in it?
It was very much a second album. As with first and seconds albums, there are similarities. The first album you have been preparing your entire life - so you have all those things you are trying to get off your chest forever on the first album, and the second album is a different creature. Rather than the twenty years you have got to write the first one, you've got 18 months to do it, so it is a different process. The key thing for me in The Blue Notebooks was that I spent a lot of time on Memoryhouse and no one really noticed it was released. There was no scene to be a part of or no audience, so it went by as if I hadn't really made it. No response at all from the world out there, and I thought to myself "no one really gives a fuck - so keep doing exactly what you please". In a way, The Blue Notebooks is a bit like a continuation of Memoryhouse, simply because I didn't feel like there was an audience to speak.
When you are composing, do you gradually improvise or do you go into it with set ideas about what instruments and feelings you want to utilise?
It is both of those things really. Most of the time you will have a plan and you'll go, "I'm going to do it like this and that will be like that" and very rarely it turns out that way. Almost always there will be a plan, and you'll have to throw away the plan; it's just not the same when it's real sometimes. Actually that's the exciting thing about doing music, you're finding thing as you go along. It's more like a science experiment in a lab, where you just keep chucking stuff in the bottle and seeing what comes out the other side. I like that process, as there are happy accidents. Stuff you didn't intend can be the most interesting things.
You'll be celebrating The Blue Notebooks tenth anniversary by playing at the Royal Albert Hall. Did you ever think you would play there and how does it feel?
It's kind of amazing. It is one of the great venues isn't it? I certainly never thought I would end up playing the Albert Hall – no way! I always really felt with the kind of music I do, I was surprised that anyone listened to it at all. It was a bonus! It's a surprise to be playing there but I am looking forward to it actually. We've managed to get almost the original cast to play. They've recorded almost all my records so it's nice to have them all together. It's like a birthday party.
The show will include just The Blue Notebooks in the second half after your re-composition of Vivaldi in the first. Do you see those two pieces as your best works do you think?
No, not necessarily. We only played The Blue Notebooks complete in London just once I think, back when we released it. I thought this would be a nice moment to take another look it and traipse through that landscape. The other half is the recomposed thing, which is the most recent record. It made sense to have both of those together.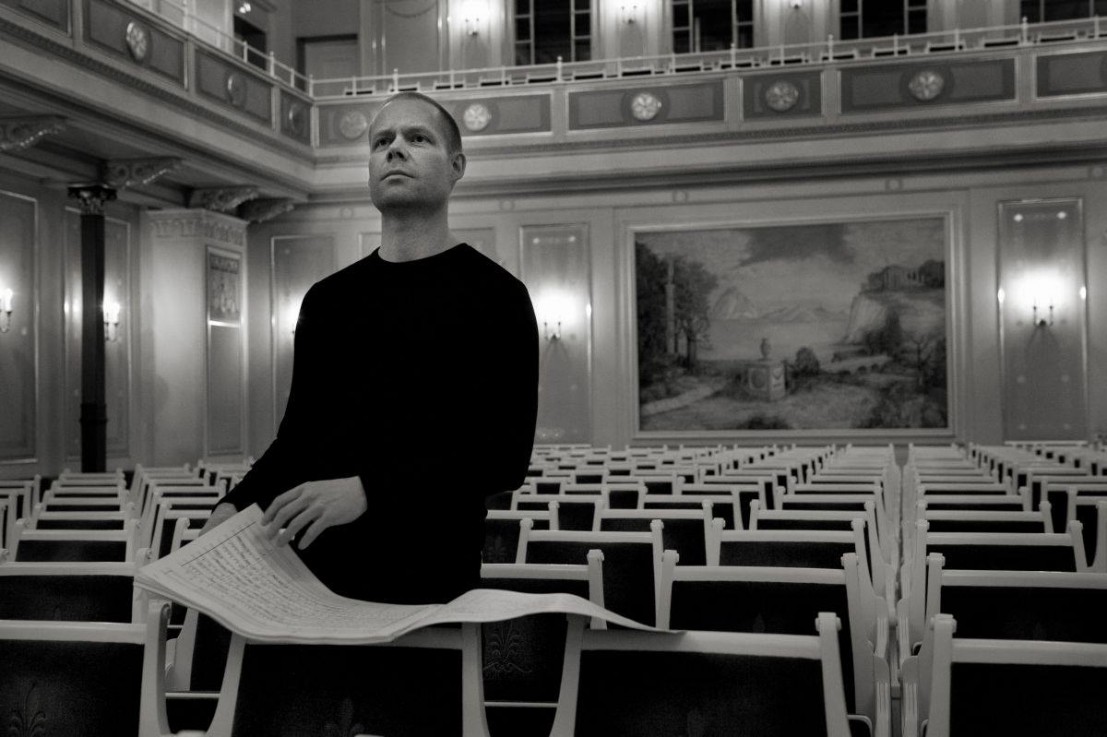 How did your Vivaldi project come about?
In a way it was a very personal impulse. I became aware of The Four Seasons, as everyone does, and it was the first written down piece of music I got to know. Over the years I started to become aware I was hearing it all over the place; in advertising, on telephone holds etc. When you start to listen, you hear it basically everyday! I became irritated with hearing it and it was weird for me as composer, because I can appreciate how beautiful it is. The project is an attempt to reconnect with the music and rediscover it myself. I wanted to get back to the notes. It was like archaeology, unpicking all those associations of elevator music and throwing them away. I kind of filtered it through my own understanding and my own musical language. The re-composition is really a hybrid between the original text and my take on it. It's a familiar landscape but it's taking a different trip through it. It's like a radical cover or a remix! It's an analogue remix! I sliced and diced like you would with music on a computer but with notes on a page. It's still got Vivaldi's DNA.
Do you ever use digital techniques at all or do you prefer working in analogue in that way?
The records I love were made using analogue tools so it makes sense to me to use that same language. It feels more like a storytelling medium. The digital medium, for me, is more about a cold measurement. It feels solid rather than a feeling. That is generalised and for many types of music digital is the way to go. For the kind of music I do, I prefer the texture and feeling of analogue.
Your work has progressed through different disciplines, do you prefer composing purely for your own albums or do you prefer writing to something visual, be that film or ballet or television score?
I honestly like both. They enrich each other. If I am working on something of my own, it is really just me sitting in a room on my own going crazy! You end up with all this stuff that is very private and introspective. Collaboration is really nice in the way it is made to order. It's about conversations and trying stuff. It feels very social and is a convivial situation. I really like both and they are both a holiday from the other.
Where does your inspiration for music come from do you think?
I just love handling sound. For me that is really thrilling and exciting. It is what gets me out of bed in the mornings. I have had music going through my head 24/7 ever since I can remember. It is all part of my way of being in the world so I guess my inspiration is life. Life goes by and things happen and my way of responding to that is to make music. It's all raw materials in a way but because there aren't any lyrics maybe it's not explicit what my things are about but they are always about something. I want to leave a space for people to bring their own thoughts and ideas on to them.
Looking forward, what is in the pipeline for you at the moment?
I am working on another ballet, again with Wayne McGregor, who I worked with on Infra. That is coming to London next May or June and in the autumn there will be another full record for you.
Recomposed by Max Richter: Vivaldi, The Four Seasons is out now on Deutsche Grammophon.