Those who didn't discover him via his heralded debut television performance on Jools Holland in 2010 (having been recommended to the show's producers by none other than cajillion-times-platinum Adele), may have come across him busking in either London, Brighton or New York. If not, you might recognise him as the table dancing star of the video for Bat For Lashes' latest single 'Laura', or perhaps you're a reader of Love Is The Law Magazine, for which he is the editor. Maybe you've heard him on albums by TV on the Radio, Grizzly Bear and Lianne La Havas, or perhaps you were lucky enough to catch one of his recent Africa Express performances.
Whichever path may have led listeners to his door, it's fair to say that Marques Toliver is an immensely talented man. As we sit in the sun bathed garden at Dorset's End of the Road festival, surrounded by children doing arts and crafts and enjoying the last days of summer, Toliver is humble about the number of projects he has on the go.
"I just have Africa Express," he reflects, "the single launch, then the physical copy of the single comes out… then what else do we have? We have another single to put out at the end of this year, then my album comes out at the beginning of the new year. That's really it, just five things. Oh, and I have my magazine. Oh yeah, and i'm in the new Bat for Lashes music video. So seven things. That's not too bad!"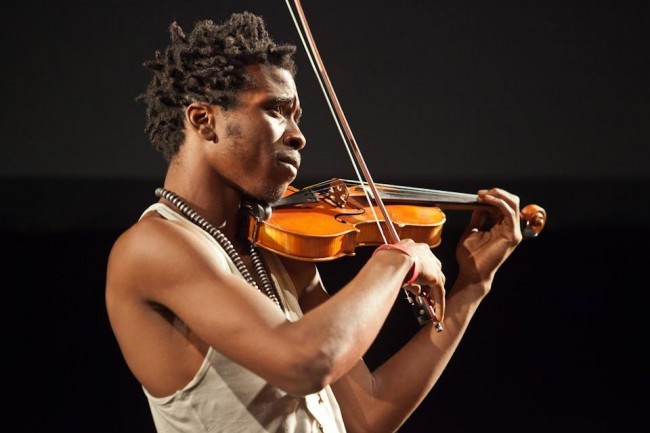 Marques Toliver at Africa Express – Photo by Jason Williamson
Since signing to Bella Union and releasing his Butterflies Are Not Free EP early last year, Toliver has been surely and steadily increasing his artistic arsenal. Learning about the artist is akin to uncovering a treasure trail of creation, with each song, video and idea leading and linking to the next project.
"They kind of happen off of one another, in a way. The single launch stems from the album, and then I know Tash and the whole Bat for Lashes thing, because three years ago, when I was in Brighton where I first started busking when I moved to the UK, Tash was living down there so she came to a few of my shows. I later went on to support her at a few shows, so kind of stem from friendships that I have with artists, or they come from the team that I have, the bookings and all that, like with Africa Express that's coming up."
It's this project in particular that has set tongues wagging about the Florida native over the past few weeks, as he toured the UK playing alongside the likes of Damon Albarn and Paul McCartney, as well as a host of African music superstars.
"Basically the big names from over in Africa, the movers and shakers when it comes to their respective fields of music will be collaborating with other global artists like Rizzle Kicks and the Noisettes and some more unnamed artists, like myself," he explains, in his gentle Floridian drawl. "And we'll all be collaborating with Mr … it's so cool to say that you're working with someone from Blur!" he adds, hinting at his imminent performances with Blur frontman and Africa Express project leader Damon Albarn.
"It's nice to do it," he continues, "I've never seen or interacted with before, but with this tour, from what I understand, we'll all be on the same stage, travelling on the same train, touring from place to place, doing workshops in the mornings, playing shows at night – kind of similar to that tour that Janis Joplin and Hendrix and all those guys did on the train. They're going to have cameras on the train documenting us interacting, meeting for the first time. So I'm looking forward to seeing what it's all about. I haven't really seen any current footage, I've just seen things from two or three years ago, so i'm looking forward to seeing what they have set up for us."
Not one to sit around, another important event was pencilled in to take place at the same time as the Africa Express tour, that event being the release of Toliver's soul-drenched latest single, 'Magic Look'.
"The story behind the new single is magic. Just magic," he explains. "I've been putting together storyboards for a long time and I was very hands on with the selection of who I wanted the director to be for the video, and details all the way down to the hair and the make up and the styling, the silhouettes and the shots and the smoke and the Holi powder. In India, for the religious holiday Holi, they have those powders with the different colours, and I was on Tumblr looking at images of those a really long time ago, and I wanted an excuse to use them. So that's when it came into play, using the 'magic' I have inside my brain!"
"In the video, I invoke the power of the 80s," he continues, "black hair culture from the 80s/early 90s, how Rick James had the long braids, Janet Jackson from Poetic Justice, Brandy when she first started out. Now Solange and Beyonce are bringing it back, so I wanted to do that and do something different. I just wanted to be out there. I didn't want to create a proper concept, I just wanted to have a music video, just have something there. I have the whole future ahead of me, I mean, unless something crazy happens. But I have all this time to make more music videos that are more conceptualised and full of plot. This time, I just wanted colour, lots of colour!"
Opening the main stage of End of the Road festival, Toliver won hearts with his devastatingly emotive vocals, his playful musicianship and his scatty stage chatter 'Wait…wait…ok, NOW I remember how this song goes…" Recognised for his unique combination of violin and his soul seeped voice, Toliver has masterfully found the perfect way to balance his classical Suzuki training with his modern music culture influences, nodding in the direction of the world's biggest pop stars as a particular point of reference.
"For the most part, I like how hands on Beyonce is when it comes to the artistry of her music," he comments, "in every aspect – visually, sonically, everything. So that's what i'll try to do in future, just be more hands on."
Sitting on the lush, green grass in the idyllic setting of End of the Road, with children running around and peacocks wandering freely, taking in the sights of the festival, our conversation turns to the future, and the skills and tasks which remain for Toliver to confront.
"In the future, I want to incorporate short films into the works," he states. "Like, Kanye did that before, and Gaga does that a lot. But I also want to get more familiar with the camera myself so I can actually be more hands on with moving it, getting the angles how I want, and learning the jargon."
"It's interesting to have such an open playing field," he continues, "where I no longer have to say 'I'm Marques Toliver, singer/songwriter/violinist. I can just say, I'm Marques Toliver, an artist.' Just leave it open ended."
Marques Toliver's new single 'Magic Look' is available now through Bella Union.