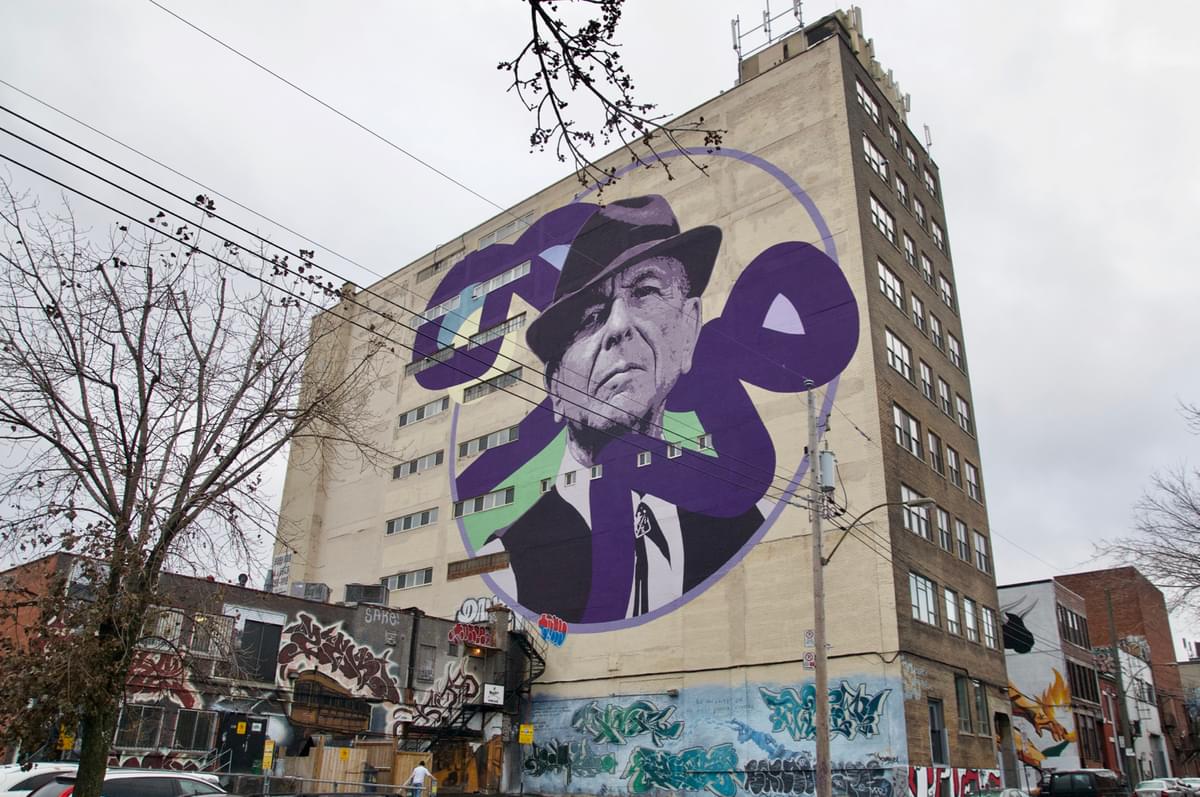 M For Montreal: The Ultimate Festival Guide
05 December 2017, 08:30
M for Montreal has closed out the festival season in Canada for the last 12 years. Primarily an industry showcase, for one weekend in November it takes over the Plateau of Montreal with a series of headline shows that links this summer's successes with introducing potential festival favourites to come over the next few years.
With weekday shows taking place in venues opposite each other it's easy to catch each act at the staggered sets, while Friday and Saturday offer a vast array of shows up and down The Main, a long street that splits East and West Montreal, Franco and English Montreal, and unites all kinds of cultures, races, and personalities along its length.
The Headliners:
A little something for everyone: Alvvays filled Club Soda, Shame packed out L'Escogriffe, while Del The Funky Homosapien headlined a hip-hop showcase at Cabaret du Casino. Sunday offered minimal piano meditations from Jean-Michel Blais and heaviness from Yamantaka // Sonic Titan.
Getting Around at M for Montreal
Grab yourself a prepaid OPUS card and hop the bus all the way up St Laurent, or 'The Main'. Once its time to head downtown again, walk a block over and head back down the other way. If you can brave the cold (minus four on Friday, snowing on Saturday) then walking reveals the mysteries of Montreal - a series of plaques commemorate events and people who have called the street home and how things have changed over the years, On the way you can also spot Leonard Cohen's former home in Little Portugal, or grab a view of the cross on top of the mountain glowing over everyone. If your legs get tired, taxis are also plentiful and cheap(ish).
The Tourism Thing
This year while Canada celebrates its 150th anniversary, Montreal celebrates its 375th. An amazing city to wonder around, it seems that every corner is populated by art or artists. Take a trip up the mountain for a stunning view of the city, wonder at the Church of Our Lady of The Harbour (as name checked in Cohen's "Suzanne") and the old town, spot Buckminster Fuller's Geodesic dome, the biome built for the Montreal Olympics, or simply head up to the Mile End at St. Viateur and Bernard for unique boutiques, bookshops (including Drawn and Quarterly's HQ), and more. A walk up St. Laurent takes you through the melting pot of the Plateau, which fuses cultures from all over the world, each adding their own distinct flavour to the city: Italian, African, Greek, Portuguese, Hungarian, Jewish, and many other communities exist alongside each other. Be sure to check out the massive murals that appear as part of the Mural Festival each year, including works by Ricardo Cavolo (who you may know as the artist responsible for Kaytranada's 99.9% artwork), and the giant Leonard Cohen image by Kevin Ledo that tops this page, and watches over The Main.
Eating and Drinking at M
Whatever your heart desires, the chances are it is available (and amazing) in Montreal. Iconic Montreal smoked meat is available from Schwartz's (you will know you are there from the ever-present lineup) or The Main opposite. For vegan and vegetarian fare Aux Vivres has plenty of choices while after hours head to La Banquise to combine an essential poutine experience with some world-class people watching. Even better on a a chilly night, head to get some freshly made bagels at one of the two famous rival bagel shops, St. Viateur and Fairmount. Take the warm bag home, snack on the way, and have some left over for breakfast - perfect.
As for drinking, there are plenty of venues specialising in any number of beers and spirits both homegrown and imported. For a specifically Québécois experience ask for a Sortilege - Canadian whisky blended with maple syrup; sweet but with a kick, it warms you from the inside.
Getting to Montreal
International flights head into YUL: the Pierre-Elliott-Trudeau International airport. From there a fixed rate cab will take you downtown in about 20 minutes. Otherwise Via Rail will bring you in from Toronto or Ottawa right into the heart of downtown.
Where to Stay
Many of the events and receptions take place around the SAT and Hotel 10 at Sherbrooke and St. Laurent. There are plenty of hotels to be found in this area, as well as a ton of Airbnb options. Stick in and around St. Laurent and Parc area and you can't go to far wrong. Be warned, the area around Sherbrooke and St. Laurent can get a little lairy, particularly at the weekend, so for a more relaxed time head up to the Mile End.
What we saw:
Partner
If there was ever an advertisement for the sheer joy that can be had by strapping on a guitar, turning it up loud and playing songs with your best friends then Partner are surely it. Rock star poses, feet firmly on monitors or on solo steps and prodigious use of the smoke machine button were all part of the celebration of the band's 100th show together. Lucy Niles was a whirlwind, tearing across the stage one moment, dropping to her knees the next - on or off the stage her sheer exuberance was a joy to behold. While the short sharp shock nature of many of their tracks on their debut are spun out more (and often treated to elaborate solos from Josée Caron) not one person left the room without a smile on their face as they tore through tales of shopping when high, and taught life lessons of why you shouldn't snoop about in your roommates room. Partner seem like the sort of band that would get away with having a song named after their own band. Perhaps they are saving it for their third album, which may well be DOUBLE LIVE. All hail the Wyld Stallyns of The Maritimes.
The Courtneys
BC's jangle-punks The Courtneys bought a ray of sunshine to the the dark metal heart of Katacombes as they showcased tracks from their debut self-titled album and this year's follow up II. Singing drummer Jen Twynn Payne both drove the band forward and kept them locked in with each other as they ran through their crunchy take on late-'80s and early-'90s jangle pop, complete with tales of life on tour, crushes, and alien abduction. There's plenty of power-pop hooks in The Courtney's locker, but the churning riff of "Lost Boys" was the set's highlight. With II the band became the first band from outside New Zealand to sign to Flying Nun records, and with label head Ben Howe making the journey all the way from New Zealand to be at the show it seemed only fitting that they serenaded him with a cover of The Clean to end their set.
Beyries
Although a Montreal native, M marked the first time Beyries had played a showcase in her home city. Although apparently she has only been performing live for a relatively short time, she had the audience in the palm of her hand from the get-go, her calm, confident presence framing the stripped down takes from her debut album Landing. Joined by an associate offering close vocal harmonies and light percussion, the space in the arrangements of album cuts "Son" and "Soldier" only served to highlight the classic nature of her songwriting and her heartfelt delivery. We can only hope it won't take as long for her to release a follow up.
Mikey's Tour
While not technically an artist, Mikey's Tour is a key ingredient to the official side of M for Montreal. While many of the shows during M are open to all, some are strictly for Silver and Gold badge holders only. On Friday, Mikey B Rishwain, the head programmer and head personality of M guided delegates around his adopted city, showcasing some of his favourite bookings along the way.
Easing into the day at M headquarters, Montreal's own Jean-Michel Blais soothes the crowd in the Chapelle Historique de Bon Pasteur with his minimal piano compositions, before the magical mystery tour piles into a big yellow school bus to head around Montreal. This year's highlights included Beaver Sheppard, who appeared from a phone-box at the top of Mont Royal like some kind of woolly jumpered alt. folk superman before playing a couple of introspective gems from his forthcoming record. Sheppard is something of a local legend, known as a frontman of Co/ntry, for his paintings, and for his now-defunct restaurant Bethlehem XXX, a restaurant that focused on a different cultural or national cuisine each week.
The tour's other highlight came from Respectfulchild, a solo instrumental project from Gan of Saskatoon, which, as they acknowledge, is on Treaty 6 territory. Gan stood alone on the stage, conjuring loops from their violin, vocalisations, and breath, fusing the organic and the electronic. Performing in the Landr offices as the sun set over Mont Royal, their performance drew a feeling of calm over the entire space, a moving moment of meditation and clarity in an otherwise hectic weekend.
Absolutely Free
With lights down low and smoke machines filling the venue with eye-stinging smoke, Toronto's Absolutely Free invited the audience into their swirling, rolling world-space. The band move from locked-in groove to locked-in groove, transitioning seamlessly between musical passages, vocalist Matt King's vocals floating over the bleeping electronics and intricate neo-psychedelic layers. Drummer Moshe Rozenberg twists and turns, tapping out multiple rhythms, driving things ever forward before spinning things off into another direction entirely. It's a physical, enveloping experience to see live, and over too soon.
Montreal Celebrating Leonard Cohen
This year's M coincided with the one year anniversary of Leonard Cohen's death. To mark the city's 375th anniversary, a celebration of Cohen and his work was planned for the Musee d'art Contemporian. The show took on an extra meaning in the wake of his death: a celebration of the man, his influence, and the community both locally and internationally. Archive materials, new interpretations, and interactive exhibits capture both the gravitas of his work and a sometimes playful nature. It's a complex and moving celebration, capable of moving even the most hard hearted to tears. The interactive 'I heard there was a secret chord' by Daily tour les jours is particularly moving - a combination of over 100 artists humming Cohen's "Hallelujah" coupled with data taken from streaming services of how many people are listening to the song at any given time around the world, highlighting the power of music to unite at a given moment in time.
Bathed in neon light, an adjacent room hosts a series of cover versions, predominantly by current Montreal musicians, including the likes of Basia Bulat, The Barr Brothers, Leif Vollebekk, and Li'l Andy, as well as contributions from Jarvis Cocker, Feist, and Douglas Dare. Breathing life into the old texts it serves as a baton passing of sorts. Yet Cohen's presence is not solely confined to the museum. Since his death two huge building-sized murals have appeared in the city, Kevin Ledo's aforementioned work standing guard over The Main, just before the square housing his Montreal home, and one that can be seen from Mont Royal itself, placing Cohen at the heart of the cityscape, a testament to the power of words and music to bring people together. Perhaps most movingly of all, someone has ajusted the street sign outside Cohen's former home to read "So Long, Marie-Anne and Leonard". It's a touching and subtle tribute to the great man and his work.
When Is The Next M for Montreal?
M for Montreal takes place in November 2018. Check out www.mformontreal.com for more details.
Get the Best Fit take on the week in music direct to your inbox every Friday