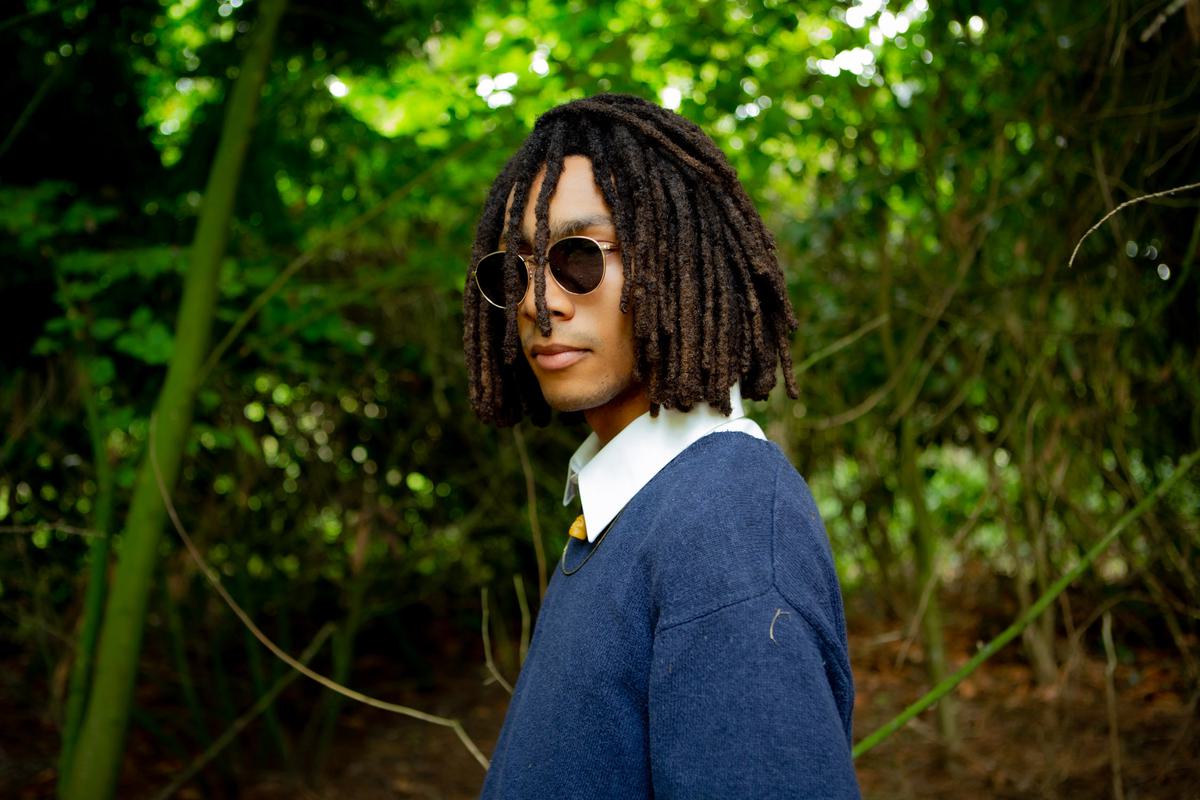 How Lutalo Jones finds freedom in experimentation
25 September 2023, 09:50
Minnesota-born multi-instrumentalist and songwriter Lutalo tells Kelsey Barnes about their approach to the creative process.
Lutalo Jones understands the power of acting with intention. They were first a drummer in a band back in high school, opting to hide behind their other members. Then, they began their eponymous solo artist endeavour with no real intention of actually touring or making anything of it.
It took a mentor suggesting that playing live gigs would help with their songwriting — something that Jones takes so seriously that they'd do just as a way to, in their words, "create better art."
Jones – who uses they/them pronouns – released their debut EP Once Now, Then Again in 2022 to critical acclaim, being named by The Guardian as an "artist to watch." With a knack for weaving intricate guitar lines across intimate and compelling lyricism, the music of Lutalo pulls you in and requires you to pay attention. Never one to take a holier than thou approach, Jones would rather have a personal heart-to-heart with their listeners through their lyrics — something that is clear on their new EP AGAIN.
The thread between Once Now, Then Again and AGAIN are prevalent throughout the two — Jones touches on society today, critiquing the afflictions of American life while looking ahead to new possibilities. "I literally laid it out in the title as a dumb joke, but I love it," they laugh, referencing the tongue-in-cheek names. "I think just laying it out in that kind of perspective shows they are speaking to each other and listeners can start to understand what's going on with the second. With the context of the second, you can now understand what I'm going for with the first little bit more, too. I'm hoping that can be the mentality that people are in when they are digesting my music in the first place. I can't ultimately control how people listen to my music like that, but I think just getting the full picture would be really cool." The actual tracklist bears no real meaning on the overall project, though. Instead, Jones opts to lean into what the sounds 'feel' like to them as they are listening, placing them where it makes sense naturally.

The multi-instrumentalist and producer grew up between the Twin Cities, living in Minneapolis and attending school in St. Paul. Their childhood was filled with every genre of music under the sun — classical, jazz, hip-hop and the like — and whatever else their music-loving father felt like listening to. Music would eventually bring them to New York, but not for very long. After a brief stint there, they ended up finding peace, quiet, and refuge in being off the grind in the middle of nowhere in a cabin they built in Vermont. Sonically, their two EPs would eventually mirror this move and mindset shift.
"Getting out of the city helped with my creativity," they say. "It's really easy to get caught in seeing the people or the music that you're around. I mapped out both EPs to be two sides of the same coin that would reflect each other. That sonic juxtaposition is something that I grapple with because a lot of the time I want to sound like a lot of different things. But ultimately, the goal was to show my songwriting and production as the main thing that captures everything together, rather than genre being the focus. What I find most difficult is making sure it sounds congruent project to project. I want it to still feel like a piece of work rather than just a bunch of separate songs."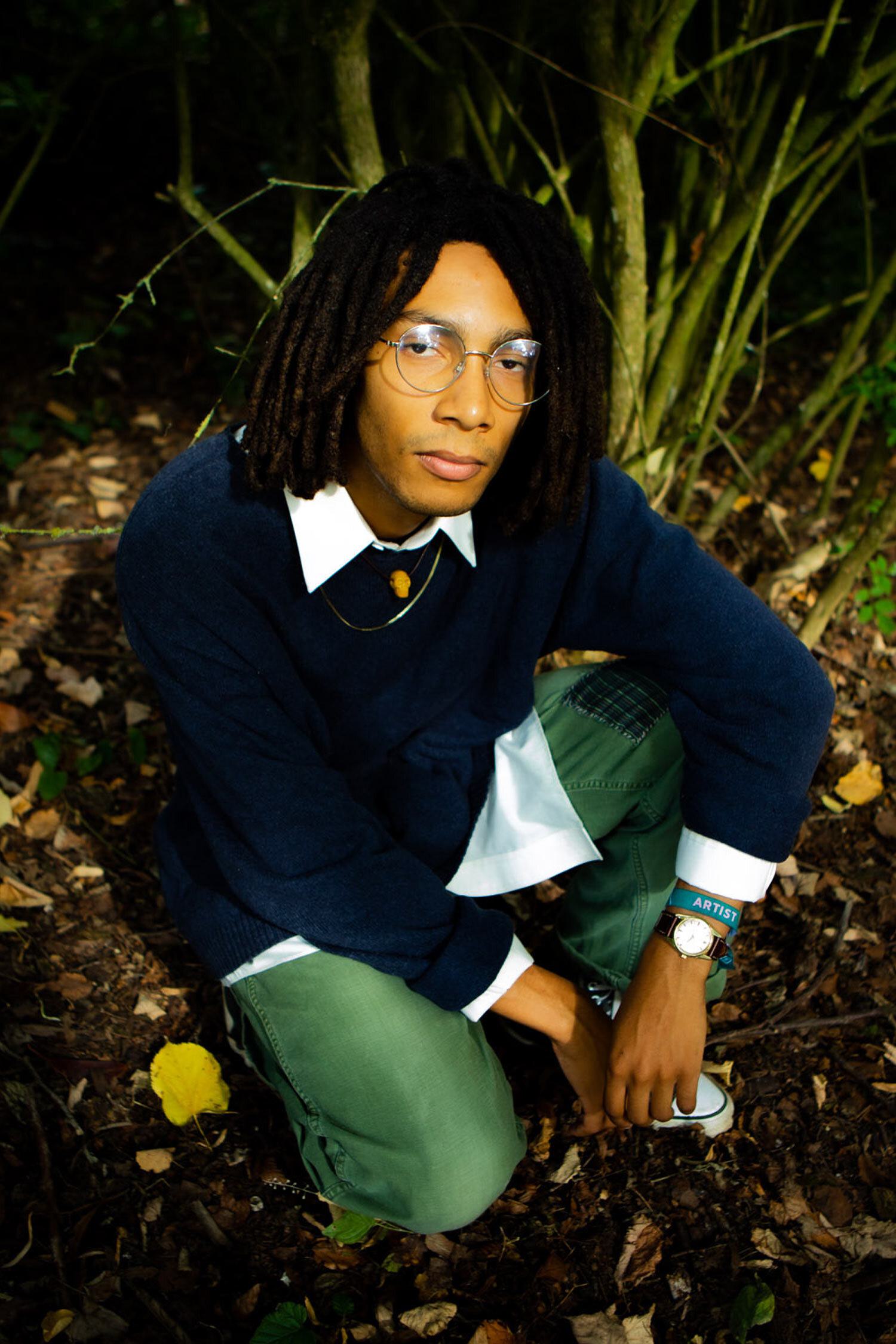 The fusion of genres is reminiscent of their childhood — a time spent with their father introducing music to them — and their teenage life where they played every and any instrument they could get their hands on, all while listening to the likes of Tame Impala and Unknown Mortal Orchestra. After a fellow DIY-minded friend introduced them to Ableron, they learned to produce their own music. Quickly, they realised a distinct connection between the way music made them feel and visualise as a kid to now as an adult.
"I write purely based on colours and feelings," they explain. "I don't really know much about music theory, but I know that when it comes to tones there are colours that are associated with them [for me]. If I'm really inspired, I get a wave of like colours and streams of colours that kind of float around and up above in my mind. As long as I'm not disrupting that flow and I'm falling into that colour stream, that's all that matters."

As a once-background drummer that is now the sole, front-facing artist, Jones is still working on being a performer. They recall a recent conversation they had with their partner and a friend over coffee, explaining that, despite how much they love people and being around others, they need a lot of quiet time. "I guess I get tired pretty quickly, or my spirit just gets tired in lourd spaces. I really do like to seclude myself and try to focus on my craft and the things that make me feel more like I live in this moment."
They look ahead to their upcoming live dates – which includes a date at London's Earth on 12 November as part of Pitchfork London – trying to think of that experience as one where they are travelling with friends more than anything else. "[Feeling exhausted] might shift when I'm not doing solo tracks on solo tours and stuff like that as well. I am anticipating bringing a band with me in the future more. I'll be doing some dates in November with the band. When you're just travelling with friends, it's not like it's all on me, you know? When I'm on stage, all that energy in the room is directed at me. I can only take that i spurts. But, if I have a band, that gets dispersed at all members. With that I can take a moment and not feel like it's all on me"
The time between Once Now, Then Again and AGAIN was spent by better understanding of how they are being perceived from the outside world looking into their world of creation."I think with Once Now, Then Again I was still in the mentality of thinking about how I was being perceived from the larger listening base of just people. With AGAIN, I still have a little bit of that mentality but I just didn't want to feel boxed into what I could create in the future. I've said that this next project is training my audience to understand where I stand and what to or not to expect from me in the future. The goal was to just continue to push in the direction of experimentation and freedom basically. I feel like as I've been progressively working, I've been pushing myself more without the boundary of other people's expectation or concept of what I'm going to do."
For a 24-year-old in music, it can feel easy to buckle under the expectations of others when you're trying to breakthrough. But for an artist who already grapples with being perceived, they are working on not allowing outside voices infiltrate their mind. "I do think that if you want to be an innovator, which I would love to be considered as one eventually, means that I have to think of things that I can't think of," they explain. "There are moments where I put myself as the listener and think whether or not they'd be interested in listening to a 20 minute guitar solo, which is an extreme example. At the end of the day, there are always going to be other people's opinions because I live in the world with other people. I just try not to think too much into it. I believe there has to be a personal internal voice and strength that comes through the music and that can only come from intuition and feeling without the voices of a bunch of other people's considerations."
"Strange Folk" is a stand-out on AGAIN, a track where Jones analyses and critiques how people engage with social media. "I don't even have to name where it is, but certain parts of New York seem to only exist to be consumed and processed for the internet. Social media is fine, I have no issue with it, but it does feel like it's really shifted how we engage with the world and with each other. I'm not separate from the problem — I use social media and engage with it. But there are a lot of people that forget to have a moment that isn't for the internet."
Legacy isn't something that keeps Jones up at night. Instead, it's something that they see as a benchmark already made by those they look up to. Rather than struggling to go viral on social media, they find their energy is best spent looking inward and working on their craft. "Looking at all of the artists and bands and people that I've looked up to throughout history, they got to be characters without constantly compromising their personal values or who they were," they say. "They could just do an occasional interview and play their music and create their art and people would engage with it. That is the ideal experience. I have a little bit of an envy towards previous generations with artists that are still in our time right now. They have sustainable fan bases and never had to look at their career from the perspective of 'Oh, you made this sick song, now we have to make a dance to it for everyone to do so it can go viral."
At their core, Lutalo Jones is just seeking out the same feeling and images they had as a kid when music first coloured their world. It's the type of experience that moving to a cabin in the middle of nowhere can bring — a place where creativity isn't competing for attention with the latest Instagrammable hotspot of New York or whatever is happening on X/Twitter's timeline.
"I've found my rhythm with my creative process," they state. "I feel like I can actually just live as a person and as a kid again in my mind and not have these expectations of how I need to perform as a human being. Instead, I can play with how I'm feeling and really look at what makes me feel certain ways. When I first started this project it was to show the world what I can do with my production. Then, it shifted to creating music from a place where I didn't have any expectations of myself. I want to keep that going. It's a practice for me to let something channel through me, I'll play it, and either capture it or let it go. It doesn't have to be something — it can just be powerful in that moment. I have no expectation or idea to hold on to it or record it. I get to have that moment just for me, and that's why I love making music."