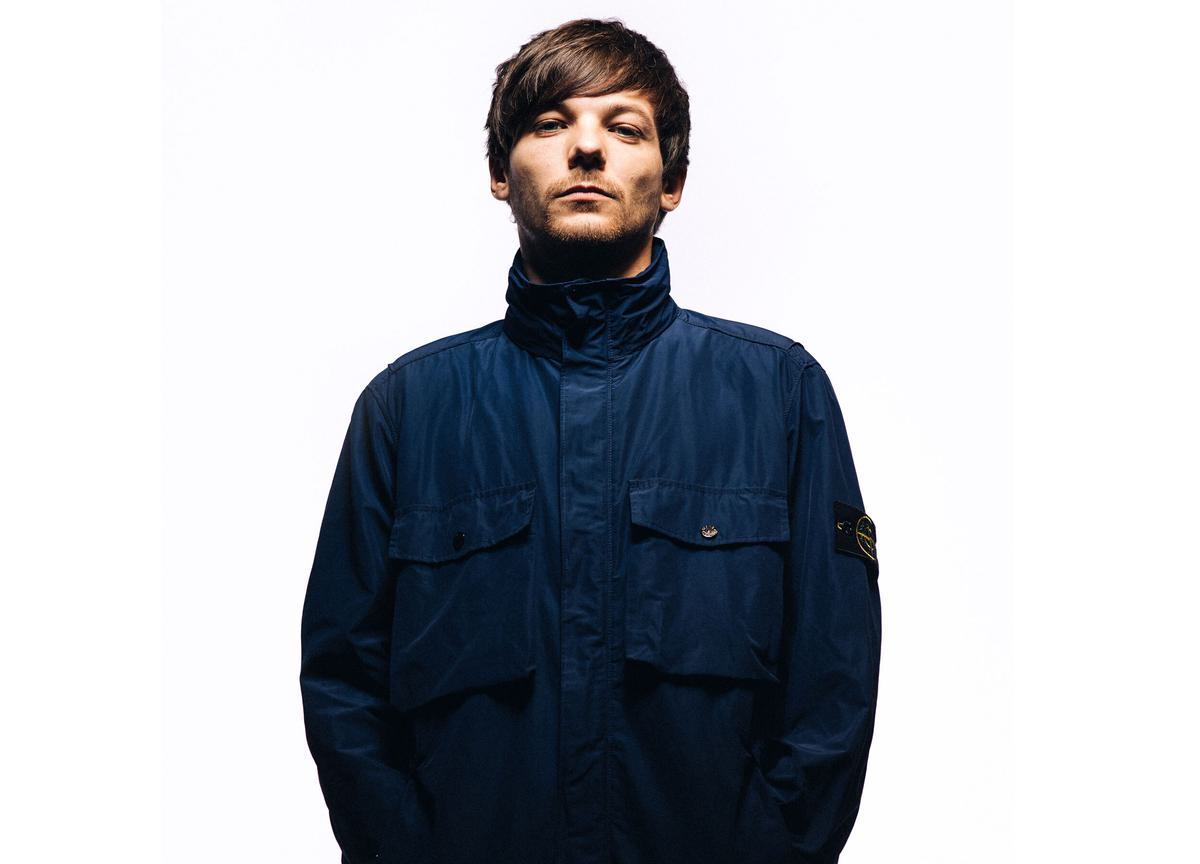 Louis Tomlinson is sticking to his guns
04 March 2019, 09:00
The tension between image and reality is a much-discussed phenomenon within fandoms, and has been a particularly prevalent conversation amongst One Direction fans in recent years.
Fans love the same person, but each one adores a slightly different version – we take what we need from interviews, performances, and tweets and we form our own idealised image. And yet, whilst those images are based on reality, none of them are entirely accurate.
When faced with the reality of their idol, how would you feel? I'd never had to think too deeply about it before, but suddenly the question weighs heavily on my mind as a One Direction fan about to interview Louis Tomlinson.
He walks into the room for our interview wearing tracksuit bottoms and a yellow jumper that, in recent months, I had become incredibly accustomed to seeing him in. He hugs me and introduced himself as Louis – as if I didn't know – and then sits down on the floor. It's a move that reminds me of lazy afternoons at my best mates' houses, and as I move to sit down opposite him, it's hard not to feel immediately comfortable. It's my first big indication that he is exactly the person I'd always believed him to be: laid back and easy to be around. That impression doesn't change throughout our interview.
We begin by talking about what Tomlinson's long-anticipated solo album is going to sound like. Based on the eclectic sounds of the four previously released singles, it's difficult to judge. "It's kind of been an educational thing for me," he explains to me, "a chance to experiment".
When Steve Aoki asked him to collaborate on a song, "Just Hold On", he "hadn't been 100% sure [he] wanted to do anything in the solo world," but it was too good an opportunity to pass up. "It was a bit of a dream of mine to play festivals like Ultra, which I did with Steve, and it was wicked".
The time spent working on and promoting "Just Hold On" made Tomlinson realise solo releases were something he wanted to do, but he found it hard to combine where his interests lay musically, what he knew the fans wanted to hear, and "working out where that fits on radio."
"There's a lot of frustration on my end with where radio is at. There's a lot of rap and hip-hop and that's not really my taste – I've never been great in that world, you know." We laugh about the idea of him trying to fit into that genre, and I fondly recall a jokey Twitter conversation between Tomlinson and One Direction bandmate Niall Horan about that very topic. Tomlinson also explai that "everything felt like [he] was starting again," and how that was a little bit daunting – which is what made that first song so helpful.
"I was used to having three or four other lads around, so this all felt very different. I think it was cool for me, getting back into the swing of releasing music and doing promo and all that, going through that process with Steve at the start and then with Bebe [Rexha, who features on his second single 'Back To You']."
Feature slots on other people's songs allowed Tomlinson to gradually get used to a new way of doing things, and gave him a chance to figure out his musical identity on the go. "I felt like I had a bit of room to experiment, [because it was] shared. I kind of went into their world with those songs a bit."
"I'm trying to strive for credible and live-sounding, rather than overproduced and programmed."
I ask if third and fourth singles, "Just Like You" and "Miss You", are more indicative of the overall sound of his debut LP? Tomlinson nods then shakes his head in quick succession. "'Miss You' was a little bit more… I suppose you could say pop-punk," he muse, soon adding that "I'm trying to strive for credible and live-sounding, rather than overproduced and programmed." He indicates that ­– in that respect – "Miss You" is a strong indicator of what's to come.
"Just Like You" seems to be the track Tomlinson is most proud of, and indeed most sure of its place within the record. It's a song about how the differences in our circumstances do not mean we experience emotions any differently, and he admits that "it was a difficult one [to write]."
"I think that concept doesn't normally work well 'cause it just sounds like a whingey celebrity song." He remains "super conscious" of that whilst writing it, as he was sure it was "a message [he] wanted to get out to the fans."
"It was one I was happy with [too], because when someone listens to one of my songs I like them to be able to take something away from it, [I like them] to learn something about me." It's a song peppered with anecdotal lines and little details that reveal a lot about who Louis Tomlinson really is; what he really cares about. That's certainly what he's aiming for throughout his music.
"My lyrical style, naturally, is to just be matter of fact, honest, and sometimes blunt." Some messages, Tomlinson suggests, are made even more powerful with metaphors – as in "Just Hold On" – but mostly, he says, "I don't like being clever for the sake of being clever. Sometimes it's cool to read between the lines."
What he prefers as a listener is more of what he describes as a "brutal storyboard". He references early Arctic Monkeys and the latest Liam Gallagher record – "I absolutely rinsed that" – as places he takes inspiration from. "It was really interesting to hear [Gallagher] talk like that [on 2017's As You Were], it was like a breath of fresh air."
We approach the subject of new single, "Two Of Us", which I hear just before he arrives. The song has a particular, moving honesty that will surely touch not only fans but much of the general public. "I kind of shied away from writing that song because I didn't really think I was ready to [go through that process] yet," Tomlinson says, explaining how the track just happened. "I got into a session and we ended up getting into it, and it was going perfectly." He notes that it was "a much more emotionally draining situation [in the studio] than [he's] used to", but also "one of the most fulfilling."
"I really did want to write this song, I was just intimidated at first because it had to be perfect. There had to be little things in there that were really thought-provoking for me."
Is he was satisfied with the song in its final form? "I feel like we got the whole message across perfectly," he tells me confidently. "How I felt before and how I feel now. I'm really happy with where it's finished up." There is a hint of nerves in his tone – understandable given how personal the song is – but he is reassured by my assertion that people will love it.
"Everyone has a different writing style. But when you do find that person or that group and it feels like you're all on the same page, it really is an amazing feeling."
I wonder aloud whether the writing process for "Two Of Us" was made more difficult by the fact that he was writing with strangers, rather than the established group he worked with on One Direction material. "I think the way I were brought up and also where I'm from, I've got no problem just sitting here and spilling it out to anyone," Tomlinson admits. "I'm sure sometimes I catch people off guard when I just spill half my life story and they've known me ten minutes, but it's how you get the best out of a song." He suggests that although "it was great having the group that we had in the band," he feels like he's learning more as a writer now. "It's more challenging this time around. I've had to be a lot more engaged and take a real interest in the little things about what makes a great song."
That's not to say there are no downsides to working with new people at times: "I'm not going to say that every session I've been in has been amazing because there have definitely been some eggy ones. Everyone has a different writing style. But when you do find that person or that group and it feels like you're all on the same page, it really is an amazing feeling".
We talk about his his plans for touring, and I can't help but ask if he'll be performing any One Direction songs. His fellow bandmates all brought a few forward to their own tours, and – as arguably the main writer within the band – Tomlinson has the most to choose from. The subject makes him grin: "I'll be doing as many as I can get away with."
Tomlinson has already performed "Little Black Dress" from Midnight Memories back in 2017 – "it sounds better live than what we recorded on track" – and knows the fans will be expecting Four's "No Control", as it's always been very much considered his song: "The fans really got behind that one, and it always went down amazing on the tour shows. It's a good sing-along one."
He mentions a few others, name-checking "one of [his] favourite songs [he] wrote for the band," "Love You Goodbye", and fan favourite "Home", amongst some more unexpected ones from the band's back catalogue. Rather than looking towards the big singles, Tomlinson's focus is on those he's most proud of lyrically and musically – ones that, if he brings them on tour, will be deeply appreciated by the band's most dedicated followers.
We return to the matter at hand: his upcoming album. The singer shows some regret at how long it's taken him to finish – but also a flush of pride in sticking to his guns. "After 'Just Hold On', I could've just followed the trends on radio, but it felt important to me to work out exactly who I was as an artist," he says. "I know myself, and I'm happy to let [the album] go."
Tomlinson wants to feel confident that when the album gets released, his self-knowledge will be reflected in his first solo full-length. He explains that, even now, he finds it frustrating at times because he wants to put music out and go on tour, but it wouldn't be right to push: "The fans have been waiting so long, I owe it to them now to not rush anything. It would be silly now to just rush it out."
I asked if the time frame has affected how he feels about any of the songs, or what they mean to him? After all, a lot can happen in two years. "Not really, because when I started writing this album, what I wanted was for it to play chronologically. I mean, the longer things take the harder this becomes to pull off, but it's still something I want to do. It's got to feel like you get to know what's been happening for the past three years of my life. Although with some songs on the album I might not feel like that now, I know I did then and I still want to tell that story."
Tomlinson's a story is one fans are eager to hear, for sure, but one which will – no doubt – be of interest to wider audiences too.
Whatever is coming, Louis Tomlinson's debut record is not an album people will be expecting from the One Direction star, nor one that will sit easily amongst the current chart toppers. But that's a good thing. It's exciting. And it's definitely something worth waiting for.
"Two Of Us" is out 7 March via Sony.