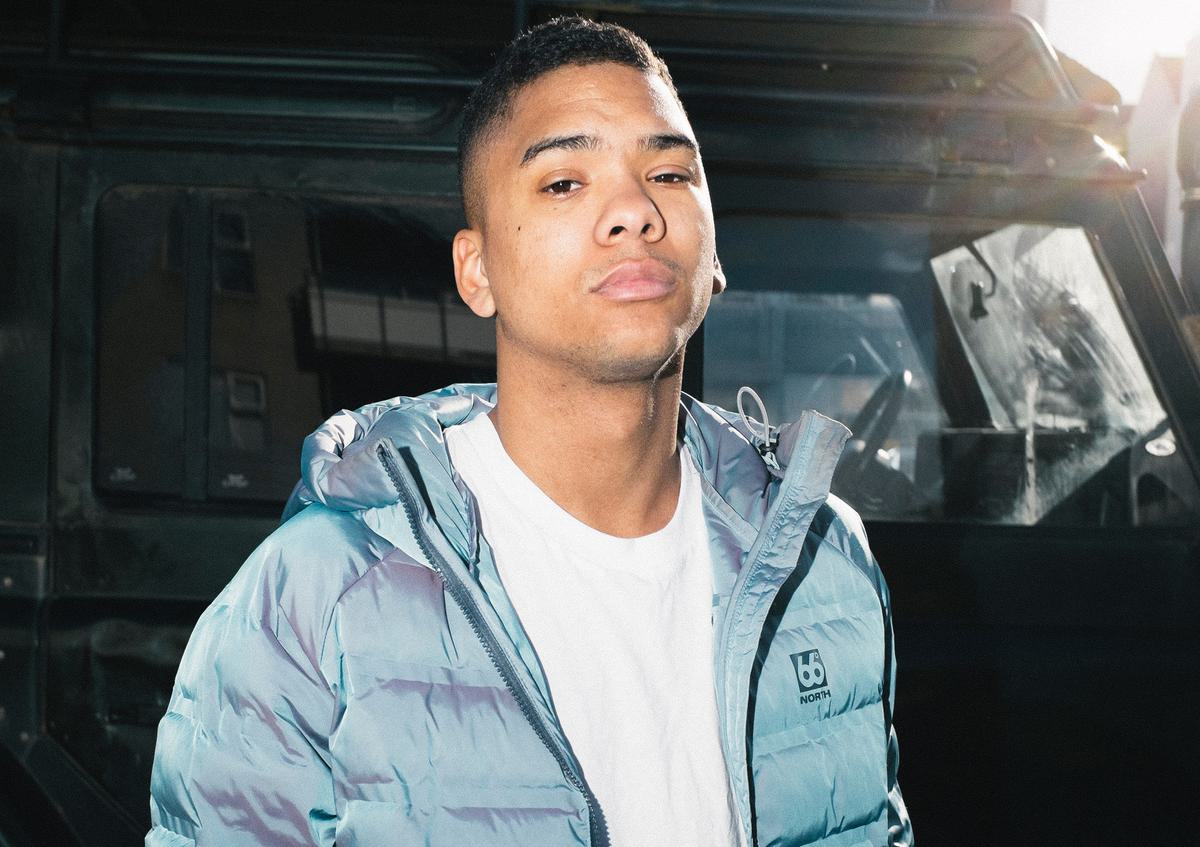 On the Rise

Logi Pedro
30 October 2018, 08:00
Logi Pedro epitomises the beauty and range of Icelandic hip-hop with an emotionally vulnerable debut album that deals candidly with his battle with depression and becoming a father.
Very few people have been as productive and influential in Iceland's music scene as Logi Pedro Stefánsson. At age 14 he started played bass guitar in Retro Stefson, an energetic and much-beloved band booked to pretty much every festival in Iceland. From there on he and Karin Sveinsdóttir created pop duo Young Karin in 2014, and then in 2015 he joined hip-hop act Sturla Atlas.
Logi studied audio engineering and has used those skills to produce a lot of Icelandic hip-hop in recent years. It comes as no surprise then that when he decided to strike out on his own and release his own material that he knew what he was doing.
Litlir svartir strákar, or Little black boys, is a self-aware album released this spring that refuses to fit comfortably into any labels. While ostensibly a hip-hop album, different songs draw on RnB and pop, or evoke a lot of the themes of the now defunct Retro Stefson; one track even features alt-rockers Skítamórall. The emotional intelligence displayed has also universally earned it praise from reviewers and the scene.
BEST FIT: You've been attached to all sorts of projects and produced a lot of hip-hop and pop music. What made you want to step out into the spotlight and perform your own music?
LOGI PEDRO: I've worked on a lot of projects in the last few years, and it was particularly clear with Sturla Atlas and Young Karin that I was a very big part of writing the music and setting up the live show, but I was never fronting it myself. I felt like it was time i did something myself and on my own terms. It's not like I was ever just decoration in the background in the past, I think I've always been perceived as a big part of the projects I've been involved in, but I wanted to do more. My brother Unnsteinn encouraged me to start making and performing my own music, and I realised that's what I want to do.
And what's it like being front and centre?
It's been very fun, to be honest. The first single I released, Dúfan mín was very popular, but I didn't expect that it would be. I wasn't sure how people would react to it, even though I believed it was good music that was important to release. I guess the listeners agreed with me, because they dug it.
When I recorded that song, I made a few others at the same time and they ended up on the finished album. These are songs like "Betra líf", "5887522" and "Nóttin". I showed up at the studio and the songs came to life really quickly, and that's where the album was born. I was just going to make an EP, but then I kept writing and writing, and the process was good for me.
Can you tell me about the emotions that go into the album?
So, mentally the album was a sort of rebirth for me because the period it was written in was rough for me… My son had just been born, and had recently broken up a long-term relationship with his mother. It was an emotional process with a lot of difficulties I had to come to terms with and confront.
This period in my life was the first time I faced my depression head on and started seeing a therapist. It was at this time that I properly realised and started admitting to myself how badly I felt. The album that resulted from this catharsis is very emotionally exposed, and I'm very unafraid of sharing my innermost thoughts and feelings.
The album is all about that process, but none of the songs tell any specific stories of what happened… They're paraphrasing and boil down the emotions of the process.
It's not that long since emotional vulnerability became a part of the mainstream hip-hop's colour palette. Were you ever worried that exposing yourself in this way could trigger a backlash from your fans?
No, and maybe that's because of the status I have in the local scene, I was never afraid I'd get criticised for showing my inner self. Like you said, that's how hip-hop has been progressing in the past few years, it's grown softer and softer and focuses more inwards on emotions. In addition to the breakup and becoming a father, I also went for the first time to a funeral for a guy I knew who committed suicide.
That's when really started to realise how badly I felt on the inside and how important it was to do something about it for the sake of my health, and for my life. When the album was released I started talking about how terrible and painful it was to be programmed in a way that you can't talk about your emotions and feelings. In some ways all men suffer through their life because they can't speak their mind.
There's also another part of the album that I want to speak to you about, and it's spelled out in the name of the album, Litlir svartir strákar ["Little black boys"]. How important do you think it is to talk about being black or mixed race while also being Icelandic, which is generally perceived to be a homogenous white nationality?
It was only in the last few years that I realised how formative my black identity has been in everything I have done in my life. It is different to be raised in a mixed household, and it is different being raised as a black man in Iceland and the world. Every couple of years I've taken long expeditions to the United States. I've gone to the Civil Rights Museum in the Lorraine Hotel in Memphis, to an old plantation in New Orleans where they had slaves. I've gone to the Museum of African American History in Washington DC. I've picked up on a unifying thread in the civil rights movement of black people in the States and the world, and it is all connected and inseparable.
The daily life of a black person living in the southern states is different to that of someone in London, but at the same time there are so many similarities and the same discriminations. It's important to be conscious of history and letting that help you stand up straight. You have to be able to feel pride in yourself for being black.
I know so many Icelanders who have foreign blood but don't talk about it. It's simply not discussed. These can be children of soldiers, or descended from foreign students, migrating workers, and so on, and for the longest time it would be a closely guarded family secret that someone was actually mixed race and not just odd-looking.
I want my son to be able to be proud and conscious of his own origin, the family history, and the worldwide civil rights movement. My son has fair skin, much fairer than mine, but I still think it's important for him to be able to reconcile his racial identity with his national one.
It sounds like your son is a big part of your album?
Oh, absolutely! The album was written during my paternity leave. People that have children know how that changes everything in your life and turns it upside down. You enter into this other world, and it was very emotionally challenging. My son is a big part of the album; I could never have made it without experiencing these changes.
Let's talk about the symbology of the album. On the cover there's a side profile of you with three necklaces: scales, a heart, and a seahorse. What do they all mean?
These are the three core themes of the album. The scale is a reference to my son, who was born in October and is a libra. The album is about the beginning and the end of two love stories so that's where the heart comes in. And the sea horse? It's just everything else [laughs].
That's the trinity guiding the album. On the back cover we made a coat of arms out of these three symbols and the antelope, which is Angola's national animal; my mother is from Angola.
You've been a very productive producer in the hip-hop world. What are your thoughts on the developments in the local scene?
For the majority of the populace, hip-hop has become by far the most popular music genre in Iceland, and it lords over all other genres. If you look at streaming numbers on Spotify, for example, it's Icelandic rap and RnB that's the most listened to. I think this reflects what's happening in the other Nordic countries, Europe, and the rest of the world.
I think hip-hop speaks directly to the generation that's in school and university today. These are kids who have grown up on the internet and are very conscious of fashion; every other kid in Iceland is wearing a Gucci belt or something like that [laughs]. The history of rap and fashion is very intertwined, and I think that connectedness is what has shaped the identity of this new generation, what connects it to the scene.
But speaking personally, back when Retro Stefson was at the height of its fame we were very inspired by what was happening in hip-hop and a lot of our beats and riffs were similar to what was happening there. Our song "(O) Kami" is a great example of that, but but because the rest of the song wasn't very hip-hop-y, people generally didn't connect it to the genre. We were very aware that Icelandic hip-hop had a lot of potential and would peak sooner than later.
That's something I'm very interested in because Icelandic hip-hop is very popular at Airwaves with a foreign crowd that doesn't understand the lyrics or rhymes. Why do you think that is?
Hmmm, I'm not entirely sure to be honest. I think that one of Iceland's distinctive features is that the country has a very vivid music scene, and that that applies doubly to the rap scene. It's very progressive and catchy, and even when compared to world-class acts, it still markedly refined. I think its popularity with the young and hungry crowd plays a big part of its draw and finesse.
One of the defining features of the rock and indie scenes in Iceland is that they are primarily performed in English and are easily exportable. Meanwhile, the rap scene that emerged at the beginning of this decade is almost exclusively performed in Icelandic for a very localised crowd that emerged from local venue Prikið.
Yeah, exactly, people identify very strongly with their local scene. I mean, we're in this micro society with a micro language making incredibly ambitious music. I think that's why there are so many dynamic and interesting acts out there today.
Interestingly, it also seems like the international guests that come here every year for Airwaves are the most interested in the aforementioned introverted and emotionally-intelligent rap.
I can't say for sure, but it certainly feels like that. What makes the Icelandic scene so fun is that it is mirroring this international trend, where the borders between RnB and rap are slowly fading away and becoming very unclear. I play around with that on my album, with songs like "Dúfan mín". I think when people listen to that song, they don't know whether it's RnB, rap, or pop. I suspect that when it comes to the awards season, my album will be categorised as pop, because there are so many things going on in it, and it's not really comparable to what Úlfur Úlfur is doing for example.
Speaking of Airwaves, are there any must-see acts for you?
There are a lot of amazing acts performing this year, like Bríet, who is a fantastic singer—I strongly believe that she'll do amazing things in the near futures. But to be honest, I haven't gone over the schedule in detail, and I'm not sure I will as I tend to carouse between the various venues during the festival.
You have to keep in mind I first went to Airwaves back in 2006, and I've been every year since then. It's changed a lot in that time, but having those four or five days where you can just walk between venues and check out great music… No matter how often the venues change names and owners, you've always got that experience.
My real recommendation is for people to just wander around and check out what's happening without wondering if there's any such thing as a must-see act. Just go and experience something new.
Wait… Back in 2006, you weren't legally allowed to go to the festival, were you?
No, no I wasn't [laughs]. I was just 14 at the time, and I was supposed to play with Retro Stefson at Grand Rokk but the bouncer wouldn't let me in because I was obviously far too young. I ended up having to call [festival organiser] Egill Tómasson, possibly the busiest man during Airwaves, who showed up and lambasted the bouncer. My dad ended up having to escort me in and out of the venue.
Did you get to see any other shows that year?
No, I think the first concert I saw at Airwaves was probably Bloc Party in 2007, when I was in 10th grade. Bloc Party is a band that influenced me tremendously; I had bought Silent Alarm a couple of years earlier, and it was one of the most profound musical experience for me, so seeing them live was incredibly inspiring. Then in 2008 I started going to all the shows and was very active, all the way up to 2014.
What happened in 2014?
I think I just started getting older and having less energy to party. In the last four years I've seen far fewer shows, but I've tried appreciating more of what I see. As a musician, Airwaves is something that shapes you greatly. It's where you can go and see things outside of your own bubble, something new and exciting. I think it's an incubator for the whole music scene, because everyone gears up to go play at the festival; it's a very rich and nurturing environment to be in.
Logi Pedro plays the Reykjavík Art Museum during Iceland Airwaves on Friday 9 November