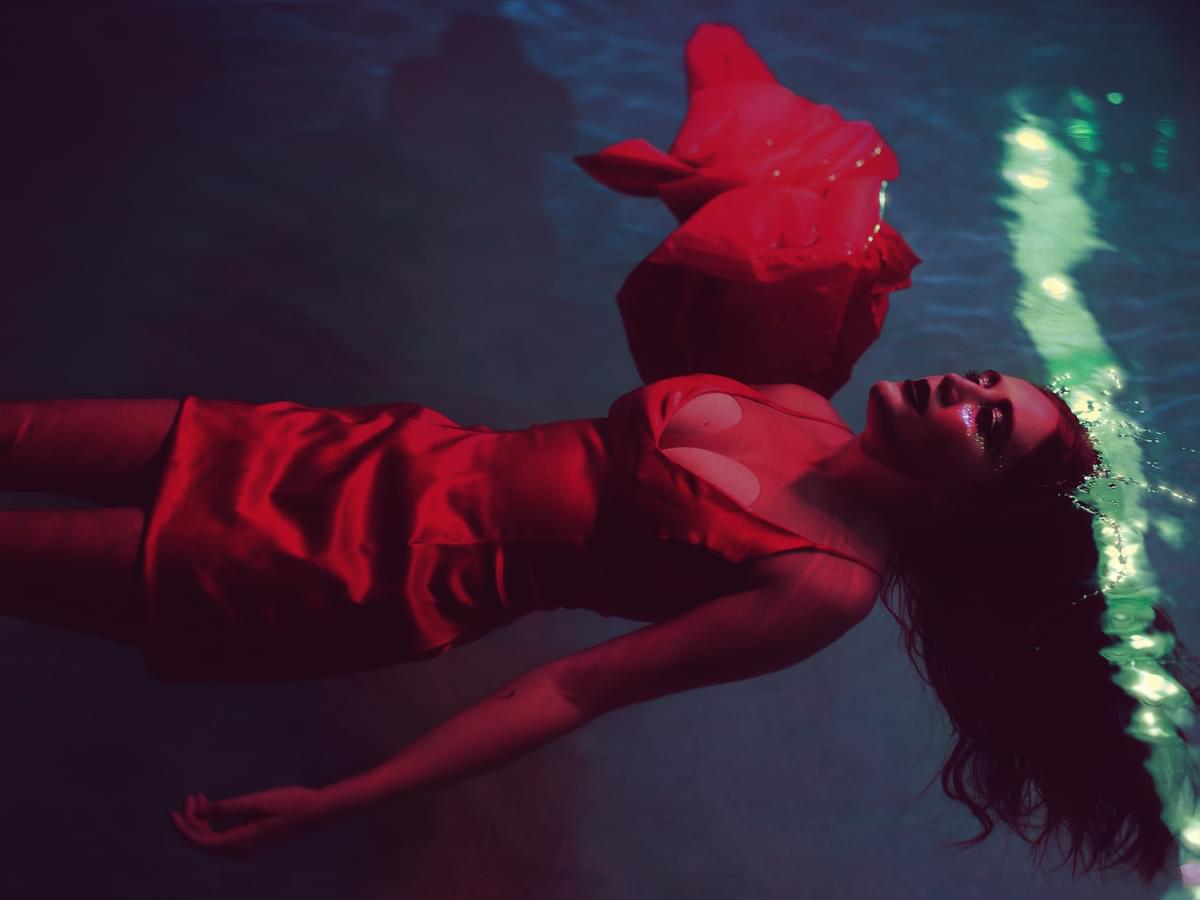 Lauren Aquilina is learning to live with her growing collection of ghosts
10 November 2020, 09:00
Two years on from a two year hiatus, Bristol-born singer/songwriter Lauren Aquilina has announced her first project since 2016 debut album Isn't It Strange?.
The forthcoming record, titled Ghost World, centres around a platonic break-up that informed much of Aquilina's songwriting this year. Whilst several tracks nod to her roots in folk-influenced pop, her close-knit quarantine songwriting posse fostered the confidence to explore a more diverse range of dramatically different sounds.
Revealing the project on her social media accounts, she also took time to reflect on the message she posted announcing her retirement. "[Four] years ago I was so depressed I thought I would never release music again and today I announced my seven-track EP is coming out next week," she said. "The growth... we love to see it."
Previously released singles "Tobacco In My Sheets" and "Psycho" will nestle alongside new tracks "Swap Places", "Best Friend", and a further three tracks as yet unheard.
The now independent singer/songwriter tells us about the EP, alongside the changes she's made to her career since her time off the grid.
BEST FIT: Why was "Swap Places" the song you chose to come back with for this EP?
AQUILINA: To be honest, it was the first one that was ready! Over quarantine, I unintentionally made this EP. I didn't really know what I was doing until it was done. "Swap Places" was the first one to be ready, and I was really excited about it. My approach over the past two years has been that if there's a song I'm excited about, I put it out without thinking about it. This time, there is a whole project coming around it, but it felt right to go with that one.
It's been interesting following your career, seeing how you wanted to step back from music and then felt like you couldn't stop!
I was such a drama queen when I said I was quitting forever! I had no idea the hold that music actually has on me. Looking back, there was no way that that was ever going to happen, but you know how it is when you're depressed and you have something in your head – you can't see it another way when you're in it.
Have you found a way to balance your career now so that it takes less of an emotional toll on you?
I definitely think I'm in a better balance. Being completely independent is a thing that really helps me; to know that I have control over everything and I have the final say. That's been a huge difference and has made it feel a lot better. Release days still really stress me out, and I get really anxious. Once it's been out for a day, then I love it and I'm happy I did it. The trade-off is those two days where it's being released, and I feel sick constantly! It is worth it in the end.
Do you think being a little older helps, given that you've been in the public eye since your teens?
Absolutely! I had no idea what I was getting myself into at the time. I know every seventeen-year-old thinks that they have it all together and they know what they're doing – I was so confident when I was a teenager! I sometimes wish that I could get that back. I had no idea the toll it was actually taking, and how much work I was making myself do at that age as well. On top of school, the amount of social media that I made myself do… I didn't create a fun space for myself. It became quite toxic very quickly. I really struggled with separating myself from the brand. I got a bit lost on the way, and it was important for me to take that time off being an artist to find who I was outside of that again.
Did you find writing in that period different, when you weren't intending to release music under your own name?
Yeah! It took me a minute to get used to it. When I first started doing it I took six months doing writing sessions six days a week, meeting new people every day, and becoming a bit of a machine. In a way, I think I needed to do it to detach some of the emotion from writing, to make it so that I could just write whenever. I had to go fully the other way to be able to come back into my emotions and write from a personal place again. It changed how I write now, and it really opened my eyes to collaboration and how collaboration is supposed to do. It gave me a lot more diversity in my writing as well. When I was signed, every time I was writing a song I was thinking so much about my audience and what they wanted – especially after my first EP with "Fools" and "King" did so well. For a while, I was thinking, "I need to give people another 'King'." I had to unlearn that, which writing helped me too.
You mention diversity of songwriting there, is that something we can expect to be showcased on this EP?
I think so! It has quite a diverse sound for me. There's a couple of songs on there which people might not expect from me, which excites me and I feel good about. It feels completely different, like a complete refresh, which is really fun. It's a seven-track EP, but "Psycho" and "Tobacco In My Sheets" are on it, and then five new ones. It's called Ghost World because a few of the songs and the general theme of the EP were inspired by my best friend ghosting me at the start of this year. I've been writing about that all year, because it was a huge heartbreak.
Friend break-ups can be as emotionally devastating, if not more, as romantic break-ups!
I totally agree. It's so weird because you're not supposed to be as sad as you are. That was a huge influence on my writing this year. It was all I could think about most of the time, so that's got a big presence in the EP. The other songs on the EP are about people from my past. I've always had this image in my head of this procession of ghosts that I take with me everywhere because I think about the past so much. I feel like I carry all of these people that are not in my life with me everywhere I go.
Single "Best Friend" obviously touches on some of the topics you mention there, can you tell us a bit more about it?
It's the most on the nose, real song – just a very true story-telling of what happened. It's more sad, and more folk-influenced, but it's a building song. The instrumental grows and grows towards the end, so it's not just a piano ballad.
Who have you been working with on this EP?
I was quarantined in LA with my boyfriend, Marcus Andersson, and my friend Caroline Pennell. Caroline is an incredible songwriter and Marcus is an incredible producer. We had this little studio in our backhouse, and we started writing the three of us, 'cause obviously, we couldn't write with anybody else! We'd actually never worked as the three of us before, but it became this insanely magic collaboration team. I've never had something like that, where I felt like I was part of a writing team.
Once we were a couple of months into quarantine it just flowed so well; it was just so easy to write with them, and I think it gave all of us such creative freedom because we were all so comfortable with each other. They are both heavily involved in the EP, so it's not a band as such, but it does feel like a little group!
What can you tell us about the EP tracks we haven't heard yet?
The first song is called "Fuckedupminddd", and it's a 90s, Avril Lavigne-influenced, grungy pop song. The opening line of that song is: "I planned my boyfriend's death," which I really love. As soon as I wrote that, I wanted that to be the opening line of the whole EP. That one is definitely a new sound for me, and something the people won't have heard from me before. I'm really excited about that. It touches on the themes of "Psycho". One of the chorus lyrics is: "It gets dark in here," – basically saying my head can get really dark and really weird. I have presented this online image of myself as being one way, and sometimes I feel like a liar, like I'm not a good person. The song explores that topic.
The second song is my favourite song on the EP, it's called "Latest Ghost". It is the only song on the EP that I wrote 100% myself, which I don't do very often these days, but I'm trying to get back into it. It's such a good feeling when you know that a song is a pure version of you that hasn't been diluted in any way. I wrote it at the piano quite late on – it was a last-minute addition to the EP. It started as a poem that I'd written two months before, and then one day I sat down at the piano and started singing a melody to it. We produced it into this big, M83 but with Japanese House influence, wall-of-sound pop song. It's relentless! The drums never stop, and it's driving. It's my favourite one, so I'm hoping that people are gonna really like it. It's about the same thing – the chorus lyric is: "Miss you the most / But you're just the latest ghost in my collection," – my little collection of ghosts that I take with me. It's about my best friend that I lost, but it's a version of it where I'm more at peace and accepting of it. It's a nice contrast to "Best Friend", where I'm very sad.
Track three is "Psycho", so we have our little pop bop moment, and then track four is called "Teenage Self". It's the most introspective I get on the EP. It's more of an interlude, not really a full song, and it's another one that started as a poem I wrote. I wrote this poem to my teenage self about a very abusive relationship I was in as a teenager – a really fucked up situation. It's me saying to my teenage self, "I'm so sorry that I let you go through that, but I'm out the other side." The lyric is: "I'm speaking from the other side / It's a pretty brutal ride / But you're safe." It's letting her know that it does work out in the end, but it's a journey to get there. She is gonna be okay. Sonically, we put loads of weird nature sounds on it. We wanted to make it feel like it was a message in a dream – super introspective and emo!
Then we go into "Swap Places" – picking it up – then into "Best Friend" and "Tobacco In My Sheets". There's a lot going on in there, but somehow I think it all works together as a project. When I listened to it all for the first time, front to back, it felt like a project. It all comes from the same voice and the same place in my life.
It's really interesting how quarantine has given so many people the space to be creative again, or in new ways.
I would not have made this EP if quarantine hadn't happened! Not that I am glad that the pandemic happened, but I didn't even realise I was making it until I was halfway through doing it. That's been really cool, and so fun to feel like an artist again: to wake up excited about it, and for it to be the last thing I think about before I go to sleep. I haven't felt like that since I was seventeen, and it's so exciting, even though it still makes me anxious! It's falling-in-love butterflies.
Get the Best Fit take on the week in music direct to your inbox every Friday