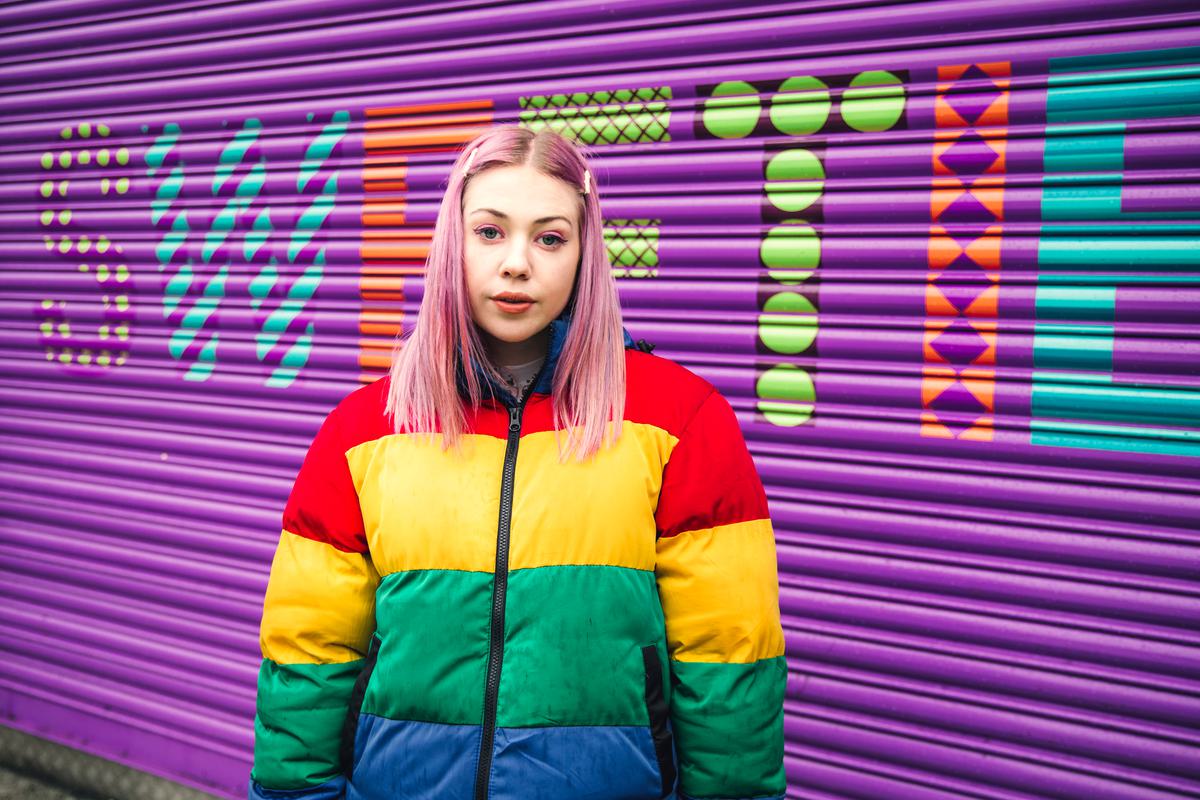 On the Rise

Lauran Hibberd
26 February 2020, 09:00
Lauran Hibberd is the slacker-pop sensation here to brighten up all of our lives with her lashings of dark humour, sarcasm, and undeniably catchy music.
Ask anyone what their first job was, and you'll probably get a very predictable answer; a clothes shop, a cinema, a cafe... Lauran Hibberd's first job just so happened to be on a dinosaur farm. "I had to look after and clean the dinosaur eggs!" she laughs. "I thought that was my first proper job, but looking back it wasn't. They probably just made it up. I enjoyed it though!"
Reflecting on her time growing up next to a dinosaur-themed attraction on the Isle of Wight – the place she still calls home – Hibberd says, "I loved living there as a kid, being so close to the beach. As a kid that's like the best thing ever! Then, when you're like 17, you sort of kick back against it a bit. I'm sure I'll come around to it again when I'm older. Maybe when I'm like 77..." Good thing then that Hibberd's able to get away a lot now.
In the past year she's taken her grunge-inflected, punky bubblegum pop to the BBC Introducing stage at Glastonbury which is something she describes as "incredible," as well as Reading and Leeds Festivals, Brixton Academy, and most recently, her first headline tour. Not bad for a former dinosaur egg cleaner!
Hibberd hasn't always envisioned having a career in music, though. "I was a late bloomer!" she explains. "No one in my family is musical. It wasn't something I even thought about. I became interested when I was about 14 and started learning the guitar." Instead of going to sixth form, Hibberd attended a music college on the Isle of Wight.
"I was in about four bands all at once, as there weren't many singers at my college so I sort of ended up being the singer in everyone's band." It wasn't long before Hibberd knew that she'd found her calling, and she soon felt at home amongst Isle of Wight's music scene. "There isn't really much to do here, so there's a lot of aspiring artists around."
Hibberd first put her music out into the world at the end of 2015 and notes that the songs she released before Christmas had to be acoustic as she "couldn't afford a studio to record in," not because that was the vibe she was going for. Eventually, she auditioned for the Isle of Wight Festival where she met her producers. "They were judges for the festival. They took me aside for a chat and said they'd really like to get me into the studio." As for how the audition for the festival went: "I didn't win, but the band who did have actually now split up!" she laughs.
Hibberd's music is perhaps most easily described as a mix between the two bands that her producers introduced her to. "They gave me a couple of Weezer and The Smashing Pumpkins records, and I wasn't really familiar with either of them, but I just absolutely loved them. Weezer are now my absolute favourite band," explains Hibberd.
Another comparison that Hibberd has had is Phoebe Bridgers, who she says she's a huge fan of. "I love Phoebe's way of telling stories in her lyrics, and her sense of humour." The kind of music she listened to growing up was vastly different to what she now makes, though — "My friends and I were like the biggest Justin Bieber fangirls! We were into all the boybands and that sort of thing, and had posters on our walls."
For all the comparisons and similarities, Hibberd's sound is very much on her own terms. There's a definite '90s and early '00s feel to a lot of her songs, which is familiar yet fresh — a far cry from the heavily autotuned pop a lot of other young artists are putting out. Hibberd writes all her own music, with the songs often coming to her through "both feelings and experiences." She says she can spend "a very long while on one song", with the need to make sure it's exactly as she wants it.
Hibberd put out her first EP, Favourite Shade Of Blue, in 2017, and continued recording and releasing music regularly afterwards. A year later and her second EP, Everything Is Dogs, was ready. The record features four tracks, and "Frankie's Girlfriend" in particular sounds like something that could've come out 25 years ago, in the best way possible.
Having worked professionally as an artist for the past few years now, Hibberd feels she's learnt a lot entirely through experience. "Going out and being an artist can't be taught, there's no rulebook for it," she explains. "Knowing what to do, how to "be" an artist, that's just something you learn as you're actually doing it."
Which is why when asked about the headline tour, she says she's excited – not just because it'll take her to new places, but because this is the first time she's been the main attraction. "I've been a support act all my life, so far, so the idea of people actually coming out just to see me [and then actually] going out on stage and playing to all these people who've come to see me – the feeling of that's really amazing!"
Next, she's headed to Austin, Texas, to play the Best Fit showcase at SXSW – "I've never been, but I've heard so many great things about it!" She's also playing 2000 Trees, YNot?, and Truck Festival, as well as supporting The Academic around the country in April. To say Hibberd has a busy year ahead of her is an understatement, and also a testament to her huge talent — no wonder everyone at college wanted her in their band!
Everything Is Dogs is out now via Dew Process Services