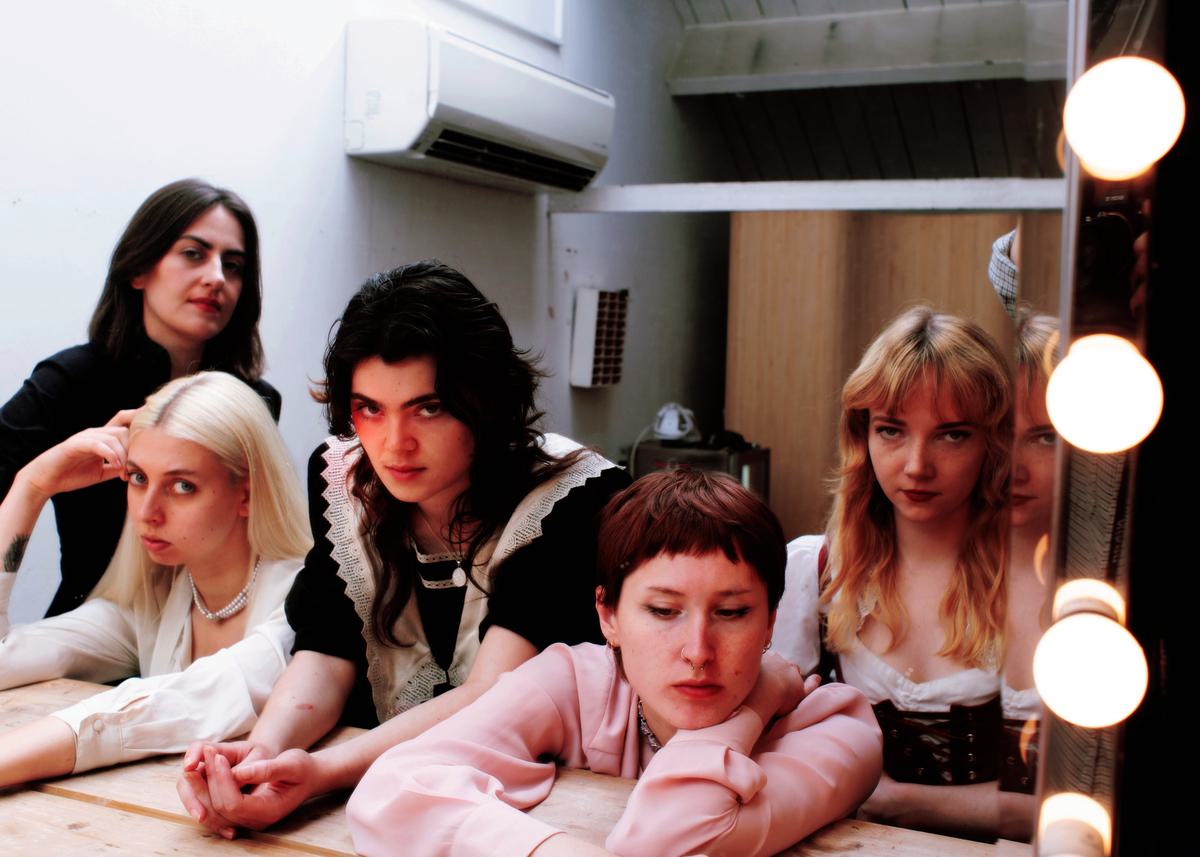 On the Rise

The Last Dinner Party
30 June 2023, 07:00
Mixing baroque pop and post-punk, London five-piece The Last Dinner Party are doing their growing-up in public – and the world is talking about it.
It's not often every member of a band wants to take part in interviews.
Typically, due to the supposed difficulty of wrangling together several people for one call, interviews with groups usually end up consisting of the lead singer and, at most, another member of the band. But for The Last Dinner Party, every single one is a part of the process. When this fact is pointed out, the reasoning, for them, is obvious: "We're a band — all of us should speak to you."
The bandmates all live in London, meeting at keyboardist Aurora Nishevci's flat to plot new concepts and music. The most unsurprising thing is that they met during their university's fresher's week, a time when many bands are formed but hardly commit to following through on making their dreams come true post-uni. That isn't the case for The Last Dinner Party.
In April, the band's debut single "Nothing Matters" was finally unveiled, serving us a platter of florid prose tied together with operatic-style notes. The track was the catalyst to a lot of feedback across the UK music scene — the majority of it positive and the rest of it being a little unfounded. As of late, music has felt carnivorous — songs are as easily digested as they are created, quickly moving on to the next big thing. In addition to that, critics and naysayers are quick to jump at the chance to tear apart anything that becomes talked about online, drawing blood before a band even has a chance to find its footing.
If anything, it's only emboldened the five members to push on — all due to their tenacity and how listeners have devoured the track almost 4.5 million times to date. "It has been overwhelming in a lovely way," says Abigail Morris, the band's lead vocalist. "We were excited for it to come out and we hoped that it would be received well because we're proud of it. We know it's a great song, but the extent and the ferocity in which it's been enjoyed and sort of blown up is really not what we expected."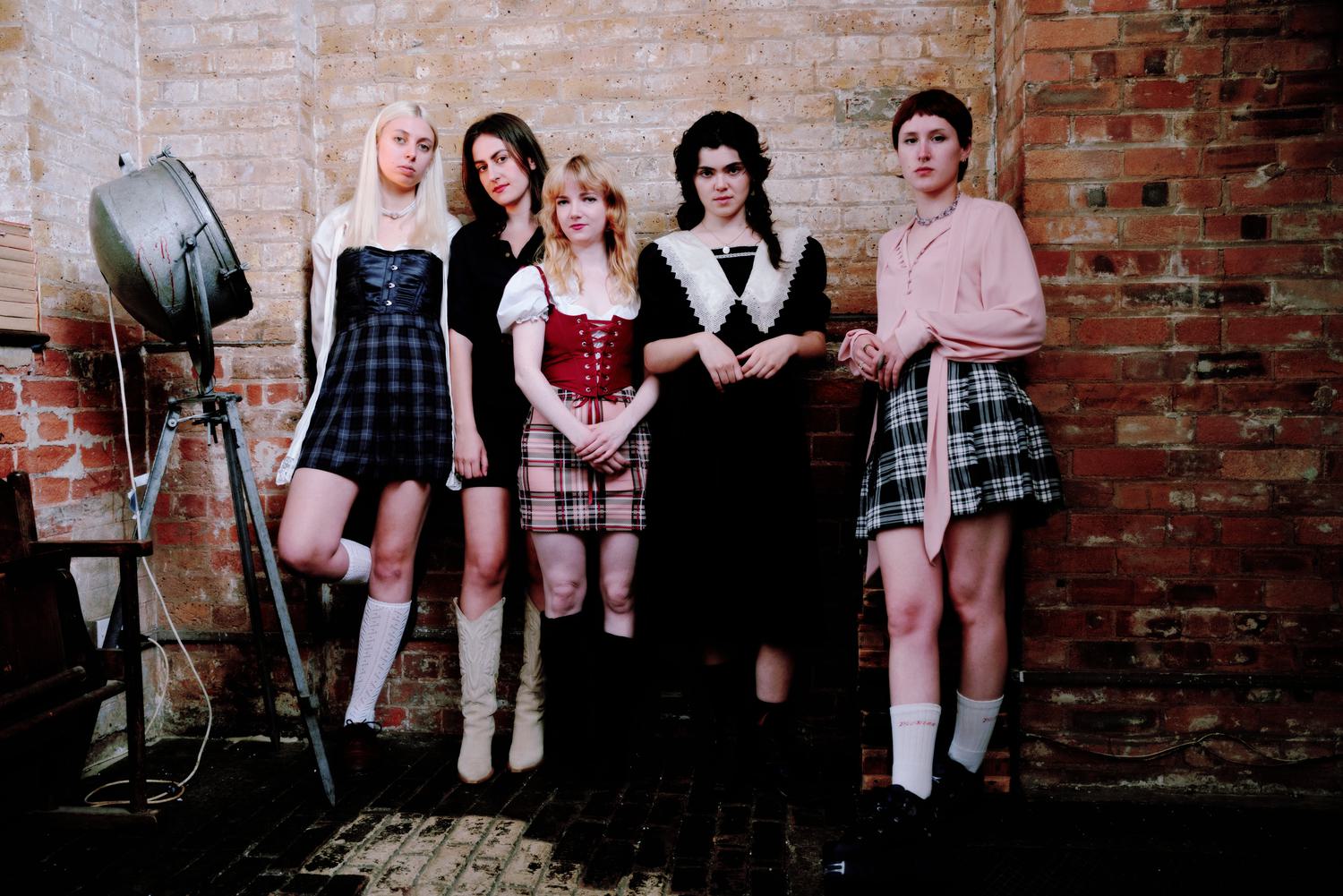 After touching on the fact that their debut single took ages to come out — before they played shows and opened for larger acts — the band laughs. "[The reaction] was suddenly worth waiting to do that," says bassist Georgia Davies. "People at the live shows were asking for any music at all and it was definitely an arduous process waiting for it to come out. Hearing people who feel connected with us from the live shows now being able to hear the song… It was so worth it."
The beauty of not having the pressure to release music constantly and, instead, focusing on playing shows first helped inform and perfect the upcoming larger body of work. It permitted them to have the space to try things out and play the songs first to help inform how they were recorded and produced. "Before we get to the final version of the recorded track, we'll play it live," says keyboardist Aurora Nishevci. "Sometimes we'll make a demo before but then we have to play it in a room and get a better picture of what that song is and what we want it to be. I think playing [the songs] live imbues it with confidence. Last year when we recorded the album, we remembered the things that people like because we played them live so many times. Having that was essential to recording it. "We wanted the energy and the theatricality of our live shows to just be at the very center of the of the record," Davies continues. "I think that's what was the most important thing that we wanted to capture when we went in [to record]."
The live shows also helped the band shape how they want to approach their music, artistry, and vision for the future. "Everyone here is a songwriter and performer in their own right and has lots of experience doing it in different contexts," explains Davies. "But the last year has been us figuring out The Last Dinner Party. What does it mean? What do we sound like? Do we stick to certain sounds? What themes do we live in?"
"It's also been a lot of observing other live music and seeing what we want to incorporate into our live shows too," says Morris. "Things like songwriting and performance have evolved a lot [since first becoming a band]. The live shows has always been the focus and what defines us. We've become more and more confident and the show has developed from there."
Rather than taking the route that many have travelled by attempting to go viral, The Last Dinner Party went back to basics. They crafted their live show and built upon it, playing whatever venues that would take them. After Lou Smith, a filmmaker and artist who devotes his time to filming the "vibrant and world-class underground music scene in South London," filmed and uploaded a video of the band playing in South London, the band received emails from managers and labels begging to represent them. In the age of TikTok virality with a 10-second sound clip, being discovered in that way is almost unheard of.
"It's been like that from the very beginning," says Morris when asked about the band's dedication to perfecting their live performance. "Even before we started rehearsing, we knew that it had to be a great live show. It had to be something that we would want to go to and we would want to see. We didn't want to become popular by just putting something out and then waiting for the fanbase to build — we wanted it to all come organically from having a buzz around the live show. That's what we like and that's what we enjoy the most about playing live."

To say their live shows are a sight to see would be an understatement. Sometimes, it's a 'night at the opera,' other nights it's 'folk horror.' Those themes help paint the gig's mood board and aesthetic for the evening, suggesting visual touchpoints — like twigs tangled in hair or bloodstained frocks — to help attendees and the band alike to craft together an outfit.
"We design our outfits, we love dressing up as a form of self-expression," says Lizzie Mayland who plays guitar for the band alongside Emily Roberts. "It's nice to encourage people to express themselves and create a space where like you're free to be flamboyant and the biggest version of yourself. Everyone is free to come in jeans and a T-shirt, too, but we like helping give people a bit of direction if they want to go for it. It's as much of an experience for them as it is for us. By letting them know we're dressed up, they can get dressed up too and we can have a party together."

Davies attributes the dress-up party as something ritualistic — a way for everyone to come together. "I think it helps cultivate community and create an accepting safe space for people to have their own open expression. It's like their gender identity or the way they would ultimately love to be perceived, but don't necessarily have a say to do so. I think that's really, really lovely. It's something that's evolved naturally at our shows and that's something that I love about this band."
As lovers of visuals and theatrics, the band refuses to hand off their creative control to anyone — resulting in them creating their mood boards for everything from their artwork to videos to their tweets, typically penned by Morris.
"There was no other option for us," she proudly proclaims. "From the very, very beginning when we started, even before we played live or had more than five rehearsals together, we knew that visuals were going to be half of what made this band important to us. We're very ambitious and very distinct on how we want to look, so it's important for us to just have complete control over everything. We love working with other people and collaborating, that is our thing, and I think that comes through."
"Sinner," the band's latest song, is a call-to-arms of sorts — a declaration to a lover chanting "I wish I knew you / before it felt like a sin." "I wrote that one," states Mayland. "The story is about my relationship with London and where I grew up, which is a very, very rural small town. It has prejudices and is a bit small-minded socially. "'Sinner' is about converting to a place where you feel freer be yourself and express your sexuality, but also long for that place that you were so at home in. I had a nice childhood and it's something I miss, but those two things don't feel like they can coexist. It's kind of a made-up story about if I met someone who could represent both those things and like me as an entire person rather than one or the other."
"One of the huge reasons for us wanting to start this band is so that we can make something that we would have wanted to see at 15 or 16 as young women."
(A.M.)
In true The Last Dinner Party fashion, the band notes visual companions to the track: think Portrait of a Lady on Fire and Wuthering Heights (2011) with the lush rocky landscape of the Yorkshire Moors and getting whipped in the face by the wind.
Between the two studio releases and the live clips online, it's clear how conversational the band's lyrics are while also maintaining a sense of introspection and a dash of magical realism. When prompted with the question of how they write and carve out a space for themselves while still giving space to listeners to find themselves in the music, Morris says when she writes, it comes straight from her diary. "I tend to write in my diary in a very romanticized way," she laughs. "I think it's funny because I can be really specific in what I talk about and sometimes, the more specific you are about an experience or a romantic breakup, the more meaningful it is for someone even though they haven't been through the exact same thing. The more distinct a lyric is, the more someone can relate to it in a more personal way."
It's a sentiment Mayland shares. "We both come from artistic backgrounds in school, film and English and art history. I feel like when you see visuals, you can interpret them in so many different ways. I feel like people don't always sit down and analyze the lyrics and determine whether something makes sense or not, but the visual interpretation can help."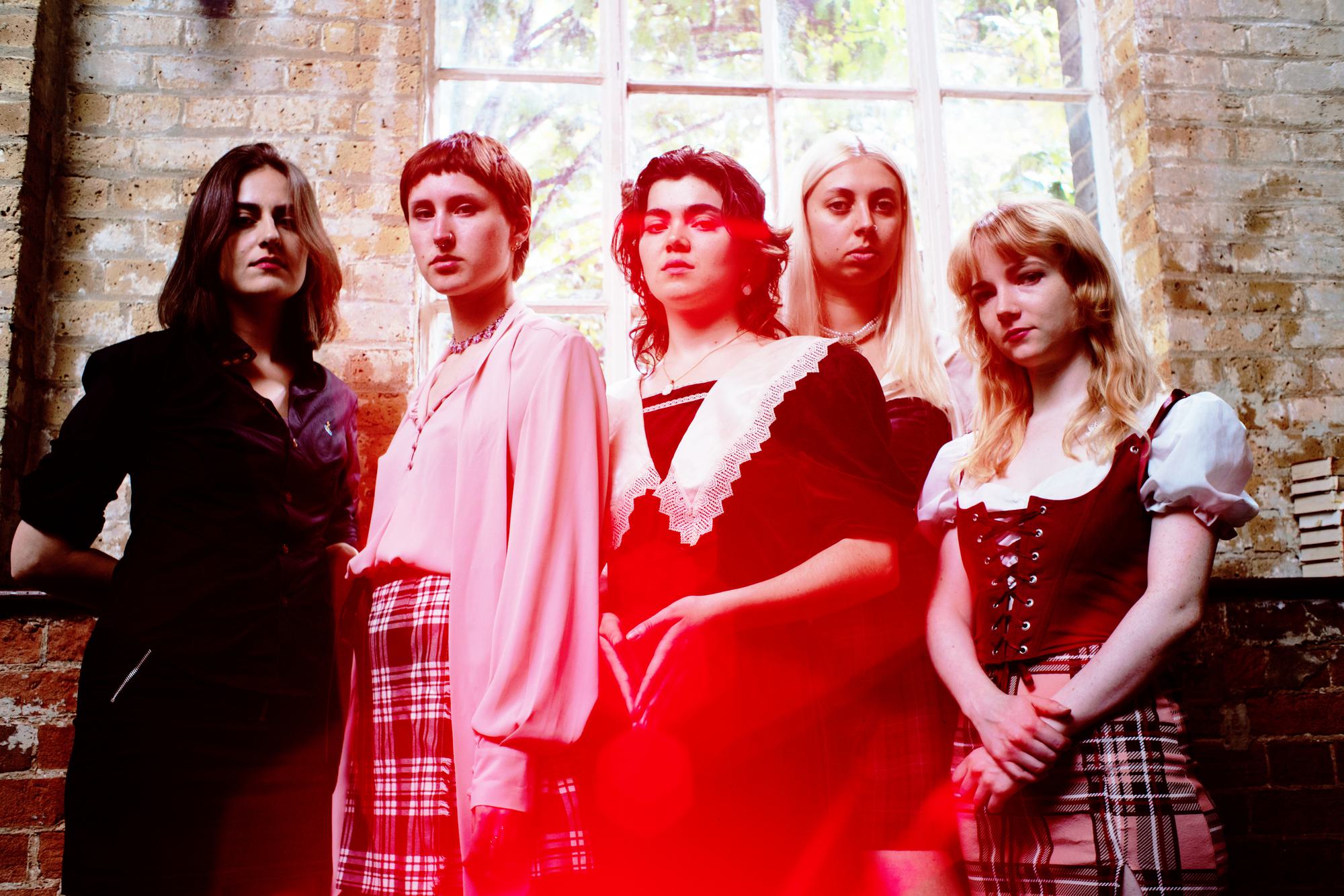 For their debut single, The Last Dinner Party created a cinematic tale for their music video with nods and references to Sofia Coppola's work, Petra Collins's photography, and the film Mulholland Drive. At a time where being blasé and nonchalant is a way to look cool, the group wholeheartedly embraces maximalism in every sense of the word and every aspect of their output. With concerts serving as a haven for fans, seeing people express themselves and embrace their version of maximalism at the band's gigs has been full-circle for them. "I feel like that's happening more now that we've got a song out and people knowing more about us," says Roberts. "The few recent headline shows we've done, there's been a real shift in terms of audience. There are all these teenage girls in the front row wearing beautiful dresses and going all out and expressing themselves."

"I think we've said this a few times over the course of last year, but one of the huge reasons for us wanting to start this band is so that we can make something that we would have wanted to see at 15 or 16 as young women," states Morris. "It's really beautiful to finally see that kind of happening and that being our audience and people reacting to us in that way. It's really humbling and beautiful."

After the release of "Sinner," The Last Dinner Party is looking to the future. They've just played Glastonbury, they opened for Florence and the Machine recently (something they say they were more nervous for than anything else so far), and they have a slew of headlining dates later this October. They are quickly adding more and more listeners to their dinner party cult, feverishly ready to consume anything the band releases with pleasure.

For them, they've already achieved their first goal which was to create something they wanted to see growing up. Their next task? "I want them to start their own band," declares Morris when asked what they hope those think or feel after walking out of the venue after seeing one of their gigs. "I want more and more shared experiences, like with people singing the words back — it feels like we're a community," says Mayland with Roberts in agreement. "Gigs are such a nice way to find your friendship groups, especially as a teenager," expresses Nishevci. "If people can make friends while lining up in the queue for our show…" Morris pauses. "That's all we could've dreamed of."