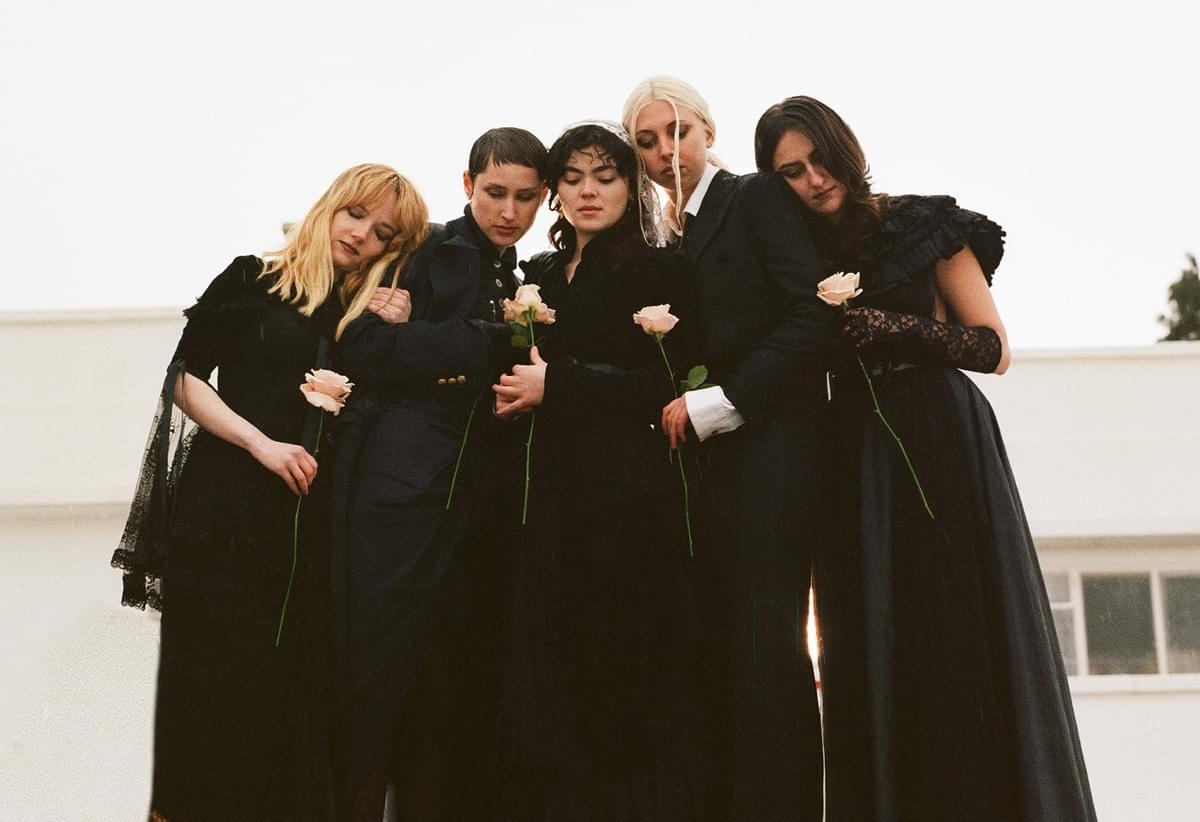 The Last Dinner Party cordially invite you to dance on "Nothing Matters"
After months spent plotting and scheming as London's hip clique's little secret, The Last Dinner Party's debut single, "Nothing Matters", arrives with all the spectacular plumage and art-pop pomp you'd expect.
For those in search of decadence, romance, and extravagant frivolity, there has never been an occasion quite like the dinner party. From the lavish banqueting of the Victorian gentry right through to their renascence in Gen Z circles, where connection-starved twenty-somethings are finding joy and kinship between twisted, pastel-hued candles and decadent spreads of finger foods. It feels only right that such an affair would come to inspire one of England's most debaucherous new bands. One which up until now has operated in (largely) esoteric obscurity.
Since germination during a wine-stained evening in Brixton, The Last Dinner Party's sultry serenades have been heard only in dimly-lit pub corners across the city. Oh, and on warm-up stages for the likes of Nick Cave and The Rolling Stones - whose seasoned ears were pricked by the band's rosy riffs and effortless mystique. More impressively still, they have done it all without uploading a note of music online.
Instead, the band have been carefully setting the table – juicing the grapes (touring excessively) and polishing the goblets (writing even more excessively) – in preparation for their great sonic banquet. And today, to a dedicated and ravenous company of attendees, they serve up their long-awaited hors d'oeuvre – the piping-hot debut single, "Nothing Matters".
With ornate art-pop melodies, a sweeping Siouxsie-style chorus, and lyrics that rejoice upon the untethered thrill of being all-in on someone; of allowing yourself to fall, however hopelessly; the track exquisitely lays bare TLDP's aesthetic of maximalism, grandeur, and joyful campy excess. "Put simply, it's a love song about not being afraid to be unbridled and unashamed in your passion for another person," the band tell BEST FIT. "We hope that the song will stir up that feeling of ecstasy in people and leave them feeling ravenously joyful." This is pop music dressed up in chiffon and a corset.
At the helm is ringleader Abigail Morris, whose silky pipes douse the track in the kind of baroque, bookish charm you'd expect from a band who harbour inspiration from their favourite Gothic novelists and Romantic poets as fervently as their music heroes of Bowie, Bush, and the like. In doing so, 'Nothing Matters' feels like something of a masterstroke itself. A bright, crowning baptism of pop modernity with new wave dramatics and a testament to years of artistic toil by singer Abigail, along with guitarists Emily and Lizzie, keyboardist Aurora and bassist Georgia, in the ease with which it unfurls.
"Whilst all our songs vary in genre and subject matter, each one an expression of a different facet of TLDP, "Nothing Matters" felt like the best representation of what we are as a whole – maximalists," the band tell Best Fit. "The song embodies the chaotic, euphoric end of the TLDP spectrum and we thought that would be the best way to introduce ourselves. Seeing how audiences have responded to our live shows has proven to us that people have been really yearning for something euphoric and abundant. We wanted to capture that spirit with "Nothing Matters" and with the entire album – we owe a lot to our roots as a live band."
With one of the most anticipated releases of the niche music social calendar finally upon us, The Last Dinner Party invite you to don your finest frock, ditch your inhibitions, and await the divine courses yet to come.


Get the Best Fit take on the week in music direct to your inbox every Friday