Over the past few years the German-born popstar has been creating a name for herself turning regular venues into sweaty club environments, making bratty power pop (not an insult) with arena-baiting ambitions. When she took to the stage for her biggest London show to date at Heaven in August, she turned up with multiple outfits changes each more extravagant than the last and a well-placed wind machine that whipped her hair dramatically at some of her song's most uplifting moments.
Basically, a Kim Petras show is aspirational, a place where the only thing bigger than the thought put into her show set-up are the bangers she's singing.
Petras' earlier work attached itself even more firmly to these ideals: unabashed bubblegum pop that was as equally unashamed of its sometimes 'shallow' lyrical content as it was its colourful, glittering aesthetic. Across many of her early singles, she praised partying, excess and hedonism at its finest, where the swipe of a credit card could solve seemingly any problem. Her breakout single "I Don't Want It All", released in 2017, bursts into life with the line 'I want all my clothes designer / I want someone else to buy 'em' and features actual Paris Hilton in the music video, who's summoned into Petras' life after she builds a shrine to the heiress in her bedroom. The most liked comment under the video today jokes that it's 'the official sugar baby anthem'.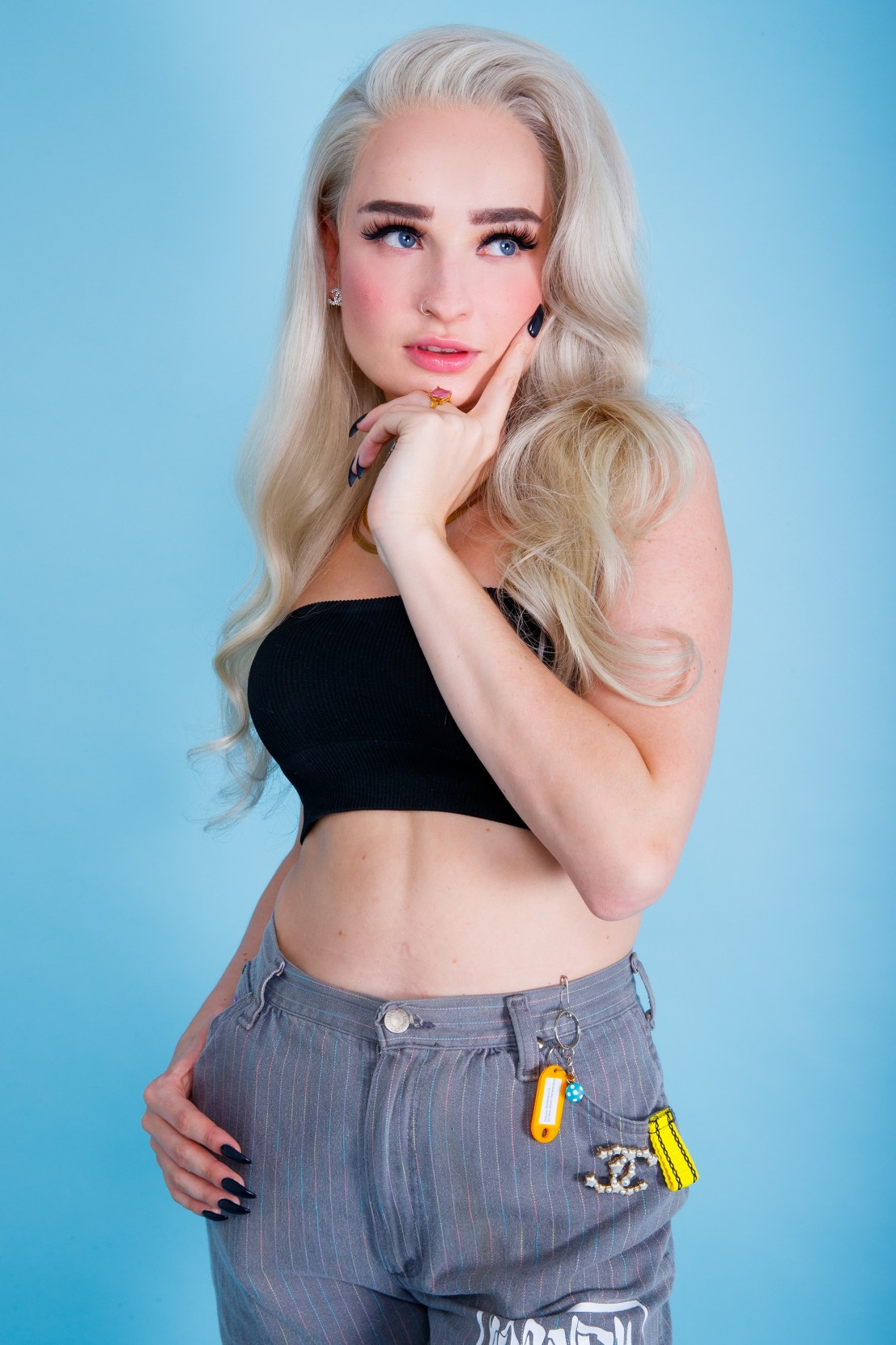 In an era of 'woke pop', where during this year alone, The 1975 climate crisis call-to-arms with Greta Thunberg, Lana Del Rey has released a song about mass shootings and Billie Eilish has been commenting on the fact that the world is under the threat of mass extinction by setting her latest music video on a planet that's literally burning, a Kim Petras song is more likely to pride itself in escapism and make you forget your problems than tell you everything's about to go up in flames. After all, the chances are you already knew that anyway.
"I really love creating a larger world where you can put it on your headphones and forget about your problems for five seconds or three minutes or whatever. That's always my goal," Petras affirms over a post-shoot coffee in central London, where her well-rehearsed team and knowledge of her best poses resulted in one of most quickly-wrapped shoots I've ever been to. "My goal is always to just like make people forget about their life for a bit. Even if it's just a second, then it's worth it."
Despite her music's glamourous overtones, earlier in her career, Petras' reality was quite different. Raised in Cologne in Germany, she saved for a flight to get herself to LA at nineteen by waitressing and once she was there, she often slept on studio couches, writing three or four songs a day until her career started to take off. Being a performer was always her goal, but she got her break writing for other people, laughing now that one of her earliest breaks was a song for a laundry detergent commercial. She later got a publishing deal after she penned a song that Fergie recorded and wanted to release. It never came out. It was several years before Petras, now 27, managed to get a break recording and releasing her own material.
"I feel like I really went to 'pop school'. I really spent four good years, just working on songwriting. 600 songs in or something I got good," she remembers. "And then I spent the last three years just like performing at every single gay club there is, every single club there is in America, building a fan base, like doing my thing."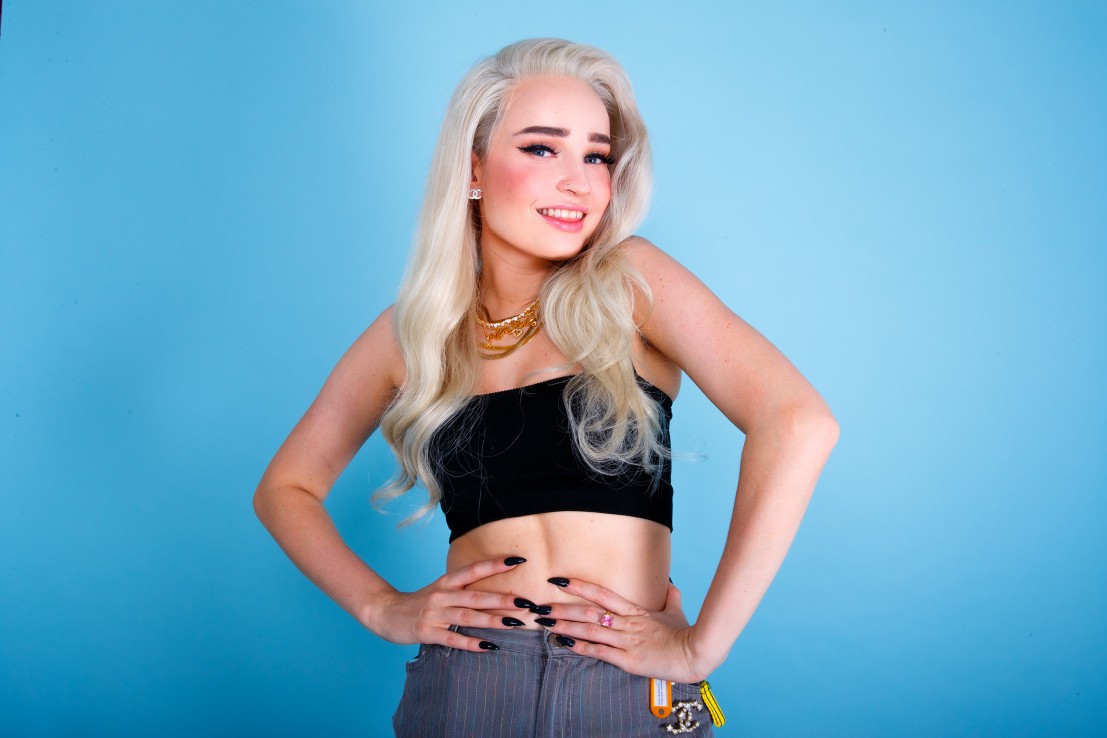 Does she feel like she was adopting a mask of some sort in her earlier songs?
"Before that I was kind of more of a character," she suggests. "More of a hyper-confident, superhero version of myself. And with this one, I was stripping it back and I feel like it was really rewarding."
'This one', of course, refers to Petras' debut full-length project Clarity, released earlier this year on her own label BunHead. Across the album's twelve tracks, she retains her signature glossy sheen, but this time with her experiences on the album rooted in a much more sombre mood, shaped by her experiences of heartbreak. Right before embarking on a lengthy North American tour with Troye Sivan, her relationship broke down after she found out she'd been cheated on and in the aftermath, performing songs on-stage that oozed flamboyancy and self-confidence often felt disingenuine when, inside, she was feeling fragile and "kind of depressed".
"It was a crazy experience because career-wise, I've always wanted to go on a huge tour and support for somebody and play the venues that Troye Sivan plays in America, which are huge places," she explains, remembering the bittersweet feeling of watching your dream career finally go places just as your personal life feels like it's falling apart.
"But, you know, when I was by myself, I really missed that person and was just kind of all over the place. I was a little bit of a mess. I'm really professional. I always pull myself together and get on stage, but it was hard some of the nights. I started to do things that I've always wanted to do my whole life. Things were working out just as my personal life felt really shit, and especially on the road, you don't have your friends around. I feel like I was having a lot of bitter emotions and a lot of things going wrong."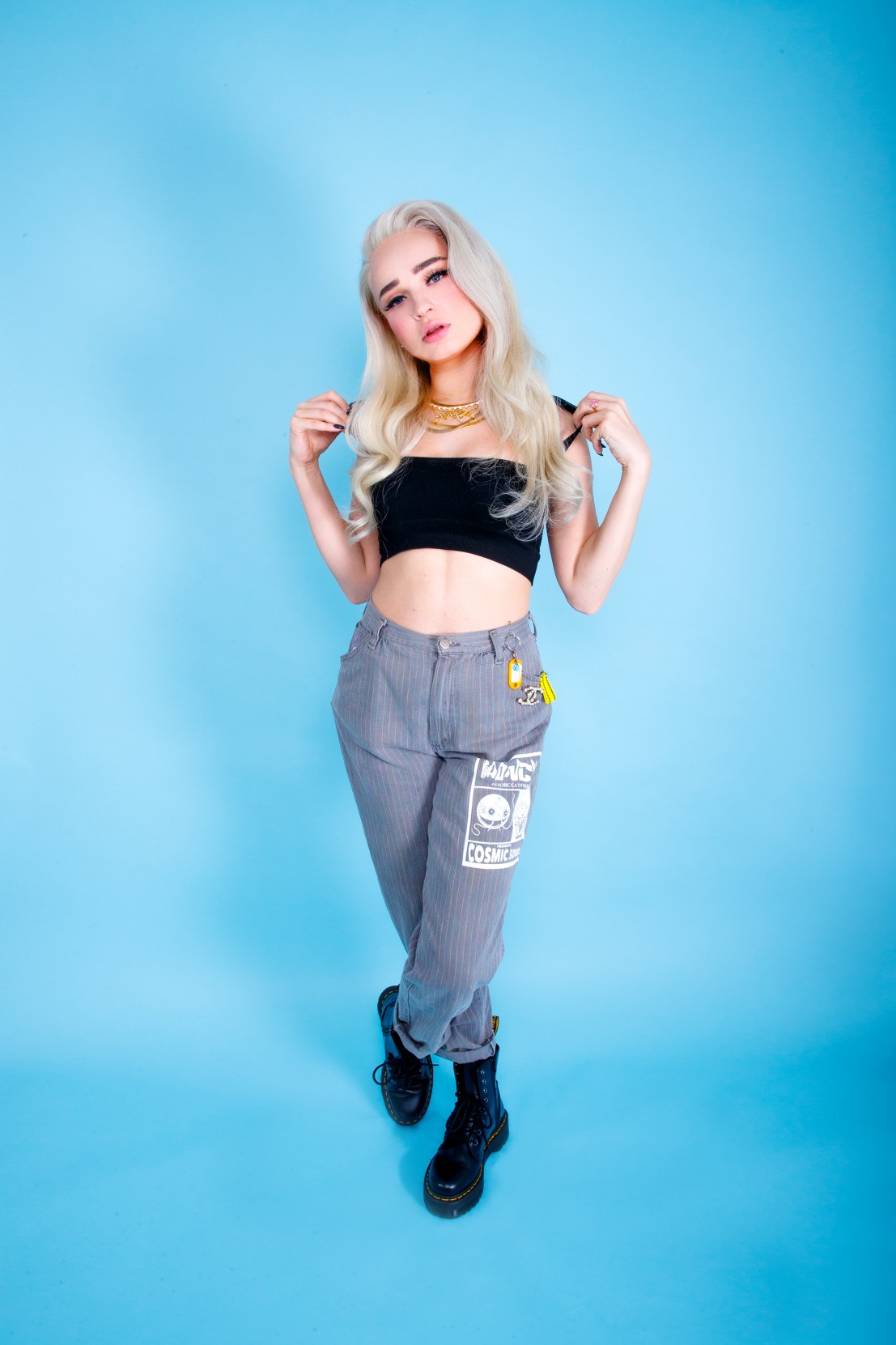 That vulnerability comes across on many of the tracks on Clarity, from the bass-heavy, emo-pop of "Icy", which sounds like what Evanescence might have sounded like if they'd decided to make songs about emotional isolation for a mainstream pop crowd, to the gut-punch of "All I Do Is Cry", which compares the post-break-up experience to joining the ranks of the living dead ('Wish that I could say that you're dead to me / What's it gonna take to feel alive again? / Can't go to sleep at night / I've tried a million times').
But the album still possesses a lot of strength to it as well, not shying away from using self-love and confidence as a form of revenge on those who've fucked you over. As Kim boasts simply with an almost knowing wink on "Broken": 'Hope you're happy with your new bitch / How you living? / I'm in Paris in Marc Jacobs, life's amazing'. Turning her heartbreak into something that can still have power became even more important once she finished touring and began to piece together the album's tracks.
"Once I was in the studio, I wrote a bunch of those [sad] songs... I got sick of it pretty quick and I was like, I want to turn this around," Kim says. "I want you to listen to this record and be able to relate to it. At the end of it, I want you to like go out into the world and be like, I'm that bitch and I got this and it's fine that I'm not in a relationship."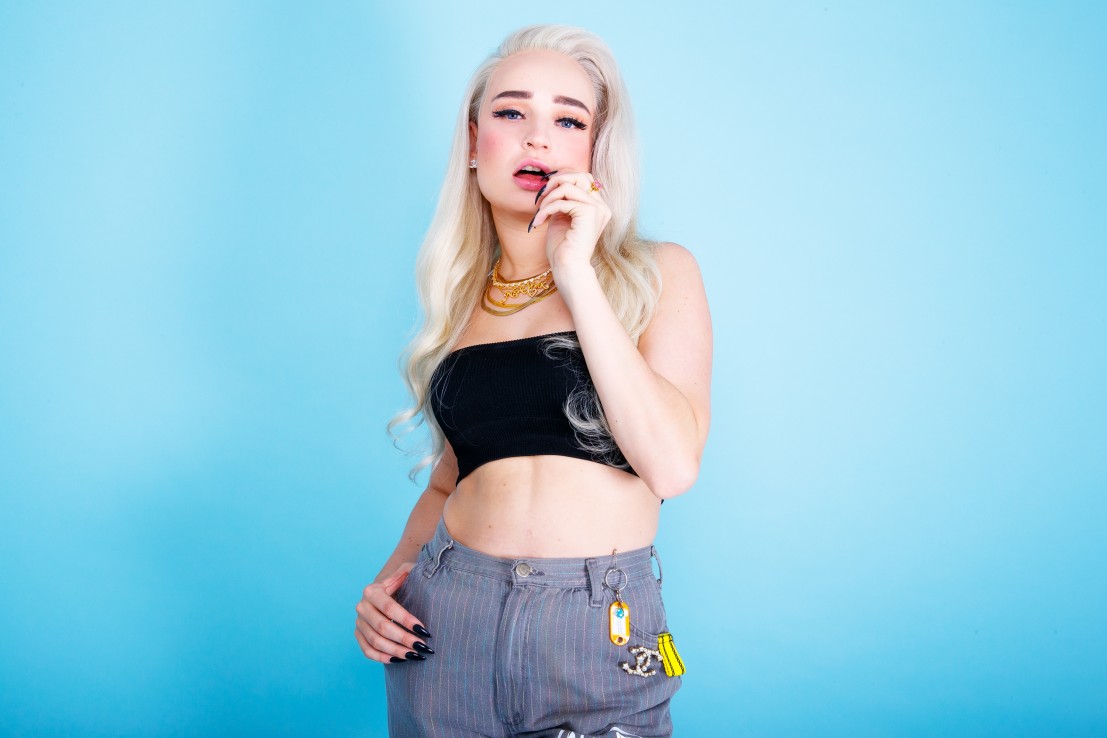 Petras might describe herself as 'that bitch' these days, but that hasn't always been the case. She recounts her earlier years as difficult and explains that she "hated school", in part because of the bullying she received for being transgender. At home, she immersed herself in the music videos of pop icons like Gwen Stefani and Britney Spears ("I didn't really have friends. They were like my friends in a way," she remembers) and began dreaming of a music career.
Before that could happen though, she became an advocate for trans rights as a teenager after being brought into the public eye after becoming one of the youngest people to receive gender-affirming surgery at the age of 16 and appearing in a series of TV interviews and documentaries talking about her experiences. Though someone that cares passionately about improving the still dire state of transgender rights across the world, when trying to launch her pop career however, it became the only thing anyone wanted to talk about.
"I was really, really lucky and my parents helped me be myself. Since I was a kid, I knew I was a girl and I was really outspoken about it," Kim explains. "There's a really high suicide rate, a lot of trans kids don't actually make it. A lot of trans kids are homeless and get kicked out of their homes, or have to grow up in the wrong gender. I did a bunch of press about it and wanted to be a positive face for that. Then that turned on me because just everybody only wanted to talk about me being transgender, especially in Germany for some reason. My music took a backseat."
Though she had meetings with labels, she eventually decided to release her music independently, so she could have more control over her music and image. Did she experience anyone who didn't want to work with her because of her gender identity?
"No, they wanted to work with me, but they were just discussing all these things of how they had to market it or not market it, or if I was gonna say that I'm transgender or not, or if it was going to be possible if, like, Christian people would be against it. Just discussing all this shit about it," she remembers. "I feel like nobody talked about music. Just nobody wanted to sign me on the basis of music. The people I work with now are working with me because they believe in my music and my talent as a songwriter and not any other shit. But not because of my gender identity…"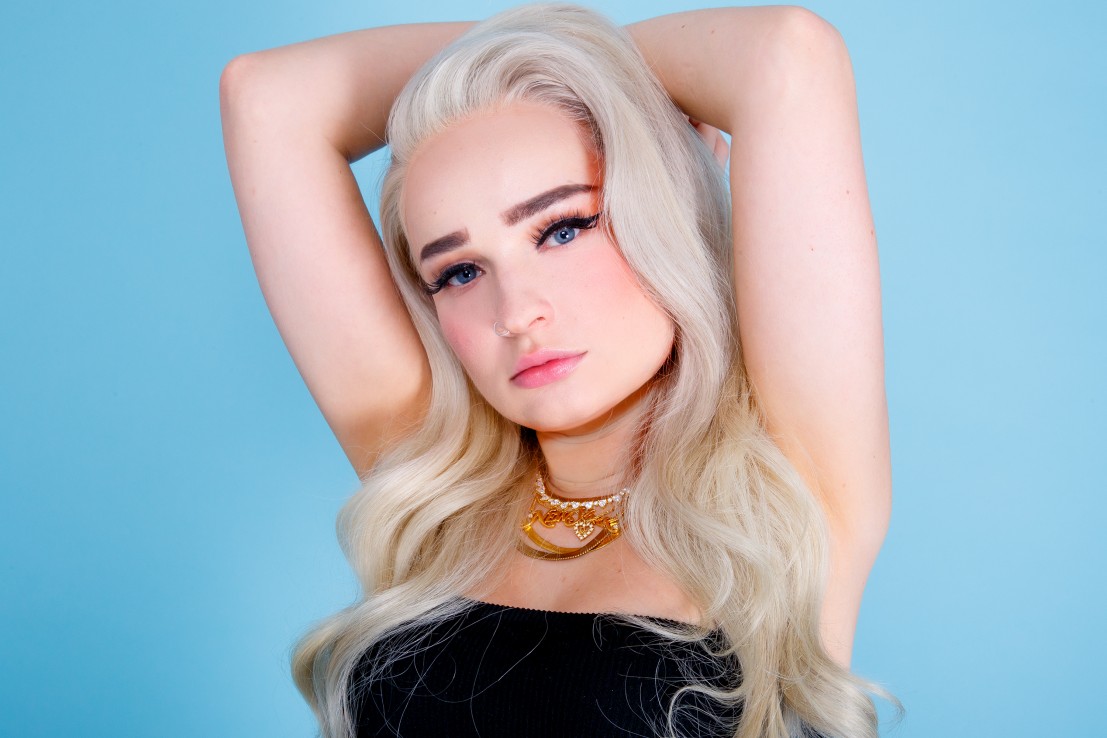 It's Petras' commitment to making music that feels authentically her that connects so easily to her fan-base, but it's a relationship that can be as silly as it is serious. The opening lyric of Clarity ('I got clarity / I'm the bitch with the sauce apparently') has started up a new fan tradition where people bring bottles of hot sauces to her shows ("my spice rack is on fire," she laughs). But it's also the commitment of her fans that helps her be her best self, she explains.
"I have a lot of my fans' numbers. I text a lot of my fans!" she says, revealing a situation that would probably sound like a nightmare to many other musicians. "They've helped me become confident enough to be myself and to be like, 'oh, maybe I'm interesting enough to just be myself and write songs about how I feel and how I see the world'. And before them I didn't. I thought I wasn't, you know, all these things that you think when you're a kid and you want to be like a singer... like am I talented enough? Do I sing good enough? Am I good enough songwriter? Am I pretty enough? Am I good enough musician? I don't know, it's cool. It just feels like I have a lot more friends now."
Back in LA, Petras has taken the step of moving out of a shared house and into her own apartment; although it's been a goal of hers for some time, it's taken some adjusting to. "I definitely can be messy and, you know, nobody cares. And I'm pretty messy, to be honest. Like, the artist thing shows in that sense…. But it's been kind of scary at night! I get spooked sometimes. I always watch horror movies though, so I do it to myself."
Continuing her love of "spooky shit", she's also just dropped the follow-up to her 2018 Halloween inspired mixtape Turn Out The Lights Vol 1. The 17-track Turn Off The Light goes for a heavier sound than her previous music and takes inspiration from "Gesaffelstein and German rave shit".
"Everybody's doing Christmas records so I was like, I'm doing a Halloween record. It's super different, but I'm really excited," she says. "I feel like it's definitely darker than the first one even and goes much harder. There might be a couple of collaborations on it…"
With such a clear focus on her work from a young age and so much more to come music-wise (Petras also notes how she'd like to get back into songwriting for others when she has the time), I wonder what her goals are outside her career.
"I want to be a great friend. I want to be a great daughter, I want to be a good person," she replies, without missing a beat. "I feel like I ultimately really want to like do more to give back. I want to be part of leaving the earth a better place in some shape or form."
"That's deep as fuck!" she laughs moments later, aware of her own cliche. "When I'm definitely focused on my career a lot - releasing music and strategies, all of that stuff - after a while, it just feels self-indulgent. I hate when I get that way… I just don't want to become a self-indulgent piece of shit. Like, that's my goal."
Turn Off The Light is out now via BunHead/AWAL. Kim Petras embarks on the North American leg of "The Clarity Tour" from 21 October.