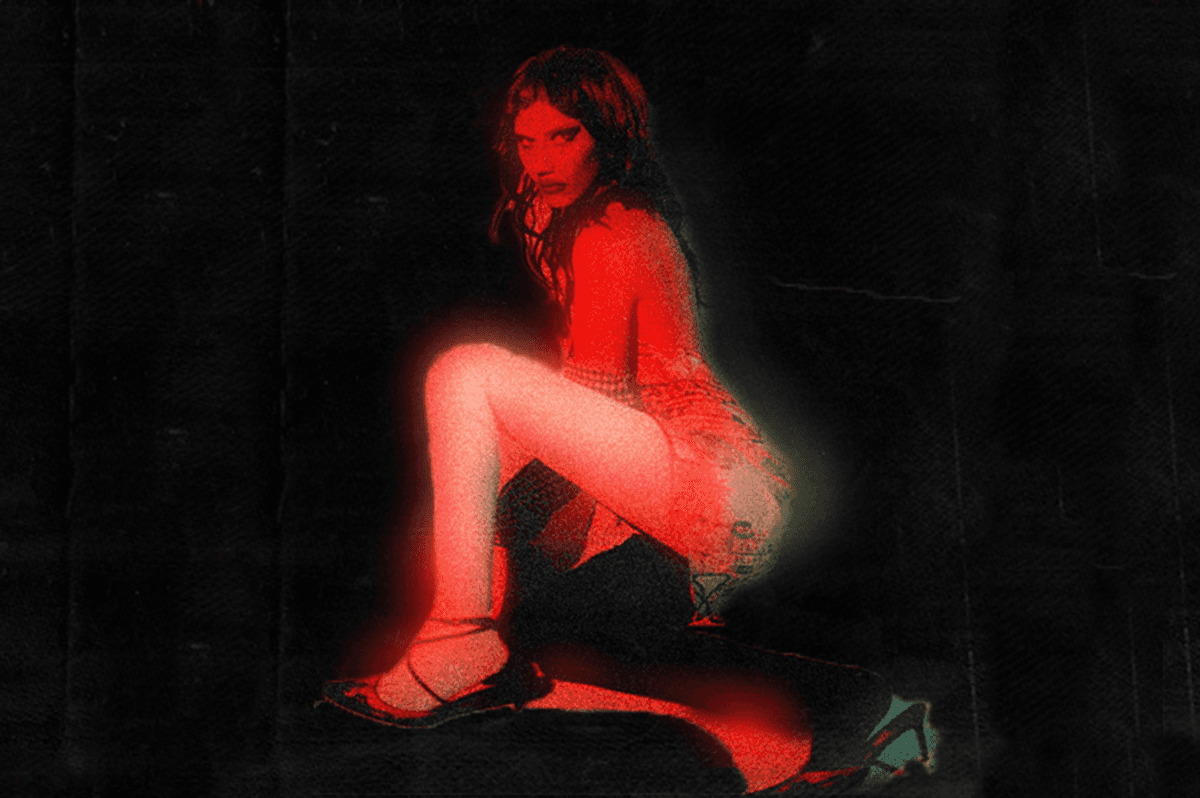 Kidä's new genre is Drama-core
24 February 2021, 08:00
Kidä's (Ava Leoncavallo) roots are in sound design, working as a composer under the name A Portal to Jump Through (APTJT). Via this alias, she has worked with Vogue, Prada and Dior to produce soundscapes and scores for their runway shows as well as DJing in London, Paris and Bucharest. Now, she is offering a more chaotic and vulnerable side to herself as Kidä.
Launching a second alias in the midst of Covid-19 hasn't phased Kidä in the slightest. Our chat about her budding solo career as an electronic rock musician threw us into many tailspins of laughter. This new project is a different beast entirely from her soundscaping roots: "it's more visceral and usually cathartic. It's feeling and then translating the feeling, something quite personal."
I couldn't resist bringing up her collaborations with fashion labels, before jumping into her latest releases as Kidä. This unique role has her working with "grotesquely creative and talented designers," and creates what Kidä calls a "feedback loop" of inspiration. The artful designer clothing collides with the tracks created for the runway, working together to give a full experience at fashion shows. It was studying sound engineering in university and finding like-minded friends in London that amped up Kidä's musical ambitions and led her to producing under A Portal to Jump Through.
Kidä's background in aesthetic sonic creation contributes to her experimental and electrifying rock. Now, stuck in snow entrenched New York, Kidä's creativity has evolved into a more concentrated form: "I find I'm forced to confront myself so much because I'm in quarantine and not able to distract myself with other people's energies. [Instead], I'm getting lost in dreams and research."
Kidä's debut EP Burn to Make Glow is based around her love for storytelling. She draws from Kate Bush's propensity for moulding narratives into intricate songs: "I like creating images in my music; whether that's lyrically or using these cinematic sounds and sound design to imbue a landscape…I was very inspired by Kate Bush. She would read or hear a story, think of something and then would want to retell it in a song." The influences that seep into Kidä's music range from her dreamy childhood reading of fables to having RnB and Y2K obsessions as well as the modular synths she uses for APTJT.
For her, working as Kidä and A Portal to Jump Through are like using opposite sides of her brain: "My inner scientist is A Portal to Jump Through. With Kidä, it's just operating off of animal instincts. It's so stunningly chaotic compared to everything that's going on in a Portal which is quite ordered and has a set motive but with Kidä, it's more visceral. It's usually cathartic, it's feeling and then translating the feeling." Despite being at two different ends of the musical spectrum, a cinematic atmosphere seeps into both whether it's strange theremin or psychedelic guitars at the forefront.
Teasingly, Kidä's music cannot be pinned down. From the sparkling synths of 'Comet' to the spellbinding bass of 'Kneel To You', the music carries an air of mystique around it, becoming more enchanting with every listen. 'Comet' is also part of the le Beirut Art Relief Fund, raising funds for those affected by the explosion that caused devastation to the Lebanese capital. "I'm always trying to help where I can, and this is the best means I know possible. Tensions in the Middle East feel close to home - it's something I'll always want to aid because I have Middle Eastern family." The project 'How To Make A Portal To Jump Through' raised funds for Syrian refugees, another cause close to Kidä's heart: "My mother had a Syrian refugee living with her at one point. All these narratives from these trauma survivors, they're very close to us."
The London-based artist has been separated from her "children" (read: instruments) during the pandemic, but that hasn't affected her music making in the midst of the worldwide shutdown: "I'm used to hermitizing and holing up to write music. In a way this doesn't feel super exotic, but it is more extreme." One instrument that she does have in her New York apartment is a Celtic harp. "Do you wanna hear it?" she quips and excitedly I say yes as untuned strings twinkle across static (it's the closest thing I've gotten to live music in a year).
Kidä is a powerhouse in the making and can stand proudly alongside the likes of FKA Twigs and Yves Tumor. Her sound is visceral, fingerprinted with psychedelic rock. Kidä sums this up: "a Kidä record is like a hyper concentrated asteroid burning and crashing to earth. It's all the influences slammed together in an urgent way into one super-hot orb like a comet."
The Garden is out now.
Get the Best Fit take on the week in music direct to your inbox every Friday