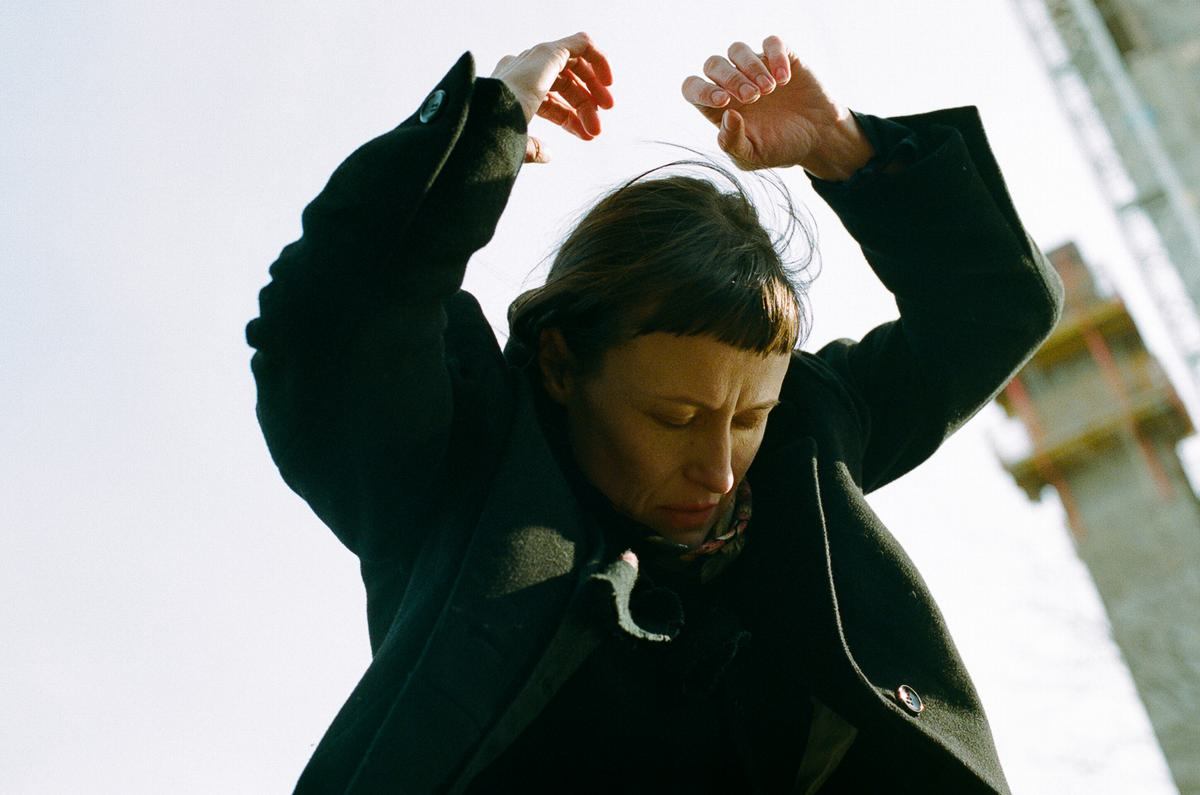 On the Rise

Keeley Forsyth
12 February 2020, 10:00
Through her own fragility and pervading determination, Keeley Forsyth seeks to understand the differences between darkness and light.
"The person who's singing, she's not a physical form. She's of that…" Keeley Forsyth falters for a moment. "There's something very tribal about her, that pulsating voice. There's no darkness to her at all, she's not like that."
We've been talking about her debut LP, Debris, which came out in January to unanimously ecstatic reviews. It's an album with the human voice at its core - Forsyth's deep, subterranean vibrato resonating from a place where the boundaries of the personality have been dissolved. She's gotten used to describing the voice in her songs as a character, but I'm starting to think it's gone a bit further than that. That, if it doesn't sound too starry-eyed, she's tapped into a more primal entity.
"She's this kind of collective voice that throbs in the landscape, and when I perform, I almost feel myself having to curl up to curl around that sound." Intrigued, I ask how she visualises this landscape. "It's not necessarily the moors," she says after the kind of pause which suggests that it most definitely is the moors, "but that's what was in my head as a kid. That kind of dry landscape - that no man's land kind of feel. And it's funny because now, personally, I'm building a kind of tribe of people who are interested in the music. And that was her. She didn't want to sing completely and desolately on her own. It was about… it was a calling. A calling of tribes. Predominantly of female energy. She wants to have a community."
This is counterintuitive stuff. If Debris sounds like anything, it sounds like someone completely, desolately, on her own. Forsyth grew up in Oldham, raised by her Grandmother, where she gravitated first to youth theatre, then into television. Until recently she was primarily known as an actor who specialised in portraying troubled and traumatised characters on the margins of society, in everything from Happy Valley to Guardians of the Galaxy.
Then came an illness, part physical, part psychological, that saw her unable to continue working, unable even to move her tongue. It permeates Debris. At the centre of the album is the nerve-wracking "Lost". One of her most clearly personal songs: it's like a soliloquy in a play. "Is this what madness feels like?," she breathes as it opens, ushering the rest of the album off-stage, "the smooth space after all boundaries have been dissolved?"
There follows a rush of images somehow held in place by that voice. Debris could be the sound of someone learning to speak again. It's a bleak and experimental record, soothing its own pain and sadness with great tap roots drawing up the unexplainable eeriness of a certain kind of English landscape. It's no easy listen.
She's firm that her music is not about working through anything: "I don't want to give the impression that the point of being in darkness is to get into the light. That's not how it is for some people." I agree, but put it to her that it's rare to come across something that is so clearly evidence of its own healing, and which doesn't offer either an obviously happy or an obviously tragic ending. That Debris seems more like a record about being with these kinds of experiences; sitting with them, and having a relationship with them that evolves.
There's a sigh of relief. "Thank you for saying that. I've been anxious that it would be perceived as finding happiness now the record's out because when you experience something like that, it kind of breaks down the barriers of everything. You become all things, and it isn't a lighter state. There's no ever getting out of the woods at all."
More than once our conversation becomes like this. Barely intelligible, even to ourselves. We talk about death – not physical death, but a death of yourself that's hard to explain. She compares it to Stranger Things, and the way the kids fall into this terrifying underworld that exists under everybody else's lives. "When you experience that, you become so aware that who you thought you were was…" she trails off. You clearly don't get fixed.
"Everything changes. It doesn't feel like it's about me and my experience, because if I've felt it then I know other people have felt it and that scares the hell out of me, that other people have had that experience."
Forsyth is very keen to talk about the rest of the tribe, as she has come to think of them. She wrote the lyrics with the artists Matthew Boyle and Adrian Shaw, working first with an accordion and then a harmonium. Then she heard some music by the composer Matthew Bourne on Late Junction and got goosebumps. The more she learned about him, the way that he approached music, the way he spoke, the way he talked about his work - it felt like somewhere she'd been before, so she got in touch.
"I recorded all my stuff on the harmonium and gave it to him. I was meant to re-record my voice over his sounds, but he sent back what he heard on the harmonium – the chords, the keys, the silences, the breaths in and out – and it was just like, wow. I was stunned and I didn't really do anything with it for a little while."
Bourne plays most of the instruments on the album, and they've been playing a few concerts together. It's different each time, feeling their way through the songs. The previous evening, in Manchester, Forsyth, or as she puts it 'the voice that she sings in' started to sing other stuff and Bourne improvised along with her. They're both impulsive and instinctive performers, and she loves the feeling of surprise that accompanies their collaboration.
She's also developing the songs into something more like a theatrical performance. The artists Iain Forsyth and Jane Pollard, who made Nick Cave's 20,000 Days on Earth, are creating a large scale installation that the character can inhabit on stage, and the choreographer Imogen Knight is working with Forsyth on the way she moves. "She likes to change her clothes and wash her hands when she sings, you know. And there's work, she likes to work the soil."
Talking about the influence of Michael Cunningham and Pina Bausch, it's clear that dance is something she takes seriously. "The sounds come from movement. It's the same as the harmonium. You have to physically move the harmonium for the sound to come out and that's what it's like with the body. So if my body is still, it doesn't make any sound, or it makes a very different sound."
Subsequently, there are new songs taking shape with Bourne. This time the process is more organic — he's sending her pieces of music and she's responding to them. Forsyth's grateful not to be singing so desolately and alone any more; to have this relationship that feels good in her gut and that Bourne wants to keep going with it "until, you know, he finds something more interesting to do." The fact that he only lives a twenty-minute drive away from her helps. "He's the only person who I know making music who lives close enough for me to make anything happen."
It's possible that the last song on the LP - the heavy, glacial synth of "Start Again" - is a teaser for the future. "I really like that electronic sound; heavy sounds, you know? It's the next logical step, but," she adds with a crooked chuckle, "I won't be making a happy dance record, ever."
Finishing up, we talk about her family and the grandmother who brought her up. She was a psychiatric nurse and valued the effect that music and theatre had on the young Forsyth. "They always encouraged it, which was nice because I used to sing all the time, and if I ever sang anywhere else than at home my Grandma would be told to shut up. So it was really embarrassing," she laughs. "Who wants a singing kid around all the time?"
I ask how her Grandma is doing, and Forsyth pauses for a second. "Yeah. She's not been very well recently. She's 84 but she only gave up work last year. It's been hard for her. It's such a shame that we put so much of our identity into what we do, and I think again this is why I don't want to identify myself with what I do now. Because it's such a mirage, it's such a hole to fall into. I can see it with my gran. Now the job's taken away, who is she? And I'm trying to say, you are not your job, there's a person in there but it's a hard thing to understand."
There's a sense when talking to Keeley Forsyth that you're interviewing two people. Forsyth herself, and the character that she inhabits as a singer. There's also a sense of light and darkness. That perhaps light is darkness, or that there's no clear way to tell them apart. And a collective voice, throbbing permanently in the landscape, calling to its tribe.
Debris is out now via The Leaf Label