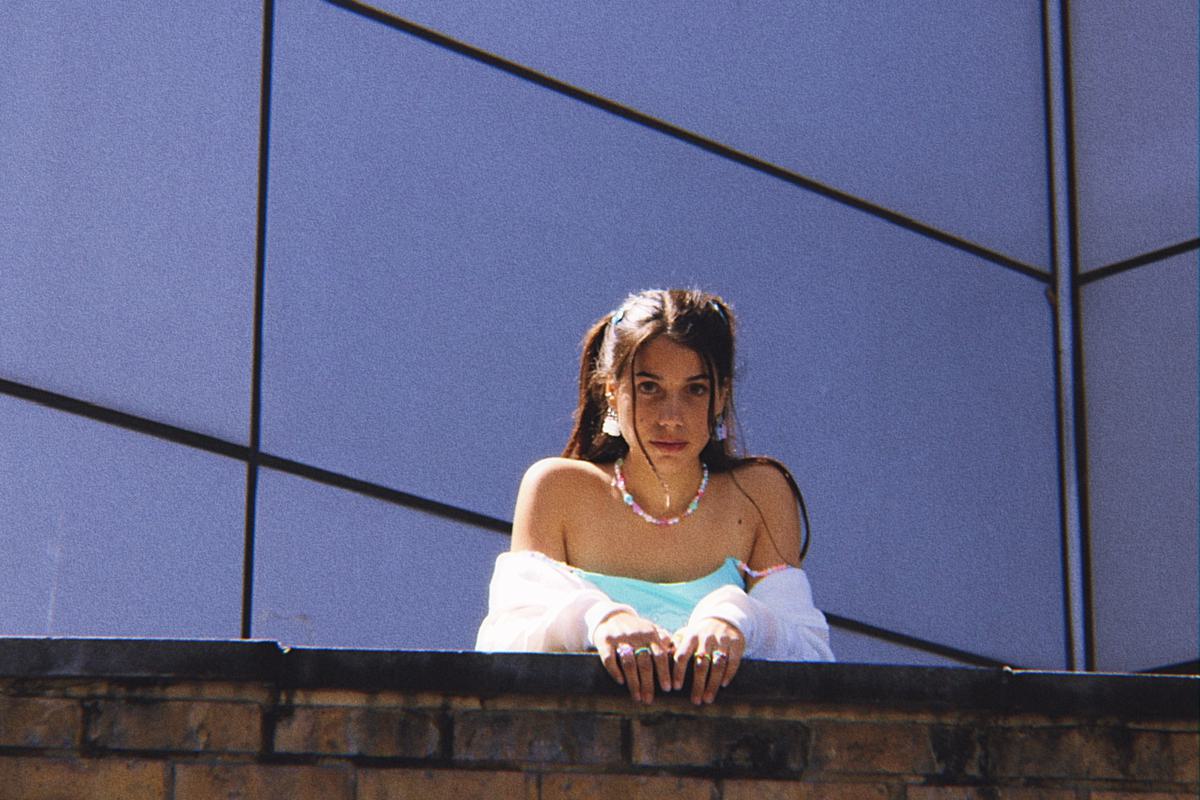 On the Rise

Kayla Grace
25 October 2022, 11:30
Through her music, Watford singer-songwriter Kayla Grace explores the subjects she doesn't feel comfortable discussing in everyday life.
Some artists are born with a gift. For Kayla Grace, it took a few years for her to find her true voice. As a child, she'd try to mimic singers like Duffy, never quite getting it right. "My family fed my ego because they would film me," she says. "Then as I got older I would notice them chuckling while they were filming."
Growing up in Watford, her dad used to play in a band, and as a child there would always be guitars around the house for her to pick up and play. Her two big creative influences came from her school music teacher and The X Factor. "I was obsessed with those shows. James Arthur's year in X Factor was the peak. I think I might have been ten or eleven. I was like, that's what I want to be. I just want to be him, or be with him. I couldn't decide at the time," she laughs.
She took music at GCSE, and while the other students worked on their classical compositions, her teacher would send her off with a tape recorder and a guitar to write and record her own pop songs. Eventually, he convinced her to perform at the school's showcase. The only condition was it had to be one of her own original tunes. "I've never been shy, but I was a bit like, no one wants to hear my songs," she says. "He was like, I don't care, just play it."
However, it was RuPaul's Drag Race that pushed her to take a place at Guildford's Academy of Contemporary Music. Obsessed with the drag queen Adore Delano, who had her own musical project outside the show, Grace set up a fan Twitter account and began posting her own covers of Delano's music. One night she was recognised at a Delano show, giving her the confidence to follow her own path. "The attitude of that drag queen. She was like, just fuck the world, do what you want to do," she says. "I was like, OK. Mum, I know I'm Indian but I won't be a doctor, we know I don't have the brains for that. So, I'm gonna go to this place called ACM that has terrible reviews online, but claims that Ed Sheeran went there."
To this day, Grace still posts covers, now on TikTok. A recent clip covering The 1975's "All I Need To Hear" even caught the attention of Matty Healy. "Genuinely that was my boyfriend through my whole childhood and he didn't know it. I went to all their shows," she laughs. "I sent a cheeky DM to him after he shared it. I was like, at least he knows I exist now."
Grace spent most of her time at ACM locked down and studying from home. She began to build a team around herself, experiencing her first writing sessions over Zoom. One of the first ever tracks to come out of that period was her debut single "Bird in a Cage" in early 2021. A stripped back confessional, it not only showcased her close and effortless vocals, but her ability to speak her mind in an honest yet relatable way.
Through those early sessions, she sparked a creative relationship with the writer Mikey Gormley, the two going on to work across many sessions as lockdown restrictions relaxed and real life crept back. Grace is now sitting on a collection of music that she's excited to share with the world, with an EP forthcoming but yet to be formally announced.
The first track was the downcast bop "nobody loves me", which dropped late this summer. For Grace, it's a way of talking about her feelings without feeling restricted by the reactions of those around her. It's an open forum to share and not worry about the consequences. "Obviously, oversharing is not always the best thing to do, and I don't really do that in everyday life," she says. "But when I'm doing it in a song, people will just accept it. If I was trying to do that, even among a friendship group, I think people's thing is to be like, woah, are you good? Especially if your opening sentence is 'I think my therapist hates me.' People are just like, riiiight. We have a lot to unpack, so maybe let's not do it now."
On her newest track, "realign," she reflects on her relationship with her older sister Aisha, whose disabilities meant she had to move into care while they were growing up. The lyrics circle guilt, hope and reconciliation, and for Grace, pushed a boundary in her creative exploration. Her delivery is direct but delicate, the gentle production building with the song's crescendoing catharsis.

Writing with Gormley and producer Stefan Abingdon, she felt supported and comfortable enough to dive deep on a painful and intensely personal topic. "It's just one of those things, if I'd brought it up to someone I was fairly new to, I feel like I would have just left the session, just gone home and cried," she says. "I remember I was really hungover and I think I'd had a coffee on an empty stomach and I had the shakes and I kept getting goosebumps even though it was summer and I kept going to the toilet and I felt like the walls were closing in. It was a very chaotic day, but I felt cleansed."
For Grace, she thinks of music as a translator, a way to navigate and communicate her feelings with the outside world. "Sometimes I over-analyse what I'm writing about and what things I should or shouldn't say because of who's gonna hear it," she says. "People are like, do you not give a fuck? I do, but I would rather just be completely, brutally honest with music. In life, I'm the kind of person to just not speak up about something. I'll just be like, it's fine. So if in my music I can be like, it's not, that's helpful for me."