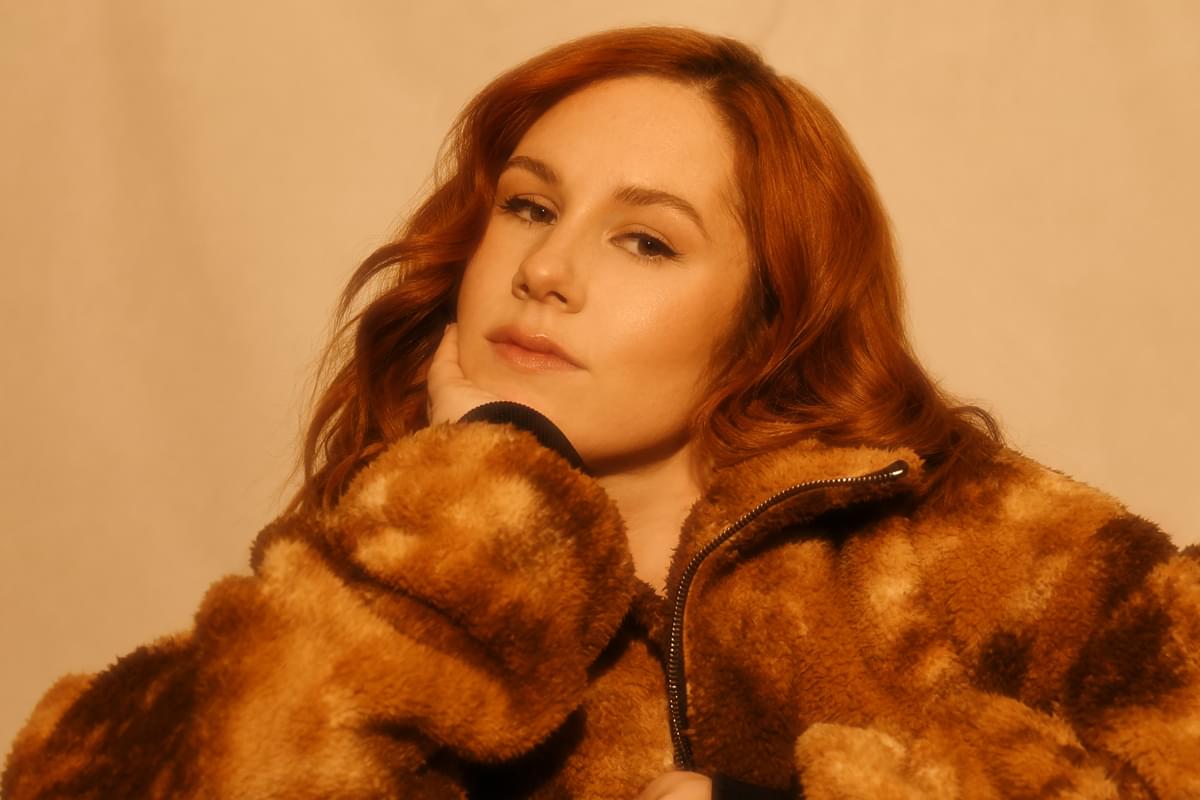 Soft focus
10 November 2021, 12:30
With her new EP just released, Katy B – the former poster girl of club music – opens up about breakups, chosen family, and the importance of feeling your feelings.
It's been 11 years since Katy B released her chart-smashing debut album, On a Mission. The record gifted her a lot; two top five singles, Ivor Novello and Mercury nominations, and inclusion in the sweaty memories of many a millennial's first night out.
It also guaranteed she would never be able to step foot in a Fitness First without cringing.
"I don't mind when people tell me I'm on their workout soundtrack – it happens a lot. But my songs are always on the telly in the gym and I just want the whole world to swallow me up," she laughs. "I wonder if my old label got a gym deal or something."
It's true that On a Mission has lived on where so many dance-crossover records from the same time have slid into obscurity. In 2011, the obnoxious wub-wubs of EDM started to dominate the charts, and Katy's debut stood out precisely because it stayed true to the simplicity of early dubstep. "It still gets played when I'm out. And it's so nice to hear it in people's sets and stuff. I love hearing the memories people have attached to my music, especially the nostalgic ones. They're always really lovely; I've been lucky that people are quite nice."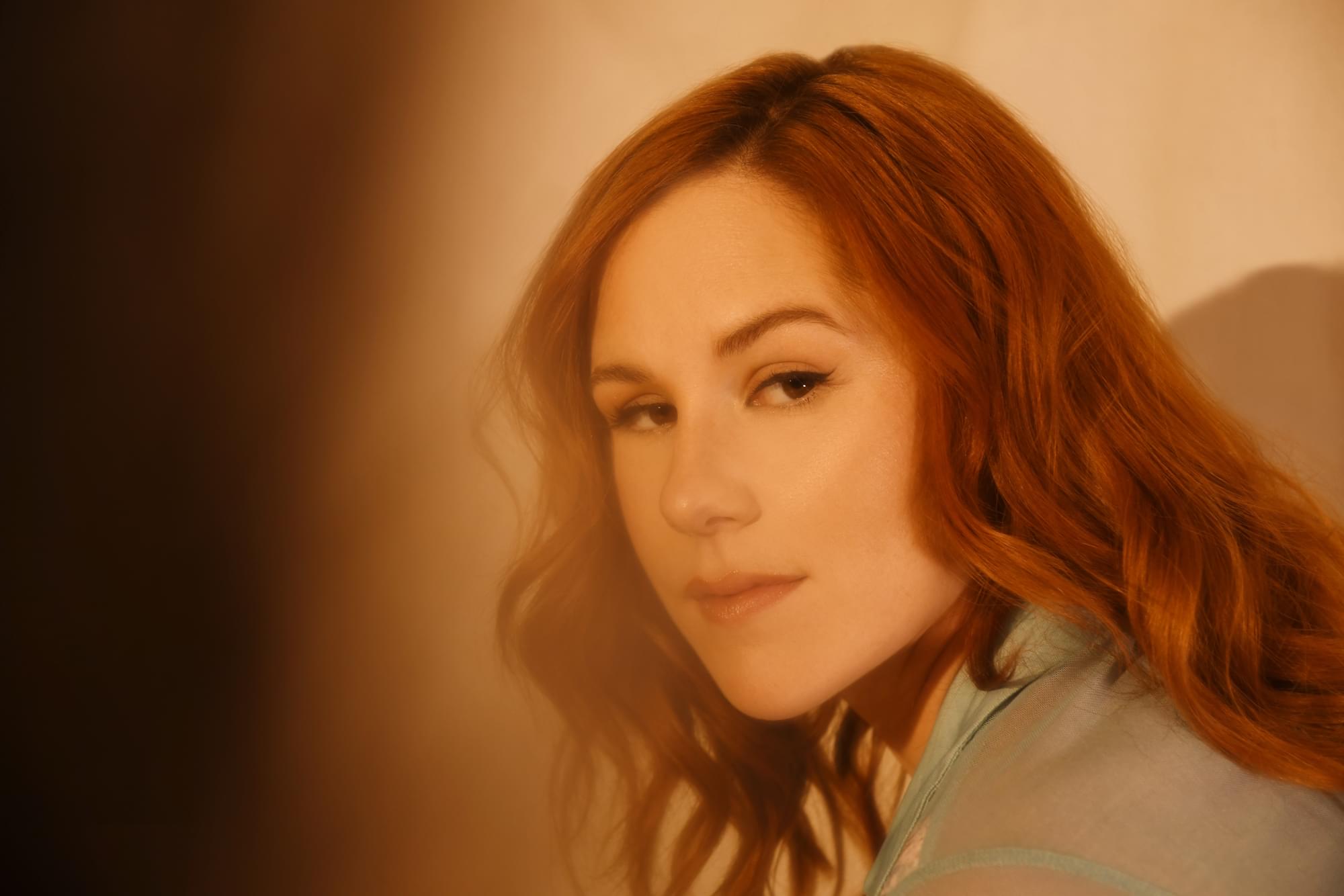 Meeting me in a coffee shop on her home turf, Peckham, Katy is full of gratitude for the period she spent living as "a quote unquote pop star". She's also not interested in doing it again. 2021 sees her release Peace and Offerings, an EP creatively divorced from her past efforts. Gone is the major label; Katy is releasing independently. Gone is the carefully-tuned main room energy; the EP is gentle and jazz-inflected, with no piercing synths or earthquake bass in sight. Perhaps the only quality that remains is Katy's knack for writing bangers about heartbreak.
"I love when you get sad melodies and chord sequences that give you that kind of … yearning feeling within club music. It actually really annoys me sometimes when I'm with a record producer who makes club music, and I try and write something that's kind of like, heartbreaking. And they're like, 'Oh no, it's made for The Club'," she sighs"Like… What are you talking about? "Show me love"?? All of these songs – the best dance singles of all time – have been about sad subjects. Male producers especially are a bit scared of being vulnerable, I think." We take a brief detour into our experiences of crying in clubs, with me offering a recent cathartic wail I had in the behemoth Surrey Quays hanger Printworks. "Ah – Printworks is the best place to do that though!" she says with an inference of familiarity. "Because there's loads of places to hide and it's so long; you're not in everyone's face. I've realised too that when I'm sad, I don't like listening to slow sad songs. I'm just not that person. I want to listen to something to bring my mood up." She pauses, and gives a quiet laugh. "Then again maybe I need to actually identify with my emotions rather than trying to like … bury them."
"I feel like this is like my letting go. I'm over it now. I'm looking back from a place of safety."
(K.B.)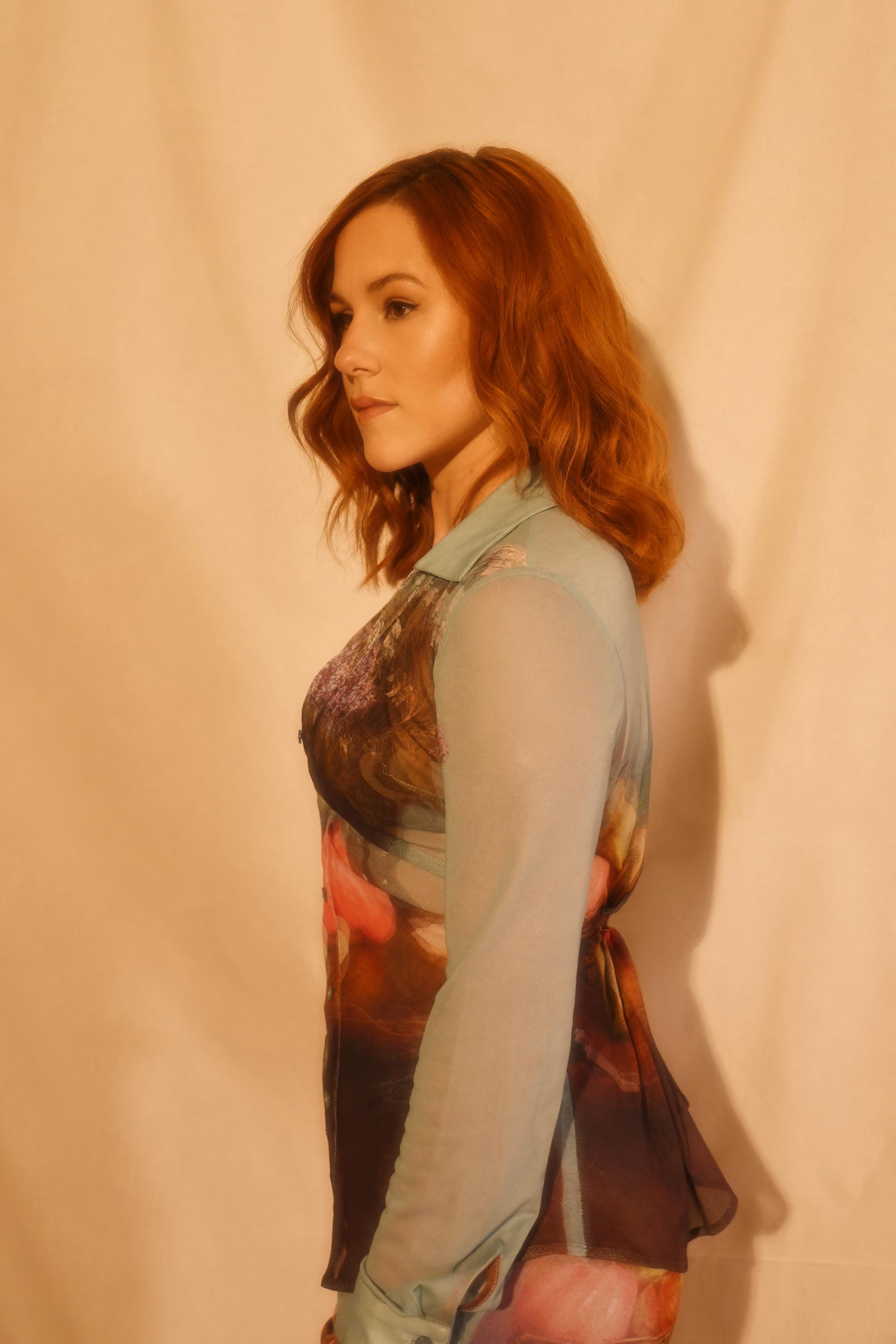 Peace and Offerings is the sound of Katy trying to do just that. It is, by her own admission, a break-up record. Sandwiched between the few tracks about nascent love, the lyrics centre around a situationship wherein two mismatched lovers simply can't let each other go – much to their detriment.
"When you pump loads of romance and feelings into situations, you just… it just becomes misty and cloudy and you can't see it for what it is," she says. "But when you get to a point of clarity where you can be like, I'm gonna like remove myself from the situation, you have to go through a grieving process, and that is really hard. To let go of something. I feel like this is like my letting go. I'm over it now. I'm looking back from a place of safety." Her only regret is giving the gentleman in question so much airtime. "It even was annoying me at the time – like, you don't even deserve for me to write songs about you! The petty side of me wants to be like 'You didn't make the album, you're just on the EP'."
Quips aside, Katy situates the EP as part of a grieving process that she had to go through. She's written before about her tendency to avoid dealing with her feelings – most famously in "Crying for No Reason"'s opening bars ("I pushed all my problems to the back of my mind / Then they surfaced in my dreams, they come alive"). She's now come to a realisation: sometimes, you just have to feel shit for a bit.

"It's not about getting annoyed at yourself," she says. "Like, I was always beating myself up about it, about why I was thinking about this person. But I needed to relax, to feel it and accept it and know that I'd have a breakthrough or turn a corner soon. That's something I've learned about myself actually… you don't have to be hard on yourself when you can't say 'I don't give a shit'. When you can't just get on with your life."
It was a similar cognitive dissonance that led Katy to go on hiatus six years ago. In 2015, and still reeling from the death of her brother Andrew, she was back on a carousel of live gigs and festival appearances to promote her third album Little Red. The high-octane environments only served to make her aware of her own unhappiness. "There's this expectation that you have to be smiley all the time. And I didn't feel like that. Like, I didn't feel like that at all."
"I know people listen to my music when they want to escape things and dance and be happy and have those moments. And I felt like I couldn't be that person for them at that time. I couldn't be that happy person running around the stage and telling them to put their hands in the air."
In an attempt to reignite some of the excitement she'd felt starting out, Katy leaned briefly on alcohol. "I remember I used to only have the one drink before I got on stage. But then after a while, I was having a couple of drinks," she admits. "It wasn't anything serious, but still I thought, 'I don't like this'. I should be able to just go out and sing my songs." To challenge herself, she decided to do an entire run of festivals without touching a drop, to see how it felt. Her entourage were impressed, but for her, it was the final bit of evidence she needed to throw in the towel. "Everyone's was like, 'I bet you really enjoyed it! Did you have any epiphanies?' And I was like, 'No… it was really dry! It was so dry.' And after that, I knew I needed to go away, so I could come back and be in the moment."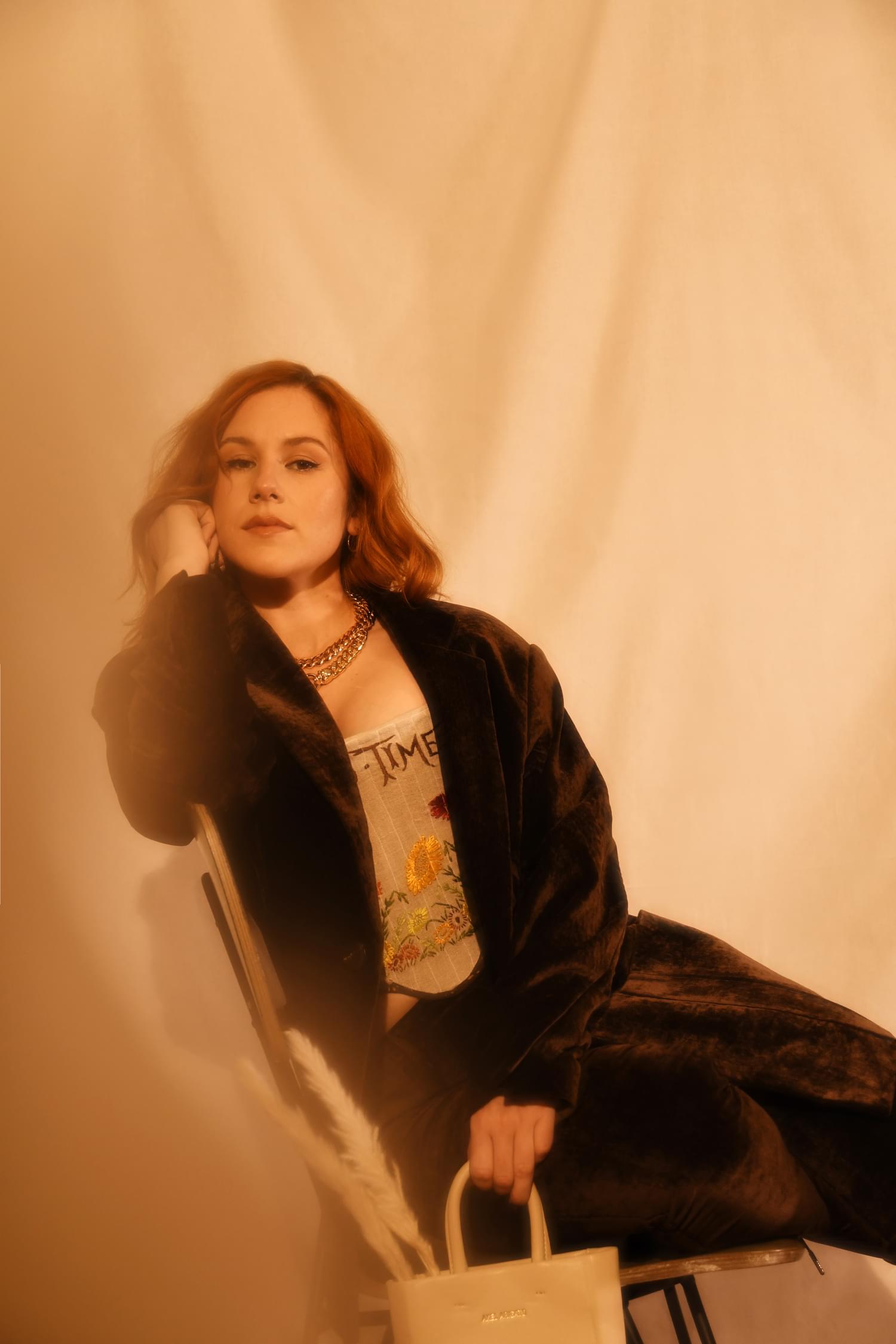 When she quit, Katy took a trip to New York that she'd been fantasising about for years. It was, according to her, medium successful; she had a lovely time, but instead of meeting a bunch of up and coming producers, she just met a really nice bloke from Sheffield. "We're still friends!" she exclaims. "But yeah… I think I had always had this dream of like me living there. I went out thinking I was gonna get sessions and things like that, and it just didn't happen."
"When I write, I usually write on my own – I don't write with top-line writers or anything. I've pushed myself to do that, but it's kind of out of my comfort zone. I had one guy in LA who kept giving me pointers, like 'Maybe we should do it like this'." She sings a tiny, perfectly-pitched melody – a brief reminder of her power as a vocalist. "And he was looking into my eyes very intensely. Like, mate, I've only just met you!"
I wonder how Katy's distinct Britishness – her politeness, her sarcasm, and her proud day-off aesthetic – was received in the States. She makes me first promise not to make it sound like she's slagging off Americans. "I do really like them! But LA's a bit mad, you know? People are really funny out there. I had to escape a few sessions like" – she pulls a pretend phone up to her ear – "'Hi. Oh no! OK, I'll be right there' and then just legging it. Because some people are very intense."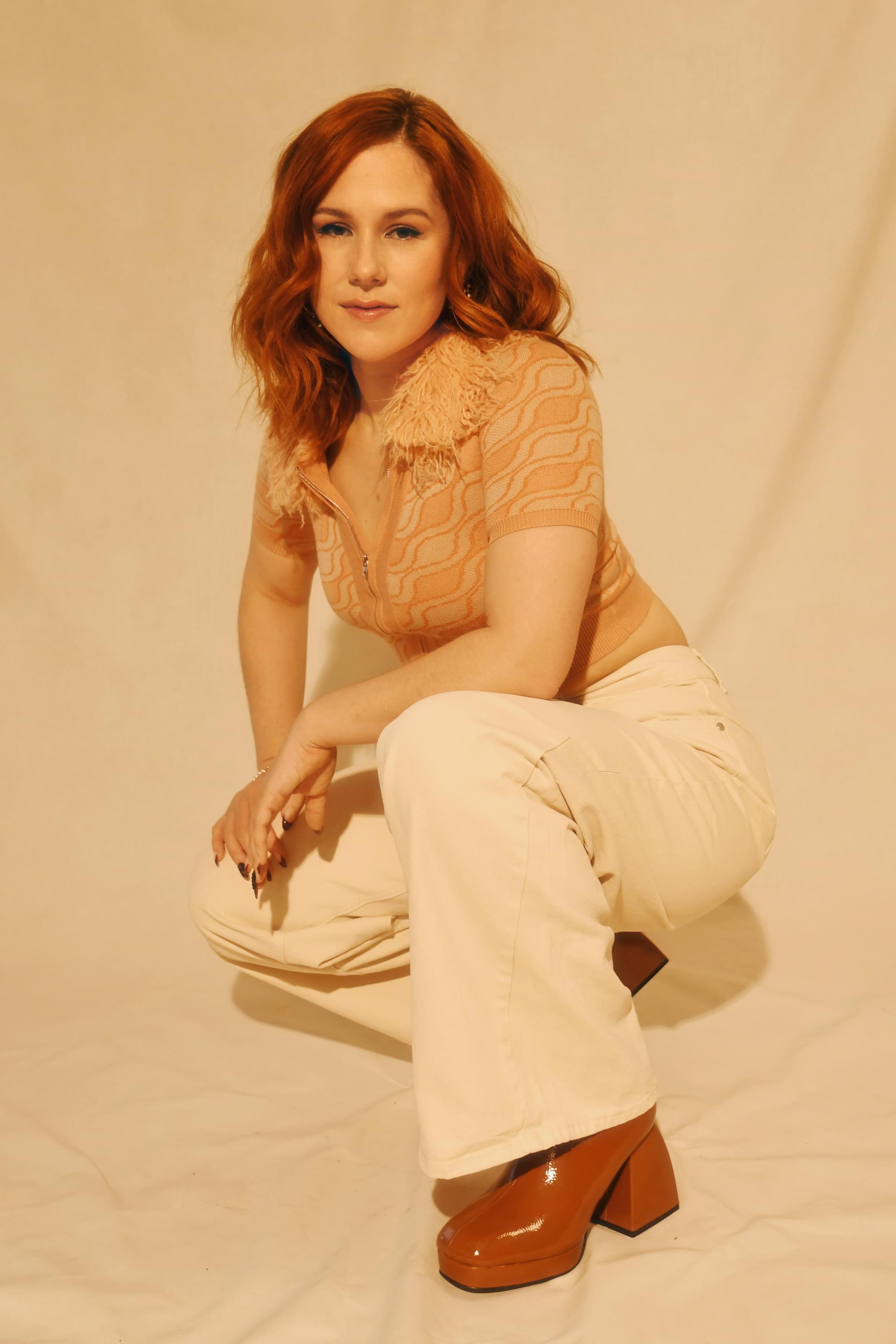 Katy jokes that the biggest jolt was all the positivity and confidence Americans seem to have in their own abilities. "They get so excited about everything. Like, when British people finish a song, we'll love it but we won't be like 'Yeah man this is it!' and banging tables … it's a bit much. But I think they genuinely are just enthusiastic! And we're just miserable here." What's the British way of marking a particularly good studio session? "Having a big moan and then going to the pub afterwards." She admits that she can have a touch of deeply British neuroticism about her, especially when it comes to men. "I'm one of those people that, if I have to send someone a text that I think is gonna be important, I have to write it in Notes and show it to 10 people asking if the sounds OK," she cringes. "It could be something really, really minor thing and I'm always overthinking it."
In the remaining years between her NY jaunt and her return to songwriting. Katy decided to build a studio in her flat. The work was completed just before lockdown, which, for her, was unfortunate; once the world closed down, all she wanted was to leave the house.
"I think I had this grand idea that I was gonna be this amazing super producer," she grins. "And now I'm like, actually, no Katy… you don't even fucking know how to turn anything on." At BRIT school –where Adele, Amy Winehouse and FKA Twigs also cut their teeth – she wasn't the best student when it came to using a DAW. "I was always the person getting into trouble in the studio lessons. I did Logic and Protools but I wasn't truly that interested in it."

Instead, Katy's return to form took place through collaborations with old friends: her Rinse family are still a huge part of her team, with founder Geeneus back on production, and keyboardist Jake Edwards-Wood returning from herOn A Mission days. A lot of the sessions took place in various low-key home sessions, with more live musicians in the mix. "It's really difficult when you have to go into a room and write songs like someone you don't really know," Katy says. "Sometimes it can be amazing – because you feel like you want to impress someone so you actually try a bit harder. But sometimes you just want to feel comfortable."

Talk turns to getting older, and Katy is adamant that little has changed since she was a teenager. From the outside, it rings true: she could pass for a university student, and the girl-next-door charm that disarmed a nation is everpresent. But she's also realising she has to put the breaks on occasionally to give herself breathing space. One current casualty of this is dating. "I have actually completely written it off, for like, a year. Yeah. Maybe even longer than that." Despite myself, I flag that choosing to not date in your early 30s can be framed as a bit of an insane choice, in a culture obsessed with climbing aboard the relationship escalator. She agrees reluctantly.
"But I feel like I have no choice on the matter for my own sanity. My mom, bless her, she was brought up Irish Catholic. So like, she was like, when I was a teenager, if you get pregnant, I'll look after the baby. Don't have an abortion!" she laughs. "And I'm like 15, and we're watching Jeremy Kyle together and her being like 'I won't be angry if that happens to you!'. She's wanted a grandchild for fucking… ever. She wouldn't mind if I just went out and met someone random."
"Aside from that, I've only got the one close friend who has a child. Quite a lot of my friends don't want children, or that's not even something they're considering. There's no pressure close to me. I feel like a have a lot of friends who are my family; maybe things won't always be like that, because things change don't they? But right now, I'm surrounded by people I can trust."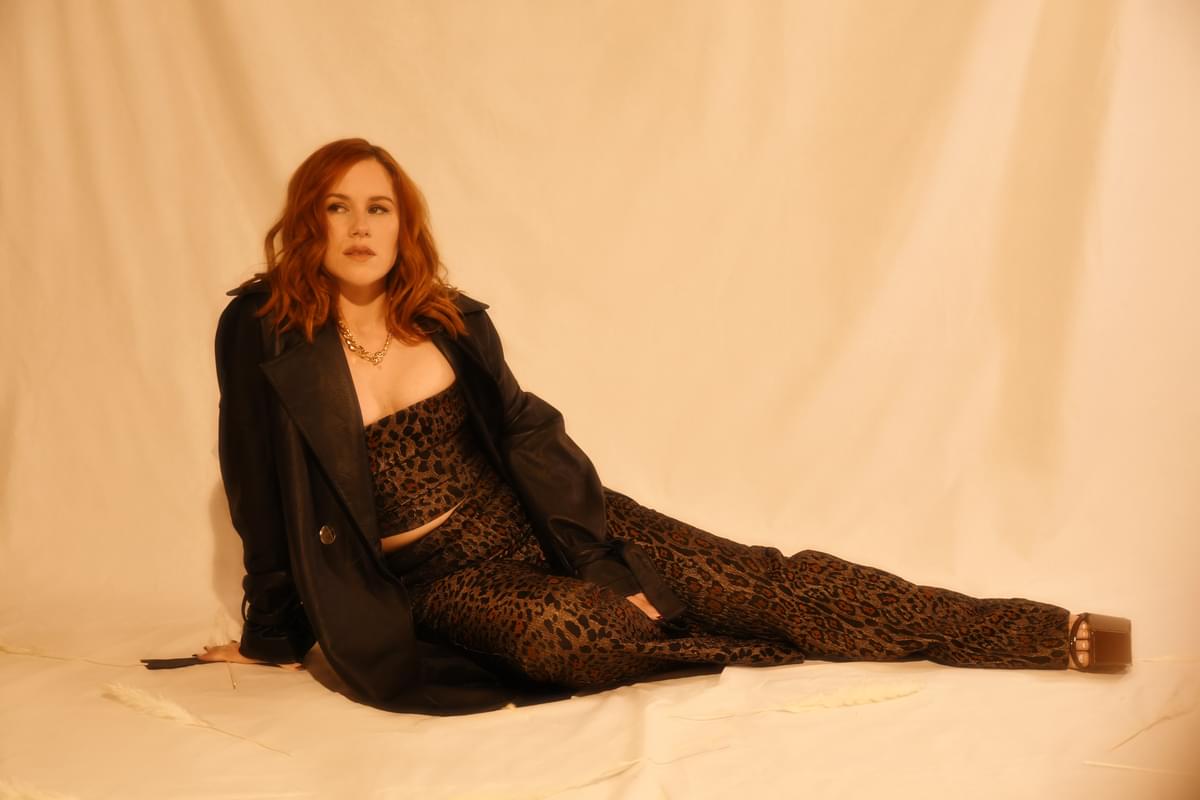 In its slow-burning, intimate aesthetic, the new EP certainly sounds like the product of a less chaotic environment than Katy's earlier, sub-shaking material. That shift – from intensity to stability – is something she's seeing in herself too. "I used to be an all or nothing person, whereas now I think I'm a bit more balanced," she says. I ask if there's anything she'd do differently in her former, always-on existence. She smiles. "There was one time when I hadn't had a day off in like, so long and hadn't seen my friends or my family in a long time, you know? And I wish I could have said – just go take a holiday. You know what I mean? Like, relax. Go lie on a beach. And don't feel guilty about it."
Get the Best Fit take on the week in music direct to your inbox every Friday