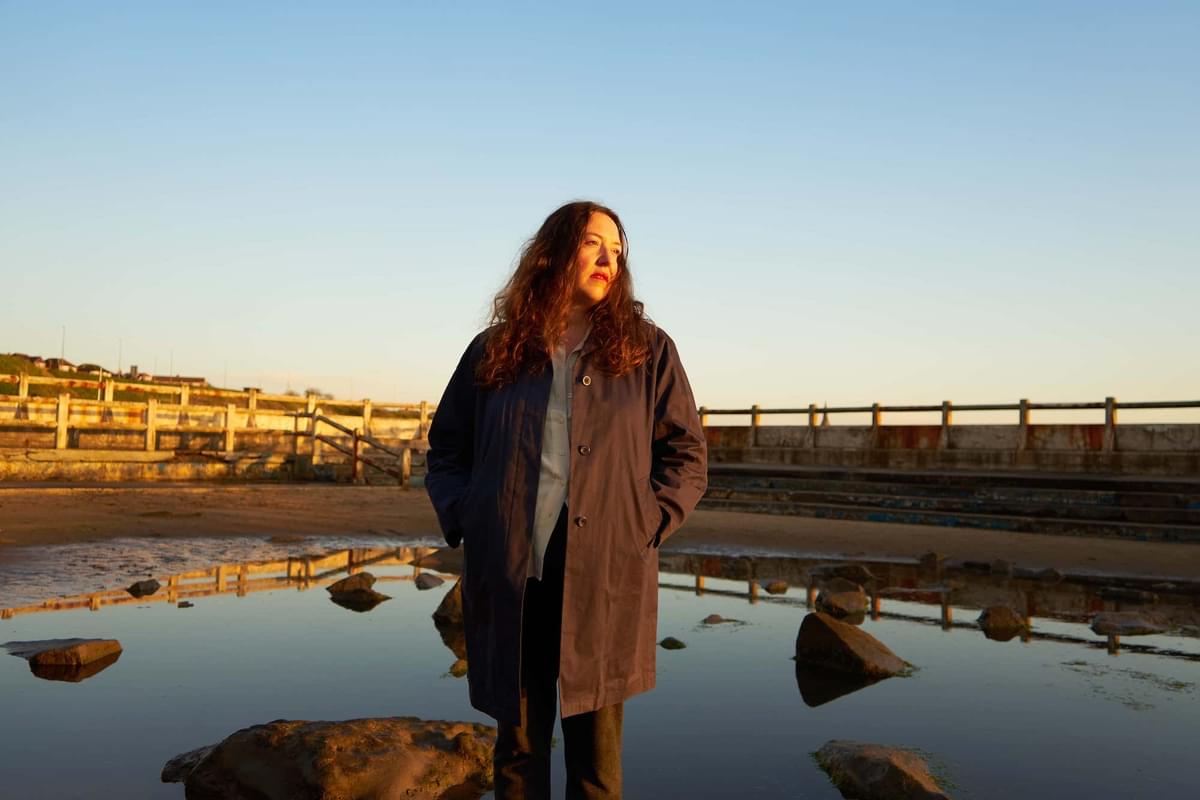 With a little help from her friends
14 July 2022, 12:00
With the cinematic Night Drives, Kathryn Williams has made the boldest and most intriguing album of her career. She tells Alan Pedder why she sees it as a tribute to teamwork.
Her debut album Dog Leap Stairs, named after a passageway in her adopted home of Newcastle, was released in May 1999, on the cusp of the filesharing era ushered in by Napster. It was famously recorded for around £80 (£135 with today's inflation) and sold by word of mouth alone. Spurning the advances of the industry – "She thinks we're all cunts," said one label A&R guy at the time – Williams did everything her way. It was the old-school way of going to manufacturers, getting a distribution deal and working things out on the job, but crucially it was her own face and name behind it all. Though they couldn't sign her, the industry learned to respect her.
A willingness to learn on the job is something that Williams still carries, and values, all these years later. It's how she approached writing her first novel, last year's The Ormering Tide. It's how she went about making her sleep-themed podcast Before The Light Goes Out, launched earlier this year. And it's how she turned writing with others from something to be feared into an unencumbered joy and the lifeblood of her work. "Back in the day the fear would be debilitating," she says. "It was so wrapped up in feelings of unworthiness and shame and not being good enough."
Her latest album Night Drives is a record that the 25-year-old who wrote Dog Leap Stairs could never have imagined; Williams wrote all but one song with other people. "I see it as a celebration of collaboration," she says. "The culmination of 15 years of having friends in music and writing together, and that becoming the most important thing to me."
"It's nice because I feel like I can sort of brag about this record, because I really don't feel like it's all about me. One half is about Ed Harcourt, who produced it with me, and what he did in the studio. And my half is split between all the different people I wrote the songs with. So it's not like I have to shout from the rooftops about how great I am. It's teamwork."
Night Drives is arguably the first 'proper' Kathryn Williams album since 2013's Crown Electric. In that time she's collaborated in one way or another with a famous dead poet (Hypoxia, inspired by Sylvia Plath's "The Bell Jar"), jazz musician Anthony Kerr (Resonator), author Laura Barrett (Songs From The Novel Greatest Hits) and former Poet Laureate, Dame Carol Ann Duffy (Midnight Chorus). She's also put out an Introduction compilation and an anthology boxset that took two years to compile, including ten of her albums and a bonus disc of rarities and newly unearthed treasures for each one.
"Making the anthology could have felt like an ending," she says. "Instead, it was more just clearing the decks so that I could progress. I had never looked backwards before. I was always just sort of plodding forward with making something new and then making something new straight after that. With Night Drives, I felt like I had to make something that feels like I've learned from all those past releases and is now a push forward rather than a plod."
With its cinematic sweep, broader palette of sounds and elements of mystery, Night Drives both confounds and exceeds expectations. From the fizzy electronics of "Human" through to the beautifully orchestrated, Proust-inspired, "I Am Rich In All That I've Lost", Williams and Harcourt have made a many-layered but accessible record that whisks away reality for 45 ravishing minutes. "I'd been listening to a lot of music while walking around with headphones on," says Williams. "It was a new thing for me, being totally immersed in a record and it making the surroundings feel quite magical and film-like. That's what I feel this record is good for."
I meet Williams for coffee and a slice of pie in the garden café of Camden Art Centre just off Finchley Road. She's down from Newcastle to play a sold-out Carole King tribute show curated by iconic London roots, world and acoustic music venue Green Note but hosted at the much larger space of JW3, across the street from where we sit. As we talk, the conversation is stopped a few times by the sounds of cutlery and cups falling on the floor. Someone's having a bad day, it seems. "It's a very drop-py café," she says, "I just want to give them a hug and say thank you for making me feel more normal."
Spending an hour and a half with Williams is like being in the company of a bubbly big sister. Instantly warm, she's never lost for words. Sometimes she says too much and then changes her mind ("Please don't put that in!"). She cries at least three times and laughs a hundred. She's as completely unpretentious as the first time we met, way back in the early 2000s. I don't even remember how. It feels like Williams has just always been there, being her rare and guileless self.
Heading to lunch, she says she tripped on the stairs at JW3, in full view of the security. The kind of thing that would mortify some but water off a duck's back to Williams, a semi-professional klutz. "That's just me all the time," she says, grinning. "Breaking my nose on a lamppost running for the bus. Tripping over and realising that my skirt's in my knickers."
"A comedic penguin is how I would see myself in daily life. But then when I close my eyes and sing it's like that penguin dives off into the water. When I'm inside a song it's like flying. It's only when I open my eyes again and realise I'm in a room full of people that the klutz comes back. I'm really lucky that I get those moments of grace. I mean, it would be really odd to have it the other way around. I'd have to be a comedian."
To be fair, Williams would make a great comedian. A bit weird in a charming way, sort of like Maria Bamford but with a soft Scouse accent. On stage, she has a habit of saying the first thing that comes into her head, whether it's the size of the piss she just took or blaming a sore throat on having given head in the green room (a joke, by the way). "Things just come out before I even know what I am saying," she says. "It's like there's a little person in my head saying, "I know, let's just really embarrass everybody here". Where is the filter?"
Growing up in the Childwall area of Liverpool, a leafy suburb that was once a village in its own right, Williams had a happy childhood. Her father was a folk musician in the 1960s and he and her mum would sing to Williams and her sister Emma as kids. When she was nine years old, Williams inherited her grandmother's dansette, her Joan Baez and Nina Simone LPs, and a Teasmade. She would sit in her room, drinking tea and listening to music, pretending that she lived on her own.
Williams does a lot of imagining still. Her albums are full of characters and strange situations – a woman who thinks she invented The Beatles, a webcam porn star, and the exploits of fictional 1970s folk star Cass Wheeler, the protagonist of Songs From The Novel Greatest Hits. "Human", the first track on Night Drives, came from a songwriting session with author Kirsty Logan in which she and Williams started by coming up with ideas of different magical beasts and where they might live, "like a minotaur living in a cul-de-sac, or a centaur in a block of flats where the lift is broken. We were just trying to make each other laugh with how incongruous we could make it."
There was one line in the original song ("Am I human? Yes / I am human") that stuck with Williams and a new song was born. It was one of more than 50 songs she'd taken to Harcourt after early recording sessions fizzled out and she felt she "needed someone to help me steer the ship" instead of all the decisions being on her shoulders. "What I love about Ed is that he's always up for the most outlandish things. There's a bit in "Human" where he sings "Excuse me while I kiss the sky" in this Jimi Hendrix robot voice, and we were just rolling around on the floor. That's what making an album should be like, full of joy and playfulness."
"I think the whole of this record has been about feeling like kids playing. Not being scared of doing things outside of what people think you are. Not being scared to just try something weird, even if it fails."
In the early days of Williams' career, you got the sense that she was almost apologetic for the few flights of fancy that she did take in her music. Her third album, the excellent Old Low Light, was a knottier and more ambiguous collection than Dog Leap Stairs and its Mercury Prize-nominated follow-up Little Black Numbers, but was less well received. The glare of publicity that had come with the nomination had pushed her into the arms of a major label, but Williams was left feeling cynical and guilty that she couldn't be the artist they wanted her to be. It was only when making a covers record "to fall in love with music again" that she remembered that some of the best songs were, in fact, really quite peculiar.
Besides "Human", the strangest song on Night Drives is probably "Moon Karaoke", a tongue-in-cheek song about loneliness and deepening paranoia with a planetary twist. It's one of two co-writes with Andy Bruce on the record, along with "Night Drive To The Lake". The seed of the song came from a woodcut print Williams made of a singing moon that hangs in her home studio; the karaoke part was Bruce's idea. "It's kind of an amusing way to think about those times when I've felt sorry for myself," she says. "Because I do get lonely. Mostly when I am around other people. When I'm on my own, I don't feel lonely. It's just those times when I'm in amongst things and don't feel like I'm connecting. That's when the loneliness hits."
Williams has often felt like an outsider in the music industry. That sort of fallen down the back of the sofa feeling, never quite where others feel like you should be. These days she's embracing the fact that there's no box that she fits into neatly, because it gives her the freedom to make any kind of record she wants to. No one would have expected the woman who made Little Black Numbers to make a record of reconstructed jazz standards like Resonator, or to wander into low-key trip-hop as she did with side project The Pond. "I remember someone said to me after I did the jazz album, "Kath, you're really good at gathering fans then making an album and losing some." I don't mind that. I'm lucky enough to have been doing this long enough that I'm less pulled along by the big dog of ego on a lead. I don't feel like I have to prove anything."
With the full support of her label One Little Independent, who took her on in 2009, and Neil Le Flohic, her husband of 20 years, Williams knows how lucky she is. And she appreciates it all the more now, after the past two years of pandemic. Where other artists have been desperate to get back to touring, Williams feels otherwise. "I've been sort of upset with myself that I'm not like that," she says. "But, fundamentally, I've realised what my happy place is. It's sitting in bed on a Saturday morning with Neil, doing the cryptic crossword together as a team. The cat sitting on me, sun through the open window, and hearing my boys happily making themselves some breakfast."
I ask Williams if, when compiling the anthology, it felt like she could trace almost the entire arc of their relationship through the songs. Her eyes well up a bit. "There is a connection. The song "Old Low Light" was for Neil and now, on Night Drives, there's a song called "The Brightest" that's for him too. That light is still burning after all this time."
"I couldn't have had this career without his support. I said to him when we got married, "I will love you forever. Just try and help me keep making music." And he's stuck to that a million times. He is just a really, really special person. And I know that if I never sing another note, if I never wrote another song, if I never did anything else creative, that he would still love me."
For much of the past two years, Williams has been doing regular live performances from her home studio, on Instagram and Facebook. Most weeks, her husband would be one of names that would pop up as a viewer, sometimes making requests, even though he'd only be in the room next door. On a couple of occasions where Williams had a bit of a sore throat, he'd tiptoe into the room and slide a glass of water across the table, just out of shot.
It's that constant support and small gestures of love that inspired "The Brightest", a jangly, almost Big Star-like track that may just be the sunniest song she has written so far. "There aren't enough songs that are about longevity," she says. "Everything to do with romance is geared around the first flurries and fluttering hearts. No one really talks about the sort of the slow and steady gravitational force of someone just wanting the best for you in your life."
There's a fine line that songwriters often cross when writing about other people's relationships from the perspective of their own settled domestic lives. They can seem inauthentic, or at worst didactic and judgemental; Williams would never. As a songwriter, and particularly as a co-writer, she works to really entrench herself in the characters of her songs, to feel out their feelings with compassion and an eye and ear for disarming detail.
Lead single "Answer In The Dark" is exemplary in this respect. Co-written with Romeo Stodart of The Magic Numbers and Øystein Greni from the Norwegian band Big Bang, Williams says it came from a deep and emotional discussion about feeling stuck after the end of a love affair. "You know where you are and it's in a dark place," she says. "You haven't found the door to the exit yet but somewhere from in a tunnel outside you can hear this answer calling to you. You don't know where it's coming from but you know that it's hope."
"The verses came from imagining times when I've been in a really bad place. I was also thinking about children and how when they fall over you can't knit their cuts back together, but you can sit with them and you can let them cry. And letting someone cry or holding someone while they are sad is far, far better than doing what I usually try and do, which is fix people."
For "Night Drive To The Lake", she says she imagined the story of two lovers driving with headlights on in the pitch black, in a state of flux, unsure if their relationship is going to fix itself or not. When they reach a lake, the water and what it holds becomes a metaphor for their turmoil and uncertainty. "I love the idea of a fly landing on the surface of the lake and being able to stay afloat while other things just totally sink down to the bottom," says Williams. Listen on headphones with closed eyes and you can picture the fly as it ripples the water, the rusting car below with a haze of orange around it. There's something almost supernatural about it.
"Chime Like A Bell" is another song that plays like a short film in the mind; a carousel comes into focus, with painted horses laughing grotesquely, their varnish cracking from the pressures and weathers of life. Co-written with former Mother Earth frontman Matt Deighton, Williams said the song spilled out in just 10 minutes, the images flip-flopping into her mind "like a Jacob's ladder toy". A circular guitar figure works with the strings to give the song a distinctly eerie atmosphere. "I really like that," she says. "It's almost like something from Tales Of The Unexpected."
The emphasis on big string arrangements is what gives Night Drives so much of its scene-setting power. What worked so well between Williams and Harcourt on Hypoxia is amplified here. Williams is full of admiration for Harcourt, describing her amazement at sitting at his kitchen table, watching him handwrite the score, and how he would catch her melodic ideas and run with them. "I love his unbelievable dedication and immersion when he's working on a song," she says. "Working with him is like holding hands and running downhill. You know, that feeling when you think your legs can't keep going but they do. It's exhilarating."
"It's like being in the studio with Paul McCartney or something," she adds, picking out one scene in Get Back where McCartney is working out "The Long & Winding Road" and Ringo Starr, sitting next to him, just lets one rip. "Yeah, so Ed is Paul and I'm definitely farting Ringo... Don't put that as the headline."
Jokes aside, it's a trait of Williams' to frame things in terms of the mundane and the divine, and the friction between them is a frequent theme in her songs. "Mirrorball" from Old Low Light makes it explicit; "Starry Heavens" on Night Drives is a subtler example. "That's just my life," she says. "This sort of constant clashing of those two things, bumping into a lamppost together. I love the idea that the universe has plans for us, and I'm like, yeah, alright, great, I'll get on to that universe. But first I have to clean the toilet."
You have to wonder where Williams gets her energy from. Night Drives isn't even out yet and she's got at least three other records on the go. First, a collaboration with Edinburgh-based musician Dan Willson (better known as Withered Hand) has been written and recording is planned to take place in Iceland later this year, with a release date in 2023. Second, a "Bangles meets '80s indie-rock" album with Michele Stodart that has been in the works for a while now and will see the light of day at some point. And third but not least, an album of love songs, the second in a planned eventual trilogy with Carol Ann Duffy. "Actually, she just texted me today," says Williams. "Getting a message with ideas to do with love from a Poet Laureate and she's saying, "Just muck about with it Kath, don't worry"… that level of trust is amazing."
"If you're in the music business for as long as I've been, there's a sort of managed steady decline and it can make you feel hopeless. I mean, I am in no way a household name; I can still go to the garage in my slippers and have a lovely, normal life. But my ego does sometimes need someone to pat me on the head and say well done, so to have collaborators I really admire who say, "Well, I think you're brilliant", and you trust their judgement, it's really a shot in the arm."
With the clock running down and some pie left uneaten, we head across the road for soundcheck. Earlier, during rehearsals with the other women – Astrid Williamson, Beth Rowley, Emma Holbrook, Fiona Bevan and musical director for the evening, Michele Stodart – Williams says she realised that her being there was really quite clever. "When you can surround yourself with such great talent and be the weakest person in the room, that's smart. That's good advice for anyone. Don't ever try to be the best in the room. Just try and be not shit and learn from all the others."
Standing to the side, not really knowing what to do with her hands, she seems much less at ease than over lunch. Maybe it's just nerves, maybe it's just what funny penguins do. But when she steps up to the mic, closes her eyes and opens her lungs, all that falls away. What's left is a feeling of flying.
Night Drives is released on 15 July via One Little Independent Records
Get the Best Fit take on the week in music direct to your inbox every Friday