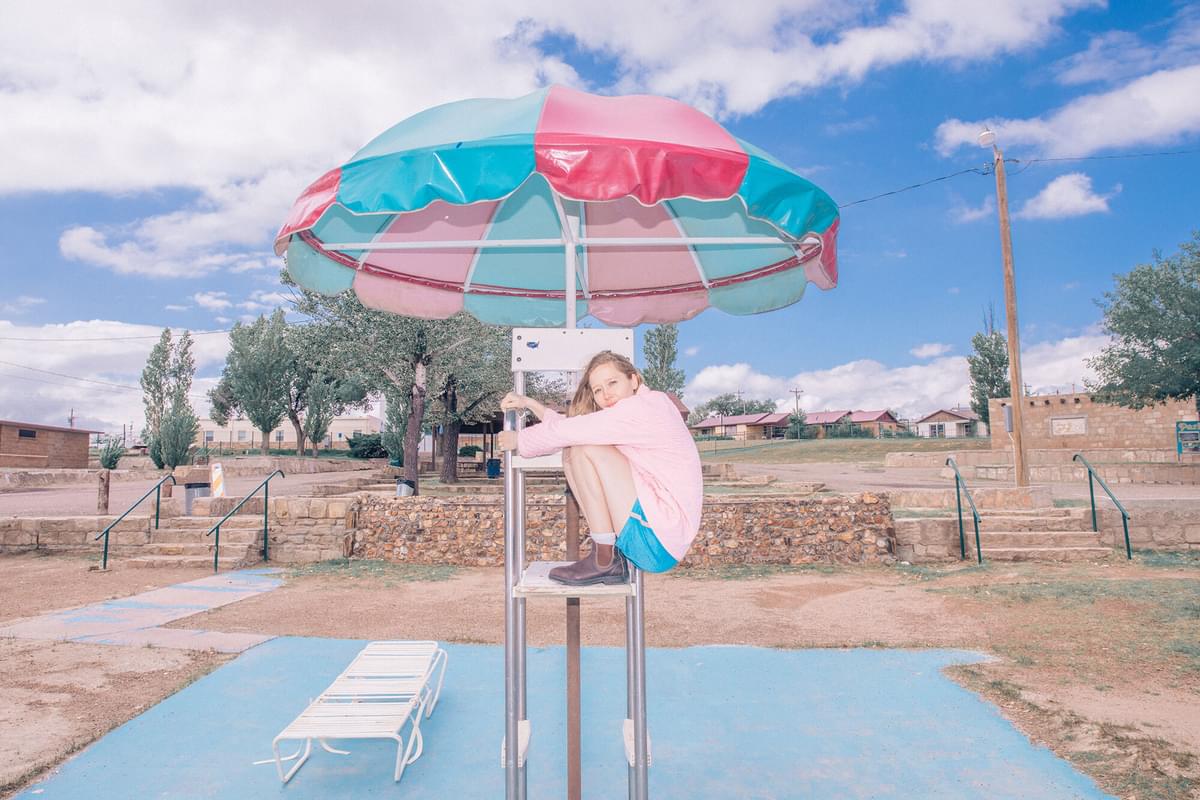 Julia Jacklin doesn't care anymore about what people think
19 February 2019, 08:00
"I don't want to be touched all the time / I raised my body up to be mine," reads a lyric on "Head Alone", the second single taken from Julia Jacklin's sophomore album Crushing. The message is simple yet defiant. She's unrelenting; an artist with a true sense of ownership and independence. And it's Jacklin at her finest.
The female voice needs to be championed more than ever with the climate we're living in and Jacklin is conscious of this. Whilst she's breezy and laidback, an underlying awareness of how she might be portrayed remains. For Jacklin, now is her time for people to stop and listen. They need to hear her complaints, desires, and experiences. This isn't a particularly novel idea by any means but as we've seen in recent allegations of misconduct by male musicians, female musicians aren't being listened to enough.
"Women have been singing and talking about these things for a long time. It just happens that we're all paying more attention and maybe listening – listening to lyrics a bit more closely than we used to," Jacklin says. "I just went through a lot – a big two years of touring and drawing boundaries, and figuring out who I want to work with, and who I want to have around me.
"I recognised the different ways in which you're treated as a woman in the industry and by fans and by people in the industry," she continues. "And by people on your team and just kind of realising that unless I just stand up for myself, I'll never get that space I need."
Jacklin is unapologetic and knows what she wants. There are so many male musicians who can assert themselves without being viewed negatively, so why can't things be different for women? "You really have to be loud and ask for what you want," she says. "I don't care if someone thinks that I'm being dramatic. Or if people think I'm being political. I just don't care anymore. And that's really nice."
It's been almost three years since Jacklin's debut album, Don't Let the Kids Win, and the 28-year-old Australian musician is keen to highlight just how distinct her approach to making Crushing is from her first record.
"I just didn't think about it at all," she says, in reference to managing expectations. "To be honest it worried me at first but I was too busy and stressed and touring. I think that to try to write music to please takes a lot. I know that as soon as that gets into your head, it can really mess things up."
Crushing has offered Jacklin some respite following a busy few years touring and releasing music under a side project, Phantastic Ferniture. "I had writer's block from touring for a year and a half," Jacklin reveals. "So by the time I started writing again I was just relieved that I could still do it. I wasn't too worried about whether or not [new tracks] sounded, say, the same or different from my first songs."
"There are so many male musicians who can assert themselves without being viewed negatively, so why can't things be different for women? You really have to be loud and ask for what you want."
Growth as an artist is a concept that fans and critics alike tend to latch onto but for Jacklin herself the difference between her debut and new album is immeasurable.
"I kind of just didn't feel that much pressure with the second record, because it feels like I'm a completely different person from my 24-year-old self," she says. Laughing, she adds: "I don't even know what my first record sounds like. I think a few people have asked me, 'How does your second album differ from the first one?' and I'm like, 'I don't know, actually.' I have to listen back to my first one and make notes."
Jacklin is joyful, proud and simultaneously humble when discussing Crushing. She possesses a certain unique charisma that enables her to praise her work without seeming at all boastful.
Putting this down to confidence and experience, she explains: "I think just because the first record was my first time in a studio I didn't really have much confidence in the space. And I think when I listened back to it, I could hear maybe some concessions that I made because I was just a bit shy or like, some decisions that were made because I just didn't speak up and didn't kind of know how to ask for what I want."
By contrast, it's evident throughout Crushing that she's an artist who knows what they want and knows how to ask for it.
"I really care about my first record. I don't think it's a bad record. It just reminds me of a time when I just felt pretty inadequate as a musician," she says. "Whereas with this new record I think I just kind of understood that, you know, making a record is not about having a perfect guitar take or a perfect vocal take. I thought as it's the first time, I've got to get the songs down perfectly, because they're going to be recorded for the rest of time."
Jacklin goes on to explain that rather than focusing on perfection her albums are more of an example of the space and time that she exists in at that point in her career. She is keen to express this, warts and all.
"With this new one it was like, I'm making a record for me. I'm documenting where I'm at at the time musically, lyrically, and personally." She adds that the rawness and organic nature of where you're at as a musician is key to the creative process. "You've got to kind of respect that that's where you're at. You can't perform better than you can. You can't pretend you're a better guitarist than you are."
Putting yourself first is often viewed as selfish, even self indulgent, however this certainly isn't the case for Jacklin. For her, it was a necessary part of writing the new album: a form of self care more than anything else. As a woman in the music industry that's no easy task.
"I definitely struggle with this business and feeling like it's very self-serving, and narcissistic," she says. "I do worry sometimes about what it's going to do to my head when you spend so much time thinking about it and writing by yourself." The first person perspective, however, serves as vital inspiration to Jacklin. "I connect a lot more with that sort of writing," she says.
"I'm making a record for me. I'm documenting where I'm at at the time musically, lyrically, and personally."
Jacklin notes how important messages can be lost when artists don't open up, personally. "I think sometimes people try and write these songs about these universal truths or social issues but they're not putting themselves in the narrative in a vulnerable way, then it can just come across as a bit preachy," she says. But she presses the point that these are merely her own experiences. "If that resonates, that's great, if not, that's fine too."
Crushing is quite an intense album title when you break down its every meaning. It's almost onomatopoeic. "It just took me a long time to find the title," Jacklin says. "There was a deadline that I needed to meet and I just couldn't find a lyric on the album that really like encapsulated the whole feeling." She notes that it has both positive and negative connotations, though always intense – be it the physical act of crushing, crushing a test, or crushing on someone in a romantic way. "I was kind of trying to show all of the different emotions within that space."
Deadlines also played a pivotal role in the final album cover, which features Jacklin in a vintage store in middle America. In the picture she's wearing a sweatshirt with the album title emblazoned on the front. There's a sense of joy and whimsy that serves as a dichotomy for the album's emotional content. That was Jacklin's intention.
"People just kind of assume that I'm this depressed, melancholic, sad girl who needs to be confident. I find that a lot of time when I do interviews, people approach me in that way," she says.
Despite the conception that emotion automatically equates to melancholy, she points out that her work should be viewed more with a sense of optimism. "I find actually...a lot of the songs on this record [are] quite hopeful to me because it is about reclaiming myself, my confidence, my body, and my personality. And I guess I just wanted the album cover to reflect joy and hope."
"I don't want to play into the sad girl trope because I already feel like I did."
For Jacklin, the right aesthetic is key. "I don't want to play into the sad girl trope because I already feel like I did. The big part about music videos, and aesthetics of photography for me, is to try and get people to listen to my music a bit differently than they might. If I just put a lot of sad imagery to my music it kind of changes the way you listen to it."
Jacklin challenged this idea further by featuring her family and the band Body Type in the video for "Pressure to Party", returning to the same house featured in the visuals for "Pool Party", a song on her debut. The house is in her hometown of Springwood, New South Wales, the town that she grew up in with Nick Mckk "who did all the visuals for the album," she says.
"It was nice to return much more confident and have a nice day with everyone," she continues. "I just kind of thought it would be funny if I put the girls [from Body Type] in my old outfits just as a throwback."
With these small allusions to the past Jacklin continues to demonstrate her growth and solidify her vision. She really is doing things on her own terms.
Get the Best Fit take on the week in music direct to your inbox every Friday