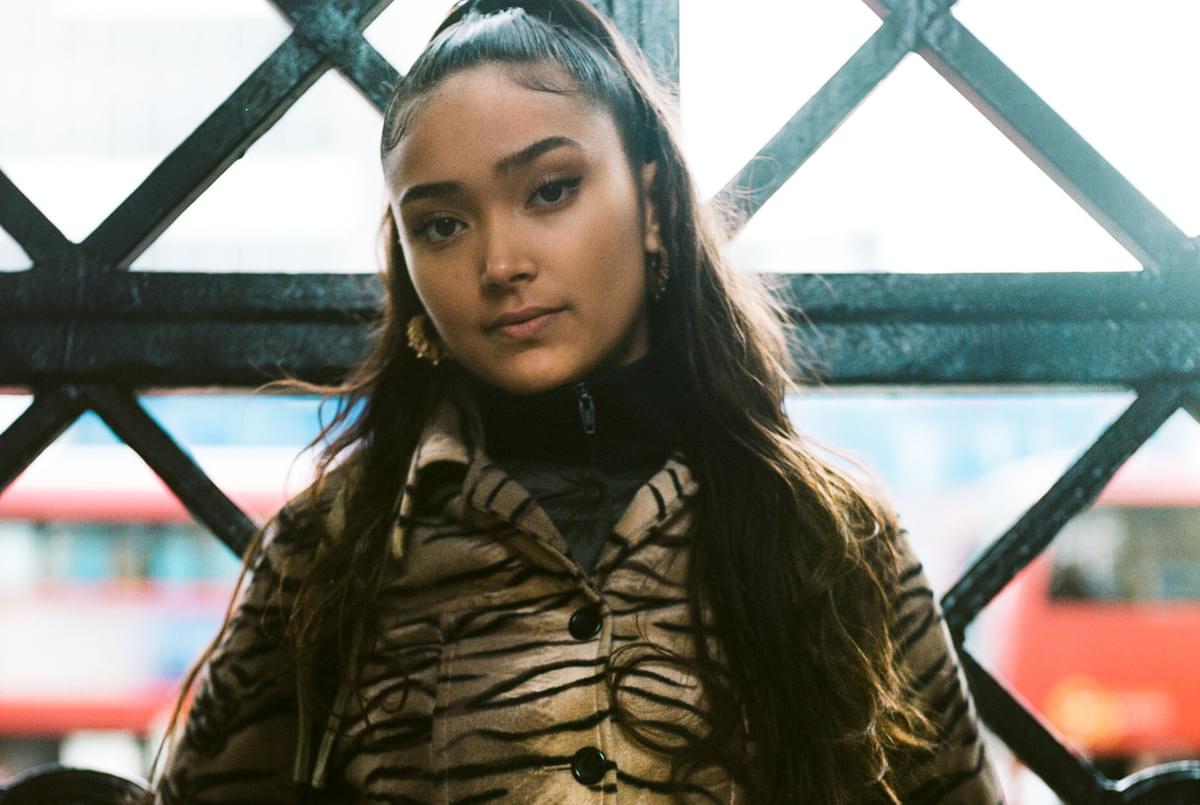 On the Rise

Joy Crookes
22 March 2019, 08:00
Joy Crookes' South London stories are filled with wit, soul and sensibility, tracing a candid journey from past to present.
Joy Crookes is unabashedly candid in person - at once both refreshingly down-to-earth and wielding a calm assertiveness beyond her years. After all, as the 20 year-old singer notes: "I talk about my libido. I can't really hold back now, I've given too much already."
It's been a busy year for the singer/songwriter with the release of the Reminiscence EP in January - a collection of five distinct tracks melding pop, R&B and soul. "Two Nights" has since been playlisted on Radio 1 and her June date at London's Jazz Cafe is sold-out.
Crookes grew up a child of four in Elephant and Castle, an area of the UK capital just south of the river known for its rich culture, independent businesses and wartime history - or perhaps for the £3bn regeneration project many locals say is damaging their livelihoods and communities by forcing gentrification. While her Irish father played a key role in Crookes' musical education - filling their car rides with an eclectic mix of Pakistani music, Kendrick Lamar and Gregory Issac - coming of age in such a vibrant, but nonetheless stigmatised, area inevitably shaped her perspective on life and her mixed heritage: "I always say I'm 100% percent Bengali/Bangladeshi and 100% Irish", she says, "I just don't understand how you can split someone into two? I'm mixed, I've got two races but I'm 100% of both of them. And 100% ENC - Elephant & Castle - pretty much."
Looking back, it's difficult to pinpoint exactly when her journey began: "All the years I just spent loving music and not really thinking about being in the music industry were part of me becoming a musician," she says. She ultimately piqued the music industry's interest by posting videos of herself covering songs on YouTube but Crookes wasn't always solo: "I used to set up bands with my mates - there's two friends called Miki and Joe - and we used to go to Joe's house [to play]. He had a proper band room with a drum kit and Miki would play rhythm guitar or bass and I would play guitar."
Their repertoire included "crap covers of New Order", Gregory Issac's "Lonely Girl" and original songs the 13 year-olds would write on Garageband and perform at her house. To this day, friends still feature on Crookes' recordings - her best mate Karim [the artist known as Karim the Peasant] features on the final track on Reminiscence "For a Minute", in a poignant tribute to their hometowns. "I always make music at home so it wasn't anyone else's choice, like the label, to put him on that song," she says. "I was producing it at home - I co-produced that song and the original production I did myself - and I rang him over and was like "Brah I think I need a feature"".
Whilst Karim had written the verse in ten minutes, Crookes was adamant that the pair took time to think deeply about the words and their meaning before recording: "I sat him down and was like 'Think about it Karim, this is an important song about the areas we grew up in.'
"He grew up in East London, Barking," explains Crookes,"...a similar kind of situation, not exactly High Street Kensington. And we talked about the people that he wrote about in his verse and proper analysed everything, so when he got up on the mic that emotion that filled up the room filled up the fucking microphone too."
"You're a product of your environment, South London is a huge part of who I am"
I meet Crookes in Brixton on a mild February afternoon. Sitting in an armchair, her legs curled up underneath her, she looks out across the sloping rooftops and gardens from the windows of a second-floor office, and smiles: "That was really good, I loved that day. I asked him [Karim] if I could save the piece of paper he wrote that verse on so I've still got the lyrics."
"For a Minute" is Crookes' favourite track on the EP - both an antidote to the xenophobia plaguing Brexit coverage and a love letter to the places that made her: "You're a product of your environment, South London is a huge part of who I am."
Nevertheless, she maintains that listeners don't need to know where she's from or her ethnic background for the music to resonate with them. She points to the artist M.I.A, a rapper, singer and songwriter known for both her music and activism, as an example of this: "[She's] a fantastic female artist and she just happens to be Tamil Sri Lankan... a Tamil Sri Lankan refugee. She's loved by the masses [but] she's fighting a big battle back home and has a political stance. So in a way although the listener doesn't need to know, it's a beautiful fact of MIA and you know she does put on for her people as well as other women."
Is this part of the reason Crookes is upfront about her cultural and ethnic identity on tracks such as "Power"? "It's a fine line, it all depends on how it's used?" she says. "For South Asian artists, MIA is the most famous in the West - Jay Sean and Zayn Malik too, those three probably. So in a way it's good that I'm opening up to the fact that I'm Bangladeshi."
Opening up in a way that celebrates your family, your culture and where you're from, without making it the only part of your identity? "Yeah exactly because then people might expect me to have sitars in each song [laughs]. The whole point of art a lot of the time is for the person viewing or reading or listening to it to take what they want from that, it should be universal. Like the way I see it, when I release my music it's not mine anymore, it's out there so people can kinda take what they want from it."
Reminiscence looks back on her recent experiences, drawing on tales of romantic relationships, friendships and the reality of living in an unequal world. The EP title was chosen by Crookes when she recognised a common thread running throughout the tracks as well as her psyche: "Reminiscence is such a beautiful word....like I can't really write a song without thinking back, all my songs come from somewhere, from some situation. If I change the colour of their hair, their shoes or top, or the alcohol we were drinking, it still comes from an honest place."
"Two Nights" is testament to this, an upbeat, breezy opening track that belies the weight of decisions the protagonist will make. It's also a literal retelling of 48 hours in which she found herself following her instincts and impulses through different towns. "It's a song about past to present," Crookes explains. "All of the first verse is past, then it comes to the chorus, the present, which is the message of this song: 'Just because I'm afraid of loving / don't mean I don't want to love him' - just because I've had to deal with these fucking wastemen, all trying to use me for sex or whatever, or even myself using other men...
"I'm in the present now, I've cleared it up in verse one, baby, and I'm ready to go! And then in the second verse when 'I'm running through East Street with emotional baggage' it reveals that this guy I fall in love with just so happens to have been through all the stuff that I've been through, so he's clearly reminiscing too."
Reminiscence isnt something used just to relive moments; it's about acknowledging the lessons learnt and celebrate gaining a greater understanding of oneself: "'Two Nights' is talking about how I had to 'pack my pride and shelve my libido'. That's self-care, it's not even about relationships, it's just like stop shagging for once! Reminiscence is like talking to myself and looking from past to present and thinking 'I don't want to do that again, I don't want to fuck up there again' and I think it's really important to sometimes look behind before you move forward."
"I've always been a bit of an attention seeking brat. I feel like I always need to have some sort of input on things which is obviously helpful in the music industry."
This careful self-introspection can only encourage Crookes' rise as a young artist - she's friendly and assertive, confident without unwarranted arrogance, and open to sharing mistakes as much as proud moments. Has she always had this self-belief, this confidence? "I don't think I'm that confident," she explains. "I come across as confident which is a different thing. I know how to carry myself, I know how to walk into a room and I can say that with confidence.
"I know how to talk to people of all ages and that's down to my parents, it's them putting me into situations that a kid from Elephant and Castle wouldn't necessarily have been introduced to at such a young age. Like I'm working with my mum in her cafe, serving up sandwiches, social situations where you either say something or say nothing. The sort of person I am I can't really not say anything, I've always been a bit of an attention seeking brat. I feel like I always need to have some sort of input on things which is obviously helpful in the music industry."
Whilst Crookes has always been a songwriter, she admits the transition to music as a career has been somewhat mystifying. "Honestly I don't know how it went from like having fun to getting interviewed. It's a bit weird to be honest with you because I think 'what have I done in the last two years?', but actually I've done so much!"
When she first entered the industry in her mid-teens, Crookes found herself recording with a producer who undermined her songwriting, knocking her confidence in herself and her music. She has since made peace with this individual and rediscovered her joy for songwriting, learning to trust her own intuition: "It genuinely comes down to the songs and the craft and the writing… And believe, believe, believe in yourself. And actually being a little bit fucking mad to think you can become a musician of any capacity, because the chances in this industry are like none."
Has having the right team around you, a supportive group of people, helped you reach that? "You know obviously people have helped along the way - the management I've been with have helped, the publisher I've been with has helped, the label I'm with now has helped - but I wouldn't have come to that if I wasn't informed about other decisions. It's that reminiscence thing, like you need to look back to go forward, you need to know who you can trust, you need to know who you don't trust, you need to know who is going to have your best intentions [in mind] and who's not going to. But it all comes down to the songs and I can never lose that."
The empowering "Man's World" embodies self-trust; a captivating track conjuring visions of smoky jazz bars, bitter alcohol and the heady freedom of a woman's self-reliance. This time, the destination is a metaphorical one: the narrator's realisation that they alone are sufficient. While "Two Nights" was about finding solace and connection with another person, "Man's World" is about finding it within yourself: "I ain't got no lover / I ain't got no time / I ain't got no mister to tell me what, when and why". Again, Crookes points out the chronological structure and its significance: "So I've told two stories in the verses about being a brown girl that never blushes and you thinking you can get into my life… and then the present is "I find my love in red wine" which is a very big cuss to the person because I'd rather choose red wine over you, B!"
For Crookes, songwriting is also storytelling. She uses her music to rewrite the narrative for Elephant and Castle, and for young Londoners. ""For a Minute" is about my area, which people used to say was a shit-hole," she says. "I had to think back about my childhood and be like actually I really liked going to the chicken shop with two pound, because all my mates used to do that, it was a ritual we had after school in the summer".
The track gives a voice to Crookes and her friends, creating a beautiful image of warm summer days and 'creamy legs': "Because ethnic girls we just know how to cream those legs [laughs]. You know what it's like though, in South London, it's this creamy legs and London air - when you see a group of girls in secondary school and their legs are creamed like they're not going to get ashy for at least three weeks by the way that they moisturised this morning."
"People are a little more sinister towards immigrants right now and you feel that. It half makes me sad because that's the natural place your heart would go, and it also makes me fucking angry."
She's wistful, recollecting these moments in a place that meant so much to her: "[It was about] thinking back on those tiny pleasures in the place that wasn't really deemed pleasurable. Even that song, the chorus is present, like 'Make the most for a minute'. All I do is just look back in my songs, I reminisce."
Does she ever need time before she can look back on difficult personal experiences and write those songs - or perform them? "I did that with the song 'Don't Let Me Down', I'd literally just written it a week before and then performed it at my first headline show in London. I consider them my best songs because they come from a very dark place. But the thing about dark or deep songs is that they come where there is a musical flow and it's as if the song writes itself and presents itself to you, your subconscious mind just spills on the page. So in some ways it's easier to perform those [songs] because you're not justifying the song if you don't go out there and perform it. They're your special songs."
On Twitter Crookes is vocal about her anger at gentrification, racism and other injustices blighting society, particularly in London and the UK. "It would be stupid to say that it doesn't [affect me]. I'm from a family of immigrants, obviously I feel something...there's a tension, an anger in the air… people are a little more sinister towards immigrants right now and you feel that. It half makes me sad because that's the natural place your heart would go, and it also makes me fucking angry… and I think you can tell from my Twitter."
Naturally, it also impacts on her own creative expression and she points to "For a Minute" as an example of this: "[It's] celebrating the culture of South London which is obviously a big melting pot - and celebrating that with the creamy leg thing, and even the line "hands are up but we still care"… like I can still live my life and music can be my escape but I still care."
It's a stance also in evidence on tracks such as "Power", which slams misogyny, challenges the patriarchy and declares "Melanin is not your enemy". "I care, I really care about using my voice," she explains. "I know Power' from my first EP has influenced all these other artists, they've told me they've taken something away from that song. I was thinking about Trump when I wrote the line "I'm your scapegoat, feed me blame", you know? "ou've got to live in a serious bubble to not be affected by [current events], to not feel affected or feel like something's wrong. You said it, it's a sign of the times… you can feel it in the air."
"What I find fucked up about music is the fact that people put you on this pedestal when you're just a human being as well"
Crookes is aware that often society expects artists to be happy, infallible people that others can aspire to be like, forgetting that artists are also affected by political or personal turmoil. "That's what I find fucked up about music, the fact that people put you on this pedestal when you're just a human being as well. You have the same doubts, if not even worse, because you build an art, you build a craft up that's come from a stupidly honest place and then [you're] just perceived as someone who has it all together. I think artists should also be allowed to talk about mental health, that's why I love James Blake because he's upfront about it."
After June's show at the The Jazz Cafe, Crookes will start writing her debut album, she tells me "and I need some fucking space and time to do so." Which other artists in music are inspiring her right now? "I'm so proud of people like Raveena [Aurora], she's big goals, she's an absolute sweetheart and I can't wait to meet her when I go out to America one day. Love Naaz, in Amsterdam, she's doing really well and she's another just absolute sweetheart. Love MIA, don't know her but love her and I've seen her a couple times… she's incredible.
"Sampha The Great is amazing, Ms Banks is incredible - I think she's the best in her game. I like Sam Fender's music, I like his lyrics - that song about "Dead Boys", it's quite sad but I think we needed a song like that, about suicide."
Although she admits that aspects of being a musician are challenging, Crookes remains humble and grounded - an attitude that stems in part from the experience of visiting her mother's native Bangladesh: "I am so fucking grateful that I'm a musician. I go back to Bangladesh and sit on the Bay of Bengal, the longest stretch of beach in the world, and there's cows walking past me, there's these men in their lungis and stuff. I'm like 'I literally came from here, this is where my roots are, this is where my blood is'".
"My Irish family, we're from north-side Dublin… it's not exactly the most blissful place. And I'm here in London, one of the biggest cities in the world, making music as my job. It's unfathomable, like I cry about it sometimes, I just can't get my head around it."
"Since I Left You" by Joy Crookes is out now
Get the Best Fit take on the week in music direct to your inbox every Friday