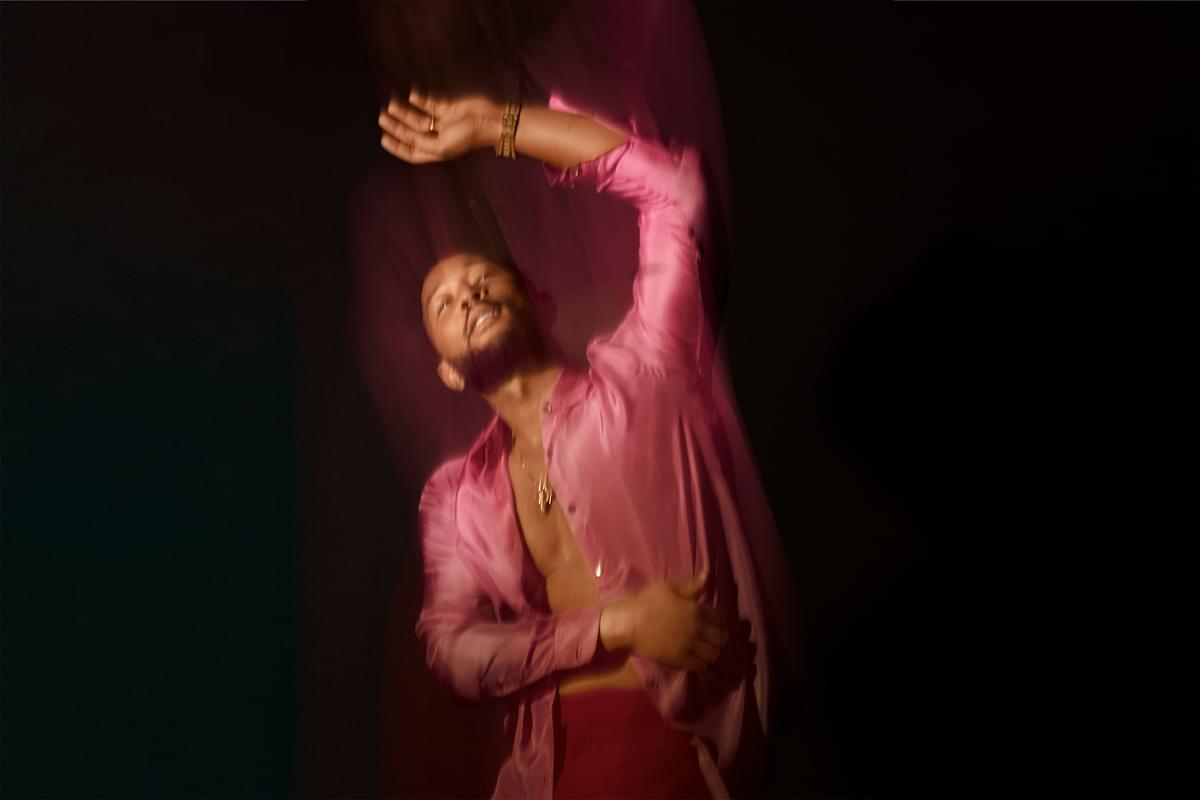 The many sides of John Legend
09 September 2022, 08:00
As he releases his eponymous eighth studio album, John Legend opens up to Sophie Walker about the space between struggle and success.
John Legend wears his name well. It can be seen in the way he settles at his piano as if he were greeting an old friend, thrilling the keys with a familiar touch; it can be felt in his assured smile, the timbre of his generous laughter that he gamely lavishes upon even the most passing amusements – and it can be heard in that voice.
'Legend' lies within those smouldering hymns and ballads of violently moral beauty, in the pews that raised John Stephens to be a saint, but where he learned the art of being a sinner.

"It seems quite presumptuous", he remarks of his name, met with polite titters from his guests at the first of his private, invitation-only two-night residency at Ronnie Scott's as he passes through London. It strikes an altogether different chord from the technicolour, loose-buttoned glitz of his recent Las Vegas residency. The jazz club of only two-hundred people prefers the business of intimate, fireside chats. This is a little treat, if you will, on John.

But still, Legend leads us through the same waters, reads from the same script of his story so far: the child from Springfield, Ohio, who begged to sing in the choir at five years old, learning gospel on the piano from his grandmother; the student who stumbled upon his first studio session playing on The Miseducation of Lauryn Hill, who met a "guy from Chicago" who went by the name of Kanye West. He leads us through a tapestry of appearances where John Stephens was an apparition, from Jay Z's "Encore" to Alicia Keys' "You Don't Know My Name" ("Yes, that was me, too", he beams), and how, through divine circumstance, he came to be John Legend. He courts a sense of modesty, bowing his head in deference to applause, but that knowing twinkle in his eye betrays that he is all too aware of exactly who is and why he's here.

For all the world, it would seem that life, for John Legend, is a truly a bowl of cherries. He has the distinction of being the youngest, and first, Black male to officially attain an EGOT – a lethal concoction of an Emmy, twelve Grammys, Oscar and Tony. So lengthy are his awards and nominations, in fact, that they merit their own Wikipedia page. Notably, among these, he has been crowned Sexiest Man Alive. Even in his infancy as an artist, his talent warranted drastic action: Kanye West essentially built G.O.O.D Music around Legend to support the release of his tide-turning 2005 debut record, Get Lifted. "All of Me", an ode to his wife, model and presenter Chrissy Teigen, has accumulated almost two billion streams, anointing countless weddings; and "Ordinary People" endures almost two decades on, a soundtrack to the precarity of modern entanglements. But if you ask him, above all, he is a devoted father to Luna Simone, 6, and Miles Theodore, 4. In this land of impenetrable sunshine, surely there can be no wrong.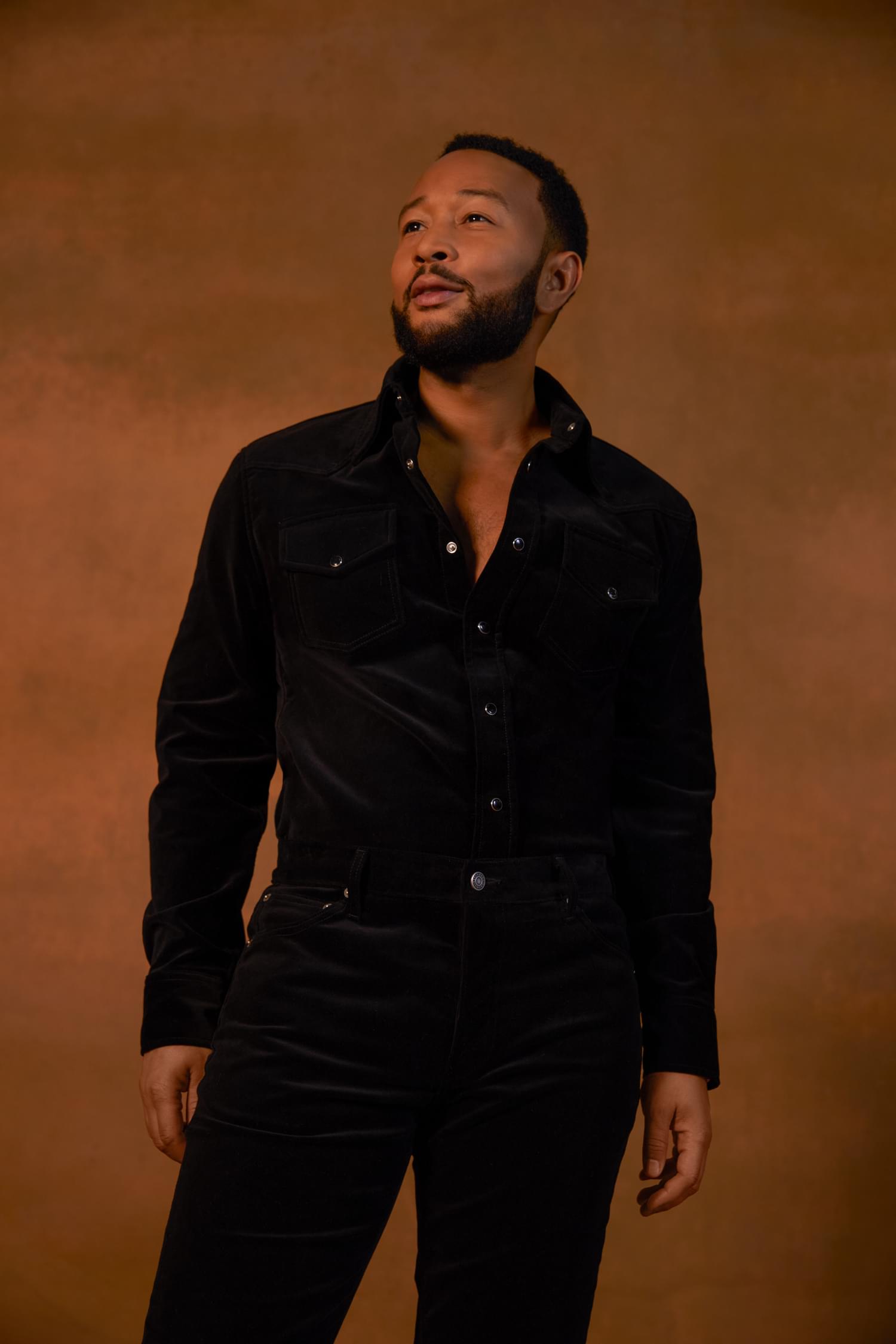 There is an inevitability to the fact that I meet John Legend in one of the best hotel rooms money can buy: The Savoy's Royal Suite, by Gucci. The house's founder, Guccio Gucci, worked at the hotel as a luggage porter when a young man, inspired by the sartorial decadence of the elite who would stay there. In honour of their intertwined histories, The Royal Suite is entirely decorated with Gucci furnishings, from the wallpaper to scented candles and the endless velvet chaises; the artwork and antiques within had been specifically curated by Christie's, with a Lucian Freud drawing sat atop the embossed wallpaper. Here, you drink from Baccarat crystal glassware, and you stumble upon hidden Gucci chocolates dotted around the room. And then, of course, there is the view, which commands the breadth of the London skyline. It feels just about right for John Legend.
I await him at one of the apartment's ludicrous marble tables, careful to keep good posture as if awaiting a royal appointment. He has been promoting his eighth studio record, Legend, all day, courting various outlets anxious to catch a glimpse inside the Legend family dollhouse. I am the last journalist he must entertain, but as he walks into the room, he bears no trace of exhaustion, meeting me with a firm handshake and an affable smile. He introduces himself as "John", as if he were any John at all. I relax.
A cursory search for conversations with John Legend yields Q+As which brush up against his music, but lean more closely into his marriage to Teigen, their parenting techniques and infatuation with Love Island. There is surprisingly little that dissects his work by virtue of the fact that Legend's life has bled into the world of celebrity. Is this not frustrating? "Well, you know," he shrugs democratically, "celebrity news is so interesting to people, and I'm part of a very famous couple. I think a lot of the time, they want to talk about all the other trappings of my life. But no, it doesn't bother me. I think I'm fine with all of it."
Legend seems fine with everything. He doesn't complain, can't complain – look at all he has: "I enjoy my life with my family, and we talk about it sometimes and we share some it with the world. That's just part of being alive, being human and being real with people. My music comes from an honest place, and I feel comfortable being honest about other aspects of my life, too."
His forthcoming record is aptly self-titled because it is the most cohesive artistic statement he has made so far. It's an exploration of the many facets that have come to define John Legend, as a husband, a father, an artist, an activist – and simply as a man. All these dimensions can't be so easily reconciled to a conventional track list, but rather sprawl luxuriously across a double album in two acts.
"It's about joy and it's about pain," he shares. "I tried to write songs not simply as 'married, dependable father, John', but also going back to my days as a bachelor. In fact, within our inner circle," which includes executive producer Ryan Tedder, "we called one album the 'Saturday Night Album' and the 'Sunday Morning Album'. The 'Saturday Night' is more about partying, being out on the market, and then 'Sunday Morning' is more about commitment and spirituality, being more introspective. You'll feel the difference in those two discs."
Legend takes me, first, to 'Saturday Night', packed with not with creative risks, he tells me, but "adventures". Its forerunning track, "Dope", is a masterclass in old-school R&B, frothing with 24-karat melodies; the Saweetie-assisted "All She Wanna Do" is a disco anthem primed for the soundtrack of a DreamWorks animation – and the likes of "Splash" is barely concealed by sensual, call-the-babysitter innuendos which feel vaguely like a violation of the dad code of conduct.

This first act also feels distinctly curational, a who's who of artists who have elevated the qualities of vibrancy and soulfulness Legend is striving for. It boasts an impressive cast, including Rick Ross, Jhene Aiko and Amber Mark. He tells me that these twelve tracks were inspired largely by Californian promises, top-down driving on the Pacific Coast Highway, and that unmatched sense of freedom.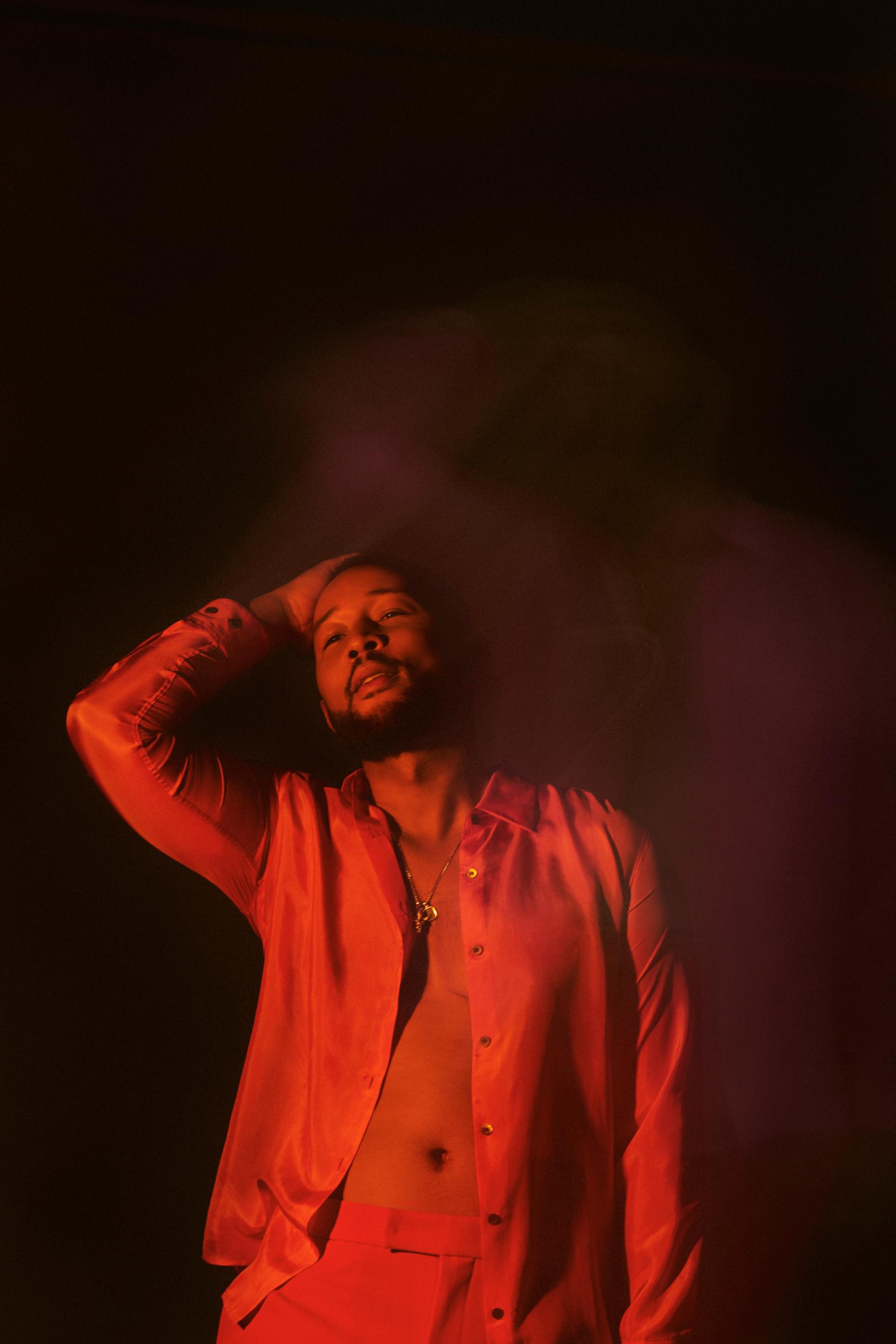 It also feels like an invocation of the spirit of Get Lifted, the 26-year-old bachelor who treated the piano like a confessional. There, he would lay bare his inescapable sins, his all-too-human weaknesses in what West declared as "spirit music", reaching for the heavens while anchored to earthly imperfection. "You can't say I don't love you / Just because I cheat on you" he sang on "Number One", a lyric almost sacrilegious to the devoted family man he is known as today. "I think being in your twenties is an interesting time," Legend muses of his former self. "The kind of immaturity you exhibit is natural, it's part of being that age. I think, back then, I was more interested in conquest, in feeding my own ego, and the songs kind of reflected that. But now, I feel that my masculinity is defined by being a rock for my family, being a great father and leader to my kids, and being a great partner for my wife."
Yet, despite this personal reinvention – and his greatest commercial successes having intervened within the last decade – Legend still feels that, in the mind of his audience, he will never outperform his first album's initial magic. "I know so many of my fans think Get Lifted is unbeatable," he says. "It's like their first love. They want you to stay as that guy, but you can't remain the same because you just change: you grow, you listen to different music, you evolve in life, and it's hard mentally and emotionally to transport yourself to that exact same place. I saw Tyler [The Creator] tweet something about that: if you want to hear that sound, you just gotta listen to that album. It still exists. No one took it off the internet. But we move on, we try new things and experiment with different sounds. It doesn't mean we won't ever go back to some of the sounds you fell in love with, but artists don't like stasis – we don't like staying in one place."
In its earliest iteration, Legend was titled Free, named after the song he unveiled at the Grammy Awards earlier this year. The piano ballad was a response to the war in Ukraine, a call for freedom and justice which is reflected in Legend's philanthropic work. Since the earliest stages in his career, he has dedicated himself to enacting positive social change: in 2007, he started the Show Me campaign to improve access to education, having since used his platform uplift communities disproportionately affected by institutionalised racism through his HUMANLEVEL initiative, and has devoted himself tirelessly to amplifying criminal justice reform. Despite the veneer of gloss that accompanies Legend's life, nothing – not these plush Gucci sofas or all the accolades the world can offer – can immunise someone against trauma.
Grief casts a long shadow in John Legend's life. He talks about 'Love' as if it were reverentially capitalised, something like God; grief manifests itself as the price to be paid for that blessing which you can't outrun, derailing the promised fairy tale.
His childhood in the blue-collar city of Springfield, Ohio started off as ideal: the Stephens were the model family in their church and local community. Their educations were their highest priority, and from a young age, Legend was an immaculate student and high achiever. His parents also set an example of generosity and compassion, taking in foster children and helping the homeless. But this all came to an abrupt end when his grandmother passed away. Unable to process her grief, he watched his mother disappear for into more than a decade of addiction and mental illness, which was only exacerbated by her stints in the prison system. Legend entrenched himself in academia, accelerating two grades ahead in school. By the time he reconciled with his mother, he had landed a corporate job with a lucrative salary, while nurturing his love affair with music by night.
"I have songs that are about pain and dealing with grief, but I think I always have an optimism in all of my music."
(J.L.)
Read the comments of any John Legend song, and you'll see that his music acts as an antidote to the world's turbulence. It offers escape. And in those difficult years, music offered the same relief for a young John Stephens, grieving the loss of a mother who, nevertheless, was still alive. "You can wrap yourself up in an artist's sound," he shares. "You can help dictate your mood and your surroundings through what you play. I think music has that power, and I want my music to be that way for people. It's hard, you know. I have songs that are about pain and dealing with grief, but I think I always have an optimism in all of my music. That's partly just because of the way I think about the world: I always think not just about what's wrong, but what makes me hopeful and what makes me feel like we have something to look forward to. There's that light of optimism in all the music I make."
The second act of Legend deals with "Sunday Morning", a confrontation of the cold light of day. Within it, he pieces together the emotional fragments that the delights of "Saturday Night" distracts from in the pursuit of building an honest reflection. "Home" is a song Legend dedicates to his children. "It's my perspective on watching them grow up, hoping for the best for them and promising to always be there for them," he says.
They are at an age where he and their mother are starting to recognise themselves within them: "Luna is a lot like Chrissy," he recalls, a smile playing upon his face. "She has her sense of humour, her sarcasm. She's a lot like her mom, she's very creative. Luna loves art, loves fashion… loves to dance. And she loves to laugh and she loves magic, just like her mom, too. And then Miles: he's into cars and gadgets, stereotypically boyish. He loves dinosaurs. And his temperament? We're not sure yet. He seems a little more rambunctious than I was, but then I'll see certain things about him that remind him of me."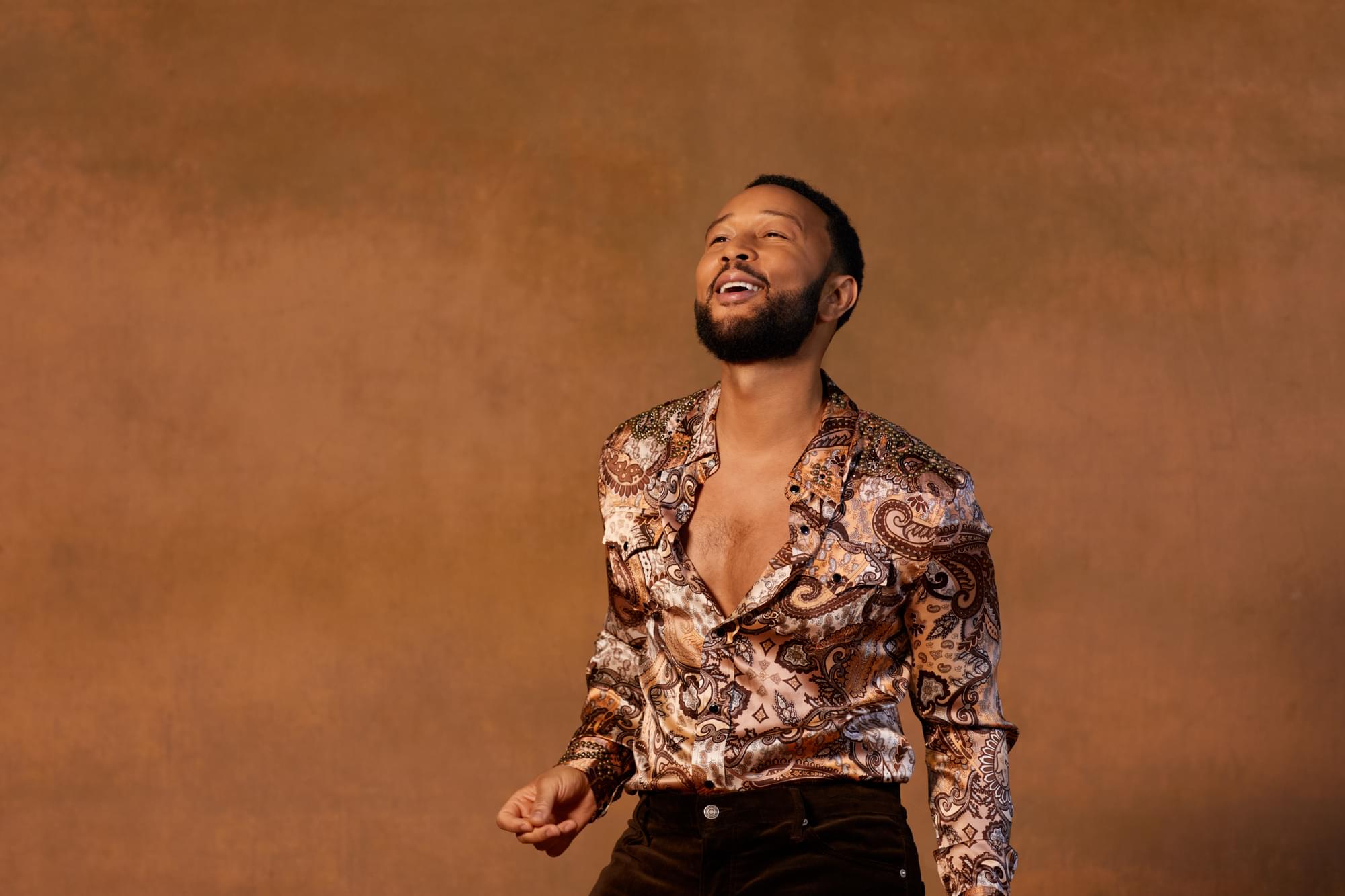 In August 2020, Legend premiered the video for "Wild", another in an ongoing odyssey of love letters to his wife. In the final frames, their family stand together along the shoreline, Luna in her father's arms, Miles in his mother's, before cutting to a scene of the rounded bump beneath Teigen's dress. The Legend family were heralding the birth of their third child, a son they would call Jack. But halfway into her pregnancy, Teigen was admitted to hospital following persistent bleeding. She was induced to give birth to infant at twenty-weeks after the pregnancy proved life-threatening for both herself and Jack. The infant was stillborn. Teigen made the decision that she wanted those moments to be photographed by her husband and her mother, to be shared on social media.
In her essay published on Medium detailing those moments and what influenced her decision, she wrote: "I explained to a very hesitant John that I needed them, and that I did NOT want to ever ask. That he just had to do it. He hated it. I could tell. It didn't make sense to him at the time. But I knew I needed to know of this moment forever, the same way I needed to remember us kissing at the end of the aisle, the same way I needed to remember our tears of joy after Luna and Miles. And I absolutely knew I needed to share this story."
Songs such as "Pieces" were an outlet for how Legend processed that grief. "I think one of the things I've been thinking about is how I watched my mother deal with grief, and then how Chrissy and I have dealt with grief together after we lost Jack," he shares. "I think the story is yet to be completely told in how we continue to respond to it. But in that period since then, I feel like we've gotten stronger and tighter as a couple through that adversity, and I think it has strengthened our resolve and our commitment to each other. We didn't want to repeat what happened when my mom was dealing with grief - we tried to make sure we did the things we needed to shore up our relationship and not let it fall apart. In some ways, we're still learning those lessons and making them real in our lives in a way we didn't see our parents do effectively."

Legend is reluctant to speak on behalf of his wife: "I'm sure she'll write about it on her own," he says, "but there was a period of her life when her mom wasn't with them, which was a response to grief as well. So, we've seen both of our moms deal with grief in a way that took them away from us for a while, and I think we wanted to try to deal with this in a way where we could stay committed to each other and present for each other – and present for our kids. It ended up strengthening us."

"I think my study of our culture has made me feel a certain responsibility to carry the culture forward, so I'm always thinking of my ancestors when I make new music."
(J.L.)
I ask him if he has come to understand his mother better through his own experience with loss. "I really believe I do," he tells me. "I understand, now, why someone would respond to grief in the way that she did."

Teigen reamains Legend's enduring muse; he pens lyrics in her image throughout the record, particularly with the song titled "Wonder Woman". "I always choose to honour women because the world puts women through so much in so many ways," he explains. "Particularly being a father and seeing what motherhood is like for my wife, I'm just so in awe of what it takes to be a good mother, and all the things that go into it, from carrying the child to postpartum, to balancing other things in your life. It's such a difficult thing to do, and I'm in awe of women who do it well. That song is a tribute to Chrissy and to everyone out there doing their best and making it all work despite the challenges they face."

Legend tells me he is no longer religious. "I don't know exactly to describe my status right now," he says, pausing for a moment. "I think my music is still very spiritual and connected to faith and hope – but I'm not religious." For Legend, 'Love' is the ideal, the guiding philosophy which, in his mind, is greater than any doctrine prescribed by organised religion. "Sometimes, I think religion can be about exclusion, judgement and restriction," he explains. "Whereas I try to live a life that is more free than that, and I believe that other people are better off when they're more free, too. All humanity deserves love and deserves to be respected. That's why I have a hard time with organised religion."
He still treasures his roots and his upbringing, which was inseparable from the Pentecostal church – "but I see where I differ from the doctrine", he says. "I see where I differ from the fundamental rules that my parents and grandparents had for us back then. I see where real life differs from it." This realisation occurred to him as his horizons broadened in college, and with education came the faculties for critical thinking that cast the literal interpretations of the Bible that his family advocated into doubt. "There are a lot of good things to be taken from the teachings of Jesus," Legend concedes, "but there are also a lot of great things to be taken from other great teachers, and you can incorporate those values and ethics into your life, too."
For Legend, those teachers were Ralph Ellison, James Baldwin and Toni Morrison, whose works addressed the roles of Black people in America. "I think my study of our culture has made me feel a certain responsibility to carry the culture forward, so I'm always thinking of my ancestors when I make new music. I'm thinking about references from the past and incorporating them into what I do now."
Our conversation takes place in the wake of the Robb Elementary School shooting in Uvalde, Texas, where the assailant fatally shot nineteen students and two teachers, wounding seventeen others. "That's another reason why it's hard for me to believe in God as he has been depicted," he says, "because it's hard for me to imagine that a benevolent deity is okay with nineteen kids being shot by a gunman. It's hard for me to believe that there's a God in control of the world who is okay with that."

The violence with which life can change, the terrible things inflicted upon good people without sense nor reason, is something that continues to trouble Legend. "I have such a joyful life, and I'm so grateful for my family and my work. It's such a blessing. But there's always this tension of satisfaction and joy at home yet being completely distressed and frustrated with what's happening in the world. I don't know how those two emotions coexist, but they do," Legend confesses. "There are times when I'm reading the news and I'm seeing what's happening, and I'm so upset about it, and then there are times where I'm swimming in the backyard with my daughter and having a great time. A part of me is like, 'Am I wrong for enjoying all of this while I know that there are so many parents who can't do that with their kids because of what happened in Texas the other day, or what happened in Buffalo, or what happened in Sandy Hook?' It's shooting after shooting."
"You can spend some of your energy thinking about that and trying to change it, but you also need to love the people that you're with and enjoy the moments you share with them, too. I think my music tries to find that balance of, 'How much do I want to talk about the pain and conflict in the world, and how much do I want to escape from that and talk about joy and love and sensuality and pleasure?'"
Even after all these years, the thrill of releasing an album has never left John Legend. There is nothing feigned about the radiance he exudes on stage, nothing posed about the well-meaning smile. But despite his gratitude, he insists, "I'm always chasing my best album – and I feel like that's the eternal chase I'll be on. My best work is always ahead of me."
Something that Legend said during his performance at Ronnie Scott's, the night before I meet him, struck me: he feels he is no longer wearing a mask. "I think you have to grow into yourself," he elaborates, "and that takes time. As you're trying new things, you're performing a version of yourself, mimicking your influences. But I feel, as I've grown up, I'm not performing a version of myself anymore. My life is my work, and my work is my life." He is disinterested in accolades, in clearing commercial high-jumps – now, John Legend is focused on his legacy, to create something that will survive us all. "I think I'm able to communicate more of who I am than ever before, and all these sides of myself are represented on this record – that's why we called it Legend. This is me. This is my story."
Get the Best Fit take on the week in music direct to your inbox every Friday