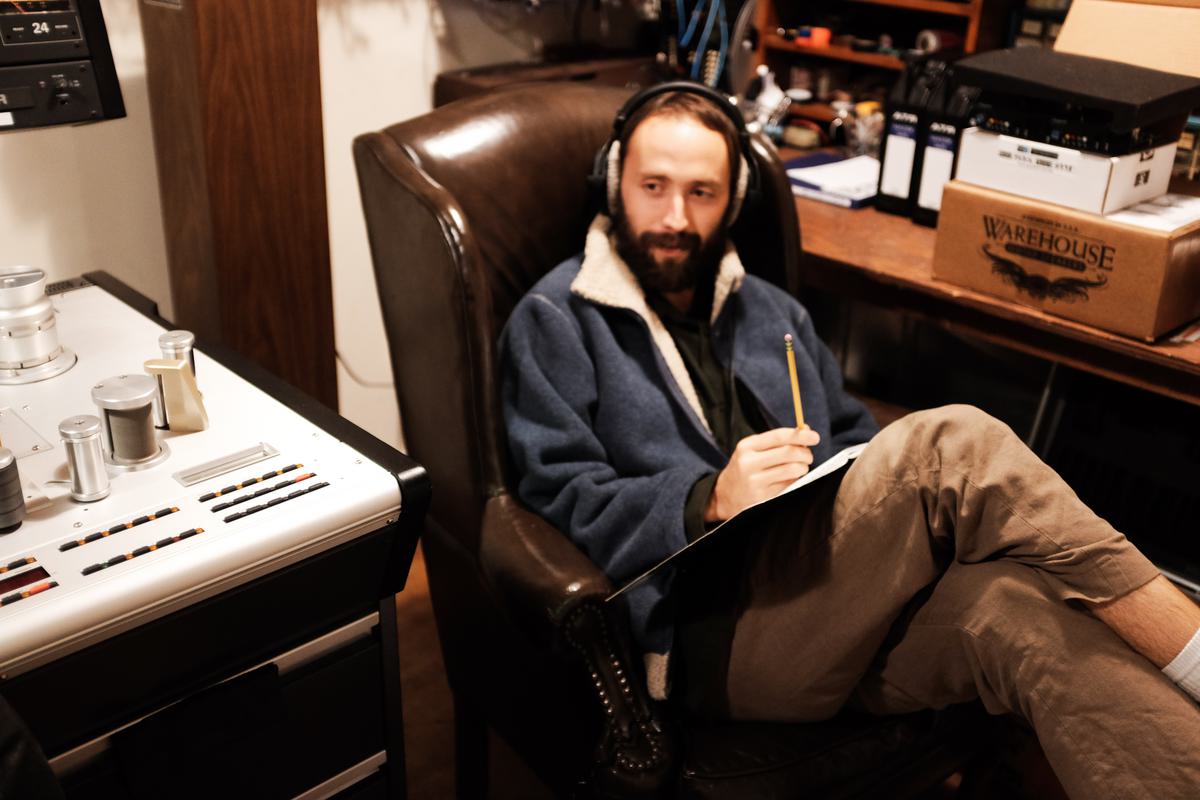 How James Krivchenia is using ambient sound to redefine relaxation
25 July 2020, 08:00
Minnesotan James Krivchenia has a lot of work under his belt. Alongside being a member of Big Thief, he's done studio work for Mega Bog and worked with groups Happy You and Causings. As a solo artist, he's released two albums, the recent A New Found Relaxation and 2018's No Comment.
In stark contrast to the indie-rock of his day job, these albums are experiments in the process of relentless sampling and editing, taken from warzones and the habitation of far flung corners of the globe. No Comment takes audio from body camera footage of warfare around the globe and heavily processes it into unpredictable and uptempo electroacoustic music. A New Found Relaxation, conceived in a tiny town in New Mexico where Krivchenia was living at the time, is a refinement of this method. He takes hundreds of fragments of spa radio, muzak, YouTube ASMR, and field recordings and weaves them together into a densely-layered whole.
"The through-line is experimentation," he says of his solo work, "I like playing with sound effects and sample packs and different qualities of texture, but I don't think they necessarily connect in terms of a specific, stylized sound."
One of the most interesting aspects of A New Found Relaxation is that it experiments both in process and idea. Krivchenia sonically plays with fragments of artificial 'relaxation', and symbolically plays with the question of whether those sounds are inherently relaxing. If you chop up ASMR, does it still make you tingle? If you listen to ambient music in a stressful context, is it still relaxing? The album starts to bring into question whether music can have a set purpose and whether that differs for different people in different situations.
Speaking to Krivchenia, you realise that these questions have been thought through meticulously; the detail you hear in the music is evident in the way he speaks. Asking about the ideas toyed with on the album, he tells me, "It first started with me with the surge of interest in ambient music over the past ten years. Music more to do with the general consciousness. I have some friends who'll only listen to music that chills them out and de-stresses them, and I'm observing that trend in myself, especially on tour or whilst in stressful situations, you have these records that help you fall asleep and give you these escapes. I felt like I was getting more into stuff that was bordering on muzak and spa radio, and realizing that music is a lot of the time defined by how you use it."
Looking at the growing popularity of YouTube's infamous lofi hip hop radio - beats to relax/study to, you can see this being the case. It's in the name alone - 'beats to relax or study to.' The artists behind them are almost redundant as the music generates passive listening to create a mood. Listening to it, you barely even notice when one song ends and another one starts. As Krivchenia says, "I was turning on someone like Grouper - who's an awesome artist and deserves your full attention - and listening to it super passively and never making it to the end of songs cause I'm already asleep." By assigning music a set purpose, it distances you from the music itself, which begs an interesting question: does the quality of the music matter? For example, if you like one ambient track more than another, will it be better at helping you fall asleep or relax? Brian Eno once said that ambient music should be as 'as ignorable as it is interesting,' treading the fine line between pure ear tickle and being engaging music.
"I actually did experiments on myself to see what worked for what task. If I was trying to fall asleep or drown out other people's noise, certain stuff worked and certain stuff didn't. For me, it still has to be interesting music."
One of Krivchenia's deepest pools of material for sampling on A New Found Relaxation was New Age. The sound that emerged in the 60s and early 70s with the goal of inspiring creation and relaxation is the sort of music that would play whilst you're getting a massage or at a meditation retreat. Curiously for him, it worked for relaxation despite him not finding it as interesting or "inherently more relaxing" than other music. Instead, it was about what the music reminded him of.
"I was digging into a lot of old New Age stuff and found that it had an associativity that calmed me down. It was more meditative because of all these associations I had with it. When I focused on it deeply though, it was very discomforting, and if you have a level of discomfort in yourself, it can heighten it. Music can have a multiplicity of emotional resonance beyond its intended use, and I knew in the beginning that I wanted to explore that on this album."
I reflect on how my mother calls Brian Eno's Music for Airports a racket and stress inducing, whilst for me it's a perfect Sunday morning stress tonic. Krivchenia agrees - "the way music works is personal. Everyone is different." In a sense, this is the intricacy of the record. By playing with all the different sounds that we consider relaxing, it explores the complex relationship between relaxation and sound and how it functions for different people.
Surprisingly, the ambient influences end at New Age music. On this album, it seems that Krivchenia was more interested in artists who play with the process, as opposed to the form: "I've been listening a lot to the extreme edit world of electronic music. It's such a structural kind of album where a lot of what it is, is the structure and the pace of it. So, I was inspired by a lot of people who push that. I was really into Fire-Toolz when I was making this, which musically is completely different. It's like prog new-age metal. But with a lot of music, even if it's a different genre, you recognise the structure of it and the attention span. I feel like internally I have a similar clock to them, and when they're getting bored, I'm getting bored, and it moves onto the next thing."
In a similar vein, he calls Arca's recent hour-long epic of bubblegum bass "@@@@@" "perfect." "The internal timing is totally aligned with mine. As soon as I felt like something crazy was going to happen soon, something crazy happened. It's delivering on your expectations, but so fast that you almost don't have time to process it."
Hearing Krivchenia speak so passionately about this music, made me question where Big Thief fits into the equation. On the face of it, there's a disconnect between the music that inspires him and the music that he plays as part of the band. Does it somehow feed back into the process of writing a Big Thief album?
"It's feeding in more and more, especially as we become more confident. I feel like the last number of years - basically since we started - it's been an ascension of confidence. Slowly trusting in ourselves more and more and being like, 'Oh yeah. We have strong opinions, like we think this band fucking sucks, and it's OK.'
"We don't want to be hemmed in by the idea of being a bass, drums, and guitar band. We want to be more holistic with everyone's influences and everyone's inspirations, and integrate them as we see fit."
We don't want to be hemmed in by the idea of being a bass, drums, and guitar band. We want to be more holistic with everyone's influences and everyone's inspirations, and integrate them as we see fit. I think a lot of bands end up being confined by what they are, and people get frustrated that they can't do the wild shit they want to do within those confines. We don't want that. We're just trying to figure out how to be a good band."
The humble honesty with which he says this is admirable. In 2019, Big Thief released two of the most critically acclaimed albums that year, and arguably two of the best folk-rock albums of the decade. Both U.F.O.F and Two Hands were earthy, eerie and magnificent, underpinned by frontwoman Adrianne Lenker's tumbling melodies and deeply personal lyrics.
Probing deeper as to how they integrate these wide-ranging influences, Krivchenia carries on, "We're not really afraid of going into any world because we have a barometer of when something sounds stupid. It's not like 'we want to be electronic', but more like 'what if we do this crazy thing, but in the context of a Big Thief song.'
Doing surface-level genre stuff doesn't really do anything. If you're influenced by the way a Young Thug song sounds, which we are, then that doesn't mean you should be using the same equipment as he uses, you know? It's about capturing that spirit. He gives it his all, he's being funny and relaxed and has all these overdubs where he's saying crazy shit in the background. It's like he's having fun in the studio, and that's what you want to capture."
With Big Thief being the success that they are, it's bold of Krivchenia to release music so distinct from them. Despite him saying that each band member has different influences, listening to Adrianne Lenker and guitarist Buck Meek's solo material, there's a clear through-line to Big Thief; both make similarly intimate guitar-centric folk-rock. Comparing this to Krivchenia's electronic work, he feels like the odd one out. However, suggesting that his band might be a limitation on his solo career, he's quick to deny that possibility.
"It's a conscious effort by us to not be defined by that, and each in our own way. For Adrianne, it's simply like, 'I want to be able to make solo music and not have to check in with three people all the time about a song I fucking wrote.' So part of her thing is needing time to actually not get feedback on how a song should be. For me, I need time to experiment with stuff that's not just playing drums live, because I'm interested in all different kinds of music.
Big Thief is nice because it pays the bills at the moment, and it feels like I can comfortably have a couple of months off and work on my own music, and then that feeds back into Big Thief and helps us become a better band. It goes back and forth."
A New Found Relaxation is out now via House Arrest.