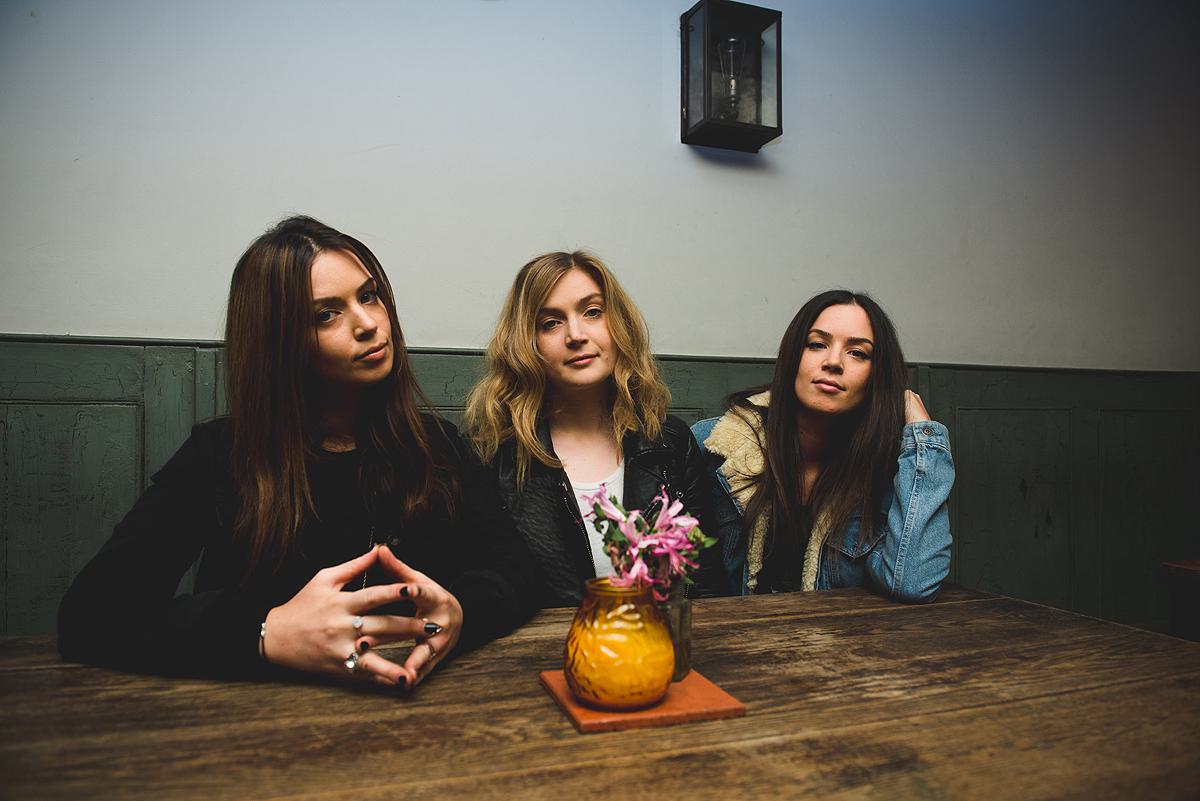 Jagaara: "You can be honest with family"
12 November 2014, 09:30
In hindsight, there are probably less dangerous questions to open an interview with a group of siblings than – "Being in a band with your sisters: pros and cons?"
Luckily, the house of Edmondson remains very much at peace. Crammed onto a sofa in an East London bar, the three sisters who make up the core of Jagaara brim with enthusiasm from the off – not just for the budding promise of the music they're discussing, but for each other. Relaxing after a meeting with their management, the synergy fizzing between them as they complete each other's sentences, and jokingly compare each other to everything from puffins to Robert Plant, makes them magnetic company. And with said management deal making the band proud to become the sole female members of a big-time roster boasting everyone from Metallica to Muse, and the growing anticipation around their own movements, they've got much to be excited about.
"Pros – you know each other really well. Cons – you know each other really well," laughs Jane, the trio's primary songwriter and vocalist, and the gently considered foil to the more earnest twins that complete the three. Cat (keys / backing vocals) chimes in affirmation: "With mates, you can have tensions and rivalries, but you can be honest with family. We all know our place in the band, and there's a really nice balance".
The germination of Jagaara is entangled with this family dynamic. Having shared a three bunk-bedded room growing up in Finchley ("it was awkward when we had boys over…"), and with them all sharing music from a young age – including a stint in choirs and "being band geeks for a bit" – their natural affinity is understandable. After a period of travelling, university, and exploring differing musical horizons with other projects, the three reconvened in London and, as Cat explains, "the songs started coming, and it all grew very naturally". Their double-edged proficiency and passion led them to becoming embroiled in two (albeit it for different reasons) staples of the capital's alternative scene, Communion Records and Ronnie Scott's, landing them slots at Latitude and Swn this summer. The addition of a drummer and bassist made them, in Cat's words, "a real band" – and Jagaara was born.
Well, not quite. Previously billed as the Edmondsons, their new moniker proved difficult to find. "That was just before we could think up a name," explains Ruth, guitarist and the driving force behind the shimmering, electronic soundscapes that underlay the band's sound. "It probably took us about five years. In the end, our Dad was the one saying we couldn't use our name, that it's just really cringey. You know it's bad when your Dad tells you that".
"Everything that sounded vaguely good was taken. Eventually we chose this – as we're quite into manga artwork, and our brother is especially, and there's this female warrior called it – we chose that as she's a cool, strong female character. Later on, after we'd chosen it, we were reading more about her, and her character in the end kills her twin sister! They have this big fight over a man. It was like – this was meant to be, five years later, we've found it! Hopefully it's not tempting fate…"
Being back in the same room (quite literally) also let their cauldron of influences bubble more vigorously – most notably trading in the more traditional guitar-rock of their family record collection for a more electronic edge.
"When I was 16, I started music production at college," explains Ruth, "and I built a little studio in my room, which meant that as soon as Jane started writing, I started doing instrumental tracks, and could layer up all our voices. Then I got pretty into electronic music, and there's a big side of that in what we do, especially recently. We love bands like Caribou and Son Lux – it's good to mix it up a bit. Growing up we had pretty traditional music tastes – a lot to do with our Dad's record collection."
Cat concurs: "The more influences you have, the more exciting it is, particularly as we all have quite different tastes – wildcards that we bring in."
Their current incarnation carries this darker edge – bringing their British take on sunny West Coast pop, classic FM guitar drive-time and emotive soul together with brooding, stark atmosphere. By resisting any overarching template, they've allowed themselves to realise songs in their own right, so that each attempt feels like a statement – bold and fully formed. The potential in each avenue that they tread makes the fact that so many feel possible doubly exciting.
"We like that you don't have to stick to one genre. If you try and fit into one it can be quite limiting. As long as people like the music and we enjoy playing it…if a song's good, it's good. If it works live, you just wanna play it."
"We're at the point where we know enough about electronic music that we like to mix it with the older stuff we've been doing, and it is kind of something that's grown over such a number of years, growing up writing together," adds Ruth. "We're just experimenting. It's kind of nice not knowing always what you're going to end up with." That the three can riff on the merits of Ableton plug-ins one minute, and eulogise B.C. Rich guitar lines traditionally associated with heavy metal players shows off the breadth of their intent.
The tail end of 2014 will bring the refinement of this alternative canon of influences, and a personal songbook dating back years, into this new shape – starting with their current release, the AA split of Faultline / Heartbeats. Pitched against the narrative theme of a relationship ending, and the discovery of something strong in the vulnerable state the you find yourself into, it's a classy take on a classic sound – all instant-hitting pop hooks, winding guitar licks and smoky synths, underpinning Jane's rich baritone vocal. They're knowingly nostalgic, but vibrantly fresh.
When it comes to comparisons, however, there's an elephant in the room that needs addressing. Although their sound is occasionally reminiscent of another trio of sisters currently enjoying stratospheric success, and it's fair to say both have probably encountered the back catalogue of Stevie Nicks at some point – their tag as 'the British Haim' has proved initially hard to unstick. For Jagaara though, it's part of the process.
"We don't really mind," elaborates Cat, "a lot of new bands are compared to other bands. And you know – we really like Haim. We know that what we do is quite different, so we're not threatened by that. Hopefully it'll mean people check us out and will judge for themselves."
Does it feel lazy, I ask? "Yeah, there is lazy journalism. I guess they're influenced by Fleetwood Mac, we are too, we both sing in harmonies, but we're not too worried about that."
"It's just the sister thing," adds Ruth. "I think it's fine if they mention Haim, but some other things would be nice. I think that'll go away after a while. It takes a while for the public to get to know a new act. It's a journalist thing."
Their most inherited element of any older era feels like the band's lyrical style, opting for classic, quotable poetics, rather than anything overly revolutionary. Are they happy that their voice as young people in 2014 are represented satisfactorily with this direction?
Ruth jokes – "I think Jane has a bit of an old soul. Some of the lyrics are quite old fashioned, I guess, but we're now able to mix the two together, with the modern production." "Lyrically, I dunno – we write from personal experience," jumps in Cat, "and in that way, we're expressing what we want to express. Those feelings are timeless. Not all of our songs are about relationships…"
Jane gives the example of "Marble Arch" (side note from the band: "more of a banger"), and its surprising origin: "It was written about this Herman Hesse fairytale that I read called The City. That song's what I gleaned from it. I don't always write about romance – you're not always in a relationship, or thinking about one. Sometimes you like to take yourself away from romance. It wasn't like a completely heavy story, but I wanted to write a song to react to it. I find that quite an easy way to do it – to read something, and then to write a counterpoint to it. Sometimes there's not enough going on in your life, or not enough to translate to a song, so you've got to look elsewhere."
"Some people are thinking about the apocalypse, right?"
The girls cite films as another major influence, too – particularly soundtracks and instrumental music for film. "It's good to watch films, and press the mute button, and write something along to it, as if you're writing a soundtrack," explains Ruth. "Start with the picture and write along to that, and sync them along together." Reeling off a list of examples including Donnie Darko, David Lynch's catalogue and Top of the Lake, there's a clear theme: "Anything dark, you know? Even if the song ends up pretty sunny."
Finding lightness from dark is a running trope of Jagaara's early material – even at their most restrained, there's a glowing emotional core burning brightly. In their stride, they're empowering. At one of their recent, sold-out brace of nights at Stoke Newington's Waiting Room, "California" came prefaced with its story onstage – as a depiction of rolling hills and rural landscapes, before revealing it to be borne of relationship turmoil.
"Yeah, it's one of our sunnier songs, a lot of our stuff's quite dark. But it is about a break-up, and a horrible relationship. We don't want to make it super sad and depressing!" smiles Jane, as Cat adds: "Or self-indulgent. We'll see what inspires us in the future".
Sadness and honesty can be mutually exclusive, and Jagaara are blessed with a knack for the latter. Where many new acts are characterised by mystery, they're comfortable with keeping things direct. As they joke about being nostalgic for their recent run of dates, cooing "Tour!" to each other ("even though we came home at night for some of them," Ruth laughs) and their first experience of playing to a room full of pissed students, I feel temporarily inducted into the family. However their myriad influences emerge out of this period, you can be sure they'll have a heck of a lot of fun working it out.
Faultline / Heartbeats is out now. The band play a free show at the Old Blue Last tonight (12th November). All photography by Gaelle Beri.