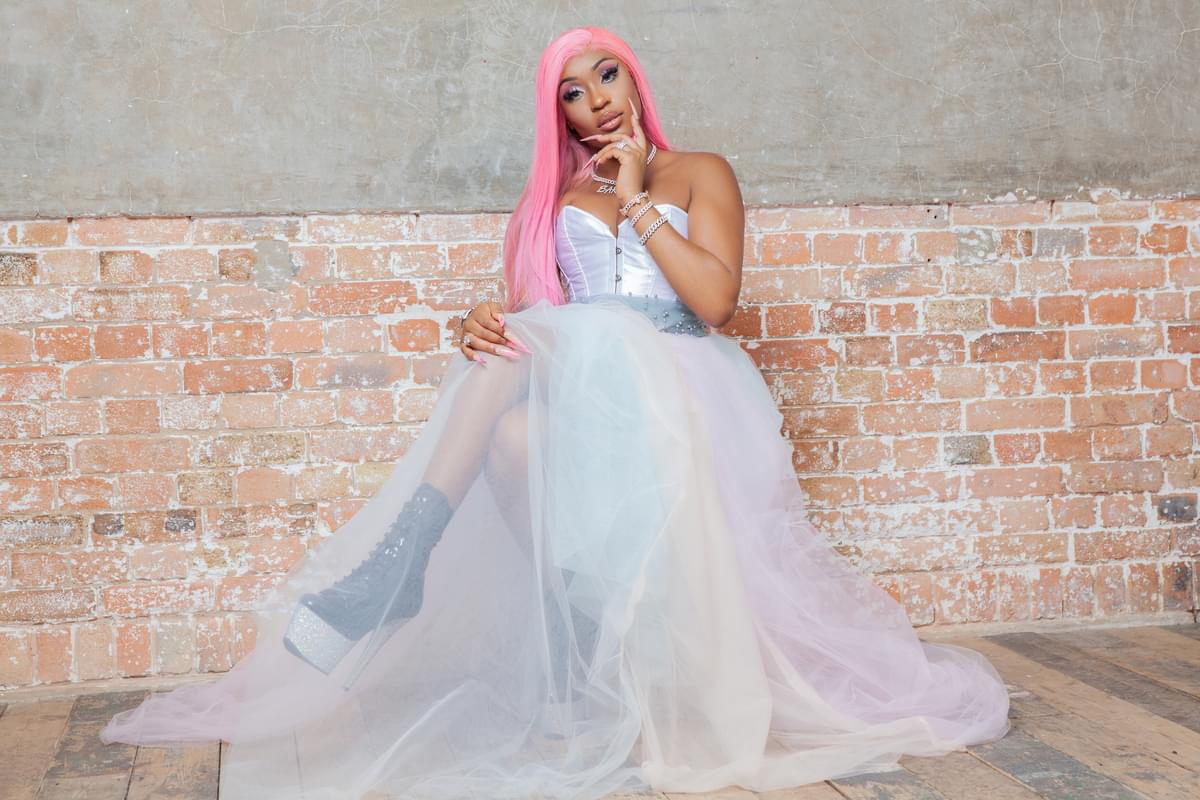 On the Rise: Ivorian Doll
15 September 2020, 09:00
Born in Germany and raised idolising Nicki Minaj, the self-styled "Queen of Drill" is here to take names.
Scattered plastic mannequin parts line the floor, as the camera zooms in on a human-sized pink box. Poised inside is drill emcee Ivorian Doll, in a still from her latest music video for "Body Bag." Yet, as soon as the song begins, it becomes clear that she is the one in charge — holding two dalmatians on leashes, and spitting lines like "For them loose lips, you get strangled by this LV leather strap".
This year has been a record-breaking one for women in rap, with artists like Megan Thee Stallion, Saweetie and Rico Nasty topping charts. Back in London, Ivorian Doll is also forging her path, inspired by emcees both homegrown and across the pond, including Missy Elliott and Lil Kim. "I enjoy the way they act when they perform. From young, I've always looked up to them — especially Nicki Minaj, because I just see a lot of myself in her," she explains.
Minaj is the standout of ID's influences both on and off the mic – when I mention Nicki's also a Sagittarius, she says she identifies "110%" with their shared sign. The "doll box" from her video feels like a nod to Nicki's early mixtape aesthetic on Playtime Is Over. Yet, she says the album Queen, specifically "Ganja Burn" and its spiritual themes, stood out as her favourite. During our interview, she sports a large 'Barbie' necklace that's all her own.
"I remember I was just very young [when I first heard her]... I was in primary school, probably in 2006." At the time, ID was based in Germany. "I was very into Americans and what was going on over there. From then, I've just loved her ever since and I've been following her journey."
Later moving to the UK, Ivorian Doll became enamored with the drill scene as well, popularised by the rise of performers like Fivio Foreign and the late Pop Smoke. She has a deep knowledge of the genre, name-dropping producers throughout the interview. "It's kind of the producers that crossed over from the US to UK, more than the artists. The beats kind of made that [scene]. And now, in New York, or whoever does drill in America, uses UK beats."
"I started getting into the drill scene when I was in secondary school. That was in year seven. Other kids would use their music to challenge their rivals and stuff like that," she says. "While the music fights were going on, I was listening to what this person said about this person. From there, it was just the beats and the wordplay that made it for me."
Yet, before ID would jump into the scene herself and claim the title of "Queen Of Drill", she first dabbled in the world of YouTube influencer culture — not initially seeing herself in a rap career. Eventually, a loyal fanbase of predominantly young women who looked up to the outspoken creator followed ID through her time in a duo, creating freestyle raps with peer Abigail Asante. "The transition from being in a duo to being solo I think has been really good," she admits. "I just feel I'm able to do all the things that I want to do. I'm very go-getting, hardworking, and I like to be alone."
ID has always managed to be ambitious and in control, with her 2019 solo "Lightwork Freestyle" a testament to her power as an emcee. The video, garnering over 200,000 views, includes a large number of comments praising the freestyle as stronger than most of her male counterparts.
"When I first started, that was one thing that upset me. 'Oh, you're a girl, go back to the kitchen. Oh, you're a girl, you shouldn't be speaking like this.' In a lot of drill songs out here, the way boys say things about girls — it's so rude. I want women to be on the same page. That's what kind of motivated me… I feel it's very intimidating for a strong woman to come into a dominant field and do well."
"YouTube helped me to be able to express myself because I was a personality talking about boys and cheating and giving advice," she explains, noting that long-term followers are pretty used to her outspoken nature. "Some of the things I say in my music, it's not a shock to them. My fans are like, 'She constantly says things like that anyway.'"
ID's "Rumours" was her first single of the new decade. Although she attended an all-girls school years ago – where her early rhymes were rehearsed – the real inspiration behind the song's music video was 2004's Mean Girls. ID says she wanted the promo to feel familiar to listeners within Gen-Z. "My fanbase are girls in secondary school and boys that are young as well. I think it's more relatable to young people. Rumours do start from school."
While "Rumours" and "Body Bag" are both heavy-hitters, the creative process diverged between the two. The backing track for "Rumours" arrived with serendipity—- ID says she never checks her emails, except on one fateful day when this beat arrived in her inbox. Usually, the rapper says she's able to write a song in "a few hours", but spent weeks tweaking "Rumours" because she wanted it to be perfect. From there, "Rumours" blew up prematurely online, after she had uploaded a snippet of the song's hook as a joke. "I was like, 'Oh my god, they can't listen to this and say 'Is that it?'"
Now, after the release of two major singles and accompanying music videos, Ivorian Doll is setting her sights on the tape drop. Describing some of the songs on it as still "maintaining her drill background", she also teases the last two will serve as a transition into future projects — alluding to modelling her sound on Megan Thee Stallion.
ID still has hopes for long-term success, despite the current whirlwind of our times. She mentions she's using this period to practice more on both her stamina and delivery for live performances. Yet, ID's biggest goal is to expand past the boundaries of her genre, drill, and break its limitations — in a similar way to Pop Smoke. She also wants to be a role model to young girls who look up to her as a creative inspiration.
"I just want to be a global artist, really. I want to be that artist that came out of the UK and built that female bridge to the US. I want to be that artist where people say, 'Because of her, we've been more interested in UK artists and the UK scene. Is there more of her?' That's the type of artist I want to be," she says. "I want to be the artist that brings everyone together. And I feel like it's working smoothly."
"Body Bag" is out now.
Get the Best Fit take on the week in music direct to your inbox every Friday