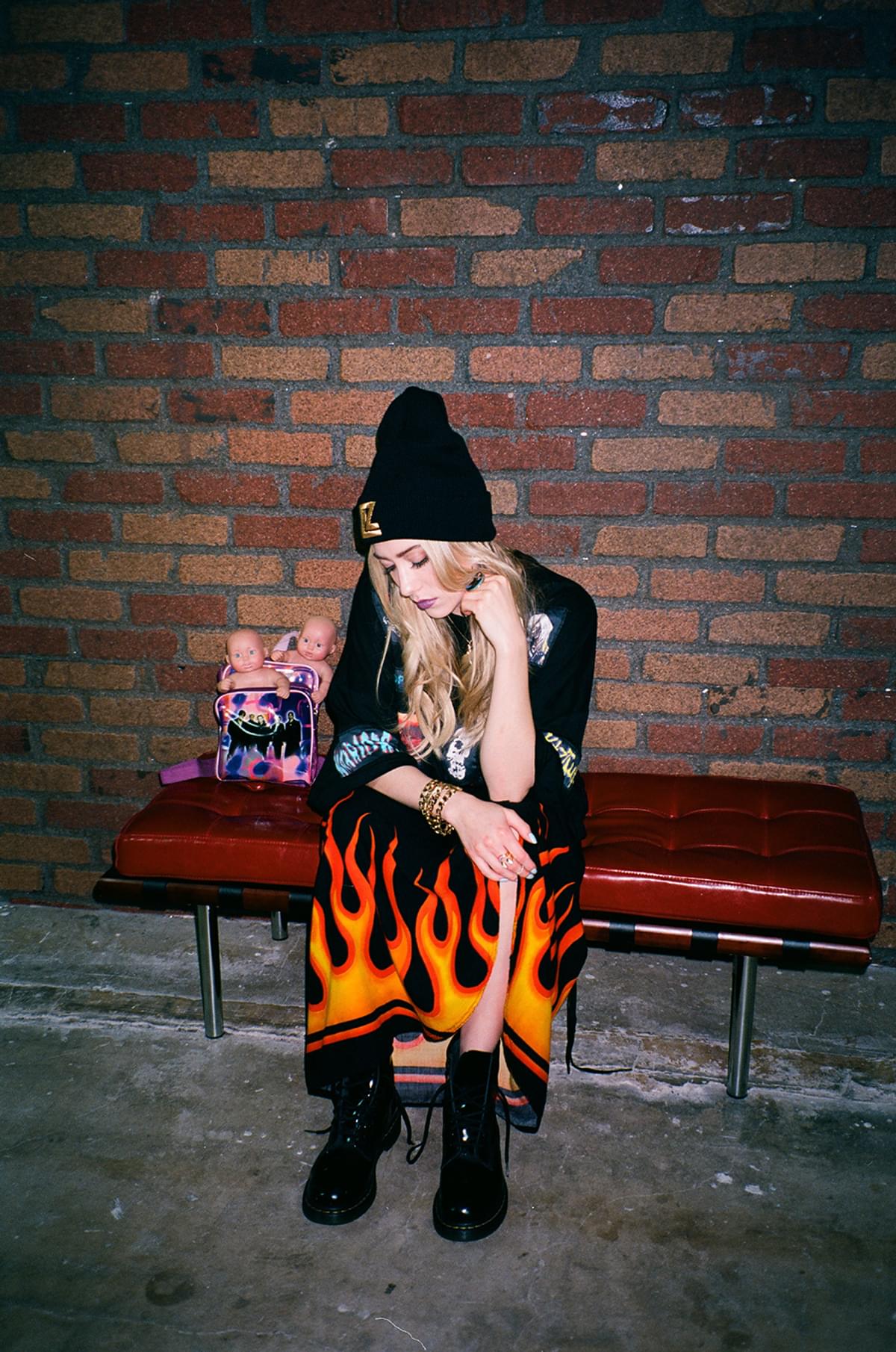 LIZ: "You have to become a more fantastical version of yourself"
18 July 2014, 13:30
Mid-way through talking LIZ, we're discussing the guiltless fun that permeates her music - the kind of summer-hued pop cuts gifted with a heavy dose of millennial flavour. "I make music that makes me feel like a schoolgirl", the 27-year old Californian-born explains, "and I always say this but I'm eternally fourteen and a half years old."
She's relentlessly upbeat, smiling throughout our conversation and answering questions in a manner that's genuine and disarmingly frank.. "Its funny, my music sounds very young because that's how I feel inside, but people are always surprised when they find out how old I am [but] I don't think the age thing is important. Gwen Stefani looks better than most 20 year-olds that I know and she started her solo projects ten years ago. [Stefani was actually 34 when Love. Angel. Music. Baby. was released]. It takes a lot of time to really come out and do it right."
"I always want to bring back those feelings of innocence and fun. I feel like as we get older we get a little hardened and jaded, and I like to tap back into the feelings I had as a young teenager"
LIZ is of a generation whose early teens were soundtracked by artists who defied tightly wrought categorisation and a music that embraced a swirling range of influences, but most notably dance, RnB and Garage. It's something that's heavily reflected in her music - sonically deferential to the likes of Brandy, Aaliyah, Janet Jackson and others who didn't so much defy genres but create new ones.
Their pioneering spirit is channelled in the breakthroughs of LIZ's contemporaries into the mainstream - it's a renaissance of sorts and something LIZ riffs on excitedly throughout the course of our chat. "I do think there's this new crop of, especially, female artists, that are kinda playing around with this cool underground aesthetic, but we're all different" she explains. "Me, and Charli [XCX] and Sky Ferreira and FKA Twigs. We're all doing our own thing, which is really cool, and I think we should all support one another."
Unlike the others, she doesn't seem like the type to have burst out from the underground - by her own admission, LIZ is a born and bred "regular valley girl", the blonde haired, blue-eyed American dream, her speech peppered with "like"s and "oh my god"s and an incredibly infectious giggle. It's to her credit that none of this grates; she's utterly endearing, making it hard to argue with her self-assessment as "the people's popstar", the girl-next-door-done-good.
"[Japanese cartoon] Sailor Moon during the day is just an average girl, with problems and complaints, and then at night she transforms herself into this kick ass whimsical superhero chick. I kinda feel like I have both of those sides to me. I'm definitely a normal girl, but as an artist you have to turn it on when you're on stage, [and become] a more fantastical version of yourself."
Comparisons to pop's other great girl-next-door Britney Spears have followed and she admits an influence on early stabs at songwriting and styling: "I still have music videos from when I was 14 and they're basically me trying to be Britney. I look like a little baby Britney. It's kinda come full circle which is funny."
For all the parallels, she lacks the Spears' precarious naivety, and the video for "All Them Boys" finds a woman playing with the idea of the pop ingenue rather than trying to be one – a fact that's both reassuring and refreshing. We're unlikely to see her collapsing under the weight of expectation any time soon.
LIZ grew up doing ballet and musical theatre and a singing career only came about through a fortuitous audition as a twelve-year old. "There are a lot of opportunities [in LA] but I was always around music from a very young age and I was randomly asked to audition for this girl group, which is how I met my first batch of producers and writers…and I stuck with it. I didn't join the group but I started learning on my own and working with people as an artist, and I created a lot of great relationships with different people who I learnt from.
"I booked my own shows and played out a lot locally, so I've been doing this for a really long time, although it wasn't until a couple of years ago that I started gaining some traction."
"I think being an artist is all about being patient and waiting for the right timing," she muses. "There were so many times when I was very very close to getting a record deal and catching a break, but I'm quite glad it didn't happen until now because I changed a lot, and I got to know who I was and to grow up. I went through that whole experimentation phase on my own and not in front of the world, which was good, because at the time I was young, I was growing."
Debut EP release Just Like You toys with the 90s throwback trend in her own irreverent style: in her own words it's "very straight pop with an RnB flare to it." Written alongside a host of producers, (Djemba Djemba, Mr Carmack, Lido, to name a few), it takes all the best elements of its references and spins them into a tightly wound selection of cuts that play LIZ's soulful vocals off intricate dance and garage beats. It sounds like the future of pop, the natural progression of the marriage between dance music and minimalist RnB.
Signing to Diplo's Mad Decent imprint opened a selection of collaborative doors - including a chance to work with fellow up-and-comers Sophie, Shift K3Y and Boys Noize as well as Diplo himself, who produced a few tracks off her upcoming album. She became friends with Charli XCX after they toured together: "Someone like Charli is just a testament to continuing to do your own thing and trusting your gut. I've known her for a bit and she just hasn't changed. She operates the same way as always, there are just more people who have a different perception of her now, more eyeballs and more ears that are calibrated to her sound and looking at her stuff and thinking 'hey that's quite good'. Charli and I spoke about maybe eventually putting together some kind of girl power tour, so we really want to make that happen."
There's a steely resilience under her sunny demeanor: for all her luck in getting the chance to work with people at the top of their game, our talk keeps returning to the years of graft she's put in. "Diplo is the kind of guy where you have to do a lot of work to get on his radar, and then there's so many steps after that. It took me a full year to get him to engage with me. I had to prove myself over and over and over again with different releases and shows. He kinda hazes people in that way. He makes you work for it. But its good," she insists, ever optimistic, "it pushes me to work harder."
The recurring theme of LIZ's fight for recognition doesn't sour the impression she gives – far from it. She is, if anything, an aspirational popstar, effusing the benefits of failure as a chance to learn and develop, and commending other singers with similar back-stories: Lana del Rey ("she and I are from the same generation and she had to go through a lot of shit to get to where she is"), Katy Perry, ("she was signed before and dropped like twice before someone finally believed in her") and even Lady Gaga.
"I knew about these girls as I was coming up – I'd hear their stories too and take note when they succeeded" she explains. "It was cool to see it happened to them and think it could happen to me too. You've just got to be patient and keep refining and honing your sound and image, that's what I'm going through right now."
"I've got a tonne of material I'm happy with but right now its just all about figuring out timings. But I will be releasing some stuff soon, probably August. Like even if it's just a single, I just want to get stuff out. I hate sitting on records.he second I get a track done I want to release it. I'm super urgent about my stuff. Knowing me I'll just be onto the next thing within a month. But of course that's the reality of making a full-length album," she sighs. "There's a whole process that goes into it. You can't just get it out immediately, but I'm going to try my best of give a taste of what's to come really soon. I might put out a mixtape before the album. I don't know yet."
Noting the caliber of collaborators on the EP I ask her who she most enjoyed working with. Her answer is unexpected, sweet, yet totally in character. "I actually got to write with JC [Chasez] from N Sync! I wrote a song with him for my EP called "Do I Like You" and I basically said, "Okay you know that last N Sync album? I want it to sound like that.' He wrote a lot of the songs on that last record [Celebrity], so he totally got it. That song is kinda my ode to his interpretation of garage." She pauses, looking radiantly proud: "It's so funny because I used to be completely obsessed with him when I was younger and I'd always say "one day I'm gonna meet him and he's gonna say: 'you're a great artist!' and he's gonna work with me, and then it happened! There's a lot to be said for having you're teenage dreams come true!"
There comes a point when you can no longer describe music; you actually need to go out and hear it. Pop music, for all its virtues, is prone to falling into this trap. It's a largely visceral experience: you turn it up, listen and enjoy it rather than analyse. LIZ seems to understand that – her music is active, not passive, and it's ready to be heard.
"For me it's about making people smile and have a good time" she concludes. "I'm just sharing my emotions." Her fourteen year old self would no doubt be proud.
Find out more: Facebook | Soundcloud
Get the Best Fit take on the week in music direct to your inbox every Friday