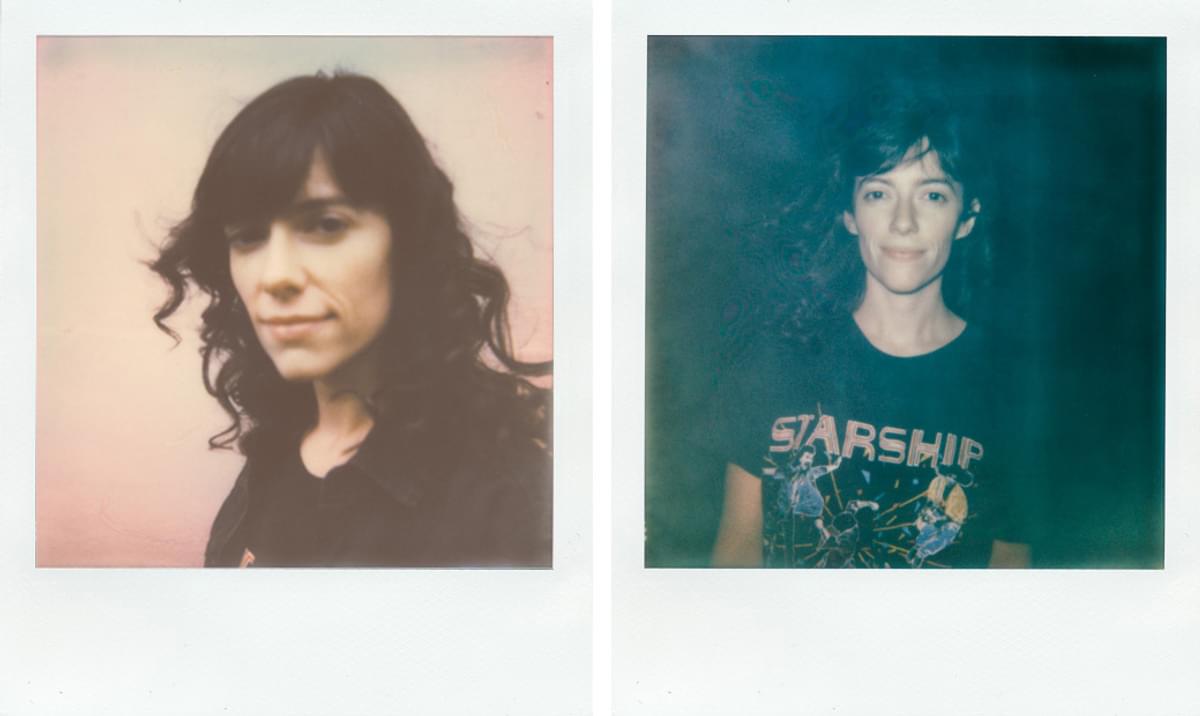 Natalie Prass: "It's hard for me not to write from a personal place"
20 March 2015, 10:00
Steve Albini and Matthew E White feel like two sides of the same production coin; you're never likely to find them working on similar material but they share a clarity of vision: where Albini strips things back to explore the rawness of the music, White plumps for a lush, orchestral sound that exposes the rawness via a different path.
Take the sound of the self-titled debut album from White's old Virginian pal Natalie Prass: you won't hear a more glorious-sounding, intricately-arranged record in 2015. The Spacebomb house band – think Memphis Horns, Muscle Shoals, Burt Bacharach and Disney combined in one group of incredible players – piles on the instrumentation but never crowds, only supplements the keen emotional impact of Prass's beautiful voice and direct, personal lyrics. If anything, the rawness and the feelings are heightened by White's all-in approach.
Natalie Prass is already one of the most affecting, gorgeous, sumptuous, lush….oooh, just all the adjectives you can throw at it…albums of the year. A series of songs about heartbreak, relationships and moving on, it was written by Prass over the course of a few years, finished in 2012, but left sitting for a period of time thanks to White's critical success with Spacebomb and his own Big Inner record. But now we have Prass's debut, and what a debut it is. Singing with a voice that's part Diana Ross, part Dusty Springfield but completely her own, the 28-year-old singer is destined for great things. How could we turn down the chance to find out more?
I'm talking to Prass (denim jacket, KISS t-shirt) not long after her move back to Virginia: "I moved a week ago," she explains. "I feel like I haven't been in Nashville since April because I've been on the road, so it was a really easy transition for me…" I'm interested to know if moving about was part of Natalie's childhood, and it seems it was, in part. "I was born in Ohio and then moved to California…and then I moved to Virginia Beach – I kind of claim Virginia Beach as my home," says the singer, "but I would go to Richmond in grade school to go to shows because no bands would come to Virginia Beach! And now I've been coming to Richmond fairly regularly for the past three years since we started this whole process…" It's also down to Prass's parents that she ended up in Nashville, the home of the aspiring song writer. Prass takes up the story: "My parents do like to move! It was just with my dad's job, and then we lived in every pocket in Virginia Beach that you could live in….so we moved around a lot even there. And now my parents live in Nashville…" Is that part of the reason she moved there? "Yeah, after high school I immediately moved to Boston and went to school there for a year, and my parents moved to Nashville," says the singer. "That's basically how I ended up there because I never would have thought I belonged in Nashville. I never listened to country music until I moved there and then when I went there to visit my parents I was blown away by the city – this was where I needed to be, the song writing capital of the world!! My whole opinion on Nashville totally changed and it really shaped me into who I am as an artist for sure."
Although Prass was moulded to some extent by the city of Nashville, her musical education started at a much earlier age thanks to the influence of her father: "I mean, I definitely owe writing music to my dad," she admits. "He owned his own business and wasn't around a lot but he would sometimes play guitar; it was very rare but I was captivated when I was little. He wrote songs…I was like 'oh what's that?' and he'd say 'Oh I wrote it, I made it up', and so then I realised that people wrote songs!" This revelation meant that Prass started experimenting with song writing very early on: "I wrote my first song in first grade and just kinda kept doing it," she laughs. "And my sister sings, she has a beautiful voice…." I say to Prass that when people write about Natalie Prass the album they tend to (and I include myself in this group) mention the same names: Diana Ross, Dusty Springfield and Dionne Warwick. So, were these records playing at home? "Oh yeah, definitely," affirms Prass, "and I owe that to my dad as well. When we were in the car the oldies station was on and we'd be listening to Motown." The effect of that was that Prass was out of step with her peers around Richmond, but rather than isolate the blossoming song writer, it only made her stronger. "Growing up in Virginia Beach, if you were in a band and it wasn't an orchestra or a jazz band you were in a punk band, or a hardcore band," she begins. "I was literally the only girl playing music growing up, that I know of, in bands and saying 'guys, Stevie Wonder is cool, he's really good!' I was listening to all that, and Dusty Springfield, the Beatles, the Rolling Stones – and that wasn't cool at all with the people who were playing in bands and stuff, they just listened to punk and hardcore. But it made me kinda confident, because I had to stand up for myself and say that this is what I like and this is who I am…I had to fight against all that stuff."
Although first-grade Natalie was writing songs, it wasn't until her teenage years that she started taking it seriously. Prass says: "I guess since I started my first band in middle school; that was when I would bring in songs that I'd written or we'd write songs in rehearsal and we'd play them out wherever we could…coffee shops, pizza shops! There were no venues in Virginia Beach…but I was pretty young, and I knew this is what I wanted to do and I loved to do…." Prass hesitates at this point, before tidying up a little bit of mythology that's grown up around her and Matthew E White's relationship. She explains: "This is the band…well, it's kinda written that this is the band that Matt and I were in together but I actually left the band and Matt took my place!" Returning to Prass's song writing, she admits "I was figuring it out; I knew I liked to write songs but it was more the process of…everything is so new when you're just starting, and when you're young you'll say 'I'm gonna put a song together' and there's a melody and you go with it." The 28-year-old continues on: "It wasn't like I was able to construct it [a song] critically yet, because you just need to do it and experience it and see what it's like to make something from nothing, to write a song and put all those elements together: lyrics, melody, chords, singing, playing…." So what changed for Natalie, what was the key that led to Natalie Prass? "I remember a lightbulb went off in Nashville when I first moved there," she says. "I needed to write music that I would want to listen to! There's a point where you say, yeah I can write all this music but would I want to put it on the record player and listen to it? So that narrowed it down a little bit!"
The mention of Matthew E White is of course important as his fingerprints, and Spacebomb's, are all over Prass's debut album. Although the recording process was kickstarted by Prass and White working together, not all of the songs on the album came direct from this collaboration: "When Matt and I decided we were going to work together three years ago," says Prass, "I sent him a lot of stuff. I sent finished songs, I sent old songs, new songs, I sent snippets, melodies, chords, everything. Matt has such a strong vision and we had been talking a lot about what we were going to go for sonically…and we really planned before we played one note together!" When it came to picking through the songs, White insisted that some of Prass's early work would be suitable for the album: "For Matt, songs are key; so he would say this particular one should be on here, and ones I'd written a couple of years before we'd started the process…so there's one song on there that's pretty old, and then the rest are newer, towards when we started tracking."
It's been a long time coming for Natalie Prass and Natalie Prass. It's actually three years since the recording process was completed, so alongside potential frustrations at delays I wonder if it's hard for Prass to identify with the emotions she's expressing on the record given that a record is very much a document of a particular time and it's very possible that Prass is no longer in the same mental, physical or geographic state: "Well, we finished the record in 2012, so it's been more or less sitting until now!" she laughs. And her feelings on the record? "I really think you have those thoughts you mention immediately after you finish it. You're like 'oh I wish I'd sang that, I wish that wasn't there, or we should have done this' but now I like it; it's this time capsule and it's really special to me…this is such a unique thing a whole community put together." Would she change anything? "Well I know I'm a better singer than back then, I feel like my voice has gotten stronger just with age….but with everything else, I'm totally happy with the whole thing. We all did the best we could and I think we really did something really, really cool and special together." The only concern Prass had was about the age of some of the songs, but purely because it seems she's quite the prolific song writer: "I was worried about how old the songs are," she admits. "I write all the time, so it's not really like me to be like 'I'm gonna release all these old songs when I have all this other material I've been working on forever'. So it's forcing me to look at it differently, which is so cool because these songs are old friends! With all the changes happening in my life, things are constantly changing…it's actually kind of comforting! We were rehearsing with the band recently and it was really nice [to play the songs]…but we'll throw in new stuff too."
It's obvious that the album is a deeply personal affair for Prass; from the opener of "My Baby Don't Understand Me" and its detailing of a relationship slowly falling apart to the more visceral take on the same in "Violently", Prass wears her heart on her sleeve and sings with a deep clarity of someone who has had their heart broken but is bouncing back. It's something Prass wasn't afraid to face in her song writing: "It's hard for me not to write from a personal place, I've always been like that!" she exclaims. "But, in Nashville I learned how to not do that…but it never felt right for me. A lot of my friends in Nashville write like three songs a day with three different people, and it's a Monday through Friday job…I have a lot of respect for those people but also, when I write I want it to be genuine and it helps me get through whatever I'm dealing with – I'm not afraid to put it all out there." And how is it looking back on it now, and still singing about this thing that happened a few years back? "It is funny!" laughs Prass. "We had tracked the record, and then we needed to mix, and then we needed to master…that was really spread out and after that I decided I was going to put the lid on this magical jar and throw it away…" because she didn't want to think about it? "Because I knew it would be a long time until this [the album] was out! I didn't listen to it at all, unless it was to show my parents or something, and when we brought up the tracks to mix it I was just like 'Oh my god!' it brought back all those memories for sure, but it was cool."
In between finishing the album and its release, Prass went out on tour with Jenny Lewis as a keyboard player and back-up singer. A long-time fan of Lewis, it was an opportunity she couldn't turn down, but did that add to the delays for Natalie Prass? As she explains, this wasn't the case: "No…what most had to do with the delay was Matt completely exploding and gaining a cult following! That record was doing well, Spacebomb was getting a lot of new challenges, bringing on new team members and companies they were joining with….and they were new so they just wanted to make sure their ducks were all in a row and everything was being done right – and unfortunately that meant they couldn't give the proper time and attention that they wanted to give this record." Things could have happened quicker for Prass, but neither she nor Spacebomb wanted to do things half-assed: "We could have released it earlier but I don't think anyone would have been satisfied with the experience; now there's an amazing platform for it to sit on. All those guys have figured it out now, and I know they've always really cared about this record we made together, they've been nothing but vocal about how it's their favourite and it was such a special time – and it was for me too! I know they wanted to do their best for the release." All the time working with Spacebomb's band, it was hard for Prass to come to terms that these players, incredible musicians each and every one of them, are all old friends of hers: "It was unbelievable, but what's crazier is that I grew up with these people! I can't believe this is all happening…there was nothing like it." The key was being comfortable around the same set of people, giving each song the care and attention it deserved….something that Prass hadn't experienced before: "Especially coming from Nashville where people are pumping out so much music so quickly," she explains, "playing with ten different people a day….the care and the ability to slow down and take your time with a project doesn't really exist, or it's very rare – I certainly haven't experienced it. Unless you have a shit ton of money then people will slow down for you – but I definitely didn't. It was so nice to go to Richmond; it's a beautiful, beautiful city and to have this chance to take one little step at a time, really put a lot of attention and care into it…that was awesome."
Returning to the subject of Jenny Lewis, I say that Prass must have learned a lot from going on such a big tour that would help her when the time comes to tour in support of her own album: "Yeah! When I got the call to audition for her band, I was so excited but I also wondered what it would mean for my own music…" Prass was tentative at first, but warmed to spending time with Lewis: "I knew I would have to put all my energy and time into someone else's music; it did cross my mind to ask myself what I am I doing, you know? I'd played for people in the past but never this extensive, but I was such a big fan of Jenny that I decided I was going to do this and I'd learn so much and I'd soak up everything that I can. I couldn't be happier that I did it because it prepared me so much for this release. I was with Jenny when her record dropped; just to see how smart and calm and amazing she was…to observe that, I learned so much from her. I'll always be eternally grateful for that." I say that I can see a lot of similarities between Natalie Prass and Lewis's The Voyager album – both personal and direct records: "Yeah, oh yeah! Definitely!" agrees Prass. "She always writes from a really personal and open place, so that feels really good when you have a fellow comrade doing that too. She's personal but she's also private too – she manages to keep her life private. Her song "She's Not Me", when I first heard that I cried, oh my god….'that's me!' [laughs]. I love her new record."
Since we spoke, Prass has undertaken a short tour of her own, a longer stint as support for Ryan Adams on what's been a very well received jaunt across Europe and is currently taking SXSW by storm with a series of shows in Austin. She explains the tour band set-up and her approach to playing the songs from the album: "There's four of us in the band, so it's gonna be different! What we're being very conscious of is that those arrangements are part of the song, so we can't completely translate that note for note but it's been a lot of fun to go through the songs and each take a line and say 'you do this, you do this…' the guys I'm playing with are complete freaks! They're so good at jazz, totally skilled, all they do is play and it's so easy to say [sings] 'how about you do this line?' and they get it straight away. It's amazing, mind-blowing."
Through all this promotion and touring, the constant writing Prass hinted at earlier doesn't seem to be affected by time away from home, time spent chatting to journalists and playing a bunch of shows. So, the writing always continues? "Oh yeah, always," says Prass, beaming. "Even if I was like 'screw it, I'm gonna study physics' I would still be writing music, it would never stop. I've been doing it for so long now it's part of what I do every day or think about every day."
Portraits shot on Colour Impossible Project 600 type film by Impossible and on Polaroid Sun 660 AF by Jason Williamson. Live shots from Hammersmith Apollo London show in support of Ryan Adams.
Get the Best Fit take on the week in music direct to your inbox every Friday