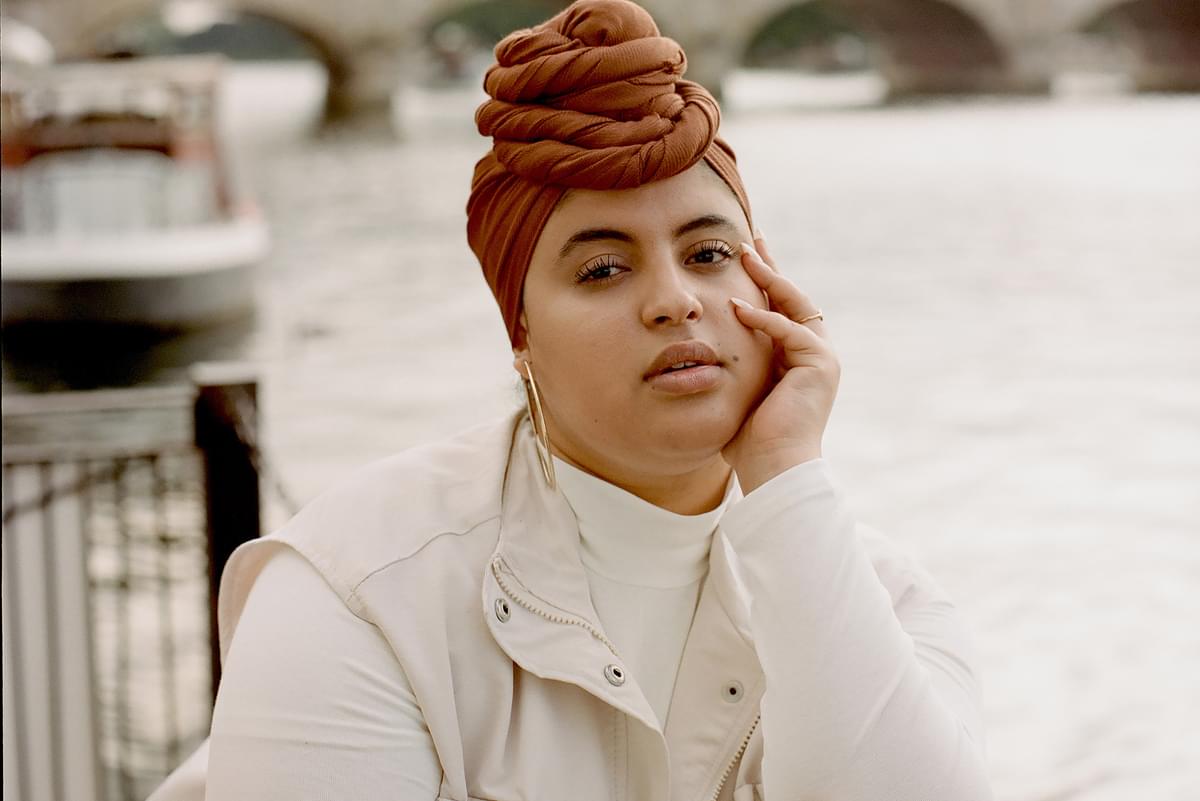 On the Rise

Imen Siar
18 March 2022, 10:00
Finding immense inner strength at a young age, Imen Siar's road is one that's always been leading home.
"I remember asking my sister at the age of four, 'If I was to sing in front of Simon Cowell, what would he think?'," Iman Siar recalls. Unlike most, she was able to get the answer. But before heading out on that bold and brash Britain's Got Talent stage, Siar had to go through her hardships to truly understand just what it is she would be doing up there.
Sat in a leather jacket, patterned head scarf and large hooped earrings, 22-year-old Siar is joyfully eloquent in telling her story. It's one that she's been playing through in her head since she was a little girl catching glimpses of BGT-clips on YouTube, with the odd Jessie J, Katy Perry or Rihanna thrown in for good measure.
Siar's life began with a childhood in Milan where she was bullied – but she turned that into an opportunity to better understand herself. After switching classes to avoid her bullies, she threw herself into a drama to build up her confidence, where singing became her clarion call. "Okay, I don't want to live this again," she recalls thinking, "and maybe they're gonna be my class for five years. So I have to put on a facade I have to look like I'm confident." 
Her fake confidence soon became real: "I was just tired of the way I was being treated and singing was always there. But then when I combined the two the singing and the confidence, that's when everything fell into place."
The catalyst came singing Alicia Keys' "Girl On Fire" at a school talent show – "everyone at school still remembers me as 'The Girl on Fire girl!'" she laughs – and the round of applause that followed. "It's a feeling that I would never be able to describe," she adds.
Siar sees her life as a movie. "I'm absolutely blessed," she tells me. "Even when moving to the UK, everything went the exact way I wanted it to and I don't want to jinx anything but, you know when you're just so content with even being able to try and succeed in your career, when I never thought it could be possible?" 

The strength to succeed is embedded in her tough childhood but also finds roots in her cultural exposure. Of Moroccan descent, her Mulism upbringing in an Italian city found her eyeing up the best of all of those worlds. When I ask where she sees herself fitting in, a pause breaks out with a smile, before she answers: "That is the hardest question...I just feel like a human being in the world."
Siar's gestures enunciate through every sentence as if it's the most important message she could ever convey, even when talking and she speeds out of control. "I cannot help but feel almost like 100% Italian but also 100% Moroccan," she beams. "And then England feels like it's the place – where it feels like home – where I feel accepted in every single way. It's the place where I found myself in music as well and everything fell into place."
Moving to the UK is when everything started to kick off for Siar. Getting a job in Nando's, it's where she also met her future husband and her future management company. Eventually being scouted by the bigwigs at Britain's Got Talent ("Oh, that's that's interesting. I mean, why not?" she shrugs, joyfully laughing), and making it to the semi-finals, life on these shores has given Siar hope.
Seemingly, life is filled with these full-circle moments for Siar; like the repetitive rotation of a cinema screen's reels, the pictures keep flicking, and she's the star. One of her first real forays into music proper came last year with a feature on the Middle East version of David Guetta's "Family", also featuring Ty Dollar$ign and Boogie Wit Da Hoodie. It was an opportunity seized when her manager mentioned recording the lyrics in Arabic before they found anyone else – a move which paid off when Guetta chose Siar. In the video Guetta mentions her name: "Little me would be freaking out because all the songs that I used to listen to when I was little, what do they all have in common? David Guetta," she tells.
Siar's debut solo single "Lonely People" is a sweeping piano-led ballad about uniting the world in love that's being issued in Arabic and Italian versions alongside English. Mentioning that there's even a French version kicking around and the potential for a German one – both languages she doesn't even speak – she tells me, "I'm competitive but with myself!"
Being raised in a Muslim family meant that music was sometimes found itself in opposition of he culture. Despite her mother being supportive – and even being present at the school talent show – her father, an Iman at the local mosque, was a little more reticent. "He will never say 'Yes, I approve you' because he doesn't even know if this is something that is accepted in the religion," Siar explains. "He doesn't want to tell me definitely 'yes' because then it would be his fault if something happened now down the line. I think he was also worried that I would take my headscarf off in this industry," she explains. "Because he doesn't know things change. That there are people like Lizzo. She was [one of] the first very curvy women to get on stage…things change. I think he's just worried that I would forget my roots and my religion, my culture, background and all of that."
Siar's mother is her best friend and has helped her stay true to herself. "Even when I was bullied, I'd rather be in the corner by myself, rather than follow the little group to not be bullied. I've always been like that. It's just me, and I'm very proud of that. And I think that's the summation of what got me here today."
The road for Siar is still to be written. "I don't want to jinx it," she tells me. "I'm just gonna keep praying, keep working hard to be myself because I think people are drawn to the energy that I give," she smiles. "I noticed the way that you can impact someone's day in someone's life by the way you act, and that's the reason why my husband said as soon as he saw me he was like 'this is my wife, she's just so sweet'. She's too nice and I think there's nothing as too nice actually. That's how everyone should be to begin with."
For everything that she's been through, there's no doubting that Siar deserves all she's achieved. "I'm trying to open the doors for other girls in my community by being an example," she explains, "because when I grew up there was no one that looked like me on TV or any song."
She breaks for a moment to remember those times she yearned for someone who looked like her to be on TV. "I'm sure there was people that were trying," she continues. "But it never got to everyone knowing. I've never seen anyone with a headscarf sitting at the VMAs or next to Beyonce…so I really want to be that. Not only to the Moroccan but also the Muslim community and I'm not talking only about music. I'm also talking about for people that want to be a photographer or they want to do something more in the arts because, in the culture, it's something that people and the parents don't really understand.
"They want you to be a doctor or a lawyer or this when actually most of the money – especially now – comes from creative spaces. I just want to inspire the little girls that want to be called actresses, and they want to do this and they don't see enough representation. The same way that we see Somali models with the headscarf now in Vogue, it's beautiful to see that so I want to be able to also do that in my own way."
Get the Best Fit take on the week in music direct to your inbox every Friday