"You need to always see the light in every situation. In this industry I'm in, people think strength is flexing, like, oh 'I have more money than you', 'I have more streams than you', etc., and it's like cool, sometimes you wanna be a bad bitch, I hear it. But at the same time, what makes music legendary and live forever is a true message. You can only access a true message if you're in sync with your own vulnerability." IAMDDB's as-yet untitled new album is designed, in her own words, to "motivate people to stand in their truth, and not only to stand in their truth but to stand in their truth with confidence, because the truth will really set you free. It might hurt you and piss you off at first, but after that feeling, you'll be like, 'shit this is lit.'... "
"...Sorry, I get so deep with these things."
Real name Diana Debrito, IAMDDB is a kaleidoscope. A Lisbon-born, Manchester-raised songstress of both Angolan and Portuguese descent, she has coined her sound as 'urban jazz'. With affecting charm and explosive lyrics, her tracks cruise along with their own languid style, balancing on the fringes of R&B and soulful jazz. And, after appearing in BET shortlists, The Guardian's Ones to Watch, and Forbes' 30 Under 30 list, today she finds herself at an important crossroads: 2020 will see her embark on an epic 23-date tour across the UK and Europe, as well as unleashing her first full-length LP on the world.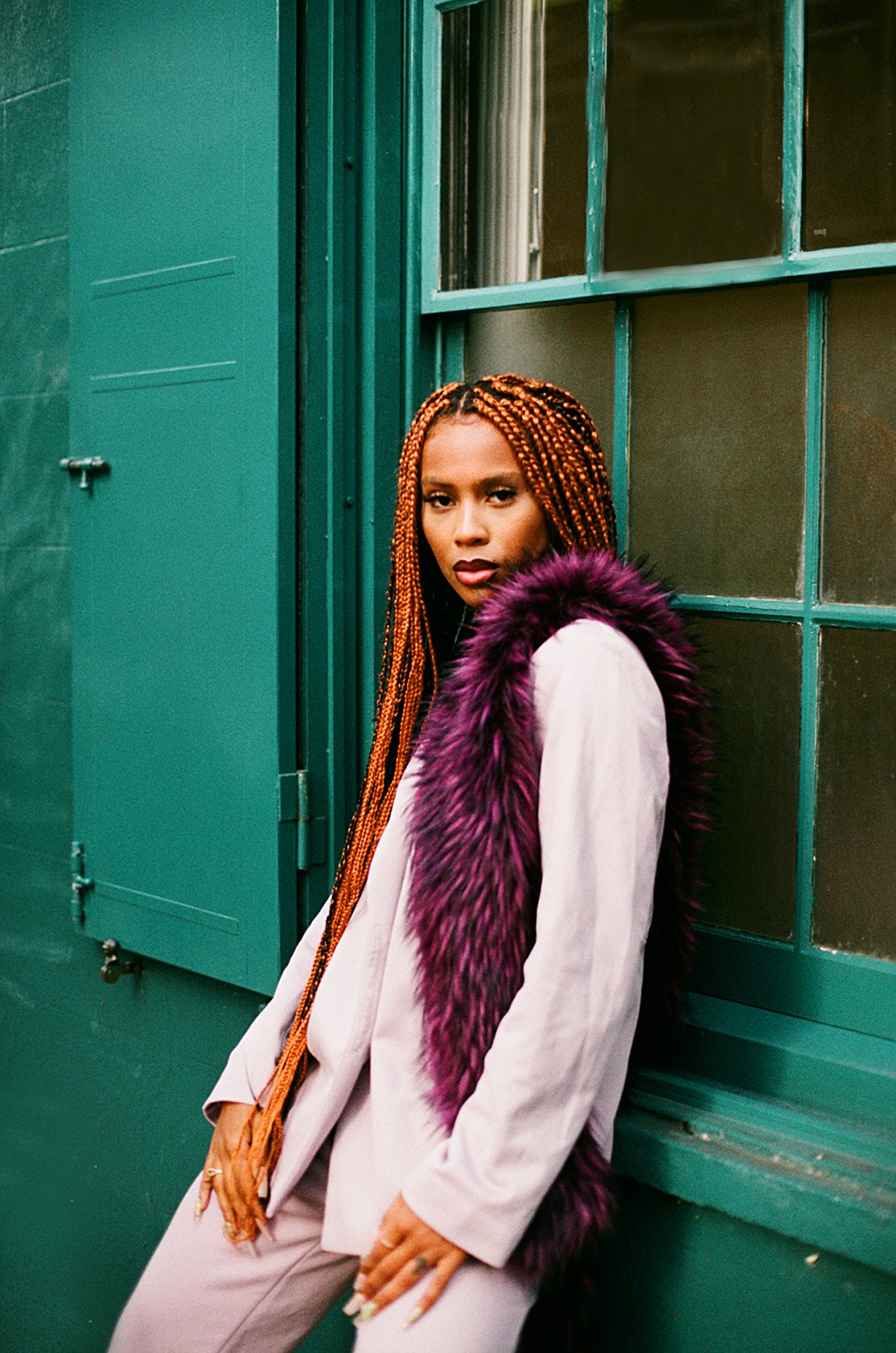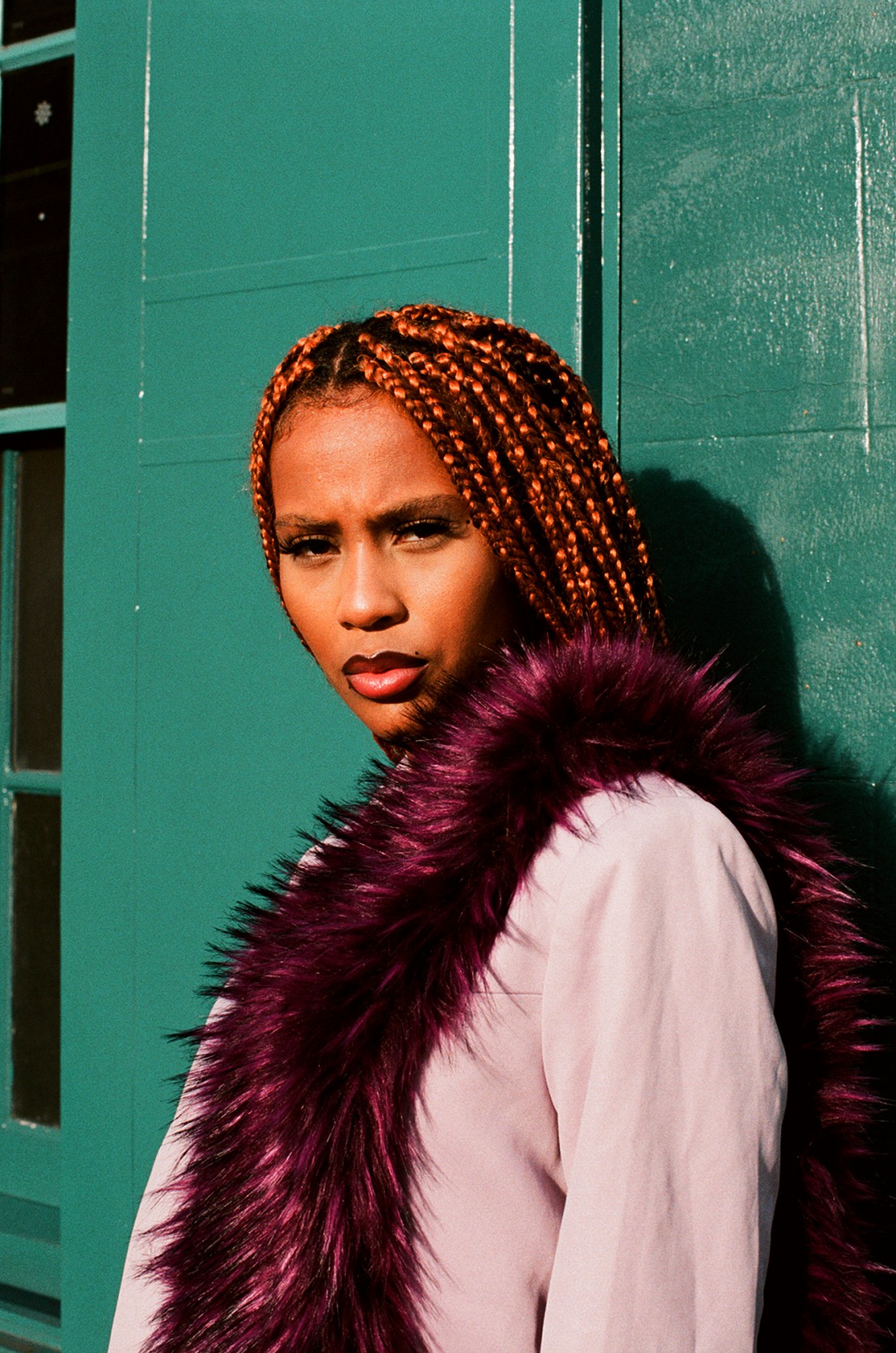 A passionate yet serene energy encompasses Debrito when we speak: it's the day after the announcement that Boris Johnson is set to become the UK Prime Minister for the next four years. A crushing defeat for Labour, much of the UK was left in despair at the outcome, questioning the future of the country, with Brexit now a solidified fact. When I ask DD her thoughts, she answers breezily: "You know what, at the end of the day, they're gonna do what they wanna do. Everyone should just focus on building their own ecosystem and we'll be cool." It's clearly not in Debrito's vocabulary to dwell on the negatives.
This resilience has surrounded IAMDDB's aura ever since she emerged on the scene. In 2015, she announced herself with a hazy and pure Fly-Lo re-work on Soundcloud, followed by a string of addictive jazzy and trap fusion EPs, most recently, Swervvvvv.5 – an R&B hybrid released via Union V records. Each record featured no-one but the woman herself.
Despite her music generating over 1 million listens on Spotify a month, it becomes clear in talking to her that Debrito is not one to be clouded by cosmically generated numbers. Speaking candidly of the often skin-deep nature of the industry, which she seems to glide seamlessly through, she tells me: "Music has evolved so much from the time when we had 'real' artists. Music nowadays can be so microwavable, here today, gone tomorrow." Particularly, in the genres of R&B, jazz and trap in which IAMDDB traverses, it could be argued that since it gains so much traffic and has such a high turnover, there is a temptation for artists to succumb to a certain style in order to make bank.
"A lot of people have one smash hit and think that's it, and they're good for life. But when you really examine this industry and this game, you realise that just because you've overcome one obstacle doesn't mean there isn't 100 to go. So staying humble, staying level-headed, and always remembering why you began this to begin with, is super important, in a level of consistency and quality, in the way you work and the way you carry yourself. Girl, it's like a whole matrix."
Debrito has, of course, had her share of smash hits. The one most will know her for is her 2017 breakthrough single "Shade", off the mixtape Hoodrich vol.3, which to date has accumulated over 630 million plays across Spotify and Youtube. When I inquire as to how she responds to this level of success, she tells me: "It's a constant cycle of reward, to be more, or to aspire to do more than I already have. But, the thing is that I stay humble, I don't let it get to my head".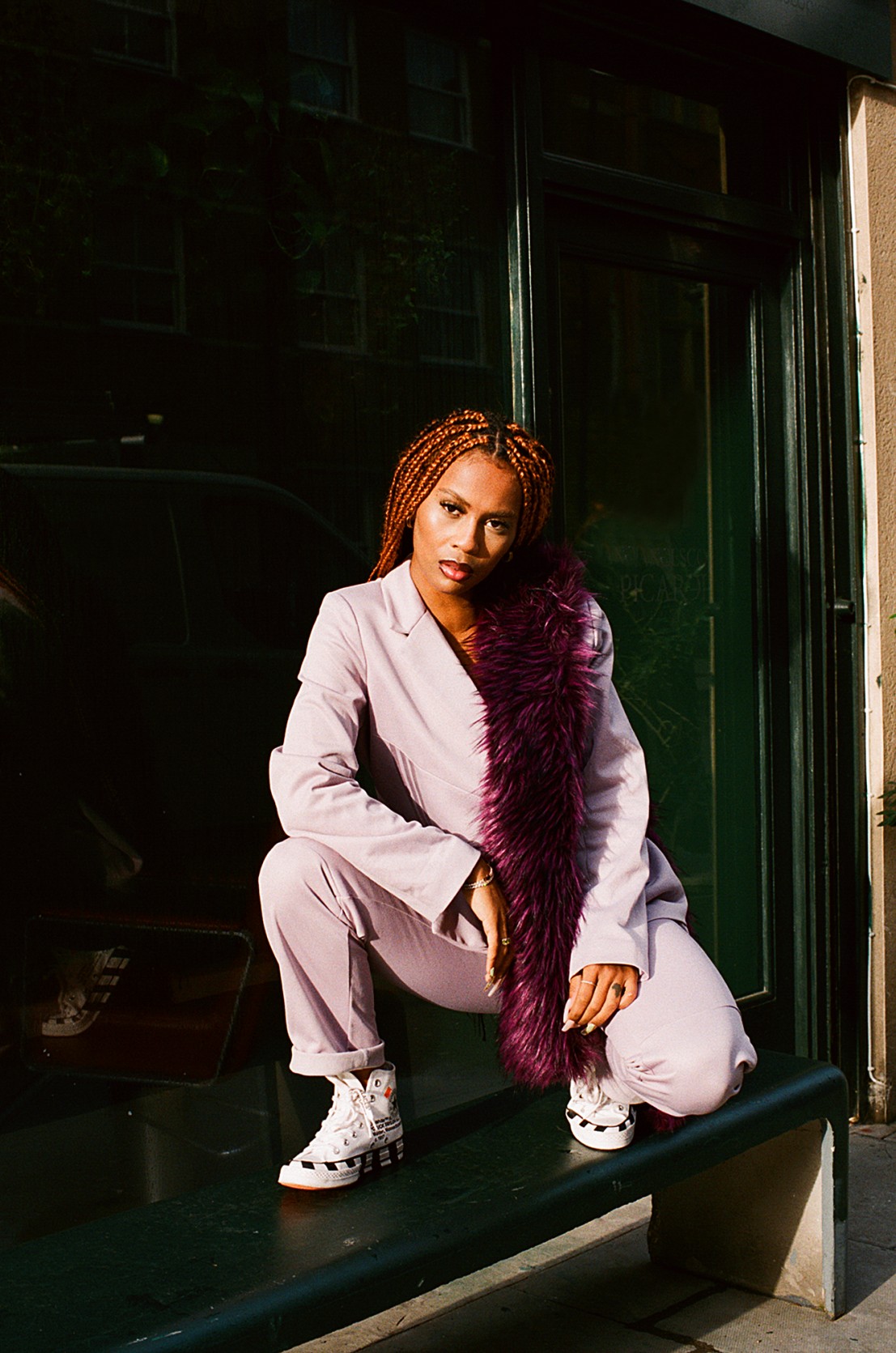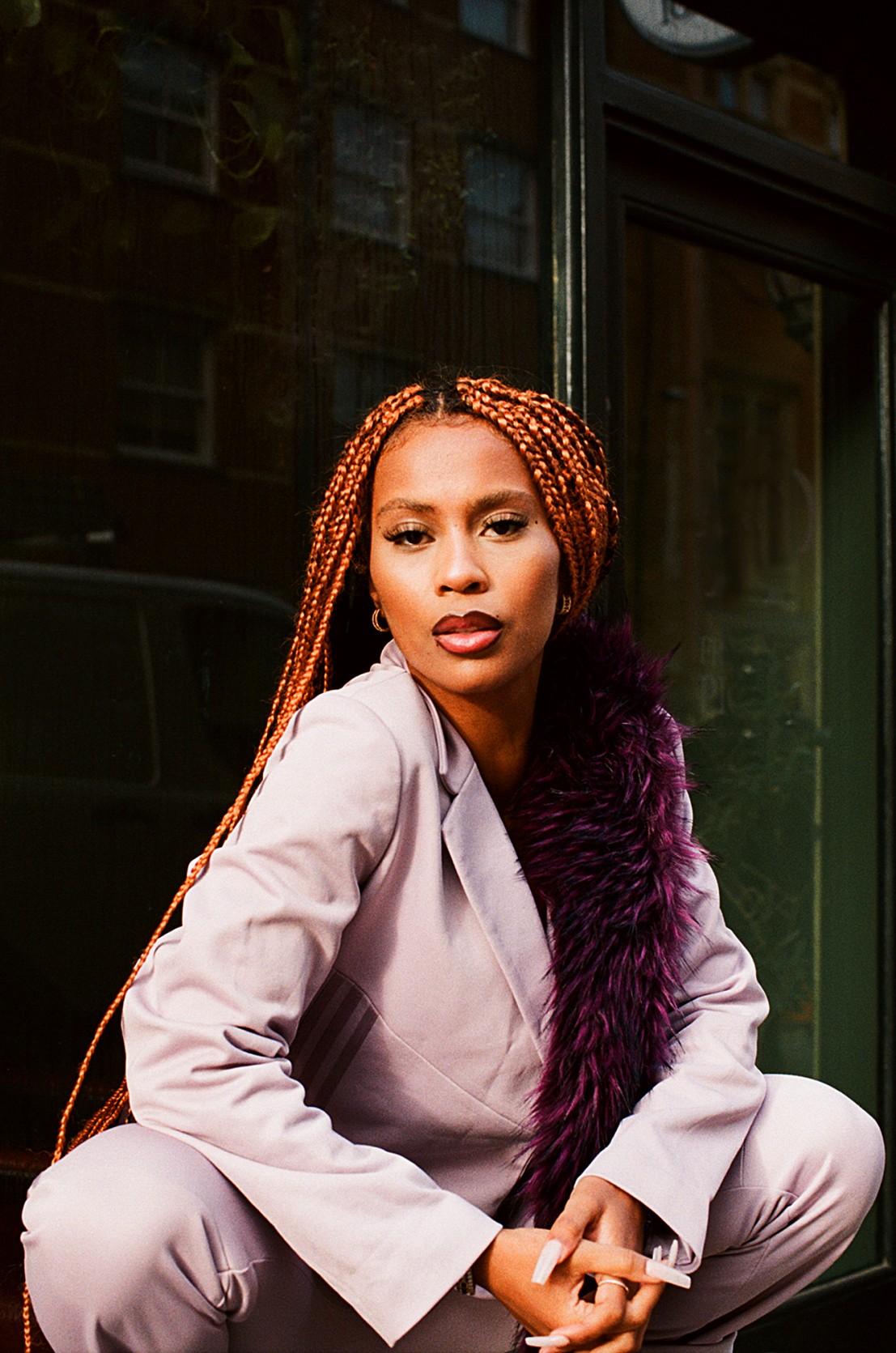 Our conversations circles back to particularly transformative time for Debrito: the formative experience living and breathing music in her father's hometown of Angola, in Southern Africa. In 2015, she began to immerse herself in the local jazz scene there, which she says helps to solidify her musically. "I understood that if I could do that in a third world country, where there aren't many opportunities, imagine what I could do in a place like England, where the opportunities are endless and there are people who can help you really achieve your vision.". On her return, it became a no-brainer to start seriously making her own music, and after a short stint at university (she dropped out after just a day, simultaneously releasing her first track on Soundcloud) she released a DIY video for "Leaned Out", a smooth-as-silk track produced by INKA.
Fast-forward four years, and Debrito has performed all over the world, from muddy-reveling UK festivals such as Glastobury and Leeds, to the unique setting of Secret Solstice in Iceland. I ask Debrito where some of her favourite places to perform around the world are. "Brazil, Brazil, Brazil! If you've not been to Brazil, you need to go to Brazil. Their frequency… they are on some next shit, I don't know what's in the air, but when they appreciate you, they appreciate you like no other place in the world." To hear Debrito talk so fervently about the crowds she has encountered is moving, and it's clearly this gratitude that makes her live performances so electric.
A 0161 girl at heart, Debrito moved away from Lisbon at age five to the urban metropolis that is Manchester. This seems to be IAMDDB's true sanctuary, and where she feels most at home. We come to some specific qualities that draw her in: "It's one of my favourite places to be. I can't quite figure out whether its familiarity I have with the city, the vibration of the city". Debrito is part of the innovative wave of artists hailing from Manchester, including now-household names such as Children of Zeus. Part of the pull of Manchester, Debrito says, is the diversity of its energy: "What I love about Manchester is if you want to have a quiet one, you can have a quiet one. If you want to be loud, you can be loud. But, in comparison to London … London never stops. It's on 24/7. As a creative and a water baby, sometimes I need to zone out, still be in my element, but also in the mix. That for me is the perfect Ying and Yang for my world". This play of balance and power seems to be Debrito's key to her sound, and when I ask her how this connects to the album, her simple answer is: "vulnerability is power".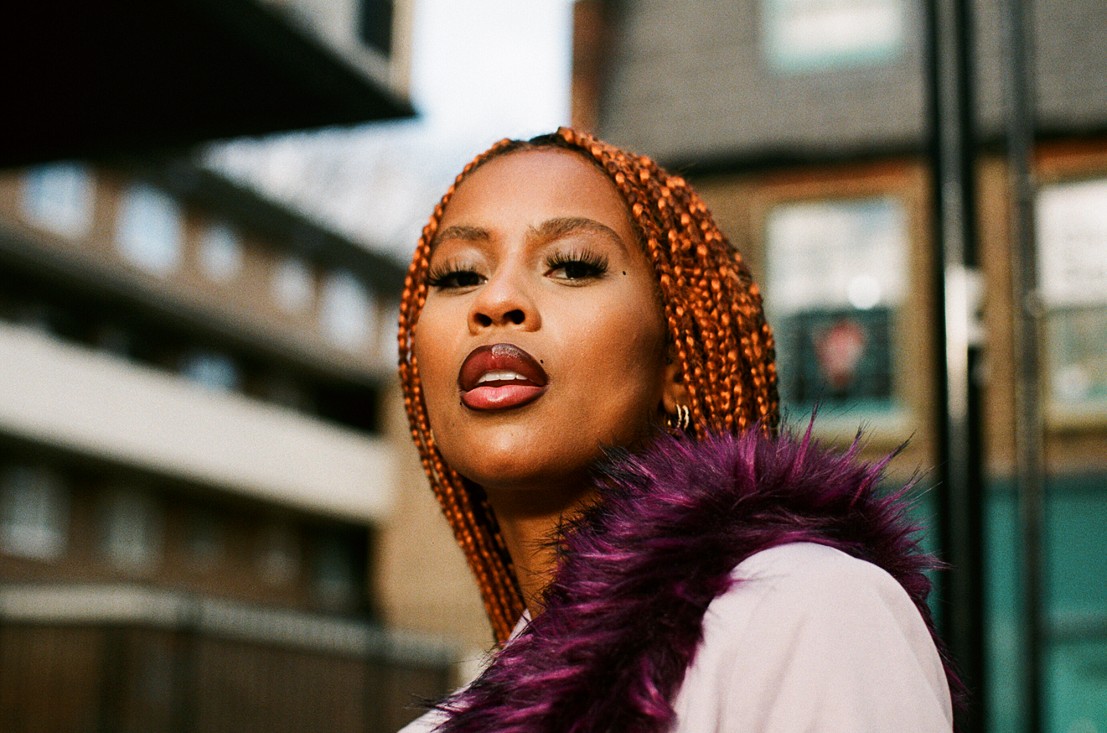 Within this vulnerability in her music, Debrito's honesty is palpable, her songs almost always beginning with an exclamatory shout of 'IAMDDB' – a message that this is her, and you can take it or leave it.
Debrito's personal style emulates this off-kilter sincerity, her lyrics transmitting a message to be yourself, and to always work for what you want. This is especially poignant given that navigating the industry as a woman can be so difficult. It would be amiss to not cite one of the most exciting points in IAMDDB's journey last year, where her talent was recognised by the legendary Lauryn Hill – so much that she was chosen to accompany her as support on the The Miseducation of Lauryn Hill tour through Amsterdam and Scandinavia to London's SSE Arena. She performed alongside Nas, M.I.A. and A$AP ROCKY. Reflecting on the whole experience, Debrito says, "I know! I still can't believe I did that. It was so humbling to have such a legendary Black female recognise what I do – when I got the call I was like, 'This is wild'. Someone I'd looked up to for so long was recognising the light within me.
"[Touring with Lauryn] was true motivation to just continue pushing towards being as true and as strong within myself as I can be. Even when I spoke to her, she gave me some advice and it was to stay true to myself, to make sure the team that I have believe and never try to make me conform." Debrito has gone on to collaborate on tour with artists such as Bryson Tiller and Jhene Aiko. "It's so humbling, the reception with the audience... for them to take me in with open arms. It gives me the sensation that, if I really hone in to my artistry, I can take it as far as I can."
Her lively new track "Famous" was released back in December, annoucing the new album. It unapologetically held a torch to the club, whilst staying in line with her signature trap-jazz hybrid style. It's fun, fierce and holds new ideas which don't have a set rule, and it's clear from this taster that Debrito's new material doesn't leave anyone out. She tells me: "I don't think artists always understand how much power their audience holds, and I just wanna give back and give them a true thank you, about how grateful I am through creativity.".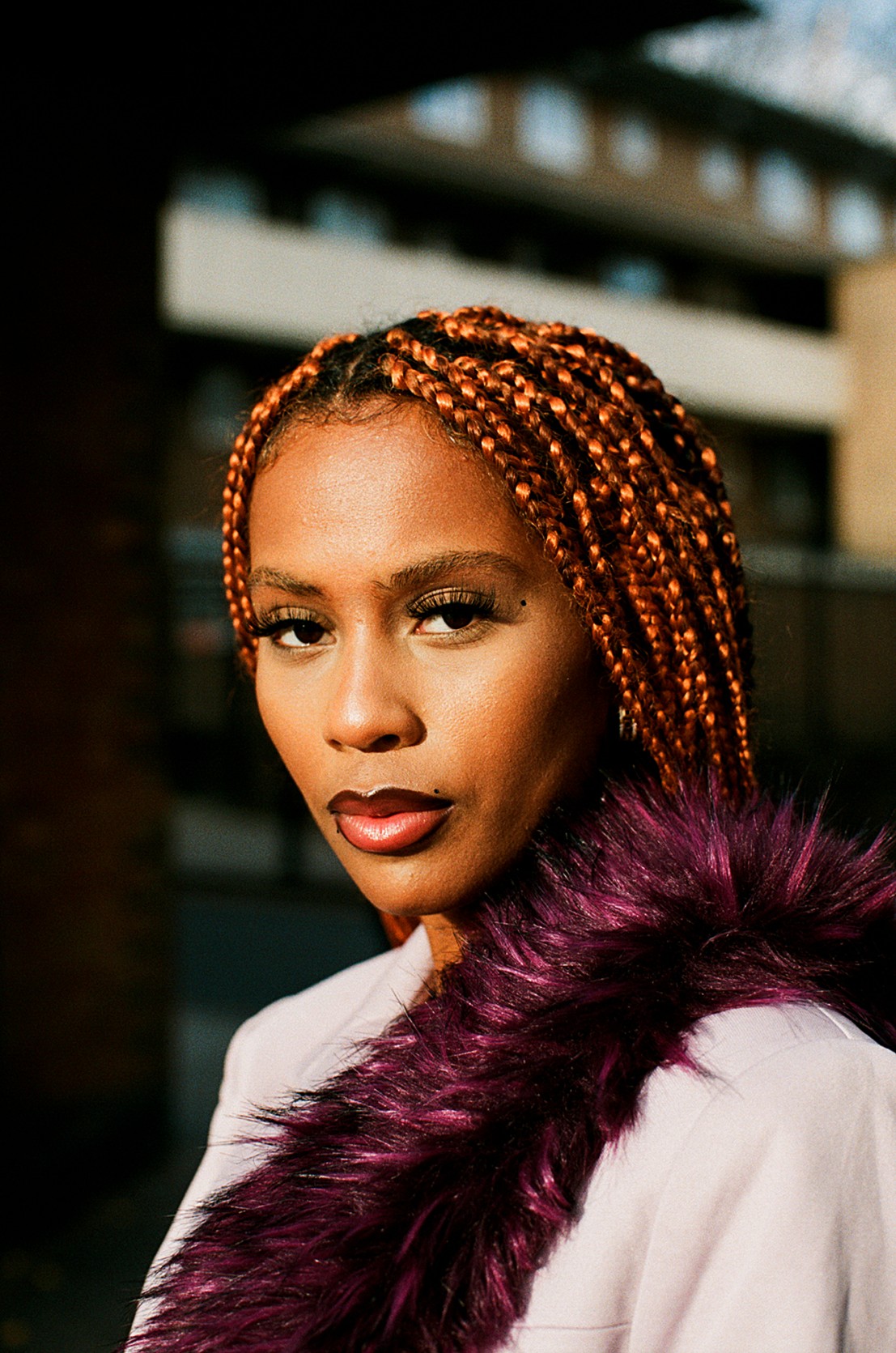 Debrito's sound has never followed a strict pattern or focus, but the importance of connectivity with her audience has always been at the forefront of her style. We reflect on one of her first gigs as IAMDDB, at the beginning of her journey, in Hoxton Square in 2016: "There were maybe 20-50 people in the audience, and it was one of my very first shows in London. And honestly, just having the opportunity to be on the stage and be able to express myself, have an audience that was so engaged, it was so humbling for me.". The energy of Debrito's first gig inspired her to never let the background noise of the negative cogs in the industry affect her: "It taught me you can never lose this passion and fire inside of you, that motivates you to produce, that motivates you to dig into your emotions and express to people. It's so powerful, it's something that people need, as a listener and a consumer. They need somebody who's fearless and somebody who's going to say the things people are afraid to say."
Similarly, on her debut EP Waeveybby Vol 1, the palpable energy that comes through is that Debrito wants her audience to feel what she is feeling, to form a collective consciousness. On the first track "Ease", her lyrics echo this positivity and self-confidence: "Lost something from underneath / I can see my enemy, I'm free / Oh, I think I like what I see, yeah / The best of me".
Debrito's musical inspirations also echo this self-assuredness. "Some people who have inspired me here from the beginning: Lianne La Havas. She's one of my favourites. And Gretchen Parlato. With these females, they stay so true to their own genre and their own style of doing things. I'm never one to follow the main structures, I have a very unorthodox way of being. It's like when I buy a piece of furniture, I never read the instructions. I never read the terms and conditions with my phone! I base everything more off feeling. I really gravitate towards anyone who portrays that– who goes off feelings rather than, you know. Anyone that thinks outside of the box is an inspiration to me".
Debrito wants to be able to harness her stardom for what it is, and create an entirely new thing, her music at the forefront. We discuss the aims and inspiration of her new album:
"I never really apply any expectation. An album is a body of work: people can commit and judge it however they see, but me personally I'm really excited because I feel like this is the best music I've ever made. It has structure, it flows, it has such good energy, within myself I've had a whole cycle of energy cleansing, realising what I like and what I don't like. So long as people listen to this album with an open heart and an open mind, they'll understand what it's about."
"So obviously there will be something for everyone, whether you're a fan of Afrobeats, jazz, hip hop. I really tried to master a version of DDB in every genre. I think will be very interesting to see how people react to it because people haven't really heard these sides of DDB. But when they do, it's gonna be a global collection. And God willing, it will inspire people to delve into their own history, delve into where they're truly from. Delve into how far you can maximise a sound, instead of just being boxed into one genre."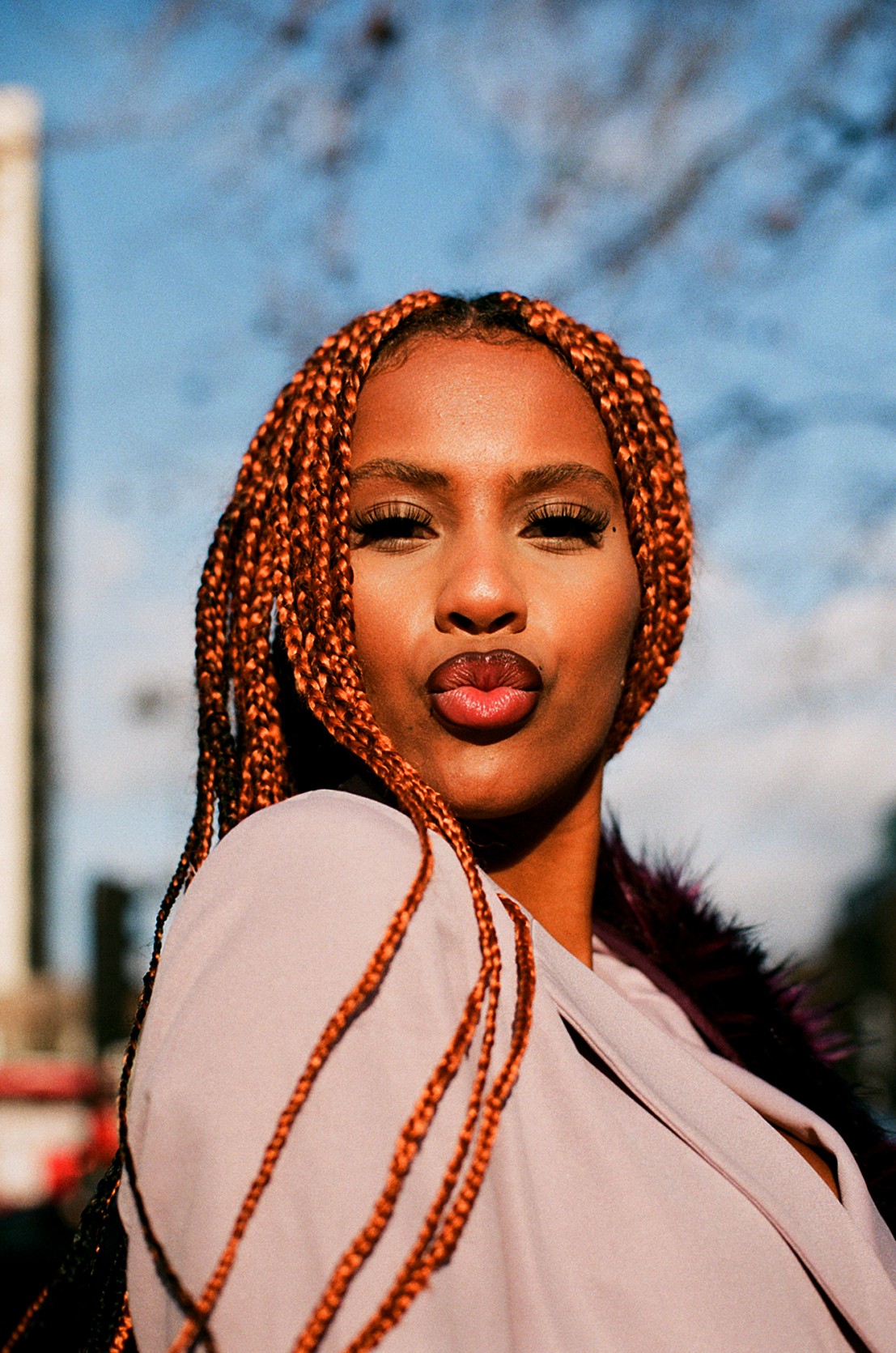 Debrito is not one to set any particular new year goals, when I ask her the generic resolution question. "Girl, I make new year's resolutions every day, you know. I do not need a new year to set a new goal. But this year, I'm going to enter the year in Australia. I've got five or six shows out there so I'm super grateful."
Debrito's single-mindedness comes through in her answer. Setting goals to resume every first day of the new year is, frankly, doomed to fail, whereas Debrito has a fire and momentum that doesn't go out. "I just want to keep my energy as pure and as positive as possible. I want to continue expanding – not only personally but in my music, giving to different audiences, travelling, and spreading love man, it's all about the love!".
IAMDDB's new single "GOD'S WORK" is out now.