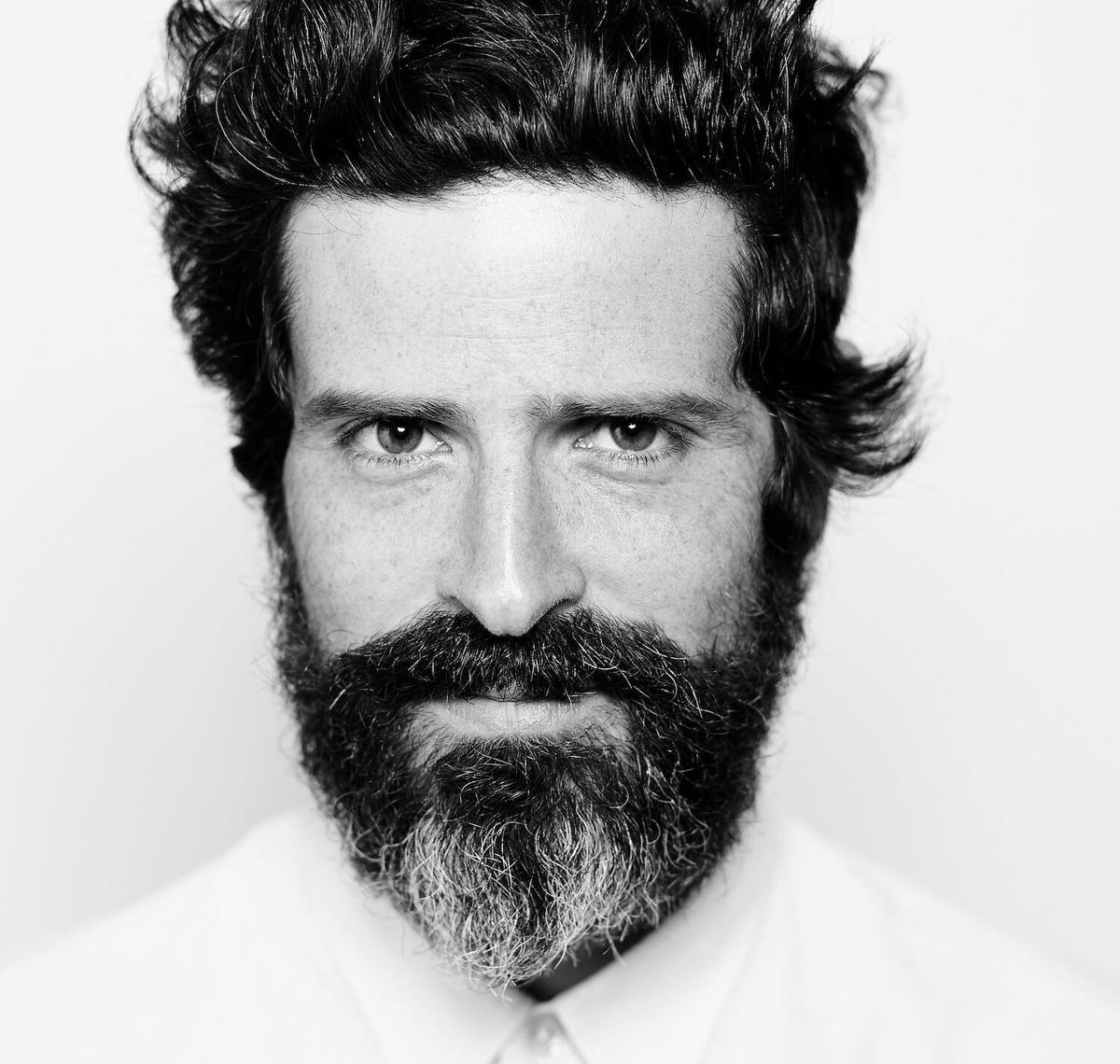 How motherhood and silence captured the imagination of Devendra Banhart
06 February 2020, 16:00
Devendra Banhart comes gently onto a hushed colour-lit stage at London's Shepherd's Bush Empire, looking as close to the stereotype of hipster as seems possible - carefully constructed to look nonchalant grey-flecked beard and tousled hair, geography-teacher-inspired polo shirt and cardigan, tailored just so to look anything but.
Before his and his band even begin to play he seems to have the room captivated, hanging as they are off his every movement, and as the gig progresses, his every word, animated gesture of the hand and pick of his guitar.
The set is low-key and understated, drawing you in to note the delicate beauty in the intricacies of his surreal poetics and nuances of his quirky rhythms rather than sweeping you away with grandiose sounds or his biggest crowdpleasing tracks. But the audience are adoring, their energy peaking on "Mi Negrita" and "Never Seen Such Good Things" from 2013 album Mala but with attention equally held on new tracks "Is This Nice?", "Kantori Ongaku" and the stunning "Carolina" from latest album Ma. Plus the likes of "Fancy Man" from 2016's Ape in Pink Marble, 2005's "Quédate Luna" from Cripple Crow, and closing track, 2007's "Carmensita." No one can help but join in as he prances eccentrically across the stage or be warmed by his mischievous grins.
His intermittent calls for requests return an impressive cacophony of differing song names from across the singer-songwriter's back catalogue, which reaches back to the turn of the century (2002's self-recorded Oh Me Oh My… The Way the Day Goes By the Sun Is Setting Dogs Are Dreaming Lovesongs of the Christmas Spirit), a testament to the fact different vicissitudes of his music has touched each of his fans.
In between tracks, it's the off-beat charm of his songs that comes through even stronger in his chat, with meandering sentences asking us to ponder, "a giant piece of popcorn in the sky" he wants to connect with and the "flora and fauna of our lower intestines." He describes his "coccyx is like a fortune cookie I wanna crack open" which could have a "dick pick of his grandfather" inside...(say whaat?).
While that same idiosyncratic storytelling charm pervades our conversation, I (thankfully) find the Venezuelan-American a touch less metaphorical and a little more concrete when discussing his tenth album, Ma, released last year to critical acclaim.
"'Kantori Ongaku' means country music," he tells me of the title lead single, and incidentally my personal favourite of the collection. "But actually the song is about the next line, 'Shikata ga nai', which means 'c'est la vie'. So, you know, you're stuck in traffic, you say 'Shikata ga nai'."
Having spent a mind-blowing month or so in Japan myself a few years back I ask what prompted the reference. He explains that it was in fact while he was in Japanese city Kyoto that he first started writing the album, and the accompanying video, made with Giraffe Studios, captures much of the essence of Banhart combined with a Japanese aesthetic. Like a fantastical dream that simultaneously portrays very everyday little things, I suggest.
"I think the way you described the video - that's how I would like the record described," he replies. "That it's very mundane and surreal. So much of the record is influenced by Japanese culture and music. And my nails in the video are Japanese flags. That's how I spent my birthday, having my nails done with Japanese flags. And now I'm really into getting it. So thanks to Japan I now get manicures," he says with a giggle.
But the connection also runs deeper than a newfound love for nail art. Hidden in the album name, "Ma", which most obviously is the word for mother in many languages, is an additional meaning, "In Japanese, it's the word for space," he says. "And not just physical space. But the relationship between space and objects. And the relationship between notes and silence. And that makes a lot of sense to me, for music, because you're not just creating sound but trying to create an environment and ambiance of space.
"So when you ask me, what's one of the things I like [about Japanese culture], it's that I like people aren't afraid of silence there. To me, it's something I appreciate a lot. The sound pollution in the world that we live in - it's so perpetual, so aggressive, it's just a relief to be in a place that isn't so afraid of silence."
The motherhood theme, however, is also one that runs strongly through the album, through differing "approaches and perspectives that utilise maternity as a metaphor," he explains, each song forming its own self-contained vignette of a story from his own life, from a moment, feeling or relationship. "I think as a songwriter, you're really observing. And I was taking from my own experience with my own mother, and then with the experience with observing all of my friends: the people in my band, being mothers themselves and watching that relationship, or in the situation in Venezuela, which is really like a mother to me in terms of being my mother country. And also, this celebration or expression of gratitude to music's mothering qualities."
It also features who for Banhart is the archetype of a mother, Vashti Bunyan, who is on the final track, "Will I See You Tonight?", "her music and her presence in my life is very much a mothering, nurturing kind of presence. And there's a reference to Carole King, somebody whose music I turned to for that kind of nurturing, mothering, quality of being comforted."
While in some cases, the theme plays out metaphorically, in others, the narrative voice is made more explicit, such as in "This is Nice" or "Ami" which take of the form of a mother giving advice or singing to a child, with lyrics, "I know you don't believe / That you'll heal in time / But all I wanna see / Is you standing head high."
"Generally speaking, each song has a perspective that is something like a mother," Banhart tells me, "such as one who has had to put up their child for adoption, and it's just observing them from a distance watching them grow, or a mother who isn't around on earth and is kind of watching them from the grave to a degree."
"Memorial" meanwhile, explores mourning and loss, forming a tribute to loved ones who have gone too soon - "I know it don't work that way / But maybe you'll come back some day" - which Banhart elsewhere described as about three people he loved and lost, "the strangeness of feeling so numb and yet so completely heart-broken-open…."
While Banhart was born in Texas, he ended up growing up in his mother's native Caracas, Venezuela, when his parents separated before returning to the US as a teenager. Reigniting a connection to where he spent his childhood years - and writing in Spanish - was something crucial for Banhart on this album, and he becomes impassioned on the topic when I refer to the devastating moment in its history currently being played out there: "It's like the most bittersweet thing in the world, the fact that everybody knows that this is, what you just said, a devastating moment in history. But the sweetness is that everybody knows, and everybody's looking into it, and everybody's trying to help. And at the same time, because it's a dictatorship, it's completely isolated in terms of its openness to be helped by the rest of the world. It's a helpless feeling. I'm observing Venezuela, and we can't really make any significant contributions to the lessening of the tremendous suffering that's going on, as we speak right now, and will continue to happen."
He goes on to detail some of the horrendous realities being faced by communities in the Latin American country, the violence, the desperation, the hunger. "They're cemeteries now being looted for the hope of finding some bit of silver you can sell. There's no electricity for portions of the day, which means that in hospitals life support machines are turned off and people die.
"People are literally dying. And the truth is, the conversation isn't even about what it's going to look like once we start rebuilding the country. The conversation right now is about the amount of people that are just trying to leave. 5 million people estimated. I mean, you're really fleeing...it's a dictatorship that's collapsing which is fighting a war against its own people."
The sense of helplessness instilled by, not only the country's intractable problems, but also watching from afar, is what has troubled Banhart the most: "Observing this from a distance, not being nothing really able to make a significant contribution to the lessening of the suffering is one of the most painful things and it's brought me together with a community of Venezuelans that don't live in Venezuela right now. It's a shared suffering, though it's nothing compared to what the people are suffering there."
And it's this shared suffering that forms the subject of most of the songs in Spanish on the record, such as "Abre Los Manos" or "Open Your Hands" a love letter of sorts to the country. While the track sounds in one sense joyous, he in facts sings of the destruction of a museum, his aunt queuing for bread, the kidnapping of a neighbour, "Ayer mi vecina fue secuestrada", and a country soaked in blood.
Coming to the mechanics of creating the album, Banhart explains how his process differed from those previous, which is perhaps what the distinction in its sound is owed to, "In the past, we really were writing the record while we're recording it, and I would come in with these sketches or these pieces. And then we would flesh them out in the studio."
Working with longtime collaborator, producer Noah Georgeson, "this is really the first time where when I would turn in demos, he would say, 'Okay, now, work on these and refine this and finish that.' I've actually never been into a studio with everything finished in terms of their basic structure. And so this is the first time that that's even happened. And that's a real process of production, you know, editing and distilling something. Trying to say as much as you can with as few words is a challenge."
That concept of saying as much as possible in as few words as possible is one that can be seen as embedded in the DNA of his writing, which spans the spectrum between song, spoken word and poetry, indeed, sometimes spilling over fully into poetry itself but on this album is pushed even further, with each song teasing out a microcosm in which an intensely specific narrative can play out and feeling be evoked. The playfulness that has become synonymous with Banhart's music remains but in this case there's a fresh layer of precision and refinement.
Beyond his latest album, Banhart has also put out over the last year a book of ink drawings inspired by his visit to Japan in the wake of Tohoku earthquake Vanishing Wave, his first book of poetry, Weeping Gang, Bliss Void, Yab Yum, and a curated LP of musicians' demos, Fragments du Monde Flottant. Plus he launched a limited-edition collaboration, Almas, with a Brooklyn clothing designer, Alex Crane, featuring his drawings. I'm keen to explore how this plethora of work across different mediums sits in parallel to his core music output: "Well, they're divided and separate disciplines and practices - but it's really all the same thing," he replies. "It all bleeds into the same thing. And it's really a question of just determining where they fit. And it's kind of like, the words that need music become lyrics, and words that have their own music or words that can exist in a space of silence become poems. It's just a question of what's what, you know, what little outfit to put them in?"
In particular, his work as a visual artist has almost carried equal weight to his work as a music artist, having been displayed at galleries from the Art Basel Contemporary Art Fair in Miami to the San Francisco Museum of Modern Art, the Palais des Beaux-Arts in Brussels to and Los Angeles' Museum of Contemporary Art: "Since beginning writing songs, I was also making visual work. And so those have been two parallel practices that I've done for quite some time. And, and they only kind of meet when I finish a record, and I make the artwork for the cover."
Such artwork he previously made for 2009's What Will We Be was nominated for a Grammy. For Ma, "it's an oil painting of these flowers" which Banhart says "to me is an obvious kind of image of emergence and of maternity, to some degree, even though there's something slightly foreboding. But this is a very dark age. So it made sense that the flowers are becoming out of darkness."
It represents for the artist experimentation of a kind: "I feel like I'm very comfortable with ink and with pencil, but moving into this oil paint world is totally new and daunting, because, you know, it's way harder than I thought it was going to be," he says with self-deprecation. "But it's part of my practice. And I've been doing it just as long as I've been doing music, and I still don't know how to do either one nor, you know, have any real understanding of how they work.
"I think that's kind of the beautiful part, that art is something that is so expansive. The deeper you go into it, the bigger it is, and the more expansive it is, and the more there is to explore. That's what's so incredible about it. That's why we keep doing it, why it's so fun. Because there's a billion definitions for some things that are indefinable. That's why we keep writing songs about love, because the definition of that word doesn't exist."
How does he see his art has evolved since he started out? Does he ever miss the simplicity of the days he was busking in the streets in San Francisco? "I don't need to miss it, because I'll probably be doing it any second," he jokes, then more philosophically, "I've stopped trying to figure it out. Because I don't think I've ever been satisfied with anything I've done. And I don't think I ever will be.
"I don't think that's the point of art. It's an ongoing practice. And it's something that requires daily contribution and daily attention. And that's just how that entire process operates. So I don't see much of an evolution except that I know a lot less. And I'm not so certain about things. And I'm not trying to pretend I'm not a naive idealist, which I am. And I'm not trying to pretend like I'm not a delusional silly person, which I am."
He's certainly not keen to be pinned down when I ask how he would define his own music, which has been variously described as free, freak, alternative, acid and weird folk rock: "Apocalyptic spa music?" he suggests wryly. Banhart's much more clear on his influences: "My musical heroes are Caetano Veloso, Laurie Anderson. And my mom." He can't praise enough the latest album of Cate Le Bon, Reward, who also features on his track "Now All Gone."
His single London date comes amid a comprehensive European tour which takes in everywhere from Berlin to Brussel, Amsterdam to Paris, as well as multiple stops in Spain. Before then he crossed the US and Canada. It's even more epic considering his last tour was back in 2017. So why the long pause? "Enough time had gone by. I missed sharing the old songs and I'm even more excited to play the new ones."
His answers also perhaps reveal a newly-discovered ease with touring that wasn't always there: "At this point, it's an opportunity to become more and more comfortable in that and actually enjoy sharing the work. It's not such a crazy stressful thing anymore because I kind of stopped thinking that there's such a thing as home, so I don't really get homesick."
Seeing him on stage when he hits London, he in fact seems - just right at home. Let's hope that means he doesn't wait another two years to perform...
Devendra Banhart's Ma is out now via Nonesuch