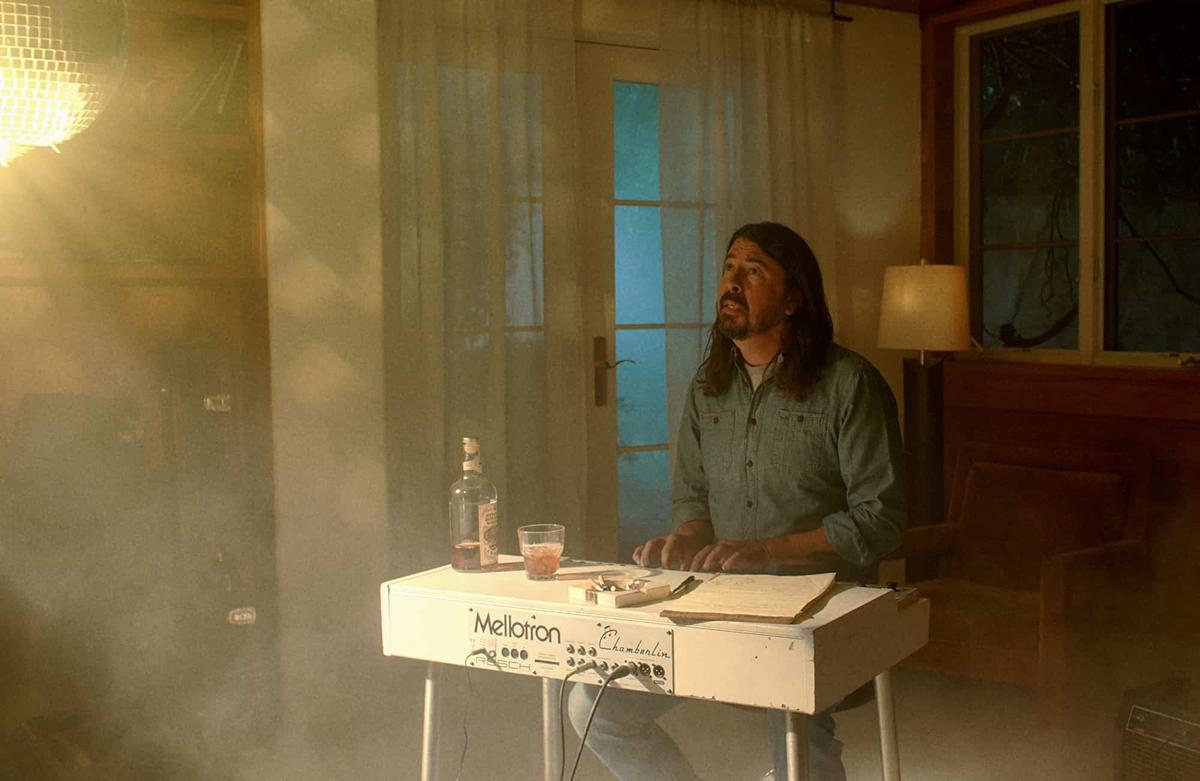 How Dave Grohl released the beast for Studio 666
28 February 2022, 21:15
"You can't speak to me like that! I am Dave fucking Grohl," the polymathic frontman seethes at his bandmate Pat Smear during a late-night studio session. It's a shocker to see 'The Nicest Guy in Rock' pull the fame card without any sense of irony to it, but for context, this is all in the name of showbiz.
The rage that is being directed at his bandmate of almost 30 years isn't coming from Grohl at all – it's coming from the dark spirits that have possessed him. There's no other reasonable explanation for it, of course. Dave Grohl – the man who has seemingly done it all – has found another thing to add to his illustrious CV. He's gone and made a horror movie.
As with many things rock and roll, what began as a terrible idea ended up blossoming something brilliant. A friend of Grohl's had mentioned that a film studio wanted to make a horror film with Foo Fighters, but Grohl shut down the idea until it came to making the band's tenth studio album, Medicine At Midnight. Rather than going to their own Studio 606 to find inspiration, Grohl sought out to find a home that he could rent for a few months in order to work on some initial ideas. Around the same time, an old landlord in Encino, California, reached out and asked Grohl whether he would be up for buying part of a house that he was going to subdivide. Having already lived there ten years ago, and feeling like it was the perfect space for his grand plan, Grohl decided to rent it out for a while. It was there that Grohl began plotting a rough idea for what Studio 666 would eventually become.
It's a tale as old as time: a band move into a new studio in search of the inspiration to record a new album. Writer's block takes hold, tensions rise, and soon after there are the bust ups that you can't come back from. The frontman is on a rampage and the band are over – it's the biggest rock and roll cliché, and it is so far removed from the experiences of Foo Fighters as a band, that Grohl felt it would've been silly not to play into. I wondered if he had taken these clichés and twisted them into a horror/comedy because of how long he has been in the music industry, listening to the same stories of the longevity of rock and roll, and how writer's block can be the death of a band, but the message is clear: "We haven't been bogged down in the seriousness of anything for the past 26 years," Grohl tells me with an earnest no-bullshit tone of voice. "We've never walked into a studio with writer's block mostly because we don't make records unless we want to. We only do it when the time is right and we hardly have any creative tension – it's impossible to have none – but we've never had a major blowout in the studio after 26 years and ten fucking records! There has never been a screaming match in front of the mixing desk. Not once."
Though most people know Dave Grohl as the drummer from Nirvana, the frontman of Foo Fighters (with his contributions to both bands allowing him to be inducted into the Rock and Roll Hall of Fame twice), and the batshit crazy rocker who decided to record an album full of Bee Gees covers with the latter band; his dedication to the world of music also extends out into the worlds of literature and film. Grohl released The Storyteller in 2021, which was inspired by the "pinch-me moments" that he would share via Instagram during the pandemic, and he has also directed three documentaries – Sound City, Sonic Highways, and What Drives Us. There are, of course, the infamous Foo Fighters videos for "Learn to Fly", "Everlong", and "Love Dies Young", in which Grohl showcases his acting skills with slapstick humour, and you can't mention his acting skills without his cameo as the devil in Tenacious D in The Pick of Destiny, but at what point did horror become a part of his life?
"It began with The Amityville Horror book which was released in 1979. I was about ten years old and I read it when my sister had finished with it. It scared the shit out of me because it was meant to be true," Grohl recalls, adding that the film adaptation is still hard to watch for the traumatised kid that resides within him. As a "punk rock kid in the '80s", Grohl spent a lot of time drinking beer on the steps of the house that The Exorcist was filmed in, as it was just over the road from where he grew up in Virginia, but whilst he fell in love with classic horror films such as Halloween, Friday the 13th, and Evil Dead, he admits that he was never an aficionado: "I wasn't much of a horror child, but I did love rock and roll – they seem to go hand in hand. I was a KISS fan and I loved Alice Cooper. When I became a metal head in the early '80s, I loved bands such as Phantom, Slayer and Metallica. I think they all reside in the same territory."
In Studio 666, Grohl stumbles upon the lost tapes of a band who had also been recording an album in the house around 25 years prior. After being possessed by the spirit who wanted nothing more than to finish their song, Grohl discovers a new key called L-sharp and begins making a visceral heavy metal song which is unlike anything Foo Fighters have ever done before. Whilst they could have chosen any genre of music to work on – perhaps even using scraps of songs that were left over from the Medicine at Midnight sessions – Grohl thought it would be more interesting to actually record the lost tape of Studio 666's fictional band Dream Widow.
Grohl has always put emphasis on the fact that a lot of Foo Fighters' success has come down to luck and right timing; almost as though there is a margin of happy accidents at hand. As such, it's hard not to notice the symmetry between the how Studio 666 has come together, and how the band are gearing up to release one of their most ambitious projects to date. Almost 20 years ago, Grohl unexpectedly recorded a death metal album at Studio 606. His first intentions were for the songs to serve as instrumentals so that he was able to work on something different during his downtime on tour with Foo Fighters, but a twist of fate meant that he was able to reach out to some of his favourite metal vocalists – Lemmy Kilmister (Mötorhead), Eric Wagner (Trouble), Max Cavalera (Soulfly) King Diamond – and have them feature on the songs.
Probot was a short-lived project – a momentary happenstance which was never meant to see the light of day but instead became an artefact of music history; a lost relic. I wondered if the Dream Widow album that Grohl had worked on during Studio 666 had any sort of relation to Probot, and in the most diplomatic way that The Nicest Man in Rock could ever answer a question without giving to much away, he laughs: "I basically used the movie as an excuse to make another metal record," but then confesses that the album – which was rumoured to be released to coincide with the film – isn't actually complete. "I'm finishing it tomorrow! It's not even fucking done so you'll have to wait and see."
"That genre and sound is rooted in me somewhere but I have very few opportunities to let it come out," he continues. "When I came up with the idea of making Dream Widow's lost album, my mind immediately went there as that type of music goes really well with the film genre and it worked within the story. It's funny because I was talking to Pat Smear about it the other day and he was like, 'It's so weird that you've always loved that type of music but you've never been in that type of band'. It's something that I've never considered – I was playing hardcore punk rock and then I was playing in rock bands – but I like to let the beast out of the cage every once in a while."
It's difficult to pinpoint when rock and roll became synonymous with the devil, but it's a wicked formula that has provided entertainment for the masses for countless decades and both things can involve an element of surrendering to pleasures whether they're good or bad. "You can go back to Robert Johnson, the famous blues player who apparently sold his soul to the devil at the crossroads, then it's handed over to Led Zeppelin, the fascination with Alistair Crowley, and then it's taken to a theatrical level with Alice Cooper – I think it carries a lot of mythology," Grohl contemplates. "Watch the movie Footloose… Why on earth was this quaint little town filled with evangelists who were terrified of rock music? Surely it must be the devil making these people want to drink, fuck, and party; Satan must be inside them for any of those things to possibly happen. A lot of people point the finger at rock and roll because the term itself was all about getting down, having sex and having a fucking good time – most people equate that with evil but it sounds like fun to me!"
Whether he's being possessed by an evil spirit, or writing music that provides a sense of escapism, it seems that Grohl has taken to exploring every creative outlet that can provide entertainment. He's well aware that it isn't going to be for everyone, but that's never stopped him from doing whatever the fuck he likes. After all, he has earned himself the title of The Nicest Man in Rock for a reason, and sometimes it's nice to take a day off. "I spend my life trying to be nice to everyone I meet. This is something that was instilled in me from my mother who is one of the sweetest human beings ever to walk the planet," Grohl explains, "but when you're being asked to play the fucking devil or someone who's possessed by a demon, you put the contacts in your eyes, you put the teeth in your mouth, and I'll be honest – it feels kind of good to be a wicked son of a bitch for a few days!"
Studio 666 is out in cinemas across the UK and Ireland now